Germany
Get more with myNEWS
A personalised news feed of stories that matter to you
Learn more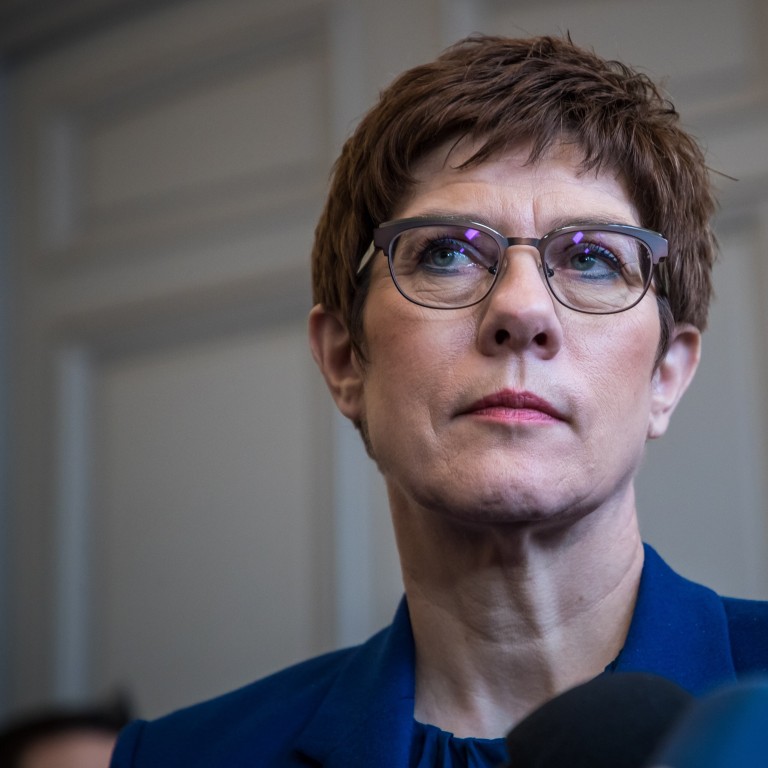 Germany's defence chief calls China a 'systemic challenge' as Berlin ramps up military presence in Asia
Annegret Kramp-Karrenbauer has called for greater military cooperation with 'like-minded' countries such as Australia
She says the 'rules-based international order' is "absolutely necessary' in a warning about the risk of territorial conflicts in the Indo-Pacific
Germany
's defence chief has labelled China a "systemic challenge" in a call for greater
military cooperation
with "like-minded" countries, including
Australia
, invoking Russia's 2014 annexation of Crimea to warn of the risk of territorial conflicts in the Indo-Pacific.
In candid remarks made against the backdrop of uncertainty about the outcome of the United States presidential election, German defence minister Annegret Kramp-Karrenbauer on Thursday said Berlin would boost defence cooperation with Australia and other nations in the region to uphold peace, stability and the "rules-based international order".
Speaking in a webinar that also featured Australian defence minister Linda Reynolds, Kramp-Karrenbauer said Germany and Australia were united by shared values such as the rule of law, human rights and freedom of navigation, whereas some other countries were "not prepared to accept these principles".
"A rules-based international order for us is absolutely necessary," Kramp-Karrenbauer said through an interpreter during the event, which was organised by the Australian Strategic Policy Institute, a Canberra-based think tank. "We need that because that is also the basis of economic success."
The remarks by Germany's top defence official came after Berlin this week announced it would send a frigate to patrol the Indian Ocean from next year, and deploy German Army officers with the Australian navy as part of an unprecedented ramping-up of its presence in Asia.
"I'm convinced that if like-minded nations, such as our nations, work together and join forces – and we must do that to defend our values and interests in the world – we can achieve a lot," Kramp-Karrenbauer said.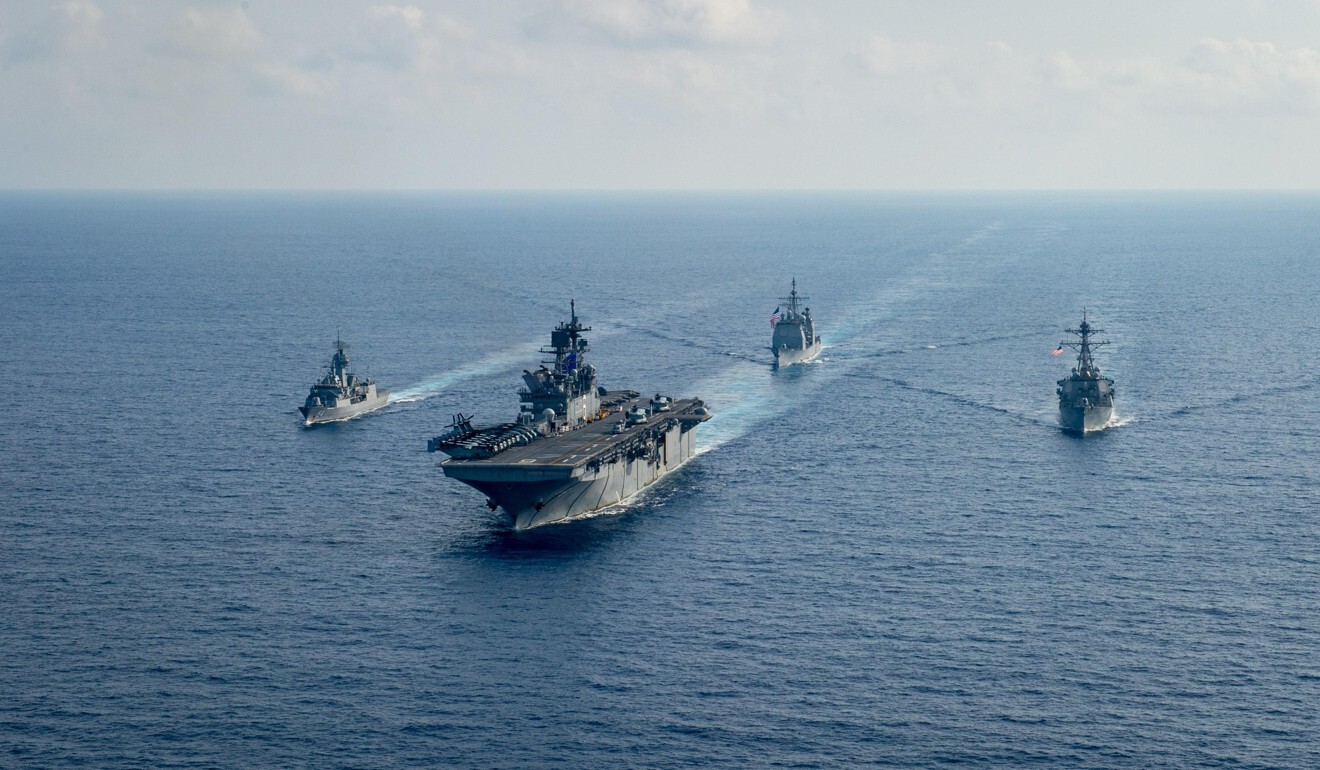 In a thinly veiled warning about Beijing's growing assertiveness in the South China Sea
and elsewhere, Kramp-Karrenbauer said Germany's perspective had been shaped by Russia's ongoing occupation of Crimea, which prompted international condemnation and sanctions.
"We continue to support sanctions against Russia," she said. "This example shows that we condemn such developments not only in Europe, but that is a fundamental principle and that applies everywhere in the world. Similar conflicts in the Indo-Pacific should be seen from the same perspective and with the same idea of values and principles."
While describing China as an important trading partner and crucial to tackling global challenges such as climate change, Kramp-Karrenbauer said the rising superpower was also a "systemic challenge" that should be discussed openly.
"What we consider the basic rules of an open society, of Western democracy, the protection of minorities, for example, the respect for human rights – those values are seen differently in China, and interpreted in a different way there," she said.
"And that is why we need to speak openly about this. China, I believe, has a very ambitious goal, has developed an ambitious concept. There's no problem with that, it's the right of every country to do that. But I agree with Linda [Reynolds] that those ambitions must not be at the expense of others. And that's why it's so important to have a rules-based order."
"We as the German government and we as Europeans will continue to have to do more for our defence, more than we have done so far," she said.
Australia's Reynolds said the region faced a post-pandemic world that would be "poorer, more dangerous and more disorderly" and geographical distance between countries in today's world was simply a "historic mindset".
"What does matter are these: our shared democratic values and our shared trust and our shared commitment to the rule of law and, most particularly, our shared respect for the sovereignty of all nations, be they large or small," she said. "And together we must continue to promote peace and prosperity for all."
Beijing's relations with both Canberra and Berlin have markedly deteriorated amid concerns in both countries over its growing influence and assertiveness, while Trump's antagonistic attitude toward traditional alliances has raised questions about Washington's long-term presence in the region.
Ralph Thiele, a retired colonel in the German armed forces who is president of the Berlin-based Political-Military Society, said Germany's push for a greater role in Asia reflected its new-found awareness of China's growing power and geopolitical importance.
"So far, Germany has kept out of this region militarily – also with training and advisory missions, even with friendly visits," Thiele said. "Now, with the deployment of a frigate to the Indo-Pacific region, there is a new development that should not be overestimated, but which nevertheless heralds a turnaround."
But Thiele said the practical impact of Berlin's moves could be limited, as its military's operational readiness remained "pretty shaky".
"There is no serious plan to change that significantly within the next decade," he said. "So we may see a German ship once in a while in the Indo-Pacific which will not threaten the Chinese too much. Remarkable is the attitude change of Germany. This may be the beginning of a more active German – and consequently [
European Union
] – security-related engagement in the region."
This article appeared in the South China Morning Post print edition as: minister labels china 'systemic challenge'