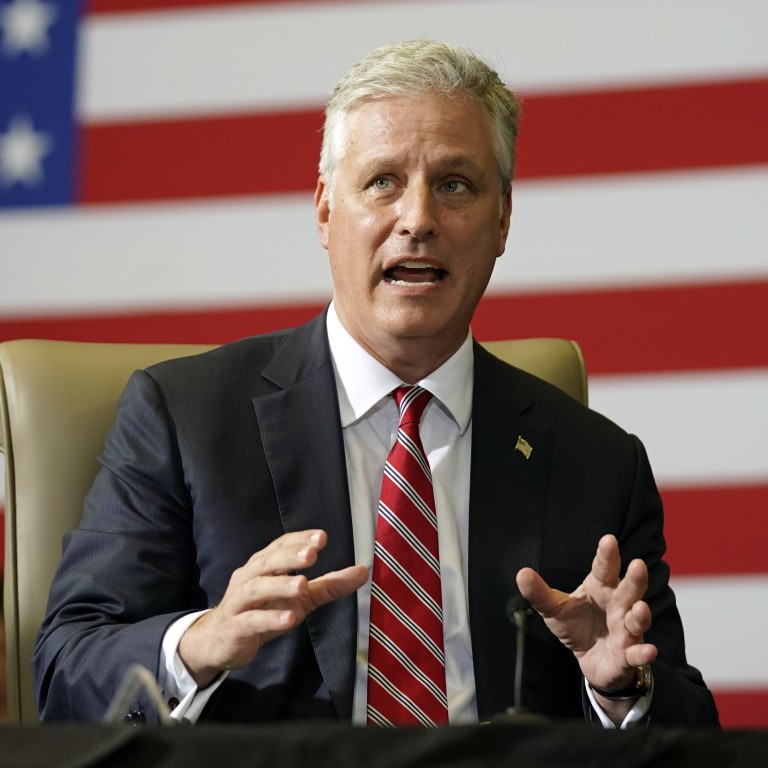 South China Sea: Trump's national security adviser heads to Vietnam, Philippines in last-gasp anti-China push
Robert O'Brien is expected to meet Vietnamese PM Nguyen Xuan Phuc and other ministers, along with national security officials in the Philippines
Move is aimed at cementing Trump's legacy of countering Beijing's territorial ambitions and providing Biden with a 'fait accompli', analysts say
US National Security Adviser Robert O'Brien's visit to
Vietnam
and the Philippines this weekend marks a last-minute push by the outgoing administration of
Donald Trump
to cement its legacy of countering Chinese ambitions in the disputed
South China Sea
, analysts said.
O' Brien is expected to be in Hanoi on Friday and Saturday for meetings with Prime Minister Nguyen Xuan Phuc, Foreign Minister Pham Binh Minh, Defence Minister Ngo Xuan Lich and Public Security Minister To Lam. He will then head to Manila.
On Wednesday night, tweets from the White House National Security Council said O'Brien was enroute to Asia and would meet leaders in the Philippines and Vietnam to "reaffirm the strength of our bilateral relationships and to discuss regional security cooperation".
His trip follows a visit to Hanoi last month by US Secretary of State Mike Pompeo. Pompeo, on a visit to the Philippines last year, said that Washington would defend it if it came under attack in the South China Sea, where Manila has competing claims with China and other countries, including Vietnam.
Pham Quang Minh, former rector of the University of Social Sciences and Humanities at the Vietnam National University in Hanoi, told This Week in Asia that O'Brien would also talk with students at the Diplomatic Academy of Vietnam.
Le Dang Doanh, a retired senior economic adviser to five prime ministers, said the visit was a sign of good relations between the
United States
and Vietnam. Former foes in the Vietnam war, the countries are marking the 25th anniversary of normalising diplomatic relations this year and share concerns about
China's
growing
influence in Asia
.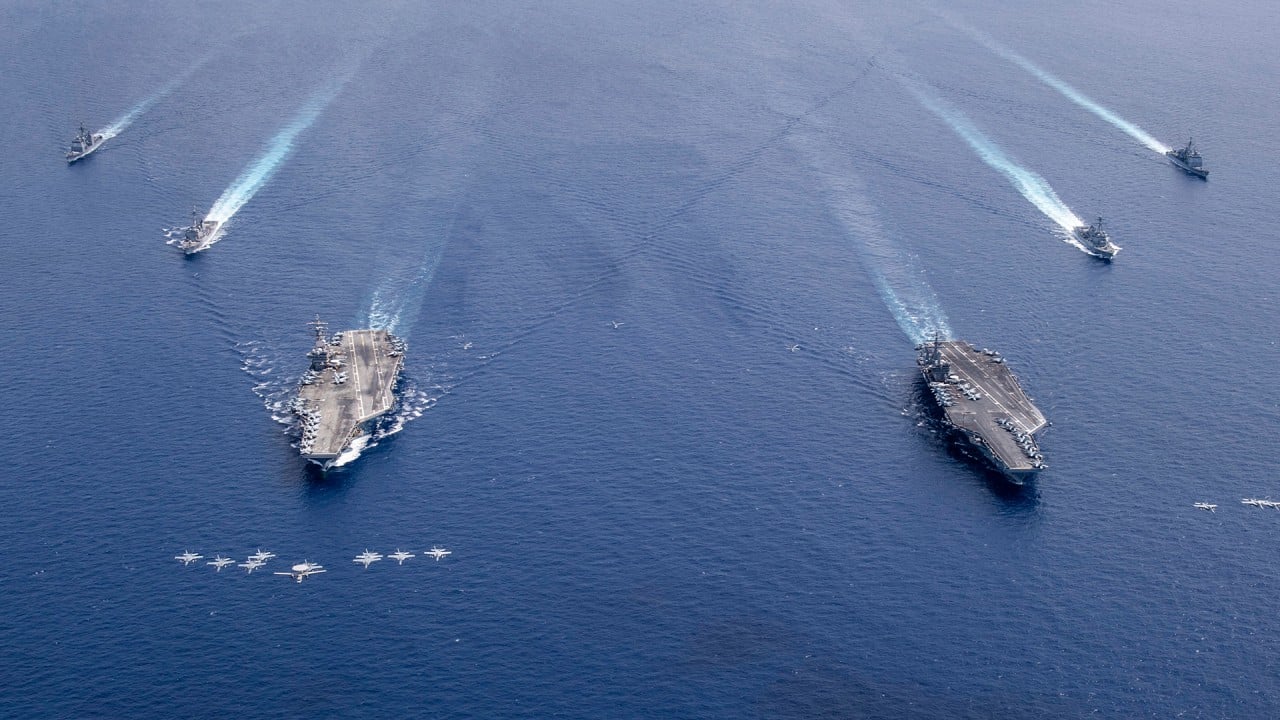 02:32
Washington's hardened position on Beijing's claims in South China Sea heightens US-China tensions
Washington's hardened position on Beijing's claims in South China Sea heightens US-China tensions
"I really do hope that a new administration under
Joe Biden
will continue this comprehensive partnership for mutual benefit for peace in the East Sea," said Doanh, using the Vietnamese term for the South China Sea.
Carl Thayer, an emeritus professor at the University of New South Wales and specialist on Vietnamese defence issues, said the two sides would probably issue a joint statement on cooperation for the Free and Open Indo-Pacific concept, a signature foreign policy vision of the Trump administration in its bid to contain Chinese influence in the region.
"It is readily apparent that President Donald Trump is and will continue to make a number of foreign policy initiatives to burnish his legacy as his term in office comes to an end two months from now," added Thayer.
Thayer said that such an agreement with Vietnam would present a "fait accompli" to President Elect Joe Biden. Possible commitments could include increased cooperation between the countries' respective coastguards, as well as equipment sales, in a bid to help Vietnam counter China's overlapping maritime claims in the South China Sea.
The sense of urgency, however, was limited to the American side as Vietnam already hoped Biden would be receptive to enhanced ties, said Thayer.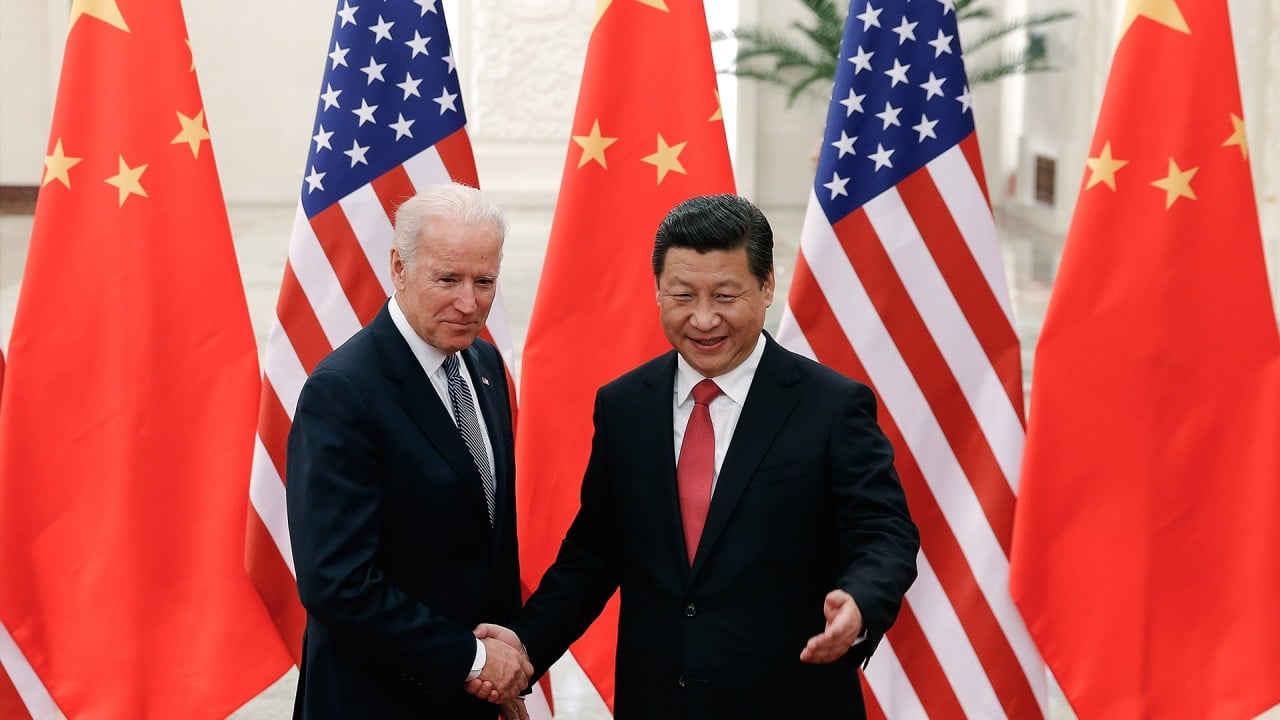 06:04
US-China relations: Joe Biden would approach China with more 'regularity and normality'
US-China relations: Joe Biden would approach China with more 'regularity and normality'
"Vietnamese hope rests on continued Biden support for the US-Vietnam Comprehensive Partnership negotiated when
Barack Obama
was president," he said.
"The anxieties rest on concerns Biden will pay more attention to repairing US alliances in the region and be too cautious in dealing with China."
While there were high expectations for Pompeo's trip – which was a last-minute addition to his itinerary on his five-country swing through Asia – it yielded no concrete agreements.
Thayer said Pompeo's meetings in Hanoi had probably been soured by two investigations announced by the Office of the United States Trade Representative into alleged Vietnamese currency manipulation and export of illegal timber.
"O'Brien's on-again trip suggests the White House has addressed Vietnam's concerns thus laying the ground work for the important announcement that was forecast," he added.
O'Brien's journey comes at a sensitive time in US politics as Trump refuses to concede that he lost the
US presidential election
to Biden. Vietnam, notably, has refrained from acknowledging Biden's victory.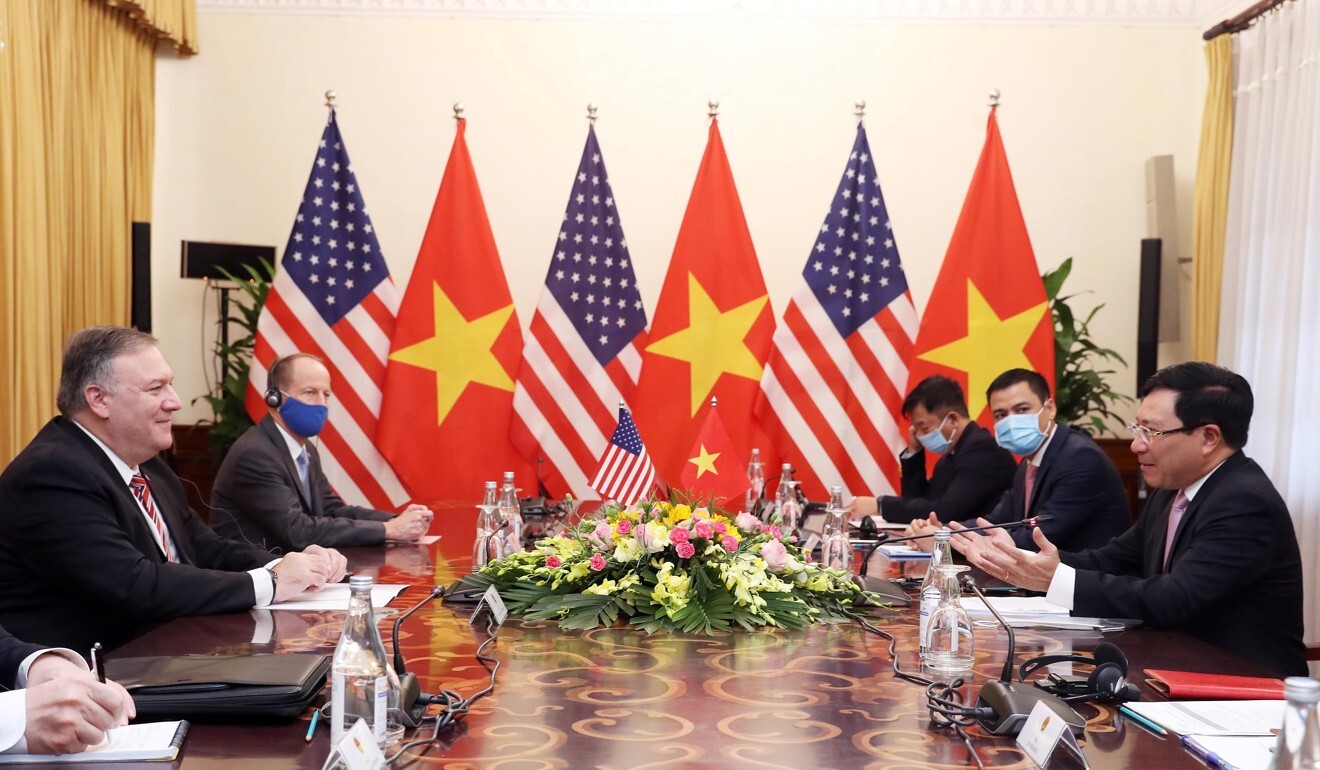 Speaking at press conference on November 15 at the close of the 37th Asean Summit in Hanoi, Prime Minister Nguyen Xuan Phuc avoided taking a stance on Trump's claim to have won the November 3 election.
"Whoever wins the election, Mr Biden or Mr Trump, the United States is still a good friend of Vietnam," he said.
Minh, the university rector organising a reception for O'Brien, said Phuc wished to wait for official confirmation from their American counterparts before contradicting the claims of a sitting president.
"Because Vietnam is a small-to-medium sized power, they don't like to show off their point of view when [the situation] is unclear," said Minh.
Nguyen Quang A, formerly a prominent banker and Communist Party member who is today one of Vietnam's leading dissidents, said he had no doubt the government thought Biden would be the next president despite the cautiousness.
"They are quite afraid if they do something in a hurry, then in the next two months there will be consequences," he said, pointing out that such a delay in acknowledging the results of a US election was unprecedented since the countries normalised ties in 1995.
Le Hong Hiep, a fellow at the Singapore-based ISEAS-Yusof Ishak Institute specialising in Vietnamese politics, said it was likely the negotiations surrounding O'Brien's visit were a factor in Hanoi's decision not to congratulate Biden.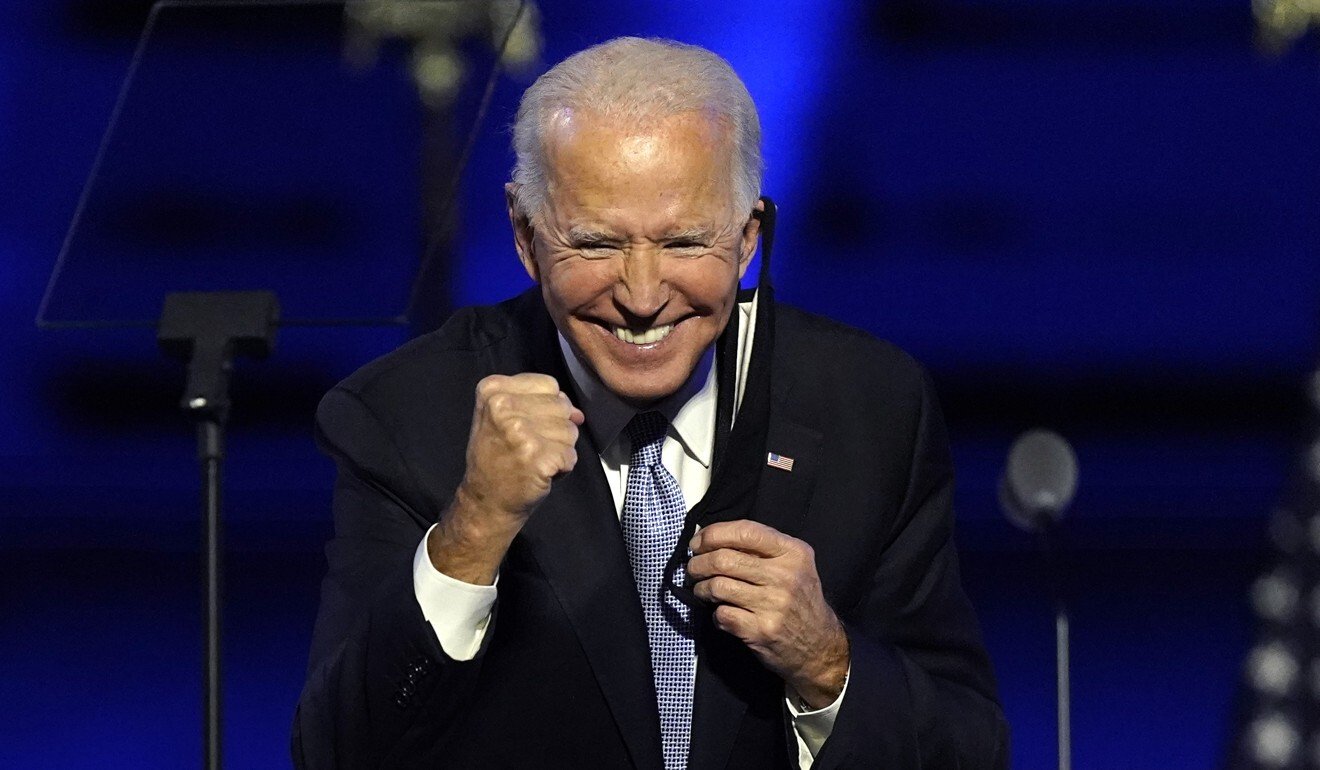 "It is still important for Vietnam to continue engaging officials of the Trump administration to cement recent gains in bilateral cooperation. The visit of O'Brien to Vietnam will contribute to that process," he said.
Minh said Vietnam had appreciated many of Trump's antagonistic policies toward China, which he said were unmatched in the post-Cold War era.
"He is so far the first president ever of the United States of America who was fighting against China openly," he said, although he added that he hoped the new administration would also respect the more cautious approach preferred by member states of the Association of Southeast Asian Nations (
Asean
).
"The US and Asean must find the common language in the security issues here, especially the policy toward China," he said, adding that any American effort to isolate China from Southeast Asia would be misguided.
Minh also hoped the Biden administration would prioritise the security relationship with Vietnam over
trade
, which proved to be a constant source of anxiety in Hanoi due to its large surplus with the US and accusations of currency manipulation. In June 2019, Trump called Vietnam "almost the single worst abuser" of trade with the US.
"For President Donald Trump, it is clear that economic and business interests are number one," said Minh.
Additional reporting by Reuters
This article appeared in the South China Morning Post print edition as: Vietnam to welcome top Trump adviser