Xinjiang
Get more with myNEWS
A personalised news feed of stories that matter to you
Learn more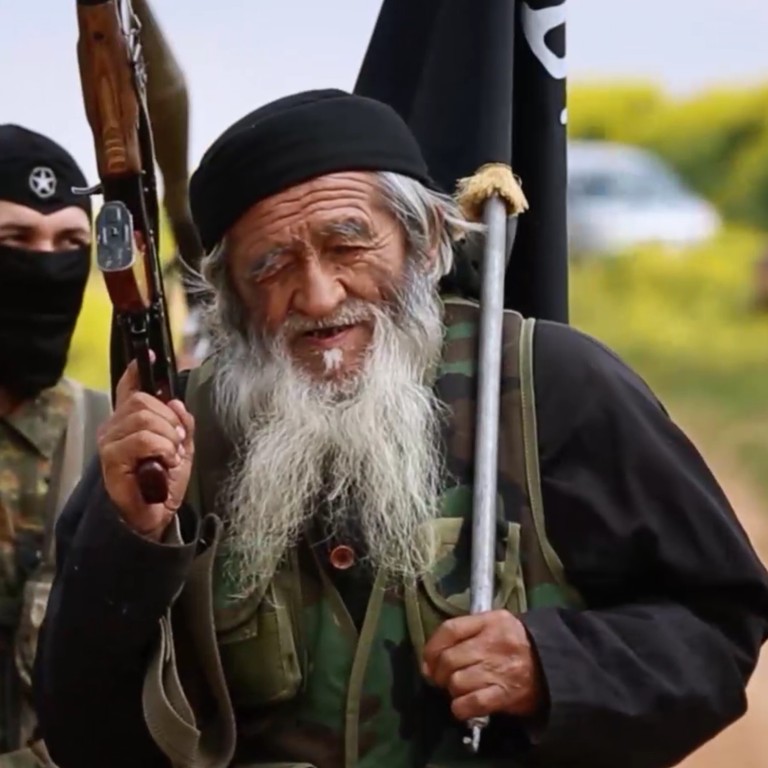 How Syria's civil war drew Uygur fighters and shaped the separatist group TIP in China's crosshairs
The ETIM was delisted as a terror group by the US, but its successor – the Turkistan Islamic Party – has links to al-Qaeda, and a stable of Uygur fighters in Syria
China's clampdown on Uygurs has fuelled radicalisation, prompting many to 'flee right into the arms of militant groups', according to an analyst
When the US last month removed the East Turkestan Islamic Movement (ETIM) from its list of terrorist organisations, China hit back at its "two-faced approach" to confronting
extremist groups
. Beijing blames ETIM for attacks in
Xinjiang province
, home to China's mostly Muslim Uygur population.
The US delisting decision was made quietly and under orders from
Secretary of State Mike Pompeo
while the country was in the throes of the presidential election campaign. A State Department spokesperson said that "for more than a decade, there has been no credible evidence that ETIM continues to exist".
Some experts agreed ETIM was no longer significant, while others interpreted it as a sign of Washington's continued pressure on Beijing over its treatment of Uygurs, which Human Rights Watch has condemned.
Beijing is accused of
mass arbitrary detention
of at least 1 million Uygurs and enforced disappearances, although it has denied these allegations and maintained that the camps provide vocational training.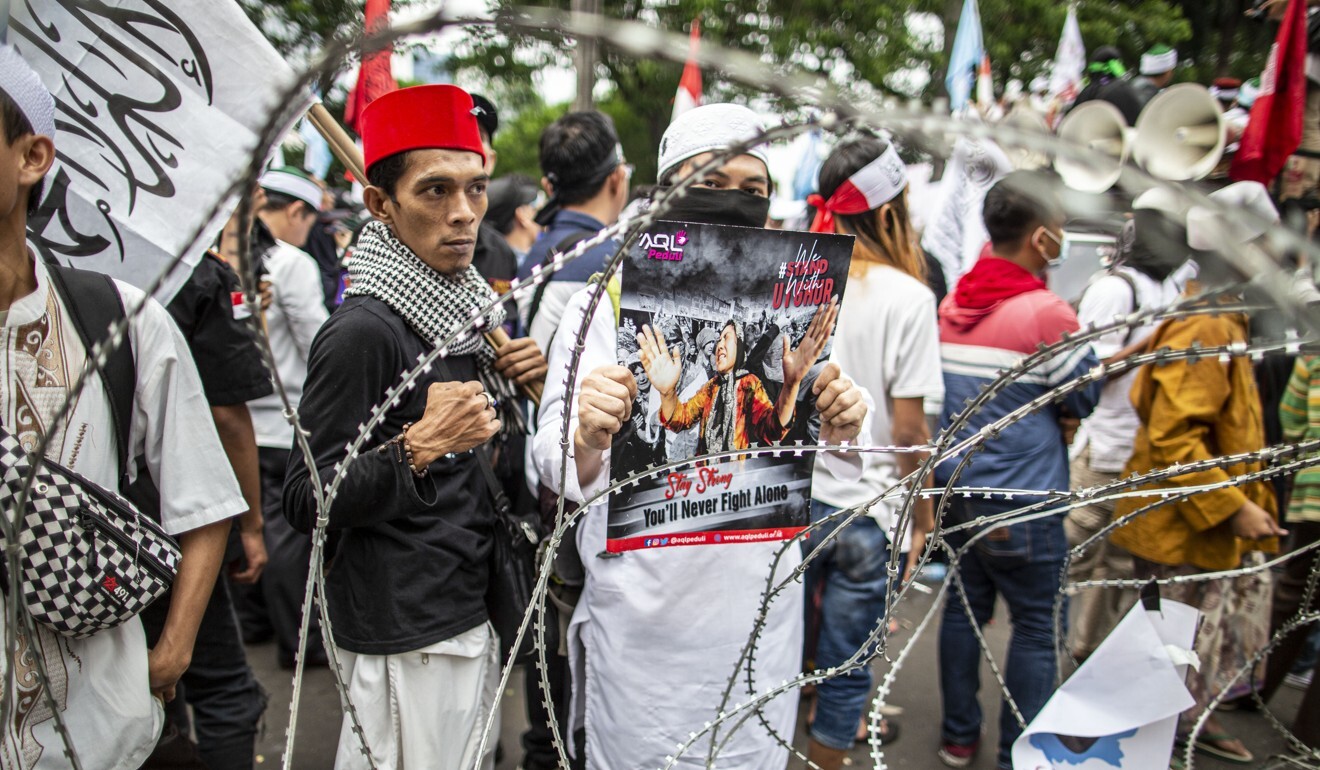 Sean R. Roberts, a professor of international development studies at George Washington University, said the listing of ETIM as a terrorist organisation had for almost two decades "hung over the entire Uygur population as a dark cloud".
"That helped to instil doubt about
Uygur grievances
against the Chinese state in the eyes of the international community," said the author of
The War on the Uygurs
, which was published in September.
Washington's delisting move should now "instil doubt" around the world about China's claims that its Uygur population was an internal threat, he added.
Yet other analysts, including a former member of
al-Qaeda
, said that although ETIM no longer operates, its members had reconstituted as the jihadist Turkestan Islamic Party (TIP), which has ties with al-Qaeda.
The Syrian civil war
attracted thousands of Uygurs who joined TIP and increased the group's capabilities and militancy, they said.
Faran Jeffery, deputy director of the Britain-based Islamic Theology of Counterterrorism organisation, said TIP remains active in Afghanistan as well as in Syria.
"It wants to establish an Islamic State in Xinjiang," Faran said, adding that
thousands of Uygur fighters
and their families remain in Syria, although many others have left. "Pompeo's statement [removing the group from the US list of terrorist organisations] is misleading. ETIM doesn't exist because now it's called TIP. But they're basically the same. It's just that they changed the name as more radical leaders took over."
Faran said ETIM's removal from the US terrorism list was part of the "US vs China cold war", referring to the ongoing superpower rivalry that encompasses issues such as trade, technology and the South China Sea. He said Washington's decision was designed to "paint ETIM as a rebel group of Xinjiang, possibly opening the doors for funding and arming", thereby creating greater leverage against China.
It was a point Chinese Foreign Ministry spokesman Wang Wenbin alluded to earlier this month when he accused Washington of "whitewashing terrorist organisations" and urged it to "stop back-pedalling on international counterterrorism cooperation".
ETIM, he said, was "an internationally recognised terrorist organisation that seriously threatens the safety of China and the world".
Sofyan Tsauri, a former member of al-Qaeda of Southeast Asia, questioned the decision to delist ETIM and wondered whether the "US was considering rallying radical groups to fight China".
"The US [has] used Muslims to fight against Russia [in Afghanistan] … and later eliminated [the Muslim groups]," he said. "Is this same formula going to be used against China?"
Sofyan was released in 2015 from an Indonesian jail after a five-year sentence for arming terror groups and now speaks at seminars on counterterrorism efforts.
"I have learned from my mistakes … and will be restraining my words from provoking Muslims [to fight]," he said. "Muslims should be aware of this and not allow themselves to be provoked to fight."
BAND OF INSURGENTS
Although ETIM was not an official name adopted by any single group, the label was used by China and other international organisations in assigning blame for militant acts.
Those associated with the ETIM at the end of the 1990s were part of a small group of Uygurs who had left China for Afghanistan with the intention of establishing a guerilla insurgency to liberate their homeland in Xinjiang, said Roberts of George Washington University.
The leader of this group, Hasan Mahsum, travelled to Saudi Arabia and Turkey seeking the support of Uygur diasporas but was unsuccessful, he added.
"There is no evidence that this group ever succeeded in carrying out any acts of violence inside China or anywhere else in the world," Roberts said. "However, at China's urging, the US recognised this group as a terrorist group with links to al-Qaeda and helped China to get the UN to recognise the group as such in 2002."
Andrew Small, senior transatlantic fellow in the Asia Programme of the German Marshall Fund, said ETIM had established a network of camps in Taliban-run Afghanistan. But after
the US invasion in 2002
, the group was based in Pakistan's semi-autonomous tribal regions near the border.
"[Although ETIM was still] able to generate propaganda material, their capacity to launch attacks in China or on Chinese targets was extremely limited," Small wrote in one chapter in Terrorism and Counter-Terrorism in China: Domestic and Foreign Policy Dimensions.
Analysts said there was no evidence the Uygurs at that time received support from al-Qaeda – the Uygurs were not interested in global jihad, nor was al-Qaeda interested in China. The group, Roberts said, was ultimately short-lived.
"The leader [Hasan Mahsum] … was killed in 2003 by the Pakistan military and, for all intents and purposes, the group died with him," he said.
In 2008, TIP emerged as ETIM's successor. In videos filmed in remote regions of Pakistan, members threatened to attack planes and ground transport during the Olympics in Beijing that year.
Roberts said its members, which included an individual previously associated with ETIM, claimed to continue its legacy but the TIP had become "decisively different ideologically and in its sources of sponsorship".
"The available evidence suggests that this group did have ties with al-Qaeda and the Taliban, but it was more of a video production unit than a fighting army at this time," Roberts said.
FORGED BY WAR
Circumstances changed dramatically when the Syrian conflict erupted in 2011, in turn fuelling the rise of
Islamic State (Isis)
, which in 2014 annexed swathes of territory in Syria and Iraq.
"TIP in Syria initially appeared to be linked to al-Qaeda through [Syrian affiliate] Al-Nusra Front but there is also anecdotal evidence that it has had ties with Turkey," Roberts said, adding that TIP recruited most of its fighters from the thousands of Uygur refugees who came to Turkey from China between 2010 and 2015.
Although TIP supported jihad, Roberts said it was more a "mercenary" organisation than a terrorist group. He said TIP had not been conclusively connected to any attacks and instead "mostly fought a guerilla war" against Syrian President Bashar al-Assad's regime.
Sofyan told This Week In Asia there were currently 3,500-4,000 Uygur fighters and their families in Latakia, northwestern Syria, allied with the Hayat Tahrir al-Sham, a successor to Al-Nusra Front.
He said that based on what his jihadist networks had told him, the fighters were undergoing paramilitary training and building up a strong force with the aim of returning to Xinjiang. "At the same time, they are also fighting against Bashar al-Assad," Sofyan said.
The figures cannot be independently verified but some analysts monitoring Syria have estimated thousands of Uygurs remain.
Sofyan said between 5,000 and 6,000 Uygurs and their families travelled to Syria to join TIP. When they arrived, about 2,000 of them joined Isis as they thought the group was part of al-Qaeda, even though the groups had become rivals.
"Many Uygurs who fought on the side of Isis have died as those battles were very brutal," he said.
According to Faran, from the Islamic Theology of Counterterrorism, China's clampdown of Uygurs has fuelled radicalisation, prompting many to "flee right into the arms of militant groups", although he acknowledged these individuals were already more religiously and politically motivated than other Uygurs who had chosen instead to settle in the West.
Due to China's growing influence in the Muslim world, Uygurs seeking to emigrate have been left with fewer options.
"Turkey has been a major recruitment hub for them," Faran said. "But things have been changing for them in Turkey due to growing Turkey-China ties."
According to Small from the German Marshall Fund, the most capable Uygur militants continue to operate in northwest Syria.
"Assessments from UN counterterrorism experts place their capabilities – training, combat experience, facility with advanced weapons, access to networks – substantially ahead of anything the TIP exhibited when it was chiefly based in Pakistan and Afghanistan," he said.
Aside from TIP, Chinese analysts remain concerned about the Uygurs who have joined Isis, Small said, noting that these individuals "have shown none of al-Qaeda's early inhibitions about targeting China".
"Some Chinese experts are also concerned that Isis' ideological influence is potentially more potent, better able to catalyse further 'lone-wolf' attacks, extending its reach to states on China's immediate periphery, and even risks drawing support from China's other Muslim minorities, evidenced by the small number of Hui that have gone to fight in Syria," Small said.