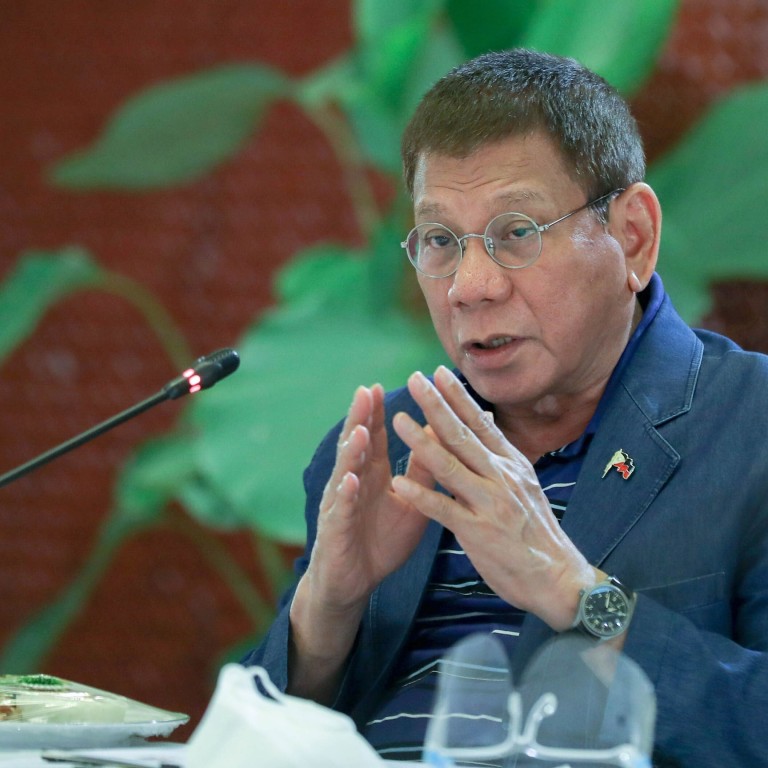 In Duterte's budget for Philippines, critics see skewed priorities and a Covid-19 shortfall
The lion's share of the US$93.7 billion budget is going to ministries and infrastructure projects, with only 4 per cent targeted to fight Covid-19
Analysts say Duterte is seeking to burnish his legacy through the infrastructure projects, while trying to help get his daughter elected as the next president
When Philippine President
Rodrigo Duterte
signed the country's largest budget yet, totalling 4.5 trillion pesos (US$93.7 billion) for 2021, he pledged it would boost growth in an economy rendered comatose by prolonged movement restrictions and fund a mass vaccination campaign for
Covid-19
.
But competing priorities mean that three-quarters of the amount will go to operating expenses of government ministries, including debt payments, with the bulk of the rest going to an infrastructure building campaign and about 200 billion pesos – less than 4 per cent of the total budget – for the
country's
response to the pandemic and purchasing and distributing
Covid-19 vaccines
.
Ramon Casiple, executive director of the Institute of Political and Electoral Reforms, an NGO, was not surprised.
"Remember, this is now election season," he said, referring to how 2021 would see attempts by politicians to show off notable achievements, particularly in infrastructure works, ahead of the May 2022 presidential election.
While Duterte cannot seek re-election under the country's constitution, he is seeking to cement his legacy, with analysts believing he will rush through some infrastructure projects and convince Filipino voters to elect his anointed successor – possibly his daughter, Davao City Mayor Sara Duterte, who was found by private pollster Pulse Asia last month to be at the top of the list of preferred candidates.
ING Bank senior economist Nicholas Mapa, who covers the Philippine economy, said the size of the budget was "very disappointing" because the 10 per cent increase over last year's budget was "one of the lowest [increases] even compared to non-Covid years" – although the 2021 budget is also the largest in the country's history.
The Department of Budget and Management (DBM) said in a paper issued in September that the 2021 budget, with its 1.1 trillion pesos in infrastructure spending and 11.1 billion pesos set aside for an emergency jobs programme, would lift the economy from the 7.3 per cent contraction it saw in September to between 6.5 and 7.5 per cent GDP growth for the whole of 2021.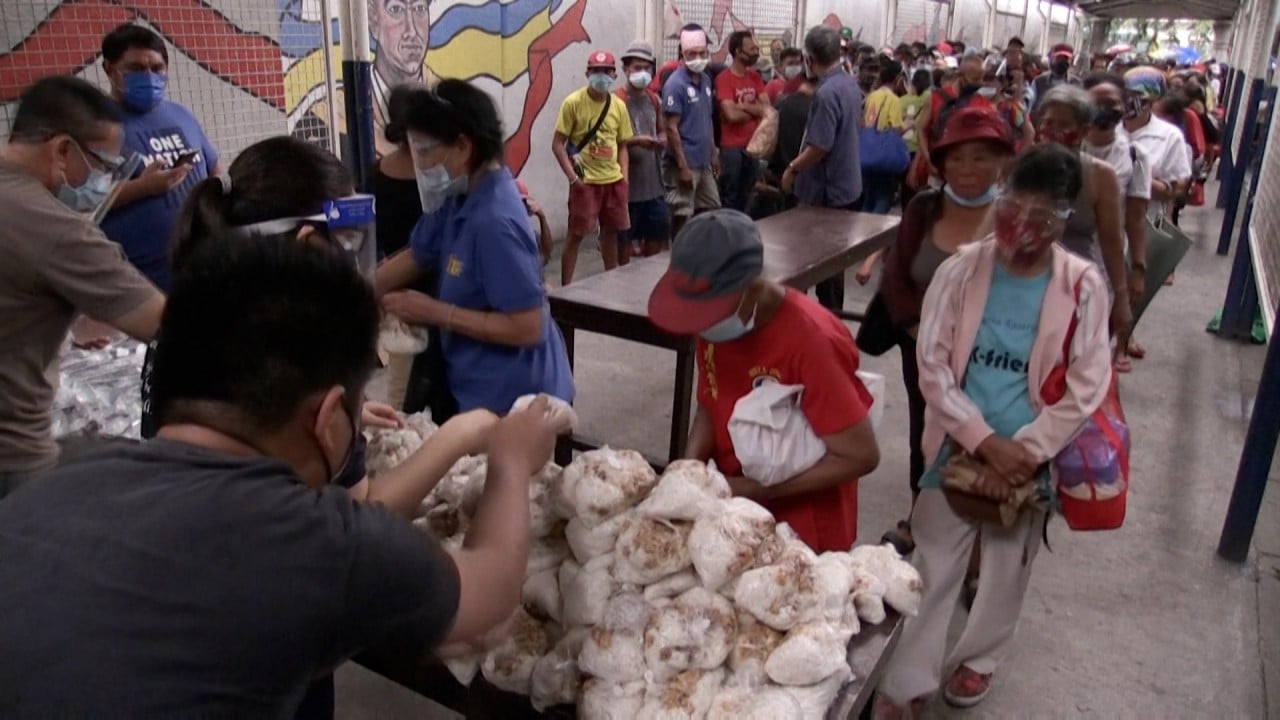 03:13
Long queues for free meals as millions in the Philippines go hungry amid coronavirus pandemic
Long queues for free meals as millions in the Philippines go hungry amid coronavirus pandemic
But Ron Acoba, an investment strategist with Trading Edge Training & Consultancy, said private consumption and not government expenditure remained the major driver for economic growth.
"Relative to our peers in Asia, the Philippines has the highest attribution to consumption, amounting to more than 70 per cent," he said. "This is also one of the main reasons why the country was the hardest hit in the region. Government expenditure, therefore, should be laid out to help boost consumption. Projects done should be the ones that have multiplier effects."
About 72.5 billion pesos has been set aside for purchasing and distributing Covid-19 vaccines, with Duterte promising to inoculate the country's 108 million population. Business leaders have called for mass vaccinations of Filipinos, saying it is the only way to revive the economy.
Back in October, when lawmakers were debating the budget, House deputy minority leader Carlos Zarate of the left-wing Bayan Muna Party asked why only 2.5 billion pesos was being set aside for vaccine purchase while 70 billion pesos would be going toward "unprogrammed appropriations".
The DBM said the bulk of the vaccines could only be purchased when foreign loans, excess revenue collection or new revenue sources became available. Finance Secretary Carlos Dominguez said he was optimistic he could easily borrow the needed amount from multilateral agencies and the Philippine Central Bank.
Opposition lawmakers continued to criticise the budget even after Duterte signed it on Dec 28. They also lambasted other expenses, such as 4.5 billion pesos for "confidential" and "intelligence" purposes placed under the Office of the President, together with 19.1 billion pesos allotted to the National Task Force to End Local Communist Armed Conflict.
The Commission on Audit – a constitutionally mandated, independent agency that audits how the three separate government branches spend tax money – admitted that such bulk funds, often disbursed without receipts, were difficult to track.
Senate minority floor leader Franklin Drilon recommended that the anti-insurgency fund be redirected to the country's Covid-19 response.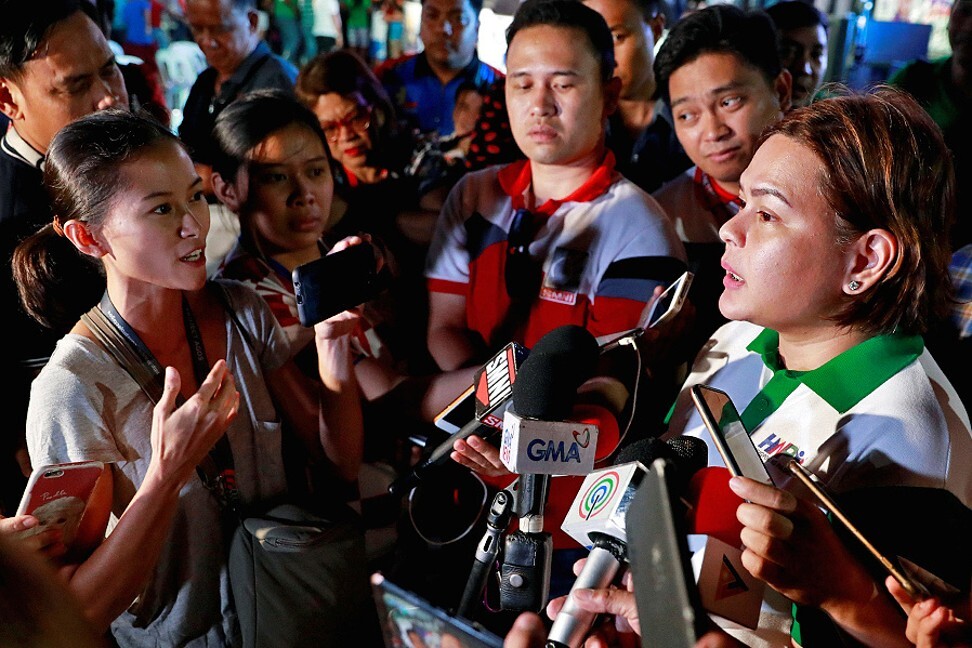 "The insurgency problem has been with us [a long time]. I don't think our programmes will collapse if we postpone the P19-billion anti-insurgency fund to 2022," he said.
Zarate, whose party has been tagged a "terrorist front" by the Duterte government, also described Duterte's priorities as skewed. He pointed out that the president allotted only 117 billion pesos for "pandemic response" but 1.1 trillion pesos for his "Build, Build, Build" infrastructure campaign.
The campaign – which was launched in 2017 and comprises major infrastructure projects including airports, highways and seaports – has stalled, mainly because only about 5 per cent of US$24 billion in loans pledged by China for a number of joint projects has been remitted.
Mapa of ING Bank predicted the Philippines would re-enter positive growth this year, but he suggested the government do more to boost incomes. "Some spending on direct income replacement would be welcome, or perhaps some creative salary subsidy programme like what Germany carried out" would also work for the Philippines, he said.
Mapa added that he was worried that unemployment in the Philippines, where 68 per cent of the population is of working age, remained high even if it had decreased from its peak of 17.7 per cent in April.
"After averaging 5 per cent for almost a decade, we now have 8-plus per cent," he said.
This article appeared in the South China Morning Post print edition as: Duterte under fire as 'election season' budget disappoints