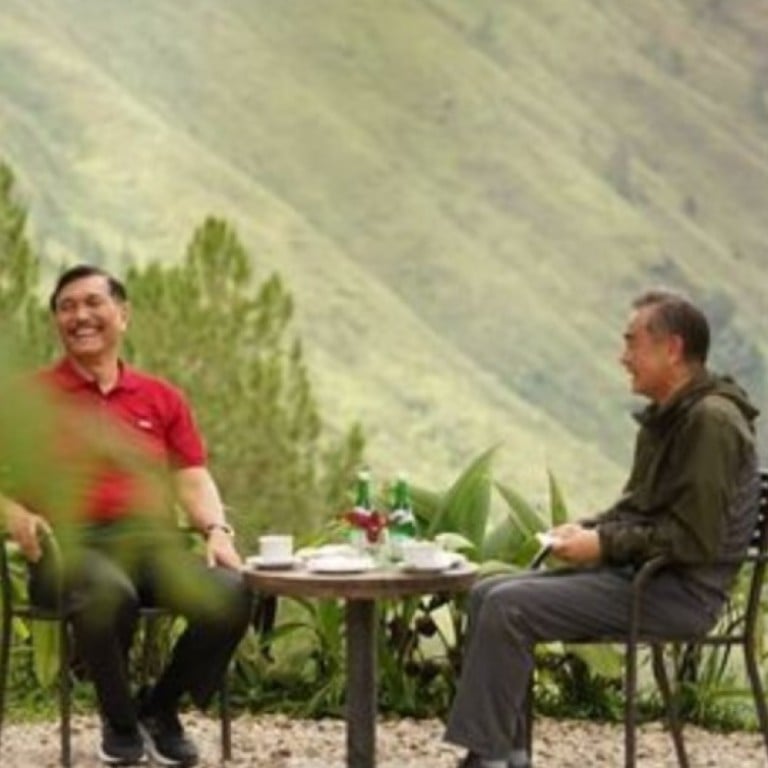 China and Indonesia to boost trade as Widodo's Sinovac shot underlines 'brotherly relations'
Foreign ministers Retno Marsudi and Wang Yi signal intent to expand imports and investments in effort to boost and balance trading relationship
Two-way trade has boomed even amid Covid-19, but there are thorny issues too – such as the poor treatment of Indonesian fishermen on Chinese vessels
Indonesia's foreign minister on Wednesday urged China to remove trade barriers for some of the country's main exports so that trade between the countries could grow and become more balanced, a concern his Chinese counterpart responded to positively.
Retno Marsudi delivered the request while meeting China's state councillor and foreign minister Wang Yi, who wrapped up his
two-day visit
to the Southeast Asian nation on Wednesday.
"I underlined the importance of removing trade barriers [and providing] market access for Indonesia's main exports to China, such as fishery products, tropical fruits, swift's nest, and of course, palm oil," Retno said during a news conference with Wang, adding that
two-way trade
last year had increased 10 per cent despite the
coronavirus
pandemic.
Wang said Beijing looked forward "to expanding imports from Indonesia and Chinese investments in Indonesia so that we can bring about a more healthy and balanced growth in trade between our two countries".
Wang said Beijing would work with Southeast Asia's biggest economy "for the speedy entry into effect of the
Regional Comprehensive Economic Partnership
to unleash the benefits of the largest free-trade area of the world". The partnership is a free-trade agreement between 15 Asia-Pacific nations who together account for about 30 per cent of the world's population and a similar level of global GDP.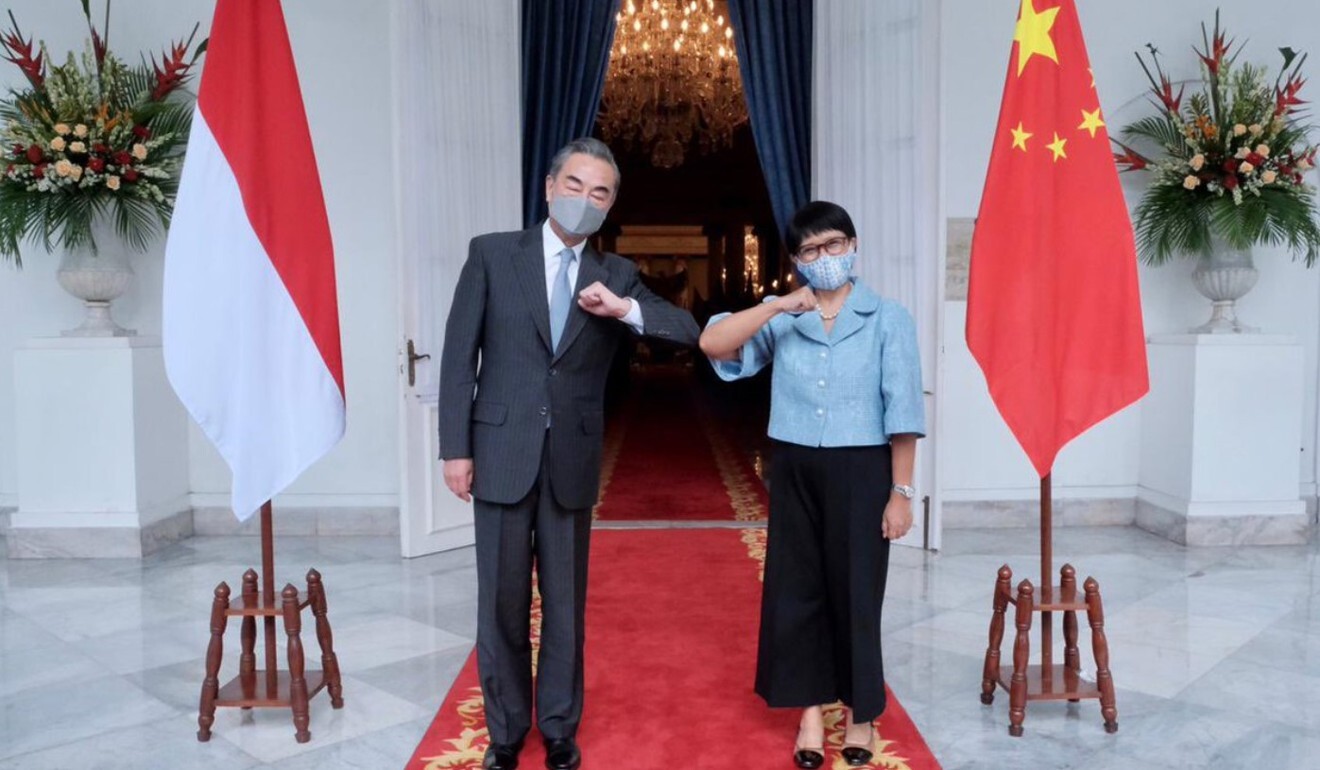 VACCINE DRIVE
Their comments came as
Indonesia
launched one of the world's biggest Covid-19 vaccination drives, using a
vaccine
produced by China's Sinovac Biotech. President
Joko Widodo
became the first person in the country to be inoculated, which Wang said underlined the "brotherly relations between the two countries".
"We have supported each other with medical supplies and have actively shared medical and diagnostic experience inside China despite the sharp increase in the demand for vaccines. We still overcame our difficulties and did not hesitate to respond to the need to provide vaccines to our friends in Indonesia," Wang said.
Wang also met Luhut Pandjaitan, Indonesia's minister of maritime and investment affairs who is in charge of boosting Chinese investment, on Tuesday in Lake Toba in North Sumatra, where he expressed China's commitment to cooperating on areas such as tourism, agriculture, trade and commerce, and marine research.
Before the meeting, Luhut and Wang signed two memorandums of understanding about cybersecurity and industrial parks, according to the Chinese state-run news agency Xinhua.
Retno said that during his meeting Wang had also signed a memorandum of understanding about "increased joint activities" and a memorandum of meeting about a pre-feasibility study into the Lambakan Dam in East Borneo.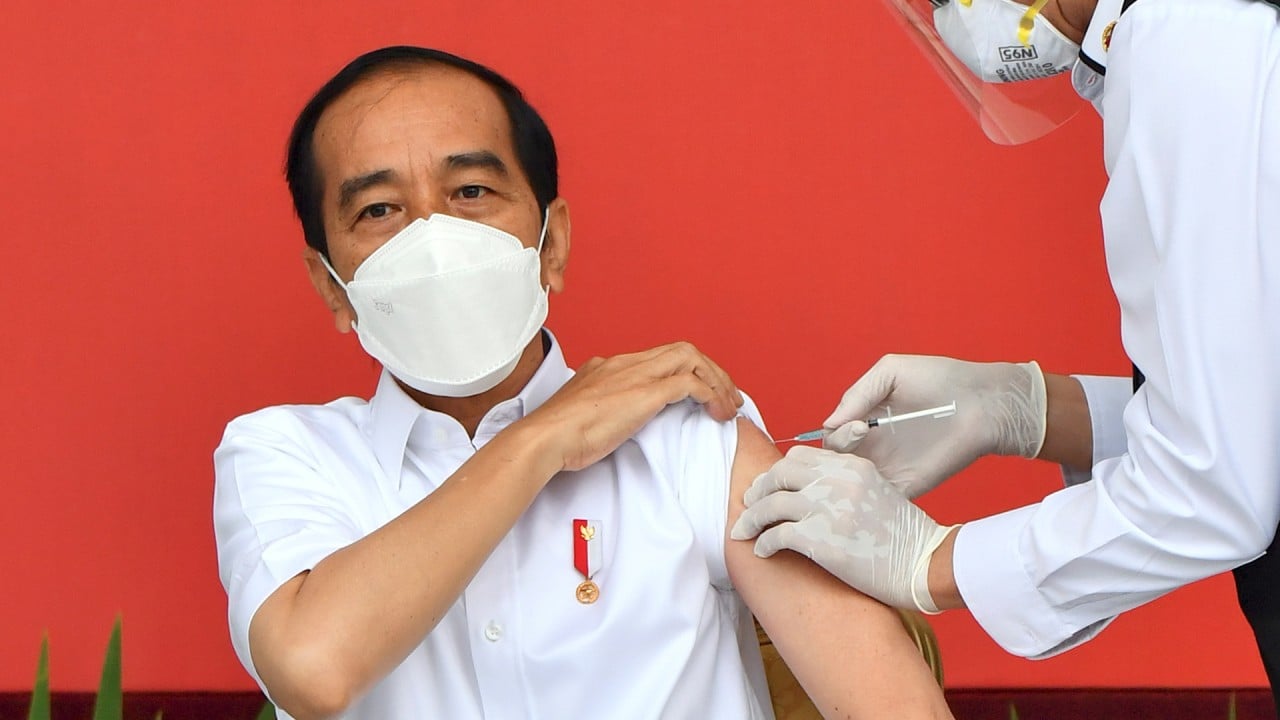 02:24
Joko Widodo gets first Sinovac vaccine shot as Indonesia starts mass Covid-19 inoculations
Joko Widodo gets first Sinovac vaccine shot as Indonesia starts mass Covid-19 inoculations
Wang also emphasised the importance of China's ambitious Belt and Road Initiative projects in Indonesia, which include the construction of the US$6.07 billion Jakarta-Bandung high-speed railway and some industrial parks.
"We will work together to synergize the
Belt and Road Initiative
and Indonesia's Global Maritime Fulcrum vision [Jakarta's plan to become the key power between the Indian and Pacific oceans]. We will also work for substantive progress in major cooperation projects such as the Jakarta-Bandung high-speed railway," he said.
"We will also focus on technological innovation and accelerate building new growth drivers such as 5G, AI and Big Data, so that we can make our industries more competitive."
THORNY ISSUES
"I am again asking for [China's] attention about some pending issues, such as the repatriation of Indonesian fishermen who are still stranded [in overseas waters], settlements related to their labour rights, and improvements for safe and conducive working conditions, as well as law enforcement through mutual legal assistance," Retno said.
At the end of last year, Indonesia repatriated 163 Indonesian fishermen, including the bodies of three who died while working for Chinese employers.
Surviving workers said they had been subjected to harsh treatment and inhumane working conditions, such as being beaten or tortured by their Chinese colleagues for their lack of Chinese language skills and forced to drink filtered seawater or eat fish bait. Their salaries were also lower than Chinese fishermen, they said.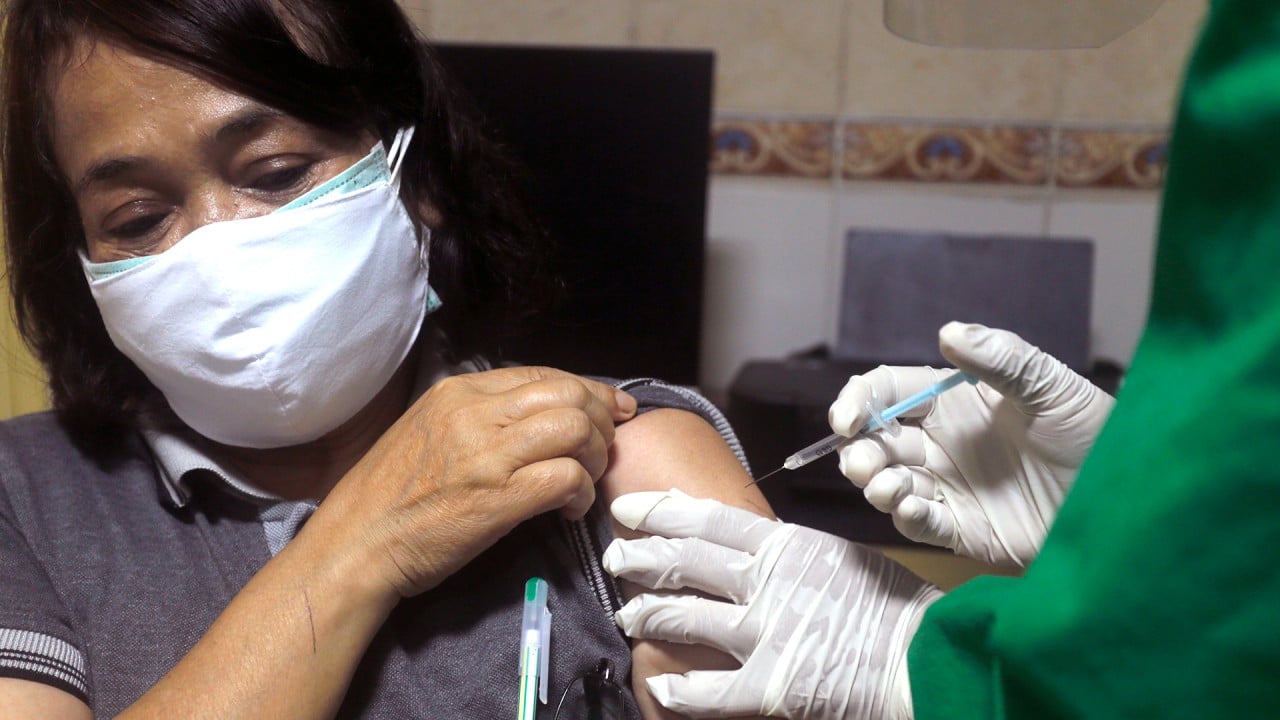 02:04
Indonesia says CoronaVac is 65.3% effective as Chinese-made Covid-19 vaccine makes inroads in Asia
Indonesia says CoronaVac is 65.3% effective as Chinese-made Covid-19 vaccine makes inroads in Asia
In regards to territorial issues in the
South China Sea
, Indonesia reiterated its position that all countries should uphold international maritime law, especially the United Nations Convention on the Law and Sea (UNCLOS), an international treaty signed in 1982 that established guidelines for nations to set up their maritime boundaries and manage their maritime resources.
Indonesia is a non-claimant state in the South China Sea, but it has frequently clashed with China over fishing rights in northern parts of the Natuna Sea, where parts of Indonesia's exclusive economic zone are seen by China as falling within the nine-dash line it uses to demarcate its maritime territorial claims.
Last year, Indonesia drove off Chinese coastguard vessels that entered the Natuna Sea and sent a protest note to Beijing summoning China's ambassador to Indonesia. In December, Indonesia said it was planning to move a naval combat squad headquarters to the Natuna Islands, to prevent similar intrusions.
To this, Wang responded that Beijing and Jakarta would continue to "abide by the principle of friendly consultation" to solve future stand-offs in the Natuna waters.
"We will work with other
Asean
[Association of Southeast Asian Nations] members to fully and effectively implement the Declaration of Conduct and actively and steadily advance the Code of Conduct consultations and together build regional rules that are in line with international law and are effective and substantive to protect the South China Sea's peace and stability," he said.
Wang is on a six-day trip to Southeast Asia, which includes stops in Myanmar, Brunei and the Philippines. Analysts see the trip as part of a charm offensive by China to strengthen its position in Southeast Asia ahead of the inauguration of US President-elect
Joe Biden
.