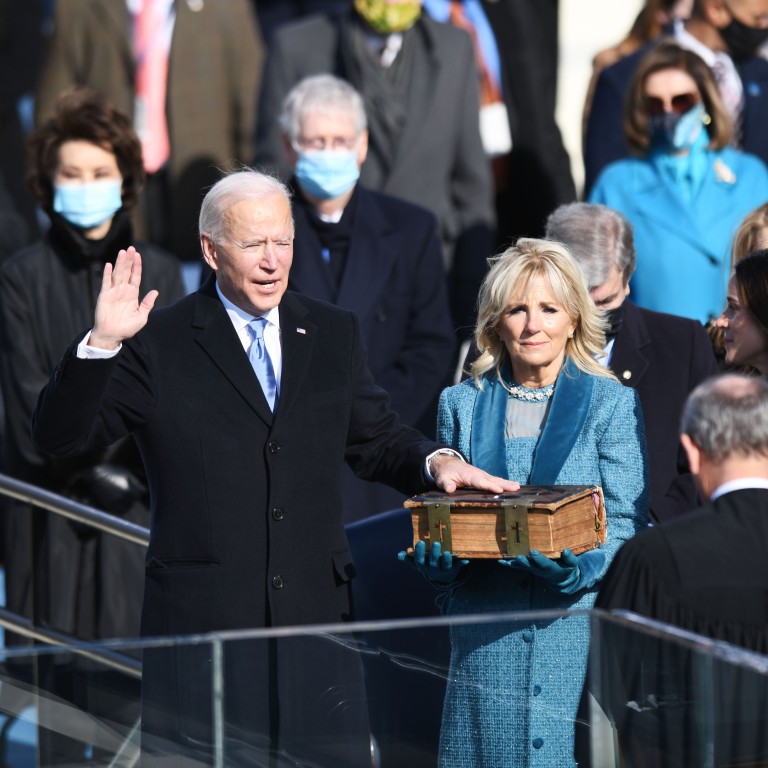 Biden stirs 'optimism and hope' in Asia, with Korean and Singaporean leaders singing his praises
The new US president's inaugural speech and executive actions to rejoin the WHO and Paris Agreement won plaudits throughout the region
South Korea's Moon Jae-in hailed the dawn of a 'new beginning' for the US, while analysts said Biden was likely to pay greater heed to Asia's hopes
US President Joe Biden's
appeal to Americans in his inauguration speech to end their "uncivil war" of political division had a domestic focus, but observers say his inclusive message and even-tempered tones will have deep resonance in Asia – where leaders are eager to quickly put the chaos of the last four years behind them.
That sense of relief about Biden's succession of his mercurial predecessor,
Donald Trump
, was evident in social media messages posted by regional leaders after the one-of-a-kind, socially distanced ceremony in Washington on Wednesday.
The upbeat global mood should grant Biden a honeymoon period as he seeks to repair Washington's damaged image in the coming weeks and months, observers said, noting that significant hurdles remained for the new president given the disparate expectations of his administration from countries around the world.
Biden's inaugural speech and immediate actions after taking office – he signed executive orders for the US to rejoin the
World Health Organization
and to bring it back into the fold of the landmark climate accord known as the
Paris Agreement
– were widely lauded throughout Asia.
Nydia Ngiow, a Singapore-based senior director with the BowerGroupAsia political consultancy, said Biden had on day one of his presidency given rise to "cautious optimism and hope".
"This is evidenced by messages from world leaders looking towards reconnecting and welcoming a partner back to the fold," Ngiow said.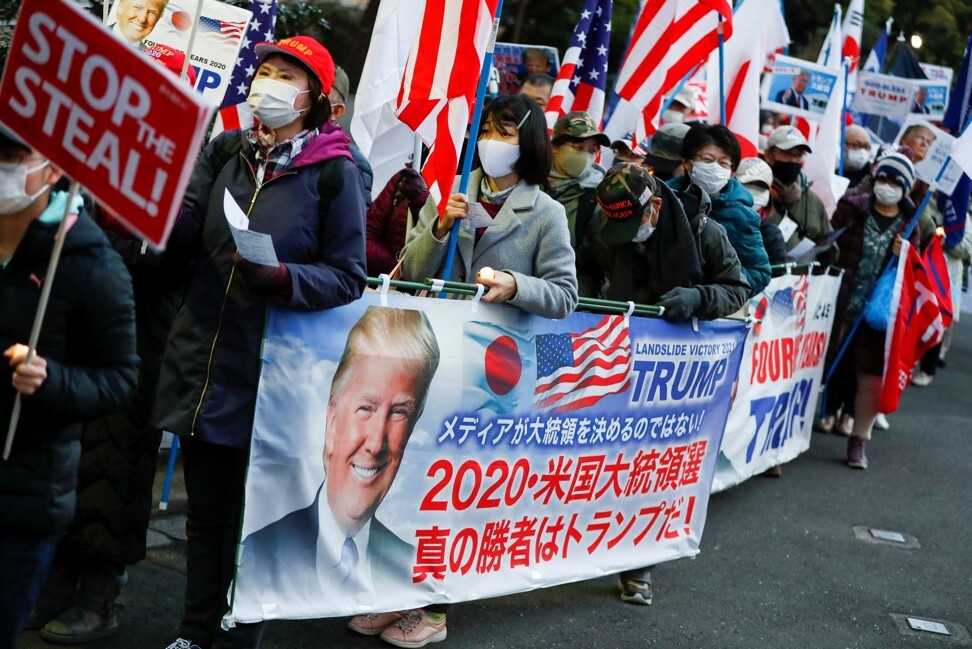 With his speech taking place barely two weeks after the shocking insurrection at the Capitol by Trump supporters who had hoped to forestall the leadership succession, Biden said the eventual transition was evidence that the "will of the people has been heeded".
"We've learned again that democracy is precious. Democracy is fragile," Biden said. "And at this hour, my friends, democracy has prevailed."
South Korean President Moon Jae-in
was particularly effusive in praising Biden for the message, saying on Twitter that his inauguration heralded the dawn of a "new beginning" for the US. "Together with the Korean people, I stand by your journey toward America United," he said.
Writing on Facebook, Singapore's Prime Minister Lee Hsien Loong said he wished Biden "every success in his endeavours" to heal the divisions in the US after the "contentious and bitter" November elections.
Adding to those remarks was Tommy Koh, the retired Singaporean diplomat whose views about US ties with Asia, in particular Southeast Asia, are highly sought by policymakers and regional analysts. "After the chaos of the last four years, Asia can expect a period of stability, rationally and competence," he said on Facebook.
David Adelman, the US ambassador to Singapore from 2010 to 2013, told This Week in Asia that his sense was that world leaders were "breathing a sigh of relief today knowing the new occupant of the White House is a reliable, steady hand committed to restoring America's reputation as a purveyor of peace and prosperity".
Also weighing in was Frank Lavin, another former US envoy to Singapore who now lives in the city state. Lavin said that despite the speech's domestic focus, it would likely deeply resonate with global audiences because of its substance.
"I think what was successful about his speech is that he spoke in an inclusive, even-tempered tone and he held out an appealing vision of America, one that was civil, successful and would come to terms with
Covid-19
," he said.
Meera Shankar, a former Indian ambassador to the US, said the initial signal to the world from Biden was that the US would sharply depart from the unpredictability of his predecessor.
"It seems that Biden will have a traditional foreign policy which is less mercurial and less predictable as it was during the Trump era," Meera told This Week in Asia.
Most observers flagged Biden's decision to sign an executive order for Washington's re-entry into the Paris Agreement as the most significant element of his first day in office.
The Trump years not only represented "time lost in the global effort to curb
climate change
but also significant backsliding from one of the largest carbon emitters in the world," said Rohan Mukherjee, a foreign policy researcher with the Yale-NUS college in Singapore. Nonetheless, "rejoining the accord is an important signal to the world that the US is ready and willing to play a leading role in global governance again instead of actively dismantling some parts of the international order while quietly watching other parts crumble."
Joseph Liow, an international affairs analyst with the Nanyang Technological University in Singapore, said the new US president would have to pay heed to Asia's hopes that there will be genuine engagement on issues such as climate change.
"Biden should also demonstrate that he is aware of the constraints and challenges faced by regional states in their specific contexts, which may be very different from that which prevails in North America or Western Europe," he said.
Attention is expected to next pivot to the Biden administration's actions and policies regarding China, analysts said.
The president's soon-to-be confirmed secretary of state nominee, Antony Blinken, told Congress on Tuesday that he agreed with the "basic principle" of Trump's muscular approach to Beijing, although he said he had different views "with the way he went about it in a number of areas".
India is among the countries hoping for a continuation of Trump's China policy. "So long as the US' rivalry with China remains a template of Asian politics, India becomes an indispensable partner for the US," said MK Bhadrakumar, a former Indian diplomat.
"The big question is, how India can make use of this golden opportunity while also ensuring that this intercourse progresses as an equal relationship," Bhadrakumar said.
Dewi Fortuna Anwar, a high-profile Indonesian foreign policy commentator, said the Indonesian government hoped the Biden administration would usher in "a more conducive climate to ensure collaboration on Covid recovery, economic recovery, and wider regional cooperation" as well as the maintenance of regional centrality through the 10-nation
Association of Southeast Nations
.
In Thailand, analysts said the return of a Democrat as a president could prove to be a double-edged sword for the military-backed government that has for months been dealing with student protests.
The kingdom, along with the Philippines, is one of Washington's two formal non-Nato allies in Southeast Asia.
"A Democratic administration would mean more engagement [in Thailand] than the Trump administration," said David Streckfuss, an independent Thai politics scholar.
"Biden has said that he wants allies to know that the US is back," he said. "That would mean more engagement with the world, and as such, it might result in more pressure for authoritarian regimes like Thailand."
Additional reporting by Dewey Sim in Singapore, Sonia Sarkar in New Delhi, Resty Woro Yuniar in Jakarta and Jitsiree Thongnoi in Bangkok.