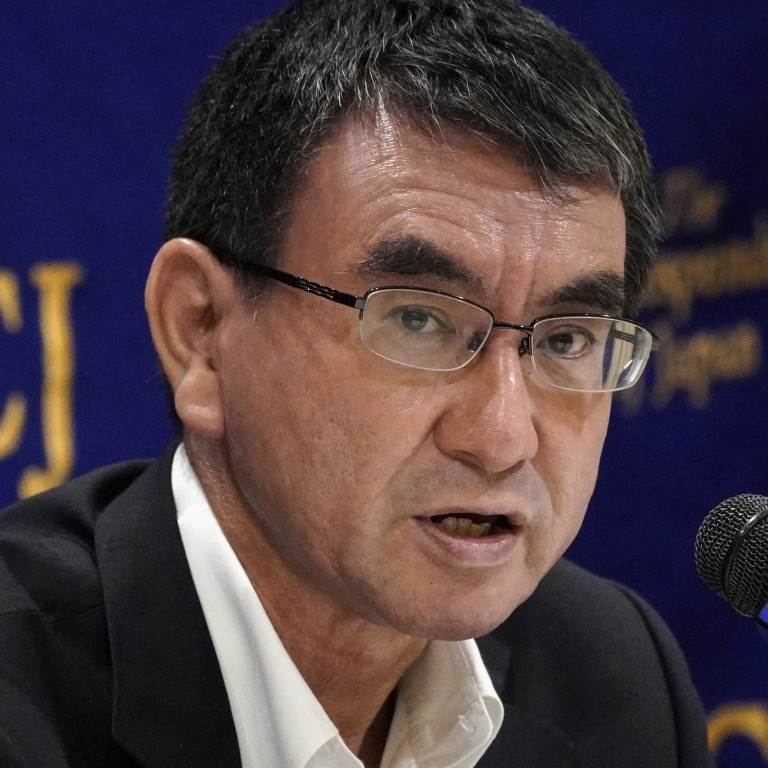 For Japan's Covid-19 vaccine tsar Taro Kono, will a successful vaccination drive put him one step closer to prime ministership?
Reform minister Kono was handed the tricky vaccination portfolio after a poll placed him as the public's top choice for prime minister
It's caused a buzz with analysts speculating whether Kono's success would boost support for PM Yoshihide Suga or help him attain the top leadership role
He has anointed Pokemon and Hello Kitty as special envoys to promote the city of Osaka for the 2025 World Expo, and has a notoriously sweet tooth, with macarons a particular favourite – but
Japan
's Taro Kono also has a combative streak, with some comparing his Twitter use to that of former US president
Donald Trump
.
Kono, 58, has had strong words for both South Korea and China, and has shut down people that disagree with his opinions on platforms such as Twitter with withering retorts or simply by blocking them.
On top of his duties as minister for reform, Kono, the son of former foreign minister Yohei Kono, has recently been given the task of overseeing the roll-out of the
Covid-19 vaccine
to the nation of 126 million starting at the end of February. On Tuesday, Kono, speaking at a regular press conference, did not reveal any costs for the vaccinations.
He had previously said Pfizer's vaccine would be used for the first shots, starting with medical workers, with the next priority being to vaccinate the elderly, those with health conditions and elderly care facility workers.
Kono's promotion to vaccine tsar coincided with his emergence as the voting public's favourite to take over from
Yoshihide Suga
as Japan's next prime minister.
While the public support rate for Suga's cabinet has slumped below the 40 per cent threshold, a recent poll conducted by the
Mainichi
newspaper showed that Kono had the support of 12 per cent of the public, ahead of Suga at 8 per cent. Politicians from across the spectrum accounted for the rest, with even former prime minister
Shinzo Abe
attracting the backing of 4 per cent of the electorate.
Suga, 72, inherited the premiership at the height of the pandemic and the associated economic crisis, and has come in for criticism for a number of policies – including prioritising the economy over public health and promoting the "Go To Travel" domestic tourism programme, which is now being blamed by scientists for spreading the virus. On Tuesday, the hashtag #KilledbyYoshihideSuga gained traction on Twitter over his government's handling of the pandemic.
Some analysts suggest the results of the poll, released on January 18, did not go unnoticed by Suga, who chose to appoint someone who is emerging as his direct rival to oversee the vaccine roll-out.
The successful delivery of Japan's coronavirus vaccine was arguably the largest and most challenging task of Suga's political career to date, said Koichi Nakano, a professor of politics at Tokyo's Sophia University.
He called it a "poisoned chalice" that has been dropped at Kono's feet by a prime minister who knows he cannot afford many more false steps if his administration is to survive beyond the autumn.
"Suga will be feeling the pressure from within the [ruling Liberal Democratic Party] to get his act together," Nakano said. "And if he cannot do that, then he will be gone quite soon.
"But giving Kono this task is a clever political manoeuvre. If he does well, then Suga can take the credit for an inspired appointment. But if it goes badly for Kono, then he will take the heat and Suga's closest rival is tainted and diminished."
Japan's general election has to be held before the end of October.
Nakano believes Kono is ambitious – but also that he is a maverick in the stultified arena of Japanese politics, with a habit of antagonising people.
"He has expressed interest in being prime minister in the past and even ran for the presidency of the LDP back in 2009," he said. "But that was a premature move as Kono was too young and inexperienced, but he does have ambition and he does not hide it."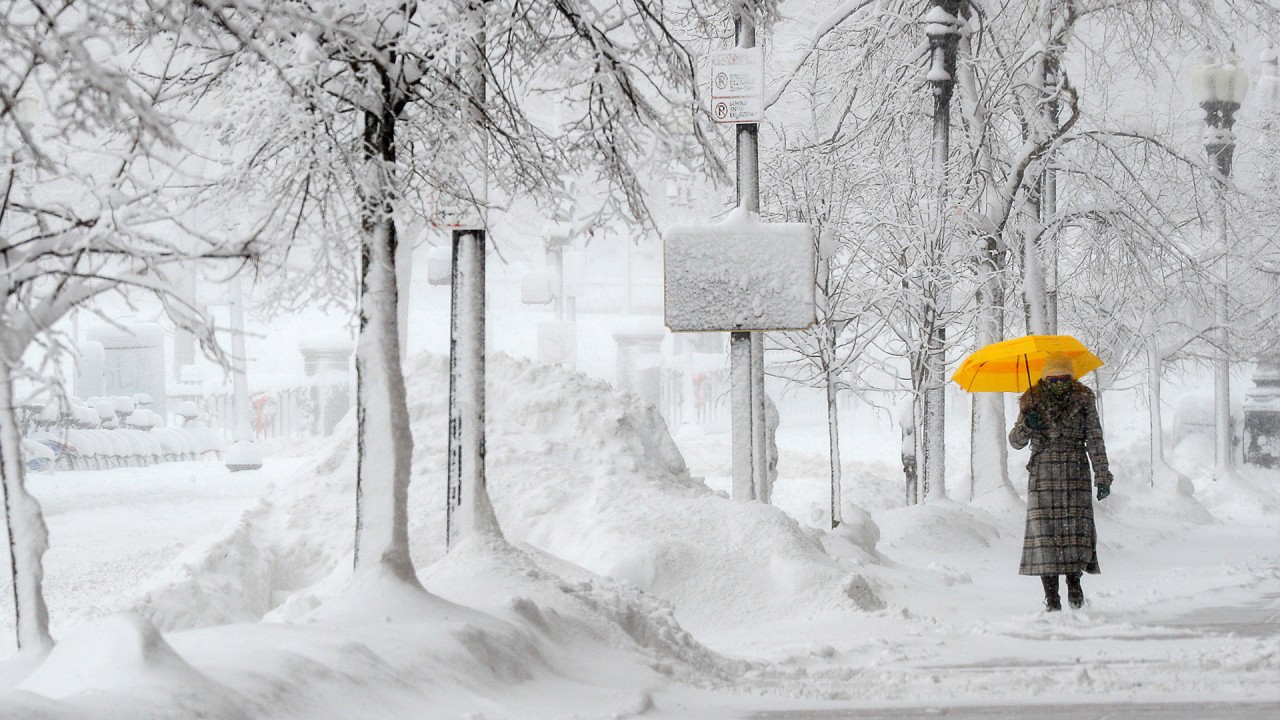 01:32
Deadly snowstorms in Japan bring record snowfalls and leave many communities at a standstill
Deadly snowstorms in Japan bring record snowfalls and leave many communities at a standstill
A member of the faction headed by former prime minister Taro Aso, the English-speaking Kono was popular with a younger voting demographic and was more in touch with the public, Nakano said, thanks in part to his prolific use of social media.
"He certainly has the populist's touch and he's a crowd pleaser, but he has a reputation for quickly blocking people that he disagrees with or who criticise his comments or policies, which makes him come across as something of a 'mini-Trump'," said Nakano, who admitted that he has himself been blocked by Kono on Twitter.
Showing his willingness to take on rivals and causes on social media, Kono has in recent times been involved in something of a spat with
The Japan Times
, Japan's oldest English-language newspaper. In a piece looking at the government's 2019 decision to
officially require surnames to be used before first names
, as is the custom in Japan, Kono stated on Twitter: "Times Japan, my name is Kono Taro, you know. If
The Economist
can put it right, why can't a Japanese newspaper?"
The newspaper responded with the message "Dialogue matters" and a link to a story examining the name order debate.
Hiromi Murakami, a professor of political science at the Tokyo campus of Temple University, pointed out that Kono had gained experience in key ministries and while he was still relatively young, "there is a real shortage of people who might take over from Suga should he be pushed aside by the party or the voters later this year".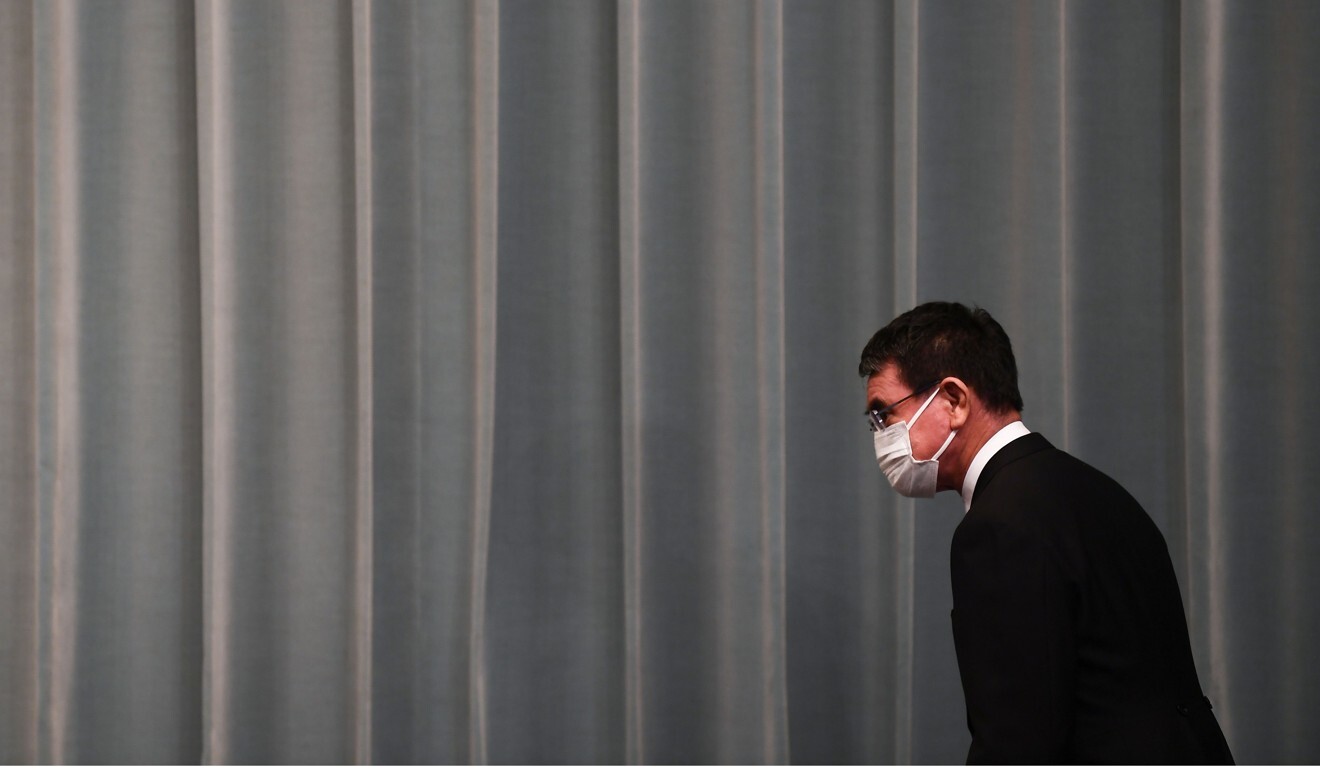 That decision would largely be in the hands of the party's heavyweights, who might decide that Kono was not sufficiently conservative in his political leanings, Murakami said.
One mark against Kono is likely to be that he is not a member of Nippon Kaigi, the ultraconservative organisation that is widely considered to be pulling the strings of Japanese politics. It has some 40,000 members drawn from the worlds of local and national politics as well as business, including former prime minister Abe, who is a member and special adviser.
The group's key tenets include revising the war-renouncing Article 9 of the constitution; support for visits by the prime minister to Tokyo's controversial Yasukuni Shrine – considered the last resting place of Japan's war dead, including war criminals – and a nationalist interpretation of Shinto as a state religion.
But Murakami said Kono was a more centrist conservative whose political priorities lay elsewhere. Supporting that view is his call for Japan to discuss its present immigration policy to solve the increasingly acute problem of an ageing society, and his calls for the widespread adoption of renewable energies and the phasing out of nuclear and fossil fuels. Neither concept is popular with the conservatives who typically inhabit the LDP.
Kono's harsh words for China during his time as defence minister may win him some points with conservatives, however. In September last year, during an address to US think tank the Center for Strategic and International Studies, he said he saw Beijing as a "national security threat" to Tokyo.