Myanmar
Get more with myNEWS
A personalised news feed of stories that matter to you
Learn more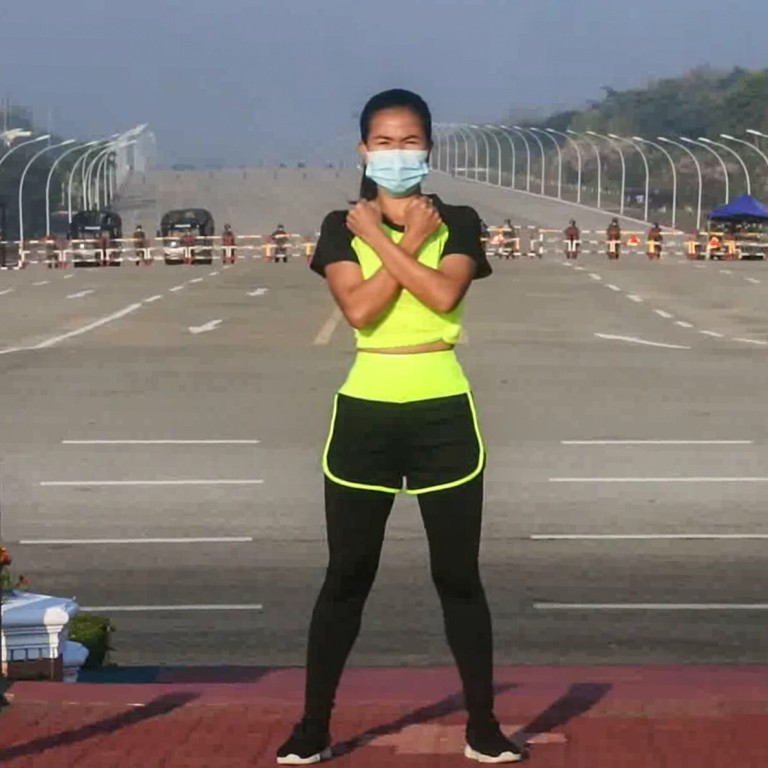 Myanmar aerobics instructor dances to Indonesian protest anthem as military coup unfolds
The video of Khing Hnin Wai doing her fitness routine while armoured vehicles mass in front of Myanmar's parliament has gone viral on Twitter and Facebook
Indonesian internet users have pointed out that the song to which she is dancing, 'Ampun Bang Jago', is about the power struggle between the people and the authorities
It was an aerobics routine with a difference – a front-row seat to a coup in progress. A video of a Burmese woman doing a dance workout outside
Myanmar
's parliament building while armoured vehicles mass in the background has gone viral, garnering more than 10 million views on
social media
, with users pointing out her seeming obliviousness to the military activity.
But even as the video racked up views on Twitter and Facebook, it was
Indonesian
internet users who highlighted the significance of the song to which Naypyidaw-based aerobics instructor Khing Hnin Wai was dancing.
Ampun Bang Jago – by Indonesian duo Tian Storm and Ever Slkr, from the Indonesian city of Bitung in North Sulawesi – is about the power struggle between

the people and the authorities

.
In Southeast Asia's largest economy, it has often been used to mock police brutality during demonstrations, most recently when thousands gathered to protest a
job creation law
last year.
The video was initially shared on Twitter by a user named Angel Marrades. Journalist Vincent Bevins, who retweeted it, wrote that Marrades had taken the video from Facebook, and included a link to Khing Hnin Wai's profile.
Marrades, who works for a Spain-based news portal focused on conflicts, election and trade disputes called Descifrando la Guerra, on Tuesday told This Week in Asia the video had been sent to him by a person from Myanmar. After asking HoaxEye, a hoax-busting account on Twitter, to verify the video's legitimacy, he was told there were no "obvious signs of editing".
On Facebook, the woman, whose profile stated that she was a 26-year-old PE teacher, had posted eight more videos of her dancing in the same spot. She said it was her favourite location to dance "in the past 11 months". When insults piled in from supporters of Myanmar's military, she took to the platform on Tuesday to defend herself.
"I wasn't dancing to mock or ridicule any organisation or to be silly … I was dancing for a fitness dance competition," wrote Khing Hnin Wai, who did not immediately respond to This Week in Asia 's request for comment. "As it isn't uncommon for Naypyidaw to have an official convoy, I thought it's normal so I continued."
On social media, Indonesians reacted with glee and shock to the video, pointing out that the song lyrics, written in Manado Malay – a mix of Malay, Dutch and Portuguese words that is spoken in the North Sulawesi city, which was strongly influenced by the Dutch when Indonesia was its colony – fit perfectly with the scene.
Myanmar's military on Monday staged a coup against the democratically elected government of
Aung San Suu Kyi
, detaining her along with other government leaders while declaring a year-long state of emergency. The army said this was due to the government's failure to address fraud in last November's election, which Suu Kyi's National League for Democracy party won by a landslide.
The lyrics of Ampun Bang Jago , which can be translated as "I beg for mercy, champ", are about bouncing back after an authority figure, or the jago, knocks you down.
"They are coming one by one, to fight over the throne. I don't need to mention their names, they know who I'm referring to," the song goes. "Let them think they're the greatest, but we are the ones being recognised, so please keep working, even when you think it's useless."
The song was released in September last year by duo Jonathan Dorongpangalo and Everly Salikara, who respectively use the stage names Tian Storm and Ever Slkr.
The lively track, which is of a local genre in Sulawesi called disko tanah or "ground disco", has been viewed more than 29 million times on YouTube.
It has also been used in online video compilations from the nationwide demonstration against the Omnibus Law in October last year, when labour groups, students, and civic rights activists took to the streets to protest the passing of the controversial law.
On TikTok, it has been used in 2.7 million videos and has spawned its own TikTok dance challenge, according to Indonesia's Kompas newspaper. In October last year, British soccer club West Ham United even used the song in a compilation of goals on the platform.
Indonesian Twitter users are stoked that one of their local songs was apparently "a soundtrack for the Myanmar coup", as user Raden Ranaweleng wrote, with another user tweeting that "the Myanmar teacher who danced to Ampun Bang Jago in front of a military coup is the energy I aspire to achieve in 2021".
Others were impressed at the fact that an Indonesian song had reached a neighbouring Southeast Asian country, while there was also talk of using it as a protest anthem for the #EndSARSbrutality movement in Nigeria, referring to the series of protests against police brutality there.
Additional reporting by Agence France-Presse