Myanmar
Get more with myNEWS
A personalised news feed of stories that matter to you
Learn more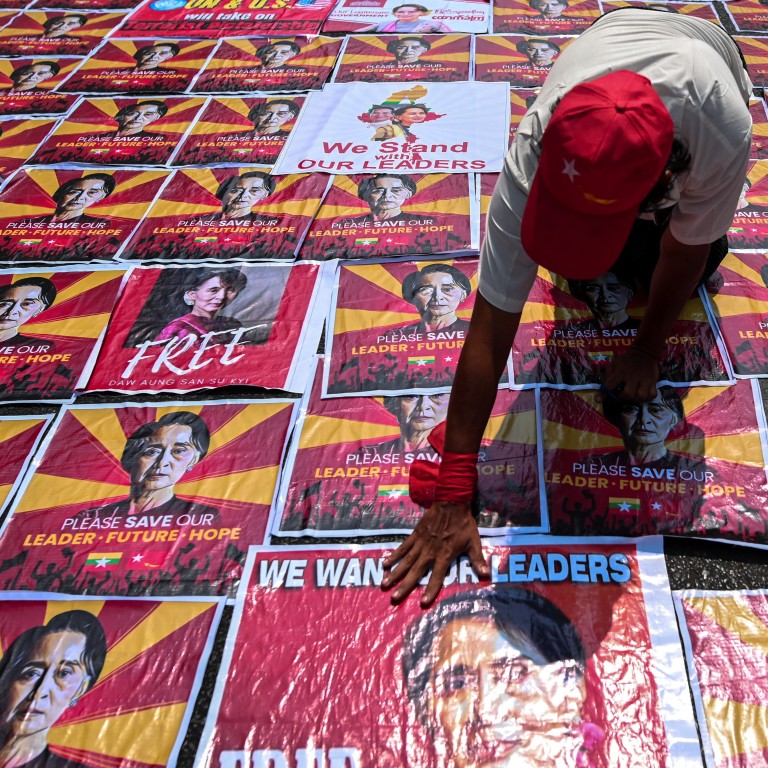 Myanmar people vs the junta: Generation Z leads the charge with inspiration from protesters in Hong Kong, Thailand
They might not remember life under junta rule, but the youngsters' enthusiasm and invention have drawn support from older compatriots and international attention
Their eye-catching civil disobedience movement against the generals who took power in the February 1 coup has also taken pointers from demonstrations around the region
From protest placards poking fun at army chief Min Aung Hlaing to emblazoning pro-democracy slogans on roads and part of a riverbed – at a scale meant to be large enough to appear in satellite photos –
Myanmar
's civil disobedience movement against the generals who took power in a February 1 coup is composed of eye-catching measures that swiftly went viral on social media, as well as inspiration from
demonstrators in Hong Kong
and
Thailand
.
The movement is largely being led by youngsters in the Southeast Asian country, a group born between 1997 and 2010 with little to no memories of the trauma of life under a military dictatorship before
Myanmar's turn towards democracy
about a decade ago.
Now aged between 11 and 24, and comprising approximately a quarter of the country's 57 million population, Myanmar's Generation Z is providing the enthusiasm and invention to keep the movement going.
"Generation Z is very creative," said Sandar Khaing, a 25-year-old dentist who has joined the daily street protests in Yangon, Myanmar's commercial capital, for more than two weeks. "We [millennials] just follow the plan they make."
Millennials and Generation X respectively grew up with Than Shwe and Ne Win as commander-in-chief of the Myanmar military, with the birth-year boundary between the two demographic cohorts drawn roughly in 1980.
On Monday, as opponents of the coup called for a general strike in their bid to stage the biggest rally yet in response to the brutal crackdown in Mandalay, Myanmar's second largest city, over the weekend, prominent youth activist Maung Saungkha, 28 took to Facebook to articulate his defiance.
"Those who don't dare to go out, stay home. I will go out in any way I can," he wrote. "I will be expecting Generation Z. Let's meet, partners."
Hong Sar, a 38-year-old photographer in Hpa-An, capital of the country's eastern Kayin State, has abandoned his work in an office to hit the streets every day. He points to how the energy of the Generation Z protesters has inspired many older people to join or support the cause, and also be braver and more innovative in displaying their opposition to the generals.
"They are bold, creative and very peaceful," he said. "When I saw all these young people coming out, I thought I should also join the protests."
'TAKE BACK OUR VOTES'
In Myanmar, millennials and those in Generation X still remember how security forces hit back aggressively at antimilitary protests, including the protest movements that peaked on August 8, 1988 and in 2007. In the demonstrations following the coup this month, three protesters have been killed and more than 20 people injured after authorities fired shots to disperse them. 
While Myanmar's foreign affairs ministry on Sunday said the authorities were "exercising utmost restraint through minimum use of force", several countries and the United Nations have condemned their handling of the protests and expressed concern over the violence.
But for Generation Z, the horrors of past crackdowns are just stories from their parents, or nebulous memories at most. To those who voted for the first time in last November's mid-pandemic elections – delivering State Counsellor
Aung San Suu Kyi
's National League for Democracy (NLD) a landslide victory – the anti-coup movement is a struggle to reclaim their votes.
"We voted for the NLD," said Peter Sein, a 23-year-old graduate student in Yangon. "We feel our votes are wasted."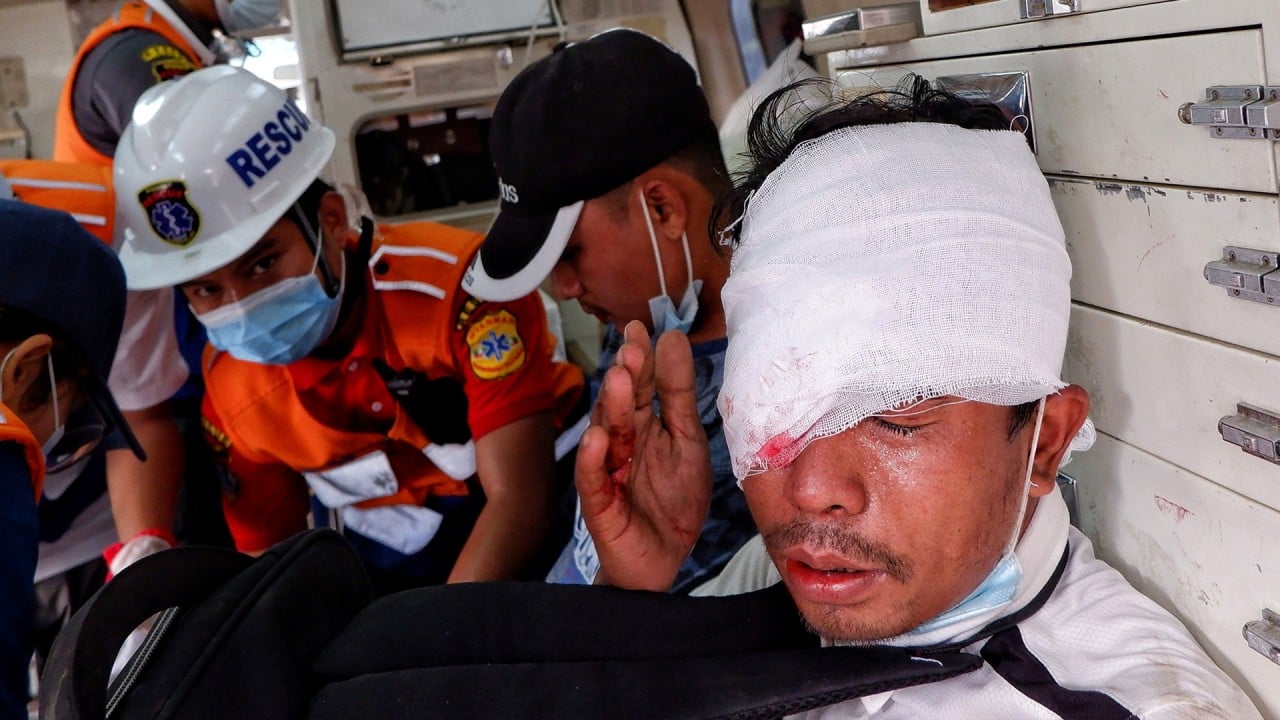 03:10
Myanmar anti-coup protesters plan their largest mass rally yet after deadly clash with military
Myanmar anti-coup protesters plan their largest mass rally yet after deadly clash with military
Thaw, a 23-year-old lawyer whose dream of legal studies was realised only after the University of Yangon was reopened in 2013, said she "will not take our democratic privileges for granted any more".
The university was shut down in 1996 by the then military government, as the campus was seen as a place where protest leaders had consolidated support in the 1988 student-led uprising and other demonstrations in the 1990s. After it was closed, most other universities were relocated to Yangon's outskirts to prevent students from organising mass movements, forcing the country's youth to choose between the limited higher education programmes available in the city centre or commuting for at least three hours.
Thaw, who went to university in 2013, saw not only her education but her career flourish as the country gradually democratised, with foreign investment pouring in. She did not actively participate in politics before the coup, but since February 1 she has joined street protests and online campaigns as much as she can.
"Almost everyone in our generation is doing their best," Thaw said. "We, as a generation, will always be grateful and keep in our minds the heroes who have lost their precious lives in the fights for democracy."
Mya Thwe Thwe Khaing – the first protester who died, after being shot in the head by police – was 20 years old, while a boy who died on February 20 when
security forces in Mandalay opened fire on protesters
was reportedly aged 14. Just like Thaw, they belonged to Generation Z.
SOCIAL-MEDIA SAVVY
Retired railway superintendent Khin Maung Win, 58, praised the young protesters for being able to draw international media attention through a diverse array of approaches "without using violence".
He said this was unlike his generation, who spent much of their life living under authoritarian rule: "There was a moderate amount of creativity and critical thinking in our generation, too, but with limited access to [the internet and technology], we were somewhat narrow minded."
Myanmar's netizens have drummed up support for their cause through savvy use of social media, with viral hashtags carrying their message overseas.
The country has become the latest member of the Milk Tea Alliance
, the loose, value-based network of people in Thailand, Hong Kong, Taiwan and India who stand against entrenched holders of power.
Phone Khant, a 20-year-old in his final year of university in Yangon, has procured tips from his fellow members of the alliance. Although he has never studied abroad, he has befriended socially conscious youngsters in the
Association of Southeast Asian Nations
(Asean), Hong Kong and Taiwan during internships and short-term exchange programmes.
Activists from Hong Kong told him it was important to keep injuries and casualties as low as possible, and keep a vigilant eye on those who were more concerned with stirring up violence than supporting the cause. Phone Khant then shared the lessons with student groups in Myanmar and helped verify misinformation on Facebook.
Swe, 30, a freelance worker for a non-profit in Yangon, said when signs of violence arose, Myanmar protesters crossed their arms to declare the rioters were not affiliated with them, using a protest gesture drawn from their counterparts in Hong Kong.
Youngsters in Myanmar have also looked to the Korean peninsula for inspiration in their campaign against the junta. Moe Thu, 20, a communications and creative director in a sportswear company who is also a fan of South Korean boy band BTS, studied characteristics of society under a totalitarian government and ways to bring down a dictatorship through YouTube videos, including one by The Economist, discussing North Korean leader Kim Jong-un.
Moe Thu, whose name has been changed to protect her identity, was horrified by her discovery that children in a draconian regime might end up believing they were happy, without knowing the rights they were entitled to in an open and democratic society, and used the findings to persuade those who were still hesitant to participate in the civil disobedience movement.
PROMINENT FIGURES
Although the Myanmar protest movement is largely seen as leaderless, it is not without prominent figures. Some have staged elaborate performances to show their opposition, such as Paing Takhon, once hailed as the most handsome monk in the country.
The 24-year-old model on February 11 donned a red Chinese suit and held a paper umbrella while cooking seafood hotpot outside the Chinese embassy in Yangon to protest against alleged support from China for the Myanmar army's coup and internet censorship, though the Chinese ambassador to Myanmar later rejected the allegations. Paing Takhon also uses his social media presence to uplift Myanmar people and explain the situation in the country to his international followers.
Hein Khaing, a postdoctoral fellow at Xiamen University in China who researches social movements in Myanmar, said Generation Z had various ways to express their dissatisfaction with the coup, but they all had "a shared goal, regardless of class and profession", which is to bring down the junta and restore democracy.
Said Moe Thu, the K-pop fan: "Unlike the elder people, we don't talk about sacrifice. We don't want to sacrifice our lives for the country. We are thinking about strategies all the time. We are making our choice for the life and future we want, not just for mother Suu Kyi or the NLD."
Nan, a 33-year-old finance professional who works in a social enterprise in Yangon, said while the culture in the country was hierarchical due to the influence of Theravada Buddhism, with seniors tending to disparage juniors, this was changing.
"Even if the creative ideas and actions are not initiated by Generation Z, older people want to give credit to them," Nan said. "People are optimistic about the younger generation."
Hong Sar, the photographer, shot many protests in front of foreign embassies in Yangon before he started a project in Hpa-An last year. "Over the years I never saw any ambassador coming out to meet the protesters," he said.
But since February 12, Myanmar's young protesters have met and submitted their open letters to ambassadors from Germany, Britain, France, Denmark and Japan, among others, after long hours waiting in the heat.
"The young people made it," Hong Sar said.
Additional reporting by Hsu Myat Kyaw Soe in Yangon