Thailand
Get more with myNEWS
A personalised news feed of stories that matter to you
Learn more
#MilkTeaAlliance springs to life as Thailand pro-democracy protesters march on Prayuth's home
Sunday's march targeted Prayuth's taxpayer-paid lodgings at the 1st infantry regiment, with scores of Myanmar migrants joining in
Ahead of the rally, memes, graphics and symbols of the #MilkTeaAlliance bounced across social media in Thailand, Taiwan, Hong Kong, Myanmar and India
Thousands of pro-democracy demonstrators marched on the army barracks home of
Thailand Prime Minister Prayuth Chan-ocha
on Sunday in a procession filled with the flags and signs of the #MilkTeaAlliance, the trans-Asia movement of youthful protesters fighting back against authoritarian leaders.
The protesters – mostly Thais, with some from
Myanmar
– gathered at Victory Monument in Bangkok for the noisy rally, the first organised for months by the Thai protest group Free Youth, which has rebranded itself "Restart Democracy", or REDEM, in a bid to inject life into the stalled movement and attract the tens of thousands of protesters they regularly brought to demonstrations last year.
Sunday's march targeted Prayuth's taxpayer-paid lodgings at the 1st infantry regiment – a barracks under the command of the
King Maha Vajiralongkorn
, whose role has been cast into question by Thailand's protest movement.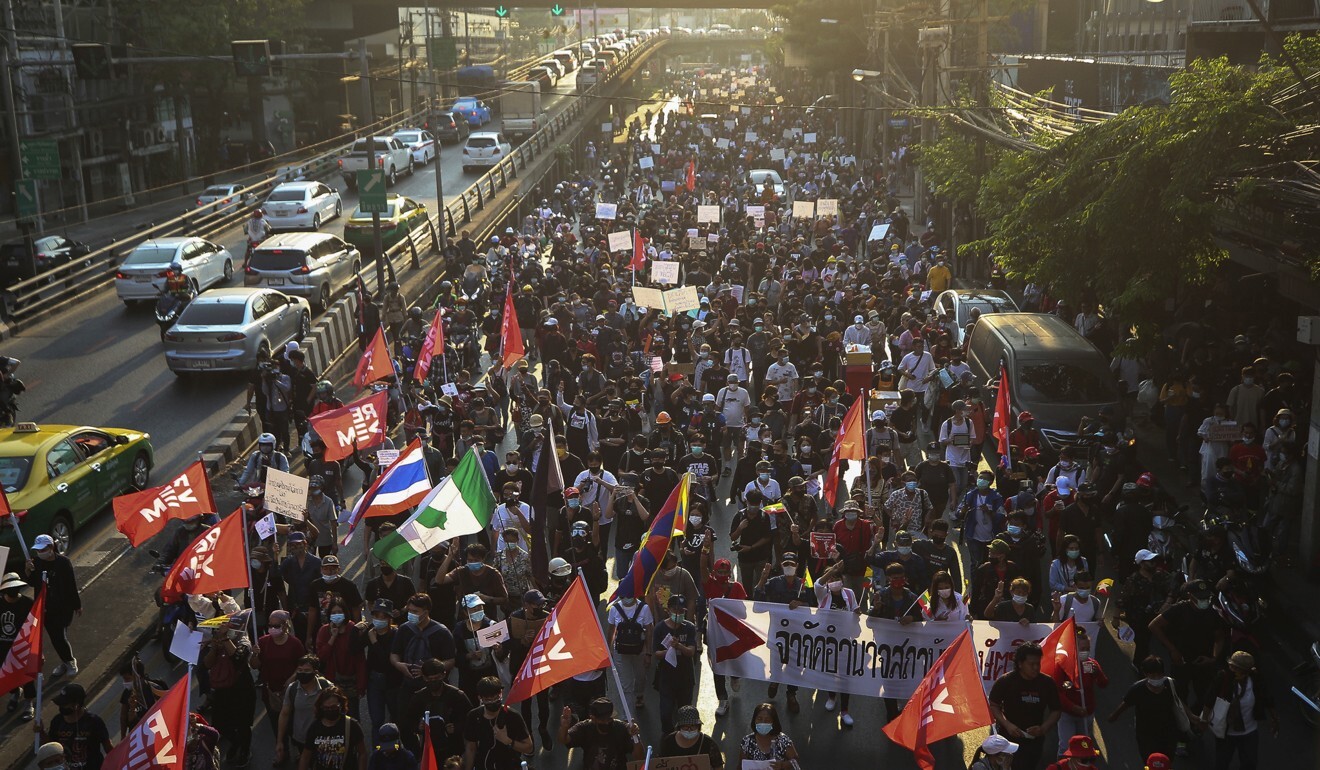 Shipping containers and razor wire were placed around the regiment and hundreds of police officers with riot shields were deployed to keep the peace. As night fell, police shot rubber bullets and fired water cannons and tear gas at protesters after some of the protesters threw firecrackers. There were reports of arrests and some injuries.
The protesters were joined by scores of Myanmar migrants, including students and workers, who are demanding democracy in their own country, where a February 1 coup by the army has stirred massive demonstrations and a civil disobedience campaign.
"We have the same problem – the army in both countries will not leave power," Thai protester Sirinin Lapruek, 42 told This Week in Asia.
The two protest movements have come together online under the hashtag #MilkTeaAlliance, which has also taken hold in Hong Kong, Taiwan and India in youth-driven demands for democracy.
"Young people have common goals," said a 23-year-old student from Myanmar named Christie, who was holding a sign reading, "Together we will brew to fight for our freedom."
"It feels great to see that Gen-Z wants true democracy across different countries," she said. "The old guys have to leave power."
Memes, graphics and symbols of the #MilkTeaAlliance bounced across social media ahead of Sunday's rally, including one on an alliance Twitter account saying "Mankind is a single nation … no creed, no colour, just milk tea!"
Thailand's pro-democracy street movement is struggling to regain momentum after its huge protests of last year, when it seriously rattled Prayuth's government and the royalist establishment in a series of popular public demonstrations.
Their unprecedented calls for reform of the monarchy prodded Vajiralongkorn into a major PR offensive to galvanise conservative, royalist supporters and seize the narrative from the young protesters.
The movement is also contending with the detentions without bail of four key leaders, including Prit "Penguin" Chiwarak and Anon Nampa. At least 60 other people in the movement face allegations of defaming Thailand's royals.
But in recent weeks the protesters have been re-energised by Myanmar's anti-coup movement, swapping protest motifs and tactics with their neighbours, often under the #MilkTeaAlliance hashtag.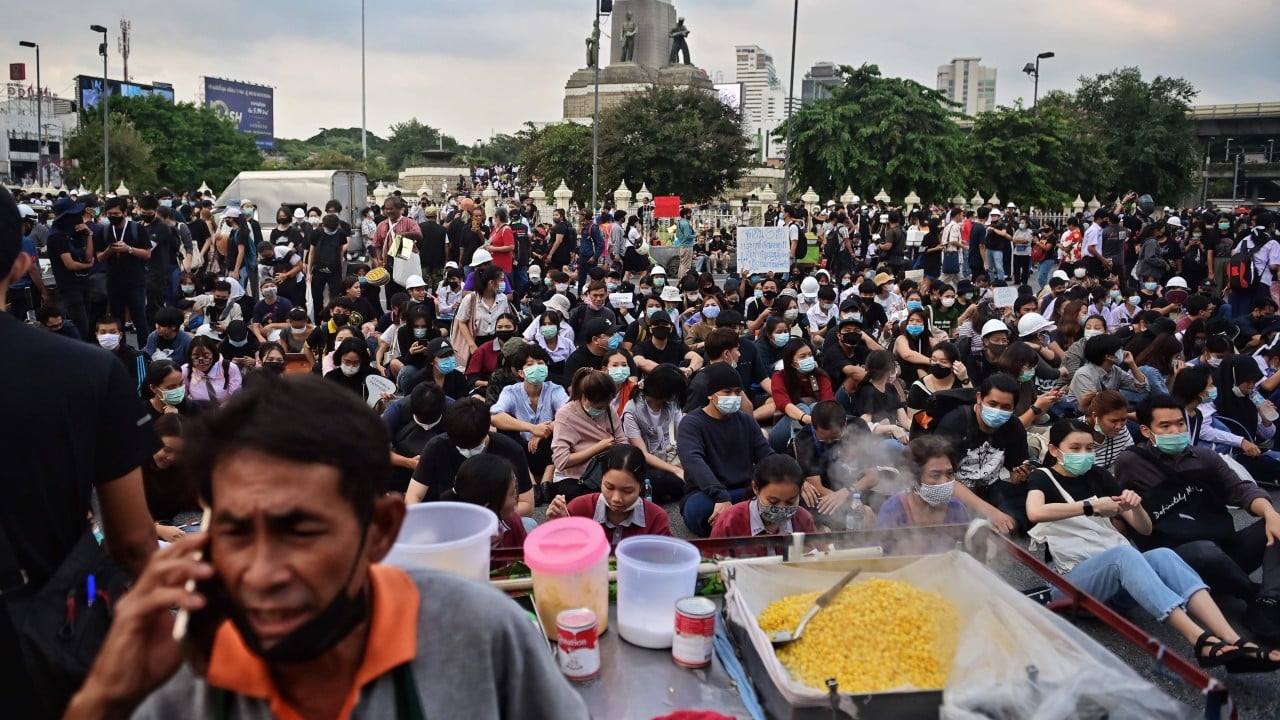 02:48
The Thai hawkers arriving at protests before demonstrators and police
The Thai hawkers arriving at protests before demonstrators and police
The Thai protesters are calling for the Prayuth government to stand down, and it already seems to be on shaky ground, having survived a no-confidence vote in parliament last week after a four-day censure debate covering the government's handling of the coronavirus pandemic, provisioning of vaccines and misuse of power to promote police officials, among other issues.
Thailand's pro-democracy movement is divided on the direction of the protests, with the most radical of their number insisting that any talk of serious reform must include the once-untouchable monarchy.
Meanwhile, moderates are calling for attacks to be focused on Prayuth's government and a constitution that allows for the appointment of all 250 senators by the Thai military.
The "Red Shirt" movement of grass roots urban and rural working classes has also in recent weeks bolstered their numbers on the streets, with some observers predicting that even more will join as the fallout from the economic impact of Covid-19 continues and forces more Thais into unemployment.