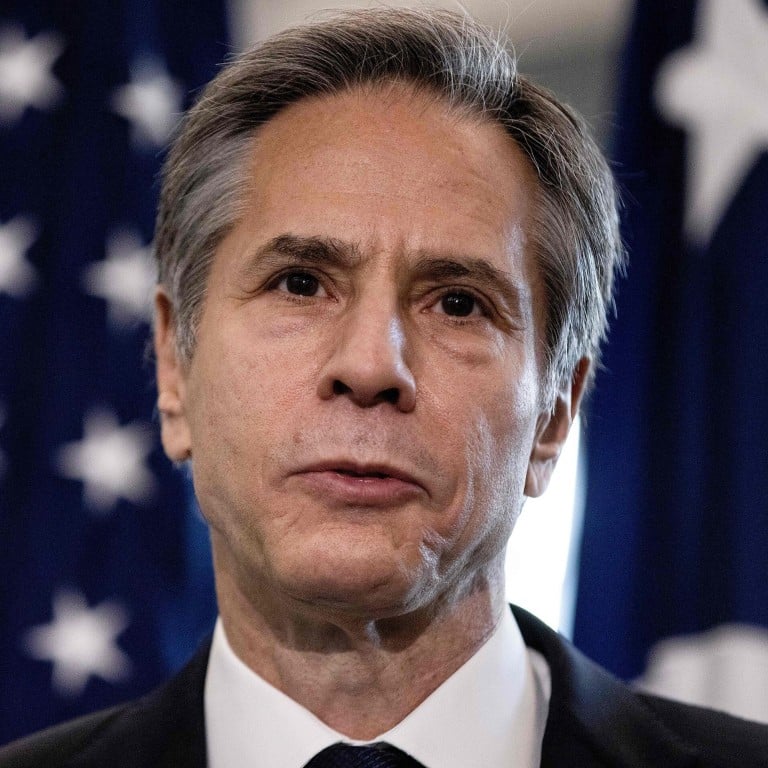 US and Japan warn against China's 'coercion and destabilising behaviour'
Secretary of State Antony Blinken blasts Beijing for eroding autonomy in Hong Kong, rights abuses in Xinjiang and violating international law in South China Sea
Singling out of China at meeting of US and Japanese defence and foreign ministers in Tokyo raises heat ahead of US-China talks in Alaska
The United States and Japan warned
China
against "coercion and aggression" on Tuesday after their defence and foreign ministers met in Tokyo, on the first overseas visit by members of President
Joe Biden's
cabinet.
In a joint statement, the ministers said that "the
United States
and
Japan
acknowledged that China's behaviour, where inconsistent with the existing international order, presents political, economic, military and technological challenges". They added that they were "committed to opposing coercion and destabilising behaviour towards others in the region".
Later at a joint press conference, US Secretary of State Antony Blinken cited China's "coercion and aggression to systematically erode autonomy in
Hong Kong
, undercut democracy in
Taiwan
, abuse human rights in
Xinjiang
and
Tibet
, and assert maritime claims in the
South China Sea
that violate international law."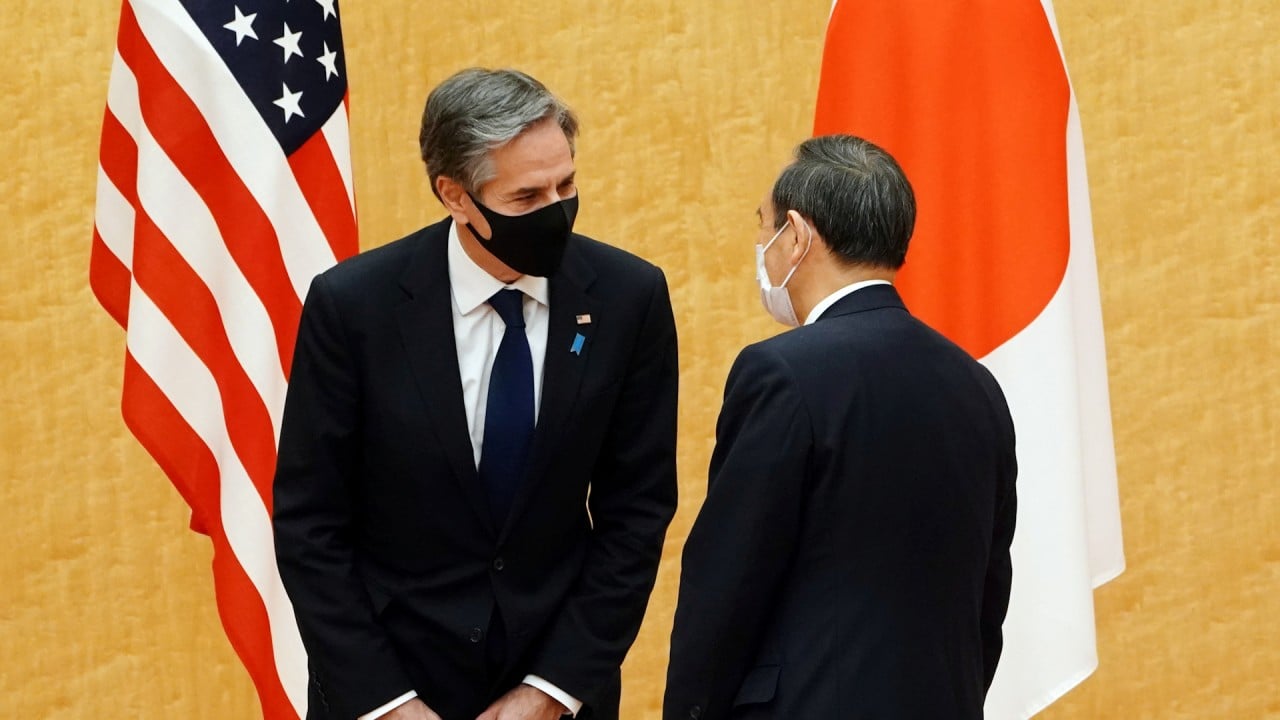 01:12
US Secretary of State Blinken meets Japanese prime minister Suga to 'reaffirm US-Japan alliance'
US Secretary of State Blinken meets Japanese prime minister Suga to 'reaffirm US-Japan alliance'
The meeting between the four men follows a virtual summit last week of the leaders of the US, Japan, Australia and India – the so-called
Quad alliance
of democracies that is aimed at countering China's rising influence in the Indo-Pacific region.
Both events are seen by analysts as part of a wider push by the Biden administration to shore up Washington's alliances in the region and are likely to raise the temperature ahead of a key
US-China meeting in Alaska
on Thursday.
Blinken at the press conference said Washington and Tokyo were united in a vision of a free and open Indo-Pacific, where countries followed rules and resolved discussions peacefully.
"In particular we will push back if necessary when China uses coercion or aggression to get its way."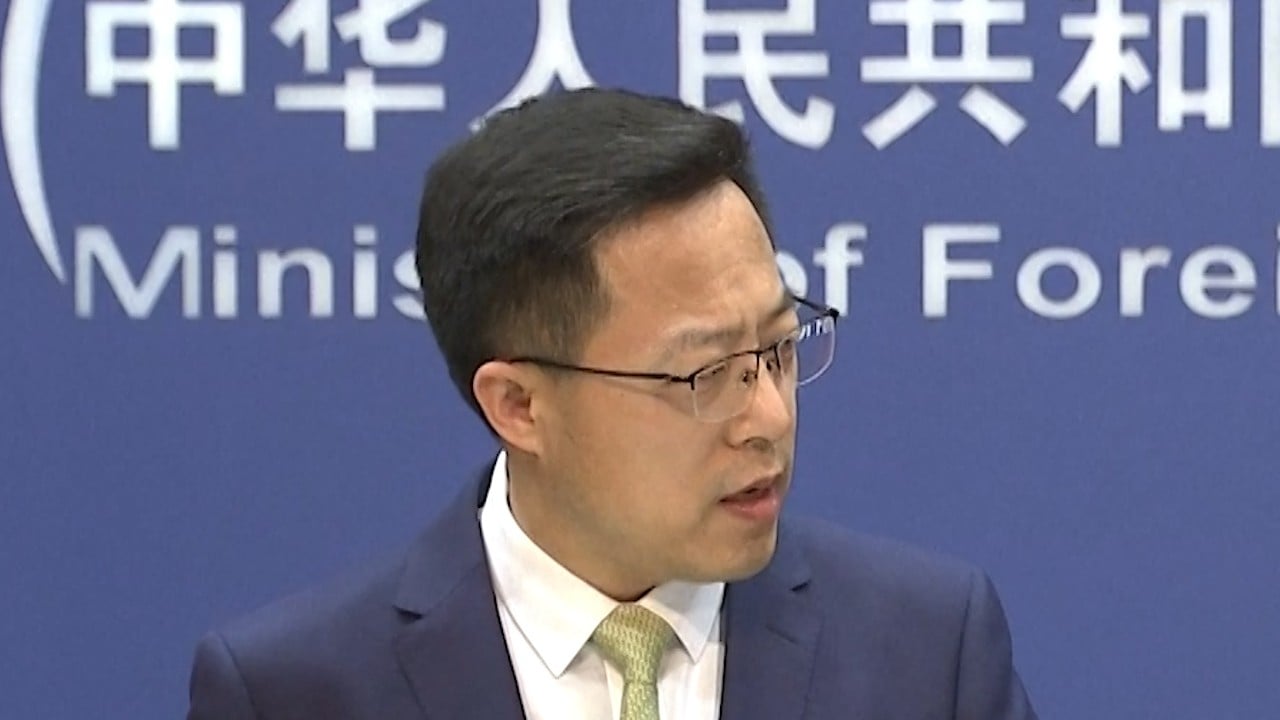 01:19
After Quad summit discusses China threat, Beijing says 'cliques' drive wedge between countries
After Quad summit discusses China threat, Beijing says 'cliques' drive wedge between countries
Japanese Foreign Minister Toshimitsu Motegi said: "We agreed that China's actions that do not conform to the existing international order pose various challenges to the Japan-US alliance and the international community."
In particular, the ministers referred to a new law by China that allows its coastguard to fire on foreign vessels and demolish structures in disputed waters and said they had discussed Washington's "unwavering commitment" to defend Japan in the East China Sea – where Tokyo has a territorial dispute with Beijing over the sovereignty of the
Diaoyu Islands
, which Japan currently controls and calls the Senkakus.
US Secretary of Defence Lloyd Austin and Japanese Defence Minister Nobuo Kishi agreed that Japan's Self-Defense Forces and US forces in Japan would keep conducting joint military drills in the area, which has seen an
increased Chinese presence
in recent months.
Before the release of the joint statement, Chinese foreign ministry spokesman Zhao Lijian had on Tuesday said that US-Japan exchanges should help facilitate regional peace and stability, and not target or hurt the interests of a third party.
Analysts said the ministers' remarks were likely to make the meeting in Alaska – to be attended by Blinken and Jake Sullivan, Biden's national security adviser, and Chinese Foreign Minister Wang Yi and China's top diplomat Yang Jiechi – "difficult".
They said the decision of the ministers to refer to China by name was highly unusual and therefore likely to anger Beijing, which has repeatedly denounced what it sees as US efforts to foment unrest in the region and interfere in what it regards as its internal affairs.
"The US will go into that meeting having made it very clear that they are standing behind their allies in the region 100 per cent, economically, diplomatically and militarily, and that China's behaviour has been unacceptable to the US and its allies and friends," said Stephen Nagy, an associate professor of international relations at Tokyo's International Christian University.
"But that is going to be a very difficult discussion.
"The statement is very emphatic in regard to China's behaviour – it is very unusual for any country to be identified by name in an official communique like this," he said.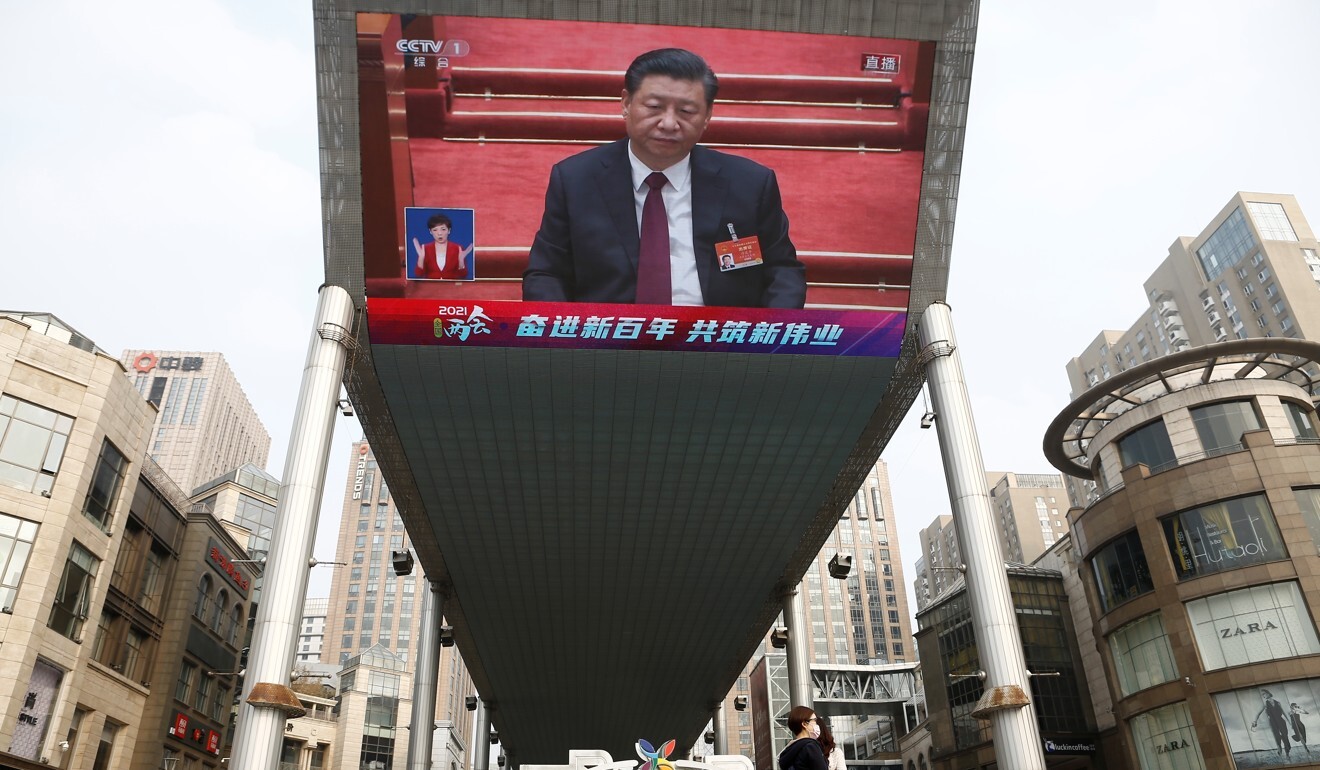 The inference, Nagy said, was that they were blaming China's President
Xi Jinping
.
"They are saying that China's assertive behaviour and aggression has only come about under Xi and that under his predecessor, Hu Jintao, this did not happen," he said. "They are blaming this on Xi and singling him out."
Washington's position was calculated to have maximum impact in the lead-up to the Chinese Communist Party's celebrations of the 100th anniversary of its founding on July 23, said Nagy.
Xi's narrative surrounding the anniversary was that the party had united the nation and its people, Nagy said, but the growing resistance from other quarters made that a "harder sell," he said.
"External pressure could potentially cause disruption within the party and, in my view, that could make it more difficult for Xi to avoid resistance," he said.
The US and Japan also used the joint communique to express "strong concerns" over the worsening unrest in Myanmar and to seek the complete denuclearisation of
North Korea
.
Blinken, who will leave for Seoul with Austin on Wednesday, stressed the importance of the US alliance with Japan and South Korea in presenting a united front against the nuclear-armed North.
But not all in Japan, which has had to balance its economic ties with China with its concerns about its military assertiveness, were convinced by the communique.
Echoing the views of conservatives, who believe the US under Biden will adopt a softer tone towards Beijing, international relations professor Yoichi Shimada said he would be looking to see whether the positions taken by both sides would be "backed up by actions".
Said Shimada, of Fukui Prefectural University: "That is what will matter when the time comes."
Additional reporting by Reuters, Agence France-Presse and Kyodo