Thailand
Get more with myNEWS
A personalised news feed of stories that matter to you
Learn more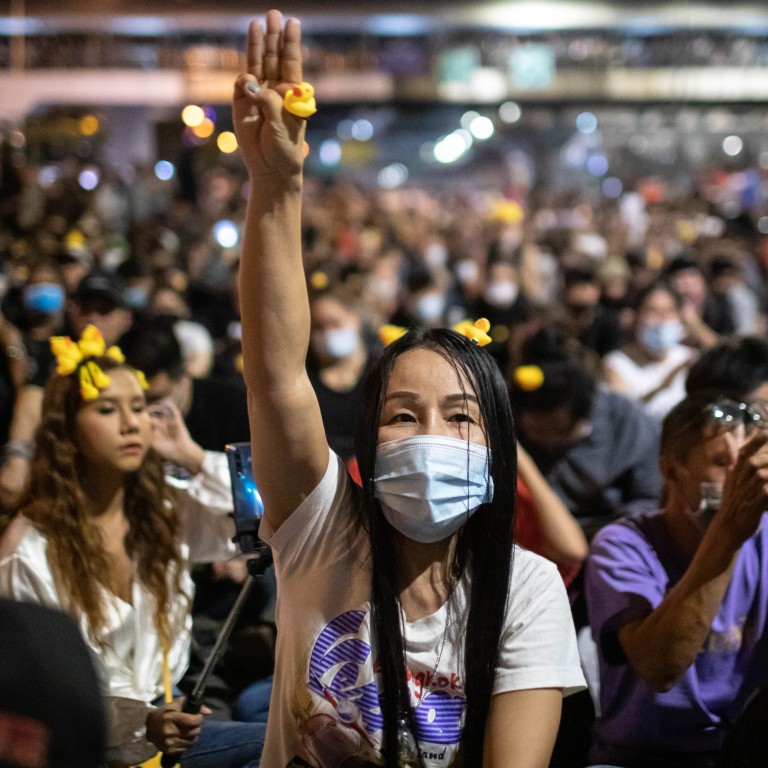 Thai protests fade from streets but come alive on Clubhouse, Twitter apps
Discussing the value of the once-revered monarchy is no longer taboo in the 'national DNA' thanks to the youth-led the pro-democracy movement, observers say
But even as Thais feel more emboldened to speak out, they face the challenge of overcoming the entrenched divisions within society to achieve political reforms
With global attention fixed on the escalating crisis in
Myanmar
, the anti-government movement in neighbouring
Thailand
has quietened as charges pile up against activists and street rallies lose steam following heavy-handed police actions.
While mass demonstrations have faded after months of calls for political, social and royal reforms, the pro-democracy discourse has continued online in memes, tweets and chat rooms on the
Clubhouse
audio app.
Even as none of the protesters' demands have been met so far, observers say the Ratsadon ("the people") movement has helped to rewire the national conversation around how the kingdom is ruled – and for whom.
"There remain strong undercurrents in Thailand against a continuation of a facade democracy dominated by monarchy and military, especially given the plummeting economy," said Paul Chambers, an academic at the College of Asean Community Studies in Naresuan University.
Much of the discourse online focuses on the use of royal defamation, revisionist Thai history and the role of the monarchy in Thai society.
A list of prominent names in the anti-government scene fills rooms on Clubhouse daily, from Pavin Chachavalpongpun – a former Thai diplomat with 241,000 followers on the app, who is living in self-exile in Japan – to graffiti artist Headache Stencil, who creates satirical works featuring the junta.
Some of the conversations are also flowing into public spaces
previously deemed too dangerous to raise political questions, such as
Twitter
.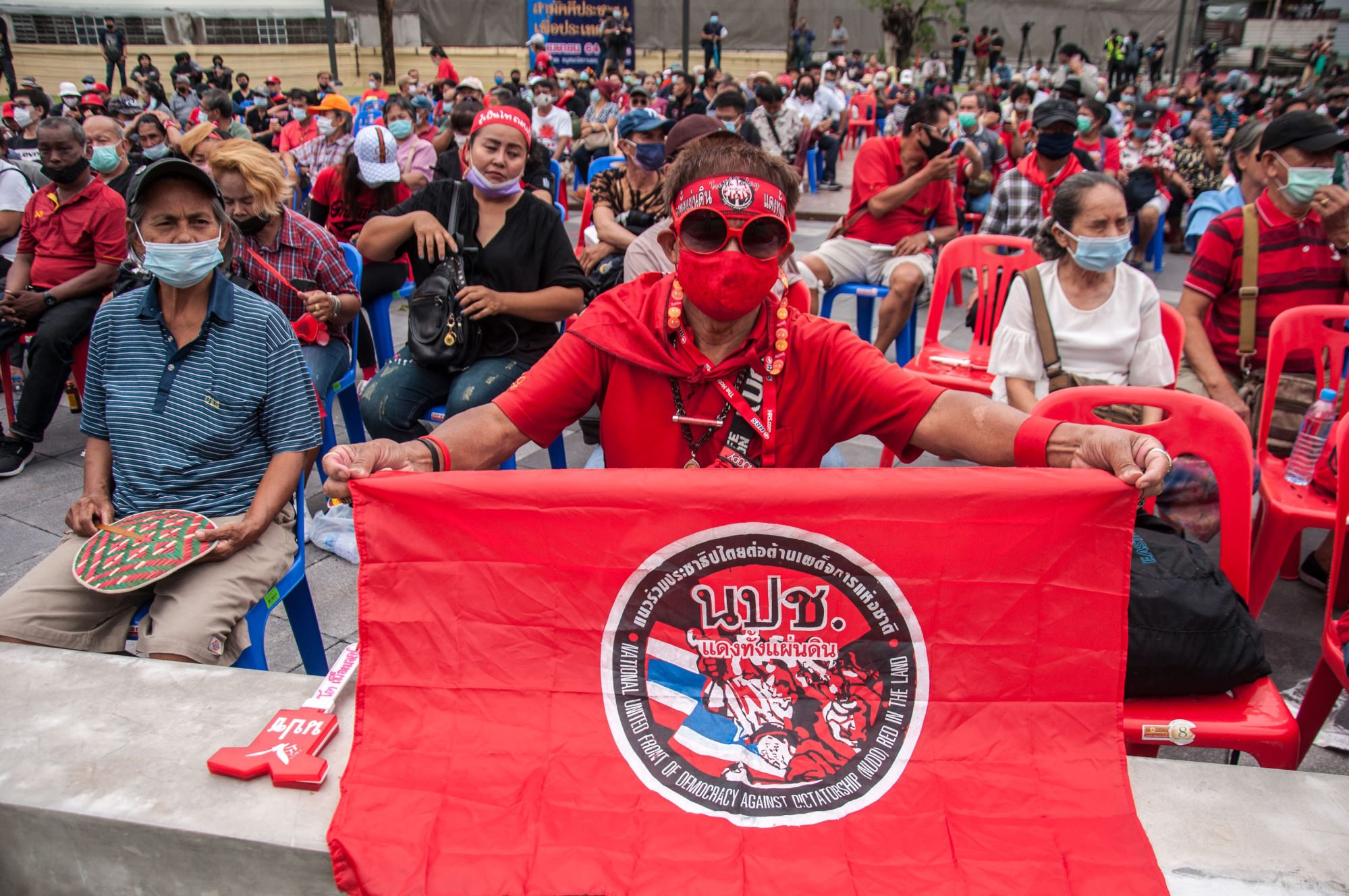 "People are slowly waking up," said Patsaravalee "Mind" Tanakitvibulpon, one of some 70 protesters, including minors, charged with "112" – the dreaded section of the criminal code for royal defamation which carries up to 15 years in jail per charge for challenging the monarchy. 
"We may not be armed with deadly weapons, but we're armed with an idea and that can't be killed," Mind said.
The Red Shirt pro-democracy movement – an older and rural-based grouping which was established in the early 2000s and went dormant after years of violent crackdowns and charges against their leaders –  has also tried to extend a hand to the student movement, which has more radical demands. On Sunday, hundreds of Red Shirts gathered in Bangkok to call for the overthrow of Prime Minister Prayuth Chan-ocha's military-aligned government.
Jatuporn Prompan, a Red Shirt leader, called for a rally every day. "If we're united, Prayuth will be gone," he said.
'A cultural revolution'
Despite dominating the Thai headlines since emerging in June last year, the anti-government protesters have failed to achieve any of their three core demands: the resignation of Prayuth, a former army chief who grabbed power in a 2014 coup; a new constitution that ends senate appointments; and royal reforms to keep the monarchy pegged under the constitution.
The military-monarchy settlement has stewarded Thailand for generations, closing off the route to true representative democracy and leaving the country as one of the least equal societies in Asia, with an economy dominated by tycoons and generals.
The government has played for time and clung on to power resolutely. It opened several committees on reforming the constitution that underpins its power with 250 appointed senators, but has yet to amend a single section.
"In a practical sense, change is not coming any time soon, because constitutional reform is nowhere near reality," said Voranai Vanijaka, a political commentator and the editor-in-chief of Thisrupt.com.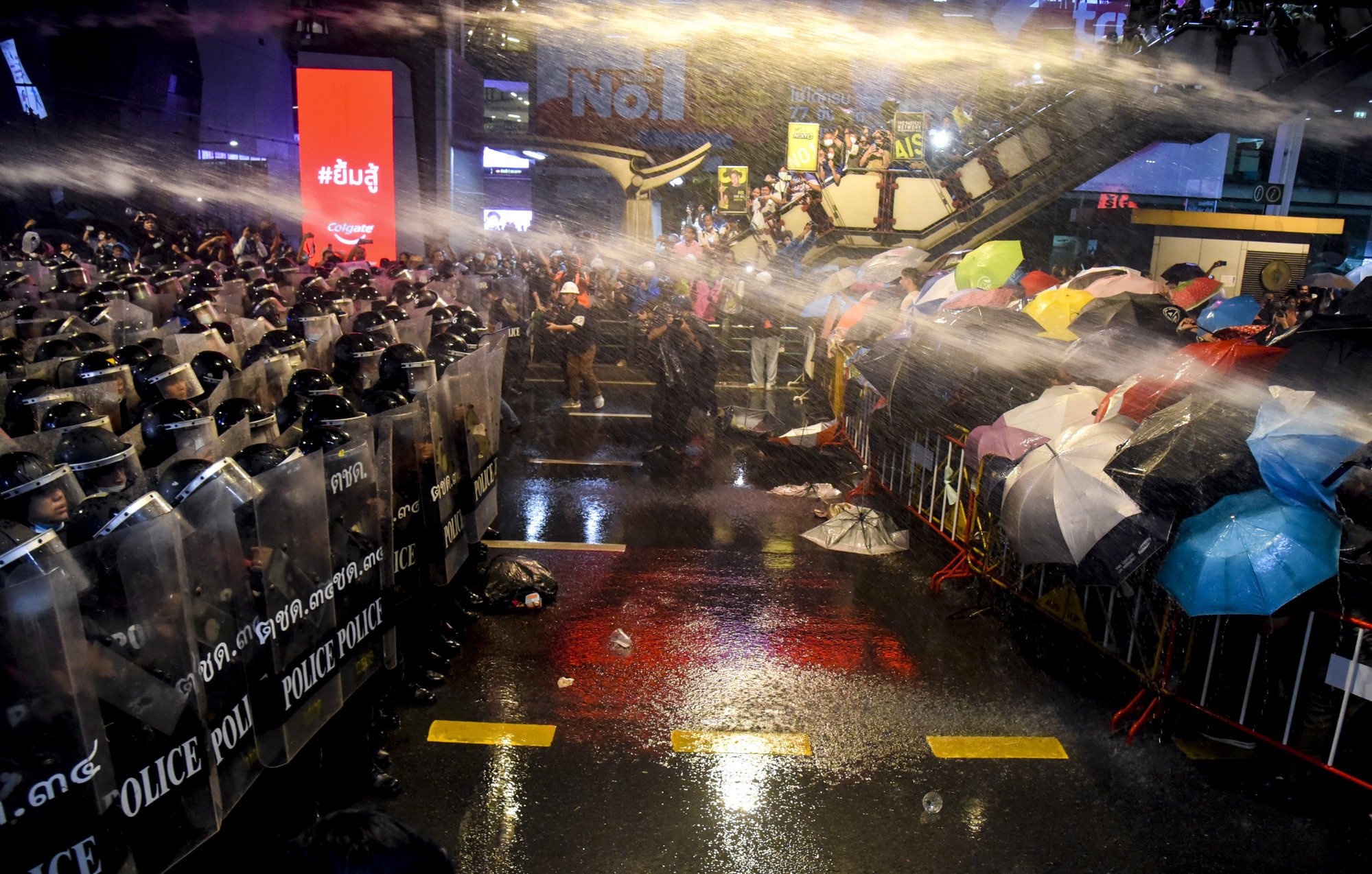 "But the protesters are winning the moral war, because they have ignited a cultural revolution," he said. "Millions of Thais may not hit the streets, but millions of Thais are thinking differently and wanting change. Not just policy change, but a change in the national DNA."
Before the youth-led movement, Thais spoke only in hushed, reverent tones about the monarchy. Today, many young protesters are calling for a republic and the return of the country's taxes from a palace which has liberally dipped into a fortune worth anywhere between US$30 billion and US$70 billion.
Apart from using Section 112 to crush dissenters, police have fired tear gas and rubber bullets against hardcore demonstrators who remain on Bangkok's streets, with arrests and beatings commonplace as increasingly desperate protesters provoke authorities. 
Voranai said he believed protesters would return to the streets once the Covid-19 situation improved and if Thais saw a further slump of the economy – which is already in recession following a 6.1 per cent fall in gross domestic product due to the collapse of tourism.
Others are not so sure, even as they remain hopeful.
Mind said the events in next-door Myanmar – where young protesters have marched in the streets day after day despite an ongoing brutal army-led crackdown – would never happen in Thailand. 
"We have the monarchy creating different shades in our society," said Mind, referring to how Thailand's King Vajiralongkorn had galvanised royalists and asserted his power over the political class, deepening divisions within the country. "In Myanmar, it's the military versus the people."
Critics of the young protesters say they lost sight of the most attainable goals of toppling Prayuth and redrafting the constitution in their loud chase for monarchy reform. That caused factions among their leadership and frightened many moderates away from their cause.
But the future may yet belong to the young, other observers say.
"The pro-democracy movement has not achieved anything tangible. But they have shifted the norm – what once was taboo is no longer so," said Khemthong Tonsakulrungruang, a constitutional law scholar at Chulalongkorn University.
"They have withstood heavy attacks – and in a way, that erodes the trust and legitimacy of all institutions which we once believed were the core of the Thai nation."