India
Get more with myNEWS
A personalised news feed of stories that matter to you
Learn more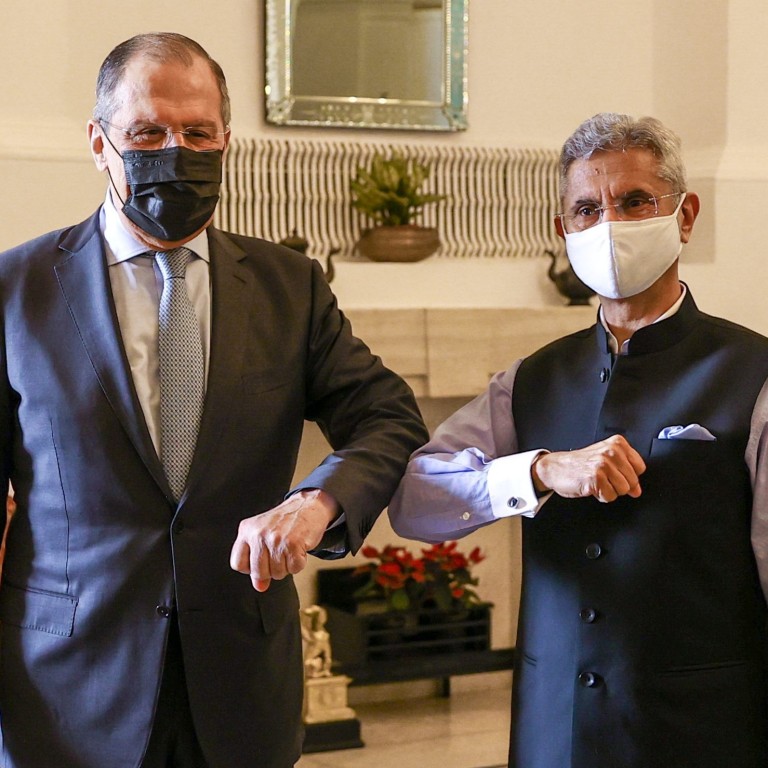 India-Russia defence ties deepen even as Moscow hails 'highest' level of Beijing relations
India set to build more Russian weapons as both seek to deepen ties and work on Afghanistan's peace process, said foreign ministers of both nations in New Delhi
Joint arms production likely to irk US, and comes as Moscow rules out military alliance with Beijing even as Russia-China ties are 'at highest at summit level'
Russian Foreign Minister Sergey Lavrov on Tuesday ruled out a
military alliance
with China, saying such a discussion was not on the table even as he described Moscow-Beijing bilateral ties as being "the highest in history at the summit level".
Lavrov was speaking at a joint press conference with his Indian counterpart S. Jaishankar after their meeting in New Delhi, during which both had discussed closer military cooperation and the peace process in Afghanistan, where Russia is trying to bring together all stakeholders both within and around the war-torn country for peace and stability.
"
Russia-China relations
are the highest in history at summit level, but we are not discussing a military alliance. We have also heard of pro-military alliances being promoted as Middle East-Nato or Asian-Nato," Lavrov said in response to a journalist's question.
"We believe it is counterproductive. We are for inclusive cooperation that is for something, not against somebody."
Speculation that Beijing and Moscow could develop a united front against Nato had emerged after Russian leader Vladimir Putin last October said he would not "rule out" a possible pact with China. But China's defence ministry last month said it had no plans to do so.
Lavrov, who arrived in India on Monday on
a two-day visit
, spoke with Jaishankar on bilateral military cooperation, including the production of "state-of-the-art" weapons manufacturing by Russia in India.
"We are the only country that transfers cutting-edge technologies to India," Lavrov said. "The deepening of Russia-India military cooperation serves the national interest of both countries. At the same time, we respect the right of India to diversify in these areas."
Lavrov and Jaishankar also spoke about cooperation in the peaceful use of space and in areas of rocket-building and satellite navigation.
"We have confirmed our determination towards the development of military-technical cooperation," Lavrov told the briefing, adding there was an inter-governmental commission dealing with the subject.
"It has its own plans, and the prospects for additional production of Russian military equipment on India's territory are under discussion."
While the joint defence production with Russia would fit with Indian Prime Minister Narendra Modi's flagship make-in-India programme, it could rile the United States, which since 2001 has sold some US$18 billion worth of weapons to India.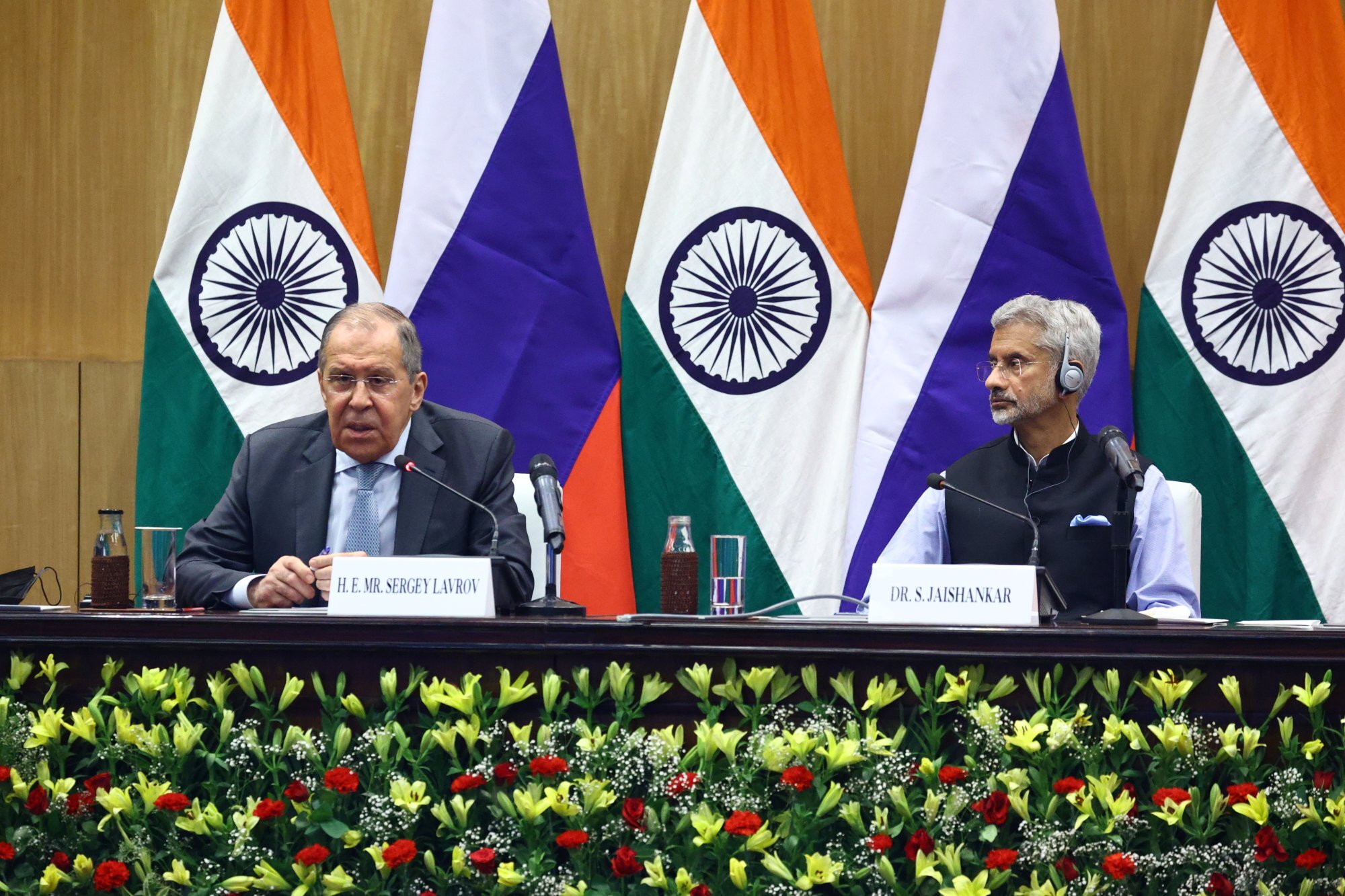 During US Defence Secretary Lloyd Austin's visit to New Delhi last month, he made clear to his Indian counterparts that Washington – which in 2017 passed the Countering America's Adversaries Through Sanctions Act (CAATSA) targeting Russia – was trying to convince its friends to desist from buying weapons from Moscow.
Russia is India's top arms supplier, accounting for more than 65 per cent of the Indian military's hardware and supplies.
However, New Delhi has also been seeking attack helicopters, transport planes, hi-tech drones and surveillance equipment from other nations, including the US and Israel. Still, Indian policymakers are keen to keep their steady cooperation with Russia, especially in the defence sector.
Washington has already warned New Delhi that it could face sanctions if it goes through with the US$5.5 billion purchase of Russia's S-400 surface-to-air missile systems under a deal struck in 2018, although it has not made the same threat over other Indian arms purchases from Russia.
Jaishankar and Lavrov on Tuesday said the issue of possible US sanctions did not figure in their defence discussions. The first of the missile systems will be delivered later this year.
The Indian foreign minister said India-Russian ties had been "uniquely strong and steady because we have managed to identify and update our shared interests".
"We are cognisant of the multipolar and rebalanced nature of international relations today," Jaishankar said, adding that New Delhi and Moscow sought to maintain "peace and stability" in the world.
The two ministers also spoke about Putin's planned visit to India for the annual bilateral summit that has taken place since 2000. Because of the Covid-19 restrictions, it could not be held last year and both sides are keen for it to happen this year.
Jaishankar added he and Lavrov spoke about economic opportunities that have opened up in India and Russia's Far East, as well as travel connectivity including the International North-South Corridor and the Chennai-Vladivostok Eastern Corridor.
They also discussed the possibility of manufacturing Russian Covid-19 vaccine doses in India, and enhanced investments in each other's country, including a proposed free-trade agreement between the Eurasian region and India.
Nandan Unnikrishnan, a distinguished fellow at the Observer Research Foundation think tank in Delhi, said: "[The meeting] was a positive one that allowed both sides the opportunity to discuss issues of geopolitical importance and draw up strategies where they can work together to further consolidate their bilateral ties."
Meanwhile, Lavrov left for neighbouring Pakistan on Tuesday afternoon following his talks with Jaishankar. This was unusual and a practice that Moscow had stopped since the 1960s. However, sources told AP that Afghanistan was an important topic of discussion that Lavrov was determined to have with both New Delhi and Islamabad.
Jaishankar said he had discussed the "unfolding developments" in Afghanistan with Lavrov. "What happens in Afghanistan impacts India's security directly," he said, adding that durable peace would require harmonising interest of all parties within and around that country.
A political solution should mean a united, independent and sovereign Afghanistan, Jaishankar said.
Afghanistan has seen a nationwide spike in bombings, targeted killings, and violence on the battlefield as peace negotiations in Qatar between the Taliban and the Afghan government have stalled.
The May 1 deadline for US troops to leave the country, in line with a deal Washington signed last year with the Taliban, appears increasingly unlikely.
The US has accelerated efforts to get a peace deal for Afghanistan but is also seeking a three- to six-month extension on the troop withdrawal deadline amid repeated statements from President Joe Biden that America wants to end its longest war, the AP reported.
Lavrov heads a 13-member delegation that includes Moscow's special representative for Afghanistan, Zamir Kabulov. Russia has intensified efforts to inject itself as a key player in the peace push and last month, Moscow hosted Taliban and Afghan government officials for a one-day meeting.
Lavrov's trip to Pakistan is the first by a Russian foreign minister in nine years. His Pakistani counterpart Shah Mahmood Qureshi said in a video statement on Tuesday that the visit was indicative of a closer relationship between the two countries.
"Pakistan and Russia are working together in the Afghan peace process," Qureshi said in the statement.
Additional reporting by Associated Press, Reuters