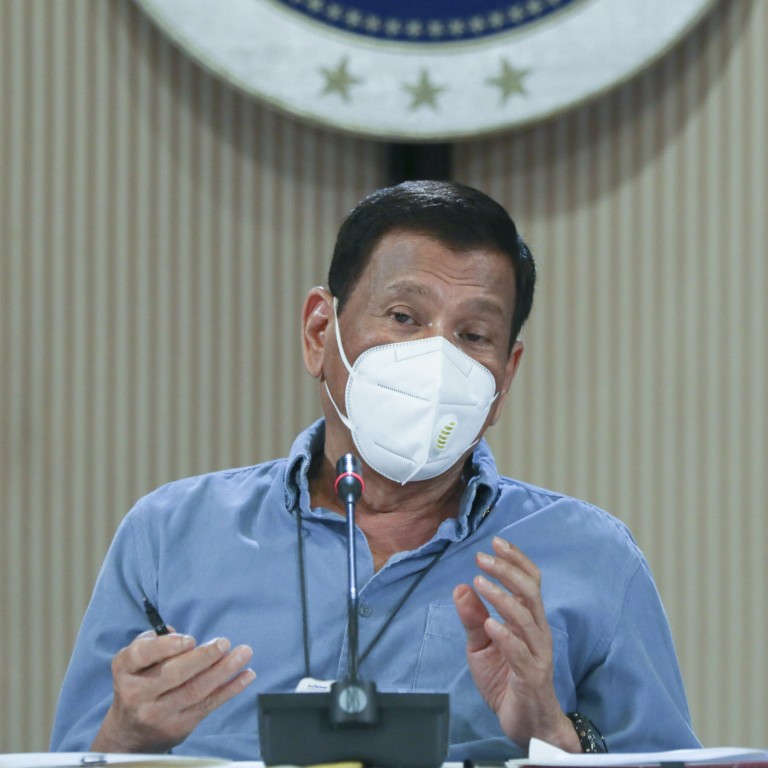 Coronavirus: Rodrigo Duterte reappears amid anger over surging cases, lack of hospital beds in Philippines
The president had not been seen for two weeks, prompting speculation over his health
Filipinos have taken to social media to express frustration at the government's Covid-19 response, with the country the worst-hit in Southeast Asia
As the
Philippines
experiences an unprecedented surge in
Covid-19
cases that is overwhelming all Metro Manila hospitals, anger is rising at the government's handling of the crisis and President
Rodrigo Duterte
's absence from public view over the last two weeks.
Duterte appeared in a pre-recorded "Talk to the People" address televised late on Monday evening following speculation about his health or possible death. He had not been seen since his former aide-turned senator Christopher "Bong" Go released a video marking his 76th birthday on March 28. 
His previous weekly address was postponed twice and to allay fears, Go on Saturday released videos of him biking and playing golf in the darkness.
"If you want me to die early, you must pray harder. What you want to happen is to see me go," the president said.
Duterte's voice at times turned hoarse, and he struggled to find words. Instead of explaining his long absence, he said: "When I disappeared for several days, I did it on purpose. The more you rummage about for me like a child, and the more you mock me, the more I'm filled with zest."
Wearing a denim shirt with sleeves rolled up, Duterte addressed the pandemic by saying "do not be afraid … we must be prepared for this", but added that "we cannot do anything about it". 
He assailed jailed opposition senator Leila De Lima, who had told Go to "stop covering up for your boss and misleading us on his true capacity to lead. No one is really in charge."
Filipinos on social media also expressed outrage at the perceived preferential treatment given to government officials who jumped hospital queues while some had died waiting for admission.
Presidential spokesman Harry Roque sparked controversy on Saturday when it emerged he had secured a bed in Philippine General Hospital after testing positive for Covid-19. He told local media this was because his blood oxygen had dropped to abnormally low levels.
When asked during a video press conference from his hospital bed on Monday about how he had managed to get admitted, Roque responded to a reporter by saying "I think that's an un-Christian question".
Roque on Sunday said hospitals had added 3,156 beds for Covid-19 patients, but this failed to quell questions about the government's response to the crisis, which has seen the Philippines become the worst-infected country in Southeast Asia.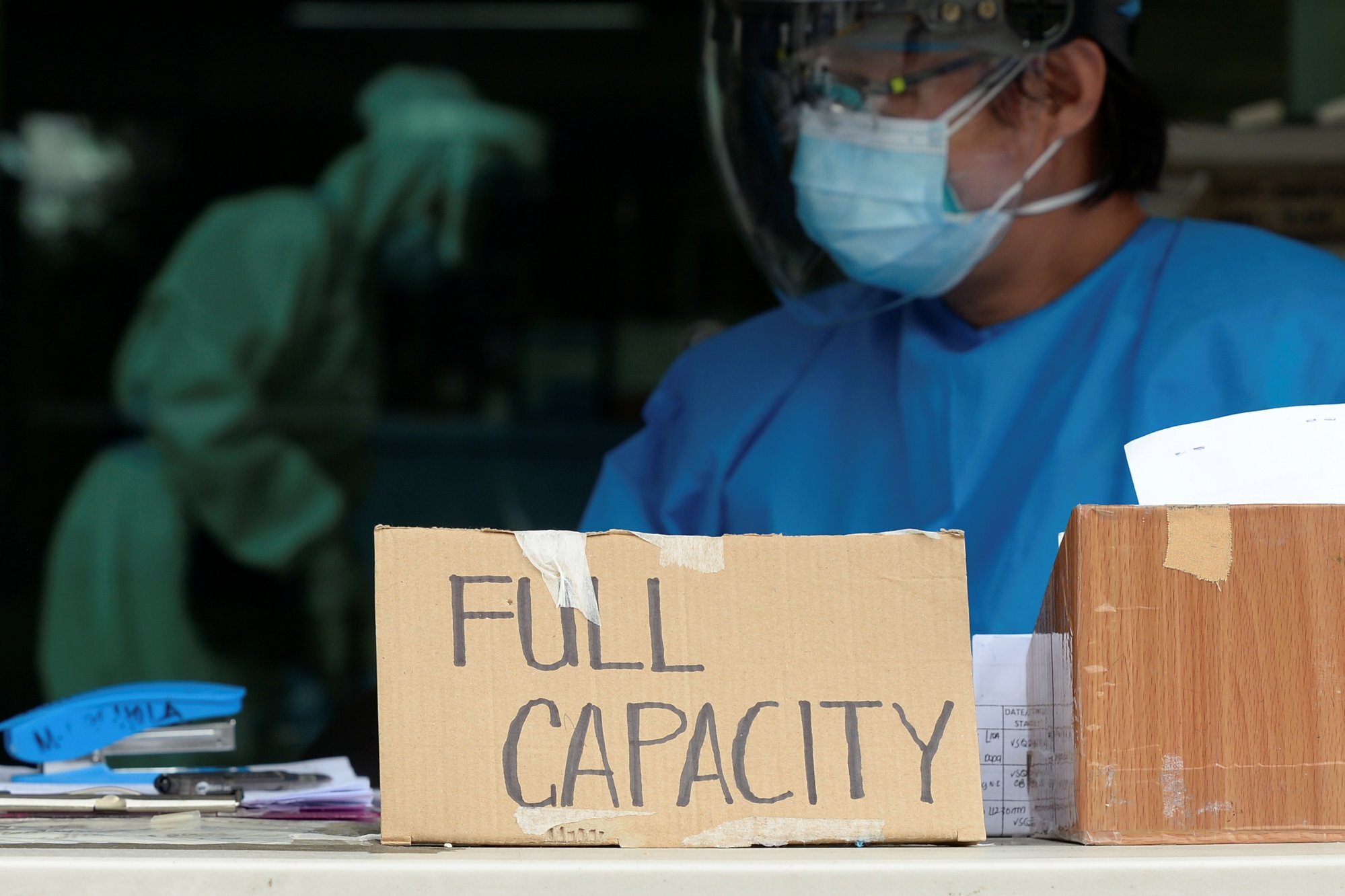 A man who lost his great grandmother to the virus told This Week in Asia that her oxygen levels were below Roque's but she could not get a hospital bed, and wanted to know how the spokesman did it.
"They say there is no overcapacity and the health care system is still functional," said the man, who spoke on condition of anonymity. "Well, we finally got a slot three days after she died."
CNN sportscaster Ceej Tantengco said she and her entire family had tested positive and her parents and grandmother had to be hospitalised. Her mother messaged her to say she got a bed only after she had "watched another patient die" and was given that patient's bed.
On Monday, Duterte relaxed a strict lockdown that he was forced to impose on March 29 in the 16 cities comprising the National Capital Region and the four neighbouring provinces of Rizal, Cavite, Laguna and Bulacan – the nation's factory belt and financial centre.
The sudden restrictions caught many by surprise since Duterte himself had weeks earlier called the virus "a small thing in our lives". As part of the relaxation, more businesses will be allowed to operate while most people are still required to stay at home.
The OCTA Research Group, a think tank of academics and physicians, had recommended extending the lockdown by another week in the area, saying that while the reproduction rate – the number of people a carrier can infect – had dipped from 1.88 on March 29 to 1.23 in the second week, "significant viral transmissions continue" and the daily number of new cases continued to be "very high".
The Healthcare Professionals Alliance Against Covid-19 also warned on Sunday that movement curbs would be wasted unless longer-term solutions were put in place, including a single health management system and quicker vaccinations before restrictions were loosened.
On Monday, the government said 1.1 million people had been vaccinated since March 1, mostly with a first dose, and some 2.5 million Sinovac and AstraZeneca doses had arrived in the country.
Contact tracing, meanwhile, has deteriorated, according to "contact tracing tsar" Benjamin Magalong, the Baguio City mayor. He said that from February 28 to March 29, only three contacts were being traced for every known infected person.
This meant many cases were not being detected. Magalong disclosed that he tested positive for Covid-19 on April 2.
Health reform advocate Dr Anthony Leachon also cautioned on Monday that with "very limited vaccine supply" and only 37,000 Covid-19 tests being conducted on average each day, the "the right option" was to extend the lockdown, known as Enhanced Community Quarantine (ECQ).
"Why are we failing on our pandemic response after a two-week ECQ? Leadership vacuum," said Leachon, who was sacked from his post last year as an adviser of the Philippine inter-agency Covid-19 task force over his critical statements on the government's response to the pandemic.