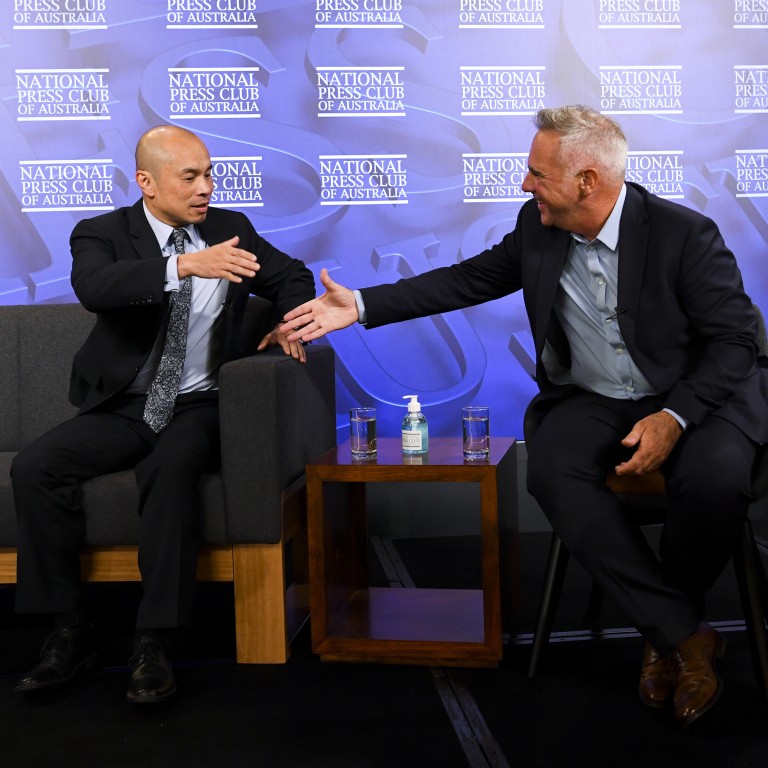 China welcomes foreign journalists if they 'present true image' of country: diplomat in Australia
Wang Xining, Beijing's No 2 diplomat in Canberra, fielded questions on issues including the media, Xinjiang and Myanmar at the launch of the China Story Yearbook
He said China was 'open' for cooperation with Australia amid a downturn in relations, but its policy had been consistent and it would defend its interests
China
's No 2 diplomat in Canberra on Wednesday insisted foreign journalists were still welcome in China but should "present the true image" of the country, as he fielded questions on the fate of a high-profile news anchor detained in Beijing on suspicion of illegally supplying state secrets overseas.
Wang Xining was asked when Australian-Chinese journalist Cheng Lei, who worked for a state television channel in Beijing, would be able to see her children again following her arrest in February. The 49-year-old's case would be "handled according to legal procedures and documents", Wang told ABC journalist Laura Tingle during an event at the National Press Club in Canberra.
Wang also said he was "sympathetic" toward Australian journalists Bill Birtles and Mike Smith – who abruptly left China last September after being interviewed by state security officials, ending the
Australian
media's footprint in the country – and would try to seek a "solution".
The senior diplomat was speaking at the launch of the latest China Story Yearbook published by Australian National University's Centre on China in the World and edited by Jane Golley. The book features academic essays touching on Sino-Australian relations, China's economy in the post Covid-19 era, and developments in Hong Kong, among others.
"We never discriminate against any journalists but we hope foreign journalists in China will present the true image of China; it's very multidimensional, very sophisticated," Wang said. 
Later in the hour-long event, Wang claimed that Western journalists "love to see more trouble, more unrest, social unrest in China" while Chinese people focused on development, after a member of the audience asked whether the protests that led up to the 1989 Tiananmen Square crackdown would be possible today.
Smith, who also appeared at the launch, lamented that foreign journalists in China had faced situations "where your employers and government feel like you're not safe and you have to leave".
"I don't think it does China any favours either, because all the reporting we are getting on China now is from outside China, and obviously that has a certain slant," he said.
Wang defended Beijing's refusal to join international condemnation of the
Myanmar
junta's violent crackdown on its citizens due to its policy of non-interference, and said he hoped the situation would stabilise through dialogue within the country.
Wang said history was full of examples of destructive "foreign interference" in countries such as Iraq and Syria.
"We are a people of Oriental wisdom and we would love to see people's welfare and security guaranteed by our traditional thinking," he said. "And I don't think Myanmar would love to see much more foreign interference, whether it's political or another way."
Wang also said the "individual cases" of Australian Uygurs being detained in Xinjiang was not representative of the situation in China's westernmost region, where rights groups say more than 1 million mostly Muslim ethnic minority citizens are being held in re education facilities against their will.
He added that the family of Mirzat Taher, an Australian permanent resident whose detention in Xinjiang was recently highlighted in Australian media, could use the usual consular channels to get more information about his case.
"We want every ethnic group to thrive, to live a good life," he said.
Golley, in her speech to launch the Yearbook, said she had last week received a scholarly article that "debunks much of what you read in the Western media on this topic – including the figure of 1 million Uygurs in 'detention camps', the pervasive use of forced labour, and on calling it 'genocide'".
But the authors had sent it to her anonymously, she said, because they feared the reactions "in Australia, by those who are committed to the dominant narrative, fact or not".
"This tells me that threats to academic freedom are not only confined to China," said Golley. "This is really problematic, because knowledge is crucial for robust debates – in this case, about whether sanctions, a form of economic coercion, are the best response to the human rights abuses that are occurring in the region – and I do not doubt that they are – what they are likely to achieve, and at whose cost."
It also raised "uncomfortable ideas about the human rights abuses of others, including our allies and ourselves", she said.
Golley's remarks received a backlash on social media, with a number of academics and think tank scholars focused on China accusing her of engaging in denialism of human rights atrocities.
She told This Week in Asia she was not denying there were abuses but it was important that governments knew exactly what they were so they could stand up for Uygurs in the most effective way.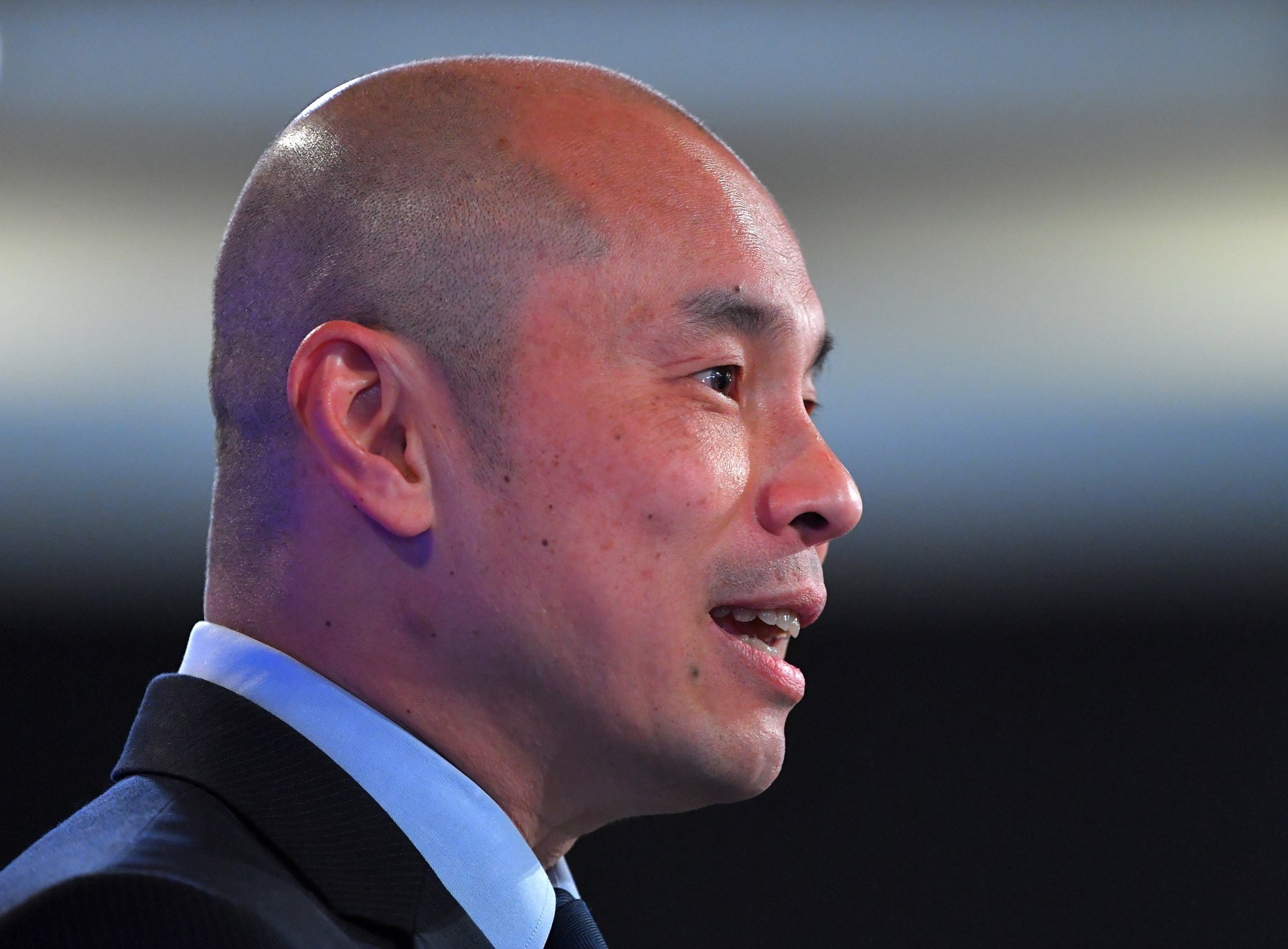 Wang, who is known for his urbane demeanour compared to the "Wolf Warrior" style of his counterparts, also criticised Australia for
bilateral ties
sinking to their lowest point in decades over the past year, in contrast to Prime Minister Scott Morrison's recent remarks expressing hope for a "positive relationship" with China that was also consistent with Australia's values and national character.
Wang accused Canberra of "conniving" with its ally the United States to contain China, such as by banning Huawei Technologies Co. on national security grounds in 2018, while seeking to claim the moral high ground.
"Our policy toward Australia has been consistent all the way," Wang said. "We have done nothing intentionally to hurt this relationship."
China was "open for collaboration and cooperation" with Australia but would defend its interests, Wang said. "China is not a cow," he stated. "I don't think anybody should fancy the idea to milk China when she's in her prime and plot to slaughter it in the end."
Australia could repair ties by respecting sovereignty, refraining from interfering in other countries' internal affairs, not vetoing Chinese investments in Australia and not obstructing people-to-people exchange programmes, he said.
"It is very simple – as long as the Australian side will be able to do that, I don't see any obstacle to the resumption of a normal state of our relationship."
The comments come as Australian Foreign Minister Marise Payne began a three-day visit to neighbour and ally New Zealand on Wednesday during which China is expected to be a major talking point.
New Zealand Foreign Minister Nanaia Mahuta said earlier this week the country was "uncomfortable" about the prospects of expanding the remit of the "Five Eyes" intelligence alliance that also includes the US, Britain and Canada, following a number of joint statements expressing concerns about human rights conditions in China.
Additional reporting by Bloomberg