Asean
Get more with myNEWS
A personalised news feed of stories that matter to you
Learn more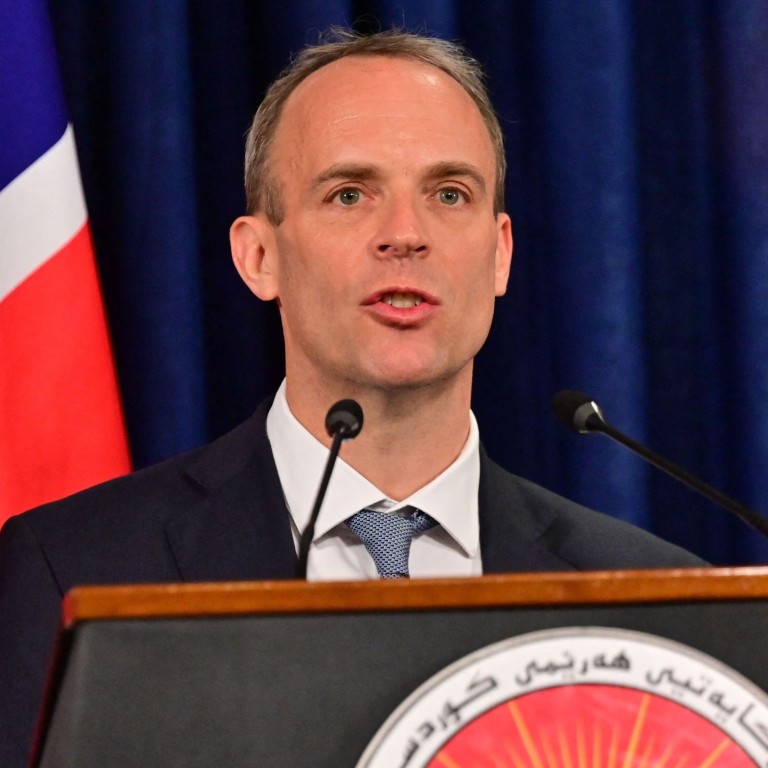 Raab's Asean trip highlights UK's plan to reinvent itself by shifting trade and foreign policy focus, analysts say
British foreign minister completed a three-nation tour of Southeast Asia as the country charts a new course following its exit from the European Union
The UK has also begun negotiations to join the 11-nation Comprehensive and Progressive Agreement for Trans-Pacific Partnership trade deal
British Foreign Secretary Dominic Raab's three-nation tour of Southeast Asia that ended in
Singapore
on Thursday goes some way in putting meat on the bones to the European power's plan to reinvent itself in the region in the post-
Brexit
era, analysts say.
The trip coincided with Britain's announcement this week that it has started negotiations to join the 11-nation Comprehensive and Progressive Agreement for Trans-Pacific Partnership (CPTPP) trade pact that includes four Southeast Asian nations.
Prime Minister
Boris Johnson
's government is also awaiting formal accession as a new "dialogue partner" of the Association of Southeast Asian Nations (
Asean
), after the 10-nation bloc's leaders in April said they backed the secretariat's recommendation for such a move.
On Thursday, Raab held talks with Singapore's Prime Minister
Lee Hsien Loong
and Foreign Minister Vivian Balakrishnan. Lee said after the meeting that the two countries had a "shared interest in upholding free trade, multilateralism and a rules-based international order".
Singapore and its former colonial ruler were also expanding cooperation on the digital economy and
climate change
, Lee said.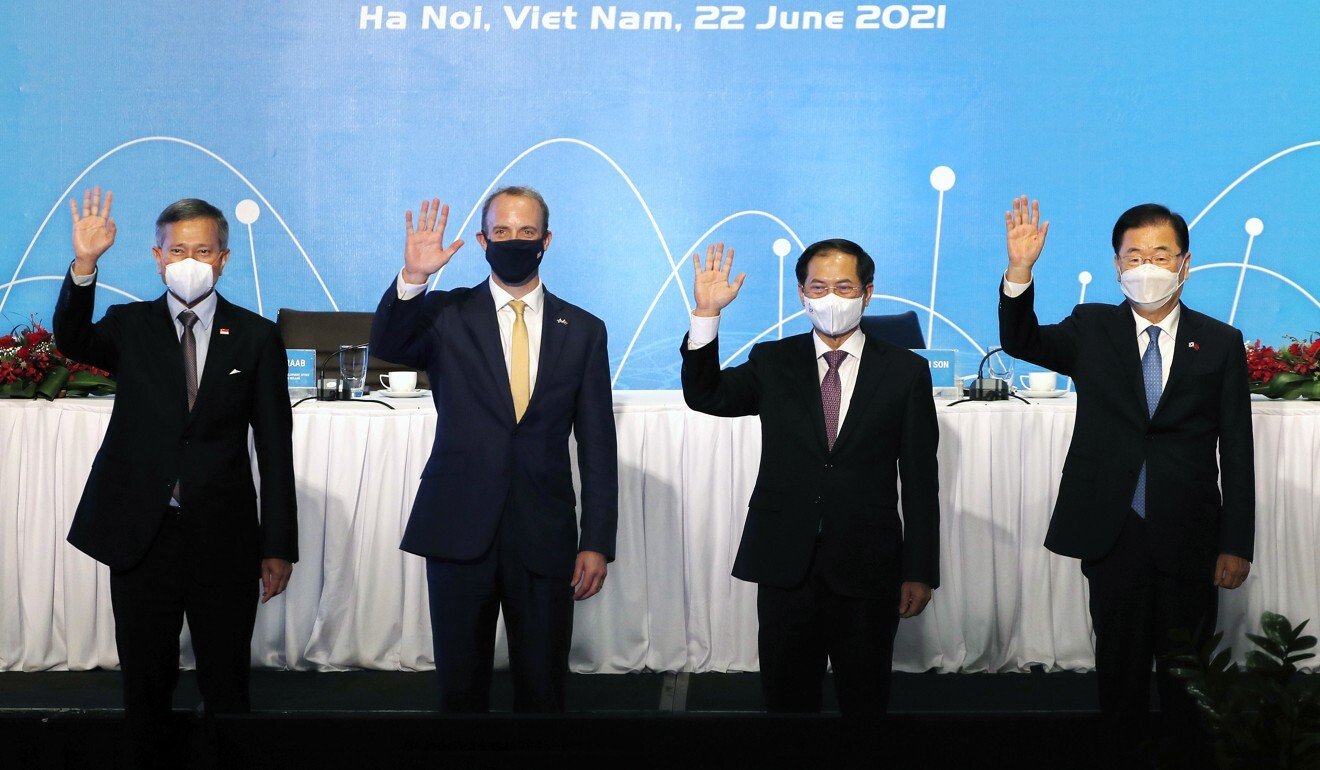 The top UK diplomat arrived in Vietnam on Monday for talks with Deputy Prime Minister Pham Binh Minh and a high-level dialogue session of the Asia-Europe Meeting (ASEM).
His second stop was Cambodia, where he met Foreign Minister Prak Sokhonn.
The meeting in Phnom Penh was the first visit by a British foreign secretary since London opened an embassy in the country three decades ago.
Cambodia's foreign ministry said it was "strongly supportive" of Britain obtaining dialogue partner status with Asean.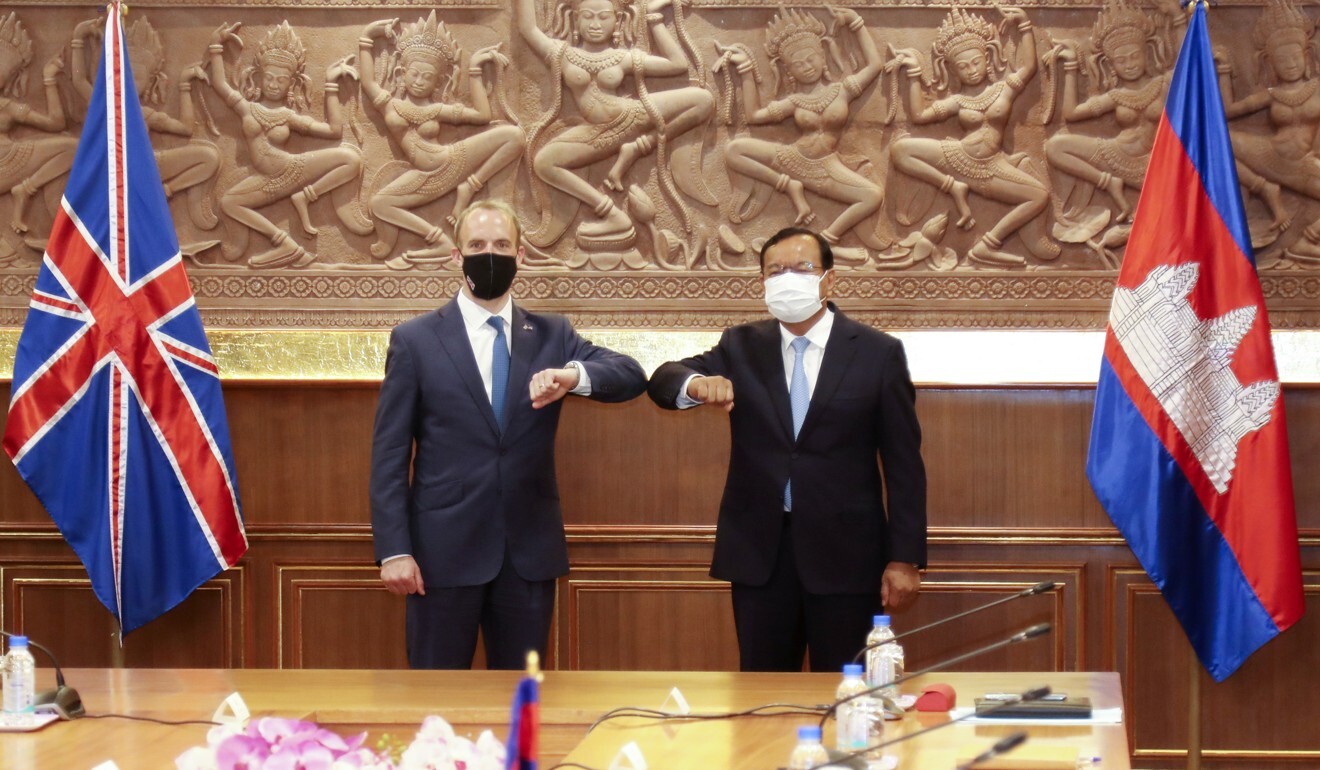 Asean has 10 existing dialogue partners: China, the United States, Russia, Australia, Canada, New Zealand, Japan, South Korea, India and the European Union (EU) – which Britain left at the end of January last year.
The dialogue partners hold regular meetings with Asean, with top leaders gathering annually for the East Asia Summit.
A moratorium against adding new dialogue partners has been in place since 1999.
Singapore-based international relations scholar Joseph Liow said Raab's three-nation tour aimed to give "greater substance" to Britain's aspirations, and much of it had to do with strengthening its global trade position given its departure from the EU.
"The Indo-Pacific region is the obvious region to focus on given its growth potential, strength of its economies, and the existence of major trade groupings," said Liow, dean of Nanyang Technological University's College of Humanities, Arts, and Social Sciences.
Similarly, Wang Jiangyu, professor at City University of Hong Kong School of Law, said it was "very logical" for Raab to tour the region to lobby support for Britain's CPTPP membership.
Britain has indicated its interest to join the pact – a successor to a larger, now-aborted deal called the Trans-Pacific Partnership (TPP) – since 2018, as part of a strategy to deal with a post-Brexit situation where it no longer benefited from the EU's multilateral pacts.
The warm reception in Southeast Asia is likely to go down as a diplomatic win for Raab, other experts said, noting that the Johnson government's post-Brexit, trade-related overtures in Europe remained frosty.
"In Asia, especially Southeast Asia, the ease with which Britain is making fast progress diplomatic and trade-wise, is a very welcome contrast," said Frederick Kliem, a research fellow focused on Asean-EU ties at the S. Rajaratnam School of International Studies (RSIS) in Singapore.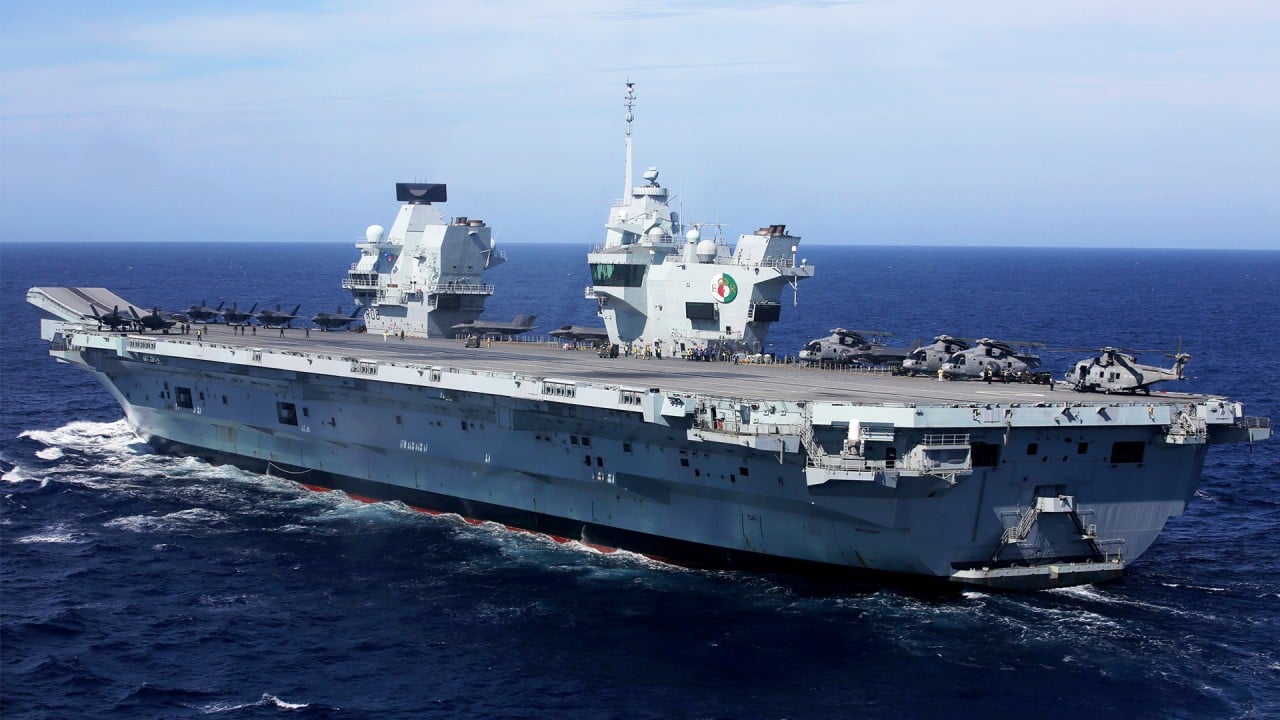 02:26
Britain's new aircraft carrier joins Nato exercises ahead of Indo-Pacific voyage
Britain's new aircraft carrier joins Nato exercises ahead of Indo-Pacific voyage
'VERY PRAGMATIC' ENGAGEMENT
Given enduring Western concerns about the human rights situation in Cambodia and Vietnam, observers said Raab's visit to the two countries was noteworthy.
Alan Chong, an associate professor at RSIS, said in visiting Vietnam, the British foreign secretary had put on display London's "very pragmatic" approach to engaging the communist-ruled nation.
"By visiting Vietnam, he is signalling that he wants to turn the page … and start a new relationship and have it win-win," he said.
From a strategic perspective, the visit could also be significant to Vietnam as it seeks to find ways to avoid overdependence on its northern neighbour
China
, Chong said.
Hanoi could be signalling to China that it has the option of cultivating outside powers such as Britain if its concerns over issues such as the disputed South China Sea come to a head, the Singaporean scholar said.
Vietnam is among the Southeast Asian nations that dispute China's vast claim over the resource-rich
South China Sea
.
Raab signalled during the trip that he was not sidestepping discussion about
human rights
. In an interview with the Cambodian portal
Cambodianess
, the foreign secretary said he raised concerns about the "criminal investigation, detention and prosecution" of opposition leader Kem Sokha and four environmentalists from the conservation group Mother Nature.
Human Rights Watch had earlier urged Raab to call for the activists' release.
Attention will next turn to the deployment of the British navy's flagship, the aircraft carrier HMS Queen Elizabeth, in Asia later this year.
The carrier strike group in May began a 28-week deployment that will take in some 26,000 miles – and the mission is seen as Britain's biggest display of naval power in decades.
HMS Queen Elizabeth is expected to sail through the disputed South China Sea during the deployment.
"[Britain] sees itself very much as a consequential player in the region and hence we can expect to see more extensive engagement which this visit obviously represents, but likely with more to come as well," Liow said.
This article appeared in the South China Morning Post print edition as: Top British envoy 'boosted reset bid' with tour of Asia