Myanmar
Get more with myNEWS
A personalised news feed of stories that matter to you
Learn more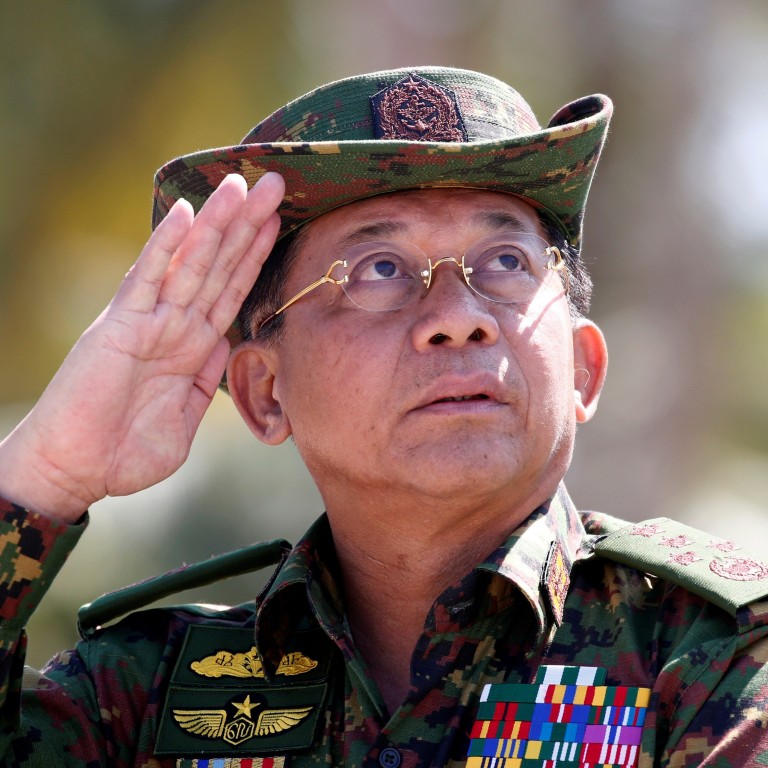 Russia keeps Myanmar general Min Aung Hlaing at arm's length: close enough to sell weapons but short of a full embrace
The Kremlin did not grant Min Aung Hlaing, the mastermind of Myanmar's coup, the full diplomatic traditions accorded to heads of state during his visit
But experts say his reception was no snub. Russia appreciates a big-spending buyer of its military equipment and sees a chance to rattle the West
Supporters of
Myanmar's
anti-coup movement this week have been scrutinising reports about Min Aung Hlaing's visit to
Russia
for tell-tale signs that even the Kremlin – one of the junta chief's key backers – is uncertain about recognising him as the country's legitimate leader.
Some social media commentators have suggested the absence of the salt-and-bread ceremony traditionally accorded to visiting foreign dignitaries was a sign the Russians were ever so subtly snubbing the general, rather than helping him to appear like a statesman after his February 1 coup.
The four-day visit was only his second trip overseas since he seized power from the democratically elected National League for Democracy (NLD).
In April, he went to Jakarta for the special Association of Southeast Asian Nations (
Asean
) meeting that was called to discuss his coup, the ensuing violence and detention of
Aung San Suu Kyi
and other NLD leaders.
Observers of the trip have seized on details gleaned from posts by Russian media and the senior general's own
social media
.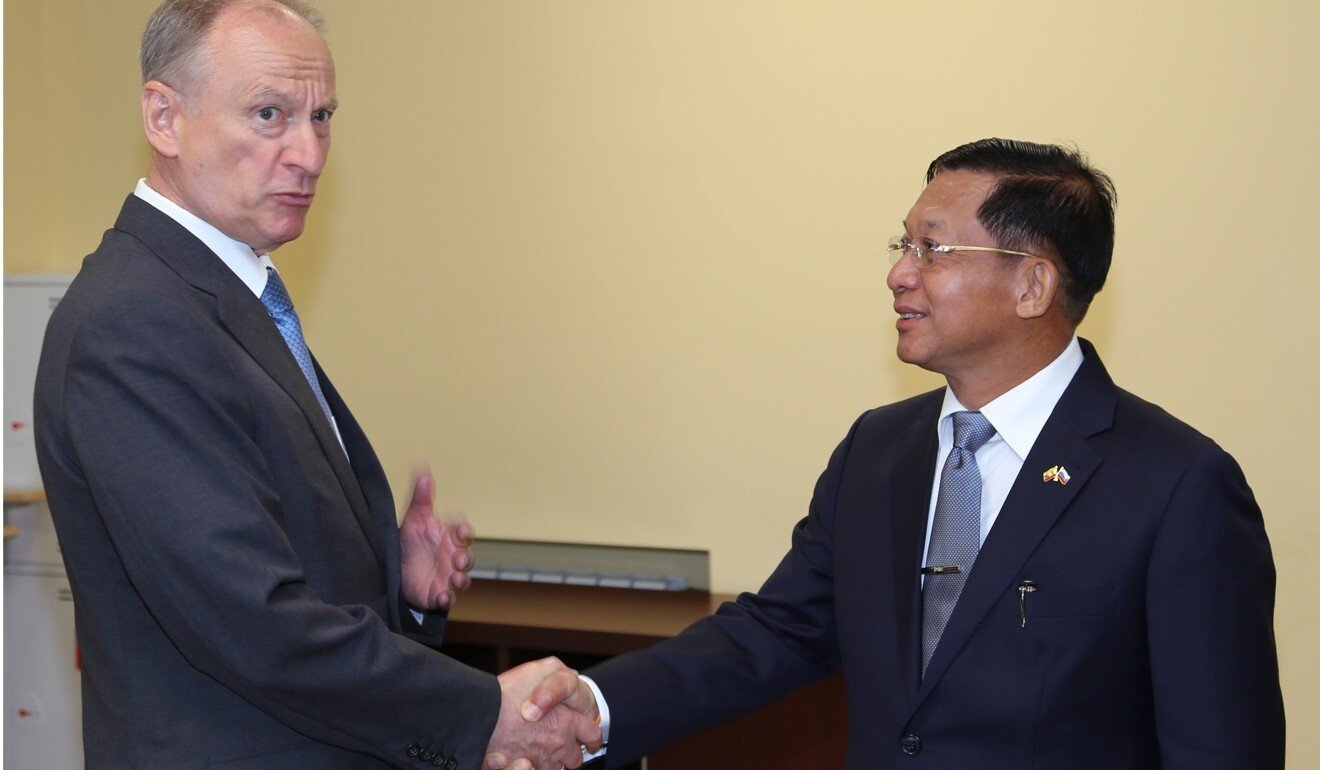 The news site Irrawaddy wrote that citizens ridiculed the white utilitarian vehicles that ferried the general's delegation from the airport to a central Moscow hotel as "delivery vans". Pictures of the vans went viral on social media.
Also ridiculed were images showing the army chief in an oversized graduation gown, as he received an honorary professorship from the Military University of Russia's Ministry of Defence.
Close observers of Min Aung Hlaing and the Kremlin's Asia policy said that beyond the frivolities, the substance of this week's trip showed Moscow intended to maintain close links with both the junta leader and the Tatmadaw, as the Myanmar military is known locally.
Key to Russia's calculation is a hope that the junta will continue to buy Russian weapons. According to the Stockholm International Research Peace Institute, Myanmar bought US$1.5 billion worth of military hardware from Russia between 1999 and 2018, accounting for 39 per cent of its total arms imports during that period.
The Tatmadaw is awaiting delivery of six Su-30 fighter jets ordered in 2019 and the two countries in January signed contracts for a Russian air defence system and tactical surveillance drones, according to the Moscow-based think tank Centre for Analysis of Strategies and Technologies.
Beyond arms sales, IHS Jane's security analyst Anthony Davis said Moscow was eyeing "a broader, more comprehensive relationship, well short of an alliance, but which over the long term offers a strategic beachhead in Southeast Asia".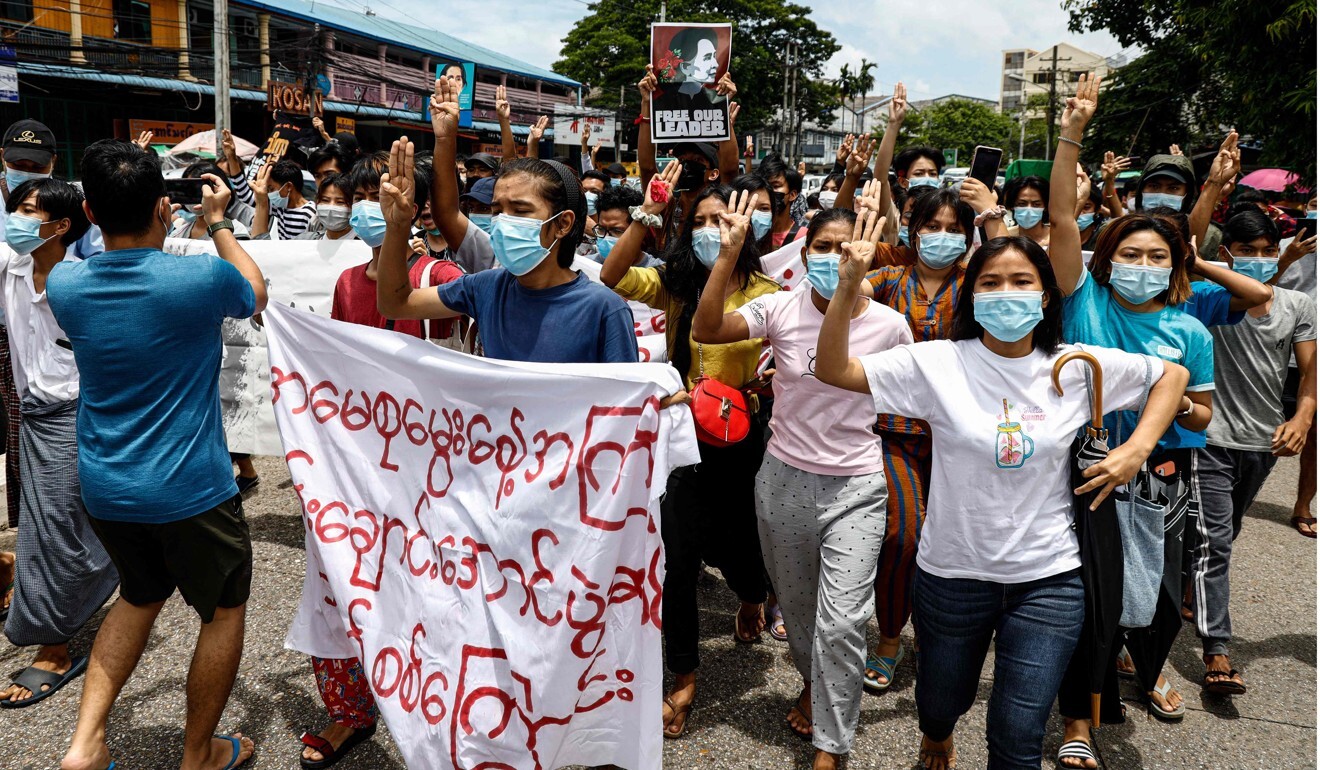 While the Kremlin did not grant Min Aung Hlaing the full diplomatic pomp, his treatment during the visit was far from a snub, the experts said.
The visit took place just days after the United Nations General Assembly adopted a resolution demanding an end to the five-month coup and the military's violence.
"I think it suits
Russian President
Vladimir Putin's
geopolitical objectives to show that Moscow can continue to disrupt Western efforts to bring about peaceful and democratic resolutions to political crises," said Canberra-based Myanmar watcher Hunter Marston.
Min Aung Hlaing did not hold talks with
Putin
or Foreign Minister Sergey Lavrov during his visit, but he did meet two other important figures: Security Council of Russia secretary Nikolai Patrushev and Defence Minister Sergey Shoygu.
"We are determined to continue our efforts to strengthen bilateral ties based on the mutual understanding, respect and trust that have been established between our countries," Shoygu was quoted as saying by Russia's RIA news agency after a Tuesday meeting with Min Aung Hlaing.
Apart from these talks, the junta chief spoke at the Moscow Conference for International Security and visited a university and factory, Myanmar state media reports said.
Artyom Lukin, an associate professor at the Far Eastern Federal University in Vladivostok, said the meeting with Patrushev, regarded as a "right hand man" of Putin, showed the Kremlin's "nuanced" handling of Min Aung Hlaing's visit.
Putin's administration for the moment "believes Russia's national interests in Myanmar are best served by the military government which is currently in control," Lukin said.
"But [Patrushev] is definitely not the chief executive... I would interpret this as a sign that the Kremlin, even though supporting the military junta, is not ready to recognise it as the 100 per cent fully legitimate government of Myanmar," the professor said.
Agreeing, Marston said it "did not matter too much" that
Putin
and Lavrov appeared not to have met Min Aung Hlaing.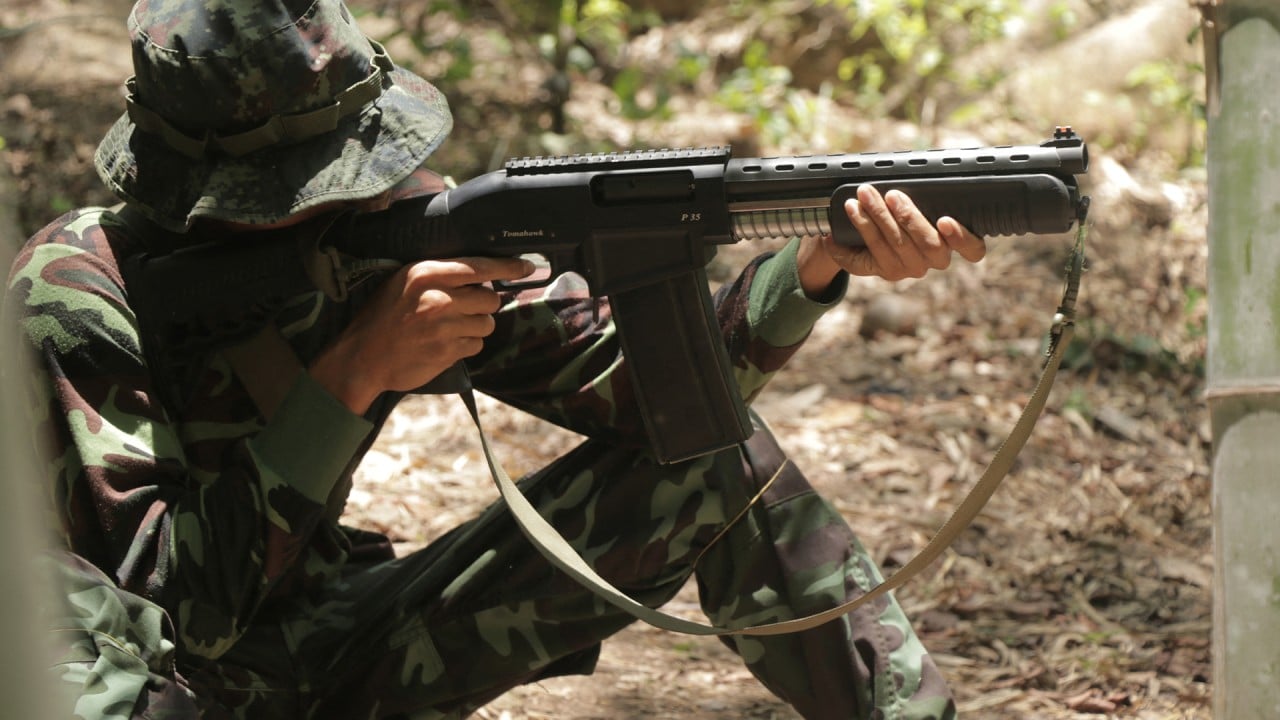 02:30
Myanmar's anti-coup protesters get combat training in jungle to fight military junta
Myanmar's anti-coup protesters get combat training in jungle to fight military junta
"The same goals are achieved through Defence Minister Shoygu's meeting with Min Aung Hlaing: ensuring that Russia maintains influence with the Myanmar military," said Marston, a doctoral candidate at the Australian National University.
Given that the junta's other tacit backer,
China
, was not rushing to embrace the junta, Russia did have to do much to achieve this goal, Marston added.
He said: "So for the time being, the Kremlin doesn't have to wholeheartedly engage with the generals, especially given that the junta is more in need of Russian arms and recognition than anything Myanmar can give Russia the other way around."
Davis, the Bangkok-based analyst, said the Tatmadaw was likely to have orders for more "spare parts for a range of systems already in service and possibly new Russian small-arms to complement domestically produced ones" in the coming months.
"In addition to the Su-30 jets already on order, new big-ticket purchases might include additional helicopters and possibly more Yak-130 jet trainer/ground attack aircraft," Davis said.
Russian-built weaponry such as the "Hind Mi-24P helicopter gunships, Hip Mi-17 utility/transport helicopters and the newer, very capable Yak-130s are all playing a crucial role in helping the Tatmadaw meet a growing insurgency threat," he said.
With the junta under international pressure – including heightening Western sanctions – there may be more to come in terms of public engagement between Min Aung Hlaing and the Kremlin, even if such exchanges take place without pomp and attract ridicule.
"Min Aung Hlaing is signalling that his regime has friends in important places and a ready supply of high-grade military weapons aside from China," Marston said. "The regime wants to diversify away from overreliance on China, and Russia is a vital partner in doing so."
This article appeared in the South China Morning Post print edition as: Putin keeps Junta chief at arm's length