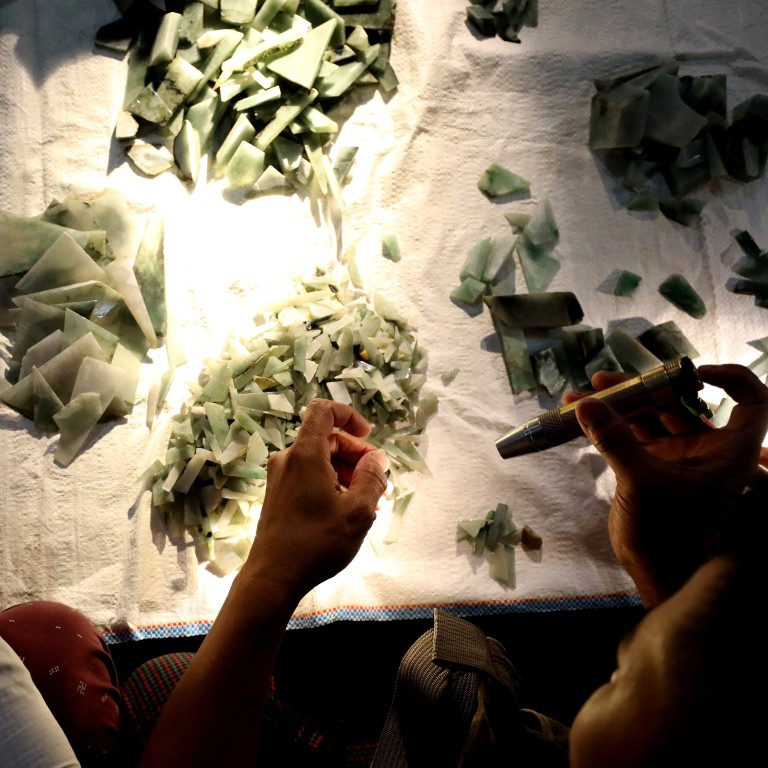 China urged to join boycott of Myanmar's jade industry
Multi-year investigation by campaign group Global Witness finds up to 90 per cent of the country's jade is being smuggled out, most of it into China
Group wants an international boycott of the industry to cut off funding to Min Aung Hlaing's military government, which seized power in a February coup
A
report
released today calls on
China
to address its role in corruption and conflict linked to the jade trade in
Myanmar
.
The campaign group Global Witness estimates that up to 90 per cent of Myanmar's jade is being smuggled out of the country, almost all of it into China.
In a report titled "Jade and Conflict: Myanmar's Vicious Circle", Global Witness also reveals that corruption within Myanmar's jade sector has reached the highest ranks of the military, including the family of Commander-in-Chief Min Aung Hlaing.
The report says that the military coup staged by Min Aung Hlaing on February 1 has triggered a new wave of violence in the conflict-ridden sector, demonstrating the danger of armed actors controlling the multibillion-dollar mining industry.
The result of a multi-year investigation, the report calls on the international community to immediately ban the import of all jade and gemstones mined in Myanmar, and cut off financial flows to the military through targeted sanctions on its economic interests, including the jade sector.
It also calls for the military to be removed from power, and for the global community to help establish a new, legitimate government acceptable to the people of Myanmar.
Biggest buyer
Speaking to This Week in Asia, Keel Dietz, Global Witness' Myanmar policy adviser, said that while the report focused primarily on military control of the jade industry and did not single out China, the Asian giant ought to do more as the Chinese were the biggest purchasers and consumers of jade from Myanmar.
Between 70 and 90 per cent of all jade mined in Myanmar (most of it comes from Hpakant, Kachin state) was smuggled into China, usually via Mandalay and the border linking the town of Muse in Shan state, Myanmar, to Ruili city in Yunnan province, China, Dietz said.
Companies did this, Dietz said, at least in part because Myanmar had a complex taxation system in which jade was taxed at multiple points during the production and sale process.
"Myanmar companies can earn a lot more money by making sure that their jade does not enter the formal [taxation] system," Dietz said, adding that while the Sino-Burmese borders were extremely porous and "fairly easy for someone to walk across with a backpack", the amounts involved meant that companies usually transport jade through other means such as hidden in the back of large gas tankers.
"Customs checks between Muse and Ruili are not particularly strong, so it's quite easy to move large amounts of goods across the border," Dietz said.
What China can do
Dietz said jade smuggling was linked to the "broader illicit economies that should rightly concern Beijing", such as the narcotics industry.
Some border guard forces – militias under the command of Myanmar's armed forces – who were involved in the jade industry were also among the largest producers of narcotics, Dietz said.
"It is this broader cocktail of illicit economies and violence and conflict that leads to a lot of instability along China's border," Dietz said, adding that the Chinese government should be concerned as "illegality breeds illegality and instability breeds instability".
In the report, a jade regulator in Myanmar was quoted as saying that the jade business was the best way to engage in money laundering.
"For example, if you buy a bad quality stone, but pay high quality money for it, that means your money has been laundered," the report cited the regulator as saying.
To tackle this, an anti-money-laundering law recently announced by China should be broadened to include traders of precious stones, Dietz suggested, "as this would place anti-money-laundering compliance obligations on large jade traders in China".
"This will help tackle not just money laundering but also some of the illegality in the jade industry. It's not going to solve everything, but it can help," Dietz said.
This month, China's central bank issued a revised draft anti-money-laundering law, under which fines for some offences would increase to as much as US$1.6 million. The revised law also brought a host of non-financial institutions within its scope, including property developers, accounting firms and precious metal exchanges.
Dietz said China should also consider introducing tighter border checks.
China's stake
China's involvement in the jade sector comes mainly in the form of investments by private businesses and individuals, including Chinese who obtain fake Burmese national registration cards – as foreigners are not allowed to directly own jade companies – and in collaboration with ethnic Chinese living in Myanmar.
The heavy equipment used in the mining town of Hpakant is mainly funded by Chinese companies, many of which find it easy to obtain Chinese bank loans due to the solid returns of the industry and the low probability of defaulting.
Jade mined in Myanmar is usually sent to China for processing – cutting, washing and turning into jewellery and other saleable items – due to a relative lack of expertise in the Southeast Asian country in this area.
However, periodic closures of the border since the start of the year, partly due to the coronavirus pandemic and partly due to post-coup instability have slowed the entry of jade – whether smuggled or through legal means – into China.
While jade mining continued throughout last year and into the beginning of this year, the first official jade emporium since the start of the pandemic – held over 10 days in April – only brought in a reported US$22 million in sales, compared to recent figures that have seen yearly sales worth hundreds of millions of dollars.
Dietz said companies might have chosen to stay away from jade sales to avoid being seen as supporting the military, which has faced widespread public anger and resentment since the coup.
"Mining has not gone away," Dietz said, adding: "The decline in sales has more to do with political issues, and also because it has become harder to bring Chinese buyers in."
Aimed at building a more sustainable, just and equal planet, Global Witness seeks to protect forests and biodiversity, and to push corporations to prioritise the interests of people and the planet.
This article appeared in the South China Morning Post print edition as: 90pc of Smuggled jade enters China