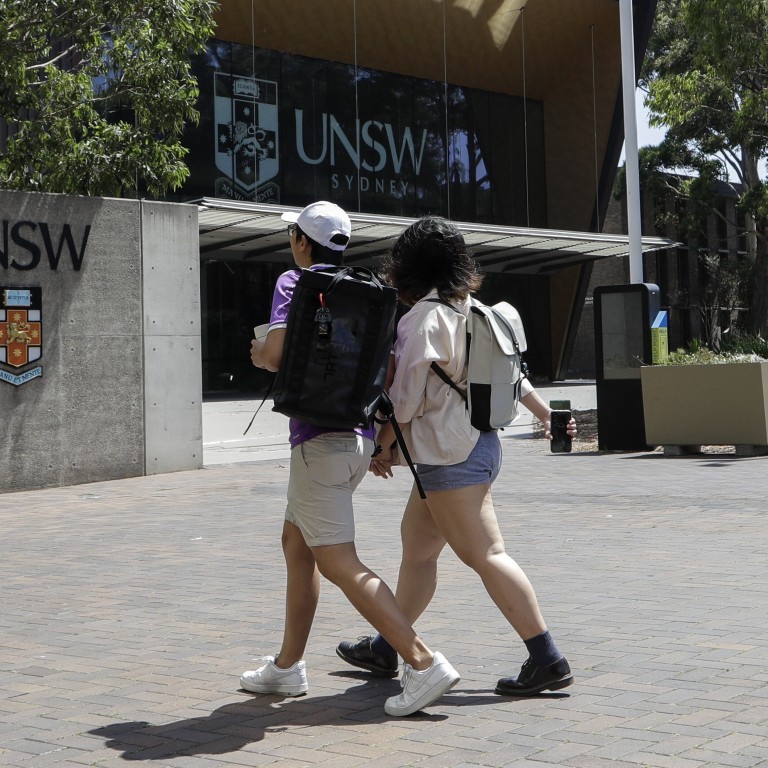 Chinese students in Australian universities face surveillance, intimidation by Beijing for views: rights group
Human Rights Watch said there was an 'atmosphere of fear' for pro-democracy Hongkonger and mainland Chinese students, and Australian universities had not upheld academic freedom
It also raised concerns about the tone of Australia's debate on foreign interference given rising anti-Asian discrimination and portrayals of Chinese students as 'unthinking' defenders of the CCP
Chinese students living in
Australia
have faced surveillance and intimidation by Beijing for advocating for democracy, with universities failing to uphold their academic freedom, Human Rights Watch said in a report released on Wednesday.
An "atmosphere of fear" has grown on Australian university campuses in recent years, with pro-democracy Hongkongers and mainland students self-censoring to avoid harassment and being reported to Chinese authorities by their pro-Beijing classmates, the non-profit said in the report.
Although the number of reports of intimidation was low, such cases kept "thousands of other students on edge and fearful", the New York-based group said.
It added that the actions of pro-Beijing supporters – who have also doxxed academics perceived to be critical of the Chinese Communist Party (
CCP
) – did not represent most Chinese students in Australia but were carried out by a "small but highly motivated and vocal minority".
The majority of Chinese students did not get involved in political disputes and chose to express their views peacefully, it said.
Human Rights Watch conducted interviews with 24 students with pro-democracy views and 22 academics for the 102-page report. It identified three cases where a student's family members were contacted by the police due to the student's advocacy in Australia.
In one case, Chinese authorities threatened a student enrolled at an Australian university with prison after he posted pro-democracy messages on Twitter, the non-profit said.
"In our department there are a lot of students who share the same opinion as me, but they are too afraid to speak out, they are afraid of retaliation," the report quoted the student, identified by the pseudonym Li Wei, as saying. "If you protest against the CCP abroad, they will find people you love to make you pay. Even if you are in Australia, they will hurt someone you care about."
In another case, a student who spoke in support of democracy in front of their classmates had their passport confiscated upon returning to China, according to the report.
In response to an inquiry by This Week in Asia, the Chinese embassy in Canberra dismissed the report as "rubbish" and the product of anti-China bias.
"Human Rights Watch has decayed into a political tool for the West to attack and smear developing countries," an unnamed spokesperson said. "It is always biased against China. The relevant rubbish report is not worth commenting [on] at all."
Sophie McNeill, the report's author, said Australian universities were failing in their duty to uphold the rights of Chinese students in Australia.
"The universities should speak out and take concrete action to support the academic freedom of these students and staff," she said.
Australian universities rely heavily on fee-paying Chinese students, who accounted for about 160,000 enrolments last year.
Before the Covid-19 pandemic, four in 10 of all international students in Australia were from China, or 10 per cent of all university students. Almost a third of university sector revenue was generated from international student fees.
International education contributed some A$40 billion (US$30 billion) to the economy in 2019.
The majority of the students quoted by Human Rights Watch said they had not reported their experiences, believing their university was more concerned about maintaining its financial ties to China.
Universities Australia Chief Executive Catriona Jackson said academic freedom and the safety of students were the tertiary sector's top priority.
"Universities have long-established and robust policies to deal with coercion and intimidation on our campuses," Jackson said. "We urge students to come forward to universities to report any incidents of concern."
Education Minister Alan Tudge on Wednesday said he was concerned about the report's findings and would soon announce updated guidelines against foreign inference in the tertiary education sector.
"Any interference by foreign entities at universities cannot be tolerated," Tudge said.
"This depiction – simplistic, unfair, and at times racist – fails to consider the many challenges these young people face when suddenly living in a multicultural democracy after growing up in a strictly controlled state," the group said.
Additional reporting by Reuters
This article appeared in the South China Morning Post print edition as: Chinese students who backdemocracy 'on edge, fearful'