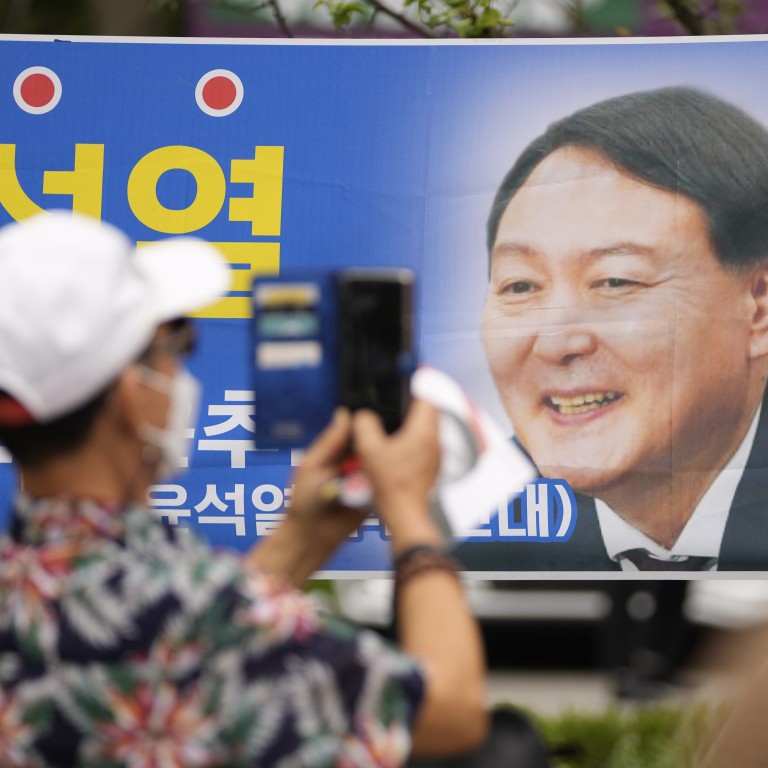 South Korean politicians dial up attacks on Moon Jae-in's US-China balancing act, sparking response from Chinese envoy
Ex-prosecutor and presidential hopeful Yoon Suk-yeol, and young opposition leader Lee Jun-seok support closer ties with Washington
China's Ambassador to South Korea Xing Haiming responded to their comments on China but drew criticism from several commentators
A former top prosecutor seeking a shot at South Korea's presidency next year has slammed the government of Moon Jae-in for its approach to balancing ties with both the United States and China, saying Seoul should instead pursue a stronger alliance with Washington.
"South Korea's security and diplomacy should be based on firm alliance with the US, and South Korea-US alliance should be a constant, not a variable," Yoon Suk-yeol said in an interview with the Joongang Ilbo newspaper published on Wednesday. "But the Moon government has degenerated it to a variable."
The 60-year-old has constantly polled as the preferred candidate by conservative voters to take over from the liberal President Moon, who has walked a fine line between the US, with which it has a security alliance, and China, its largest trading partner by far.
Moon's critics have decried the policy known as "strategic ambiguity", as Washington tries to rally its allies to cooperate with it to counter Beijing's growing influence.
Yoon, in his comments to the newspaper, said Seoul could no longer maintain that policy "in the face of mounting international rivalry where semiconductors are replacing guns and swords as weapons", and suggested it should pick a side.
"There must not be any light in South Korea-US relations, and given that close relation with the US, other countries like China will pay attention to us," he said.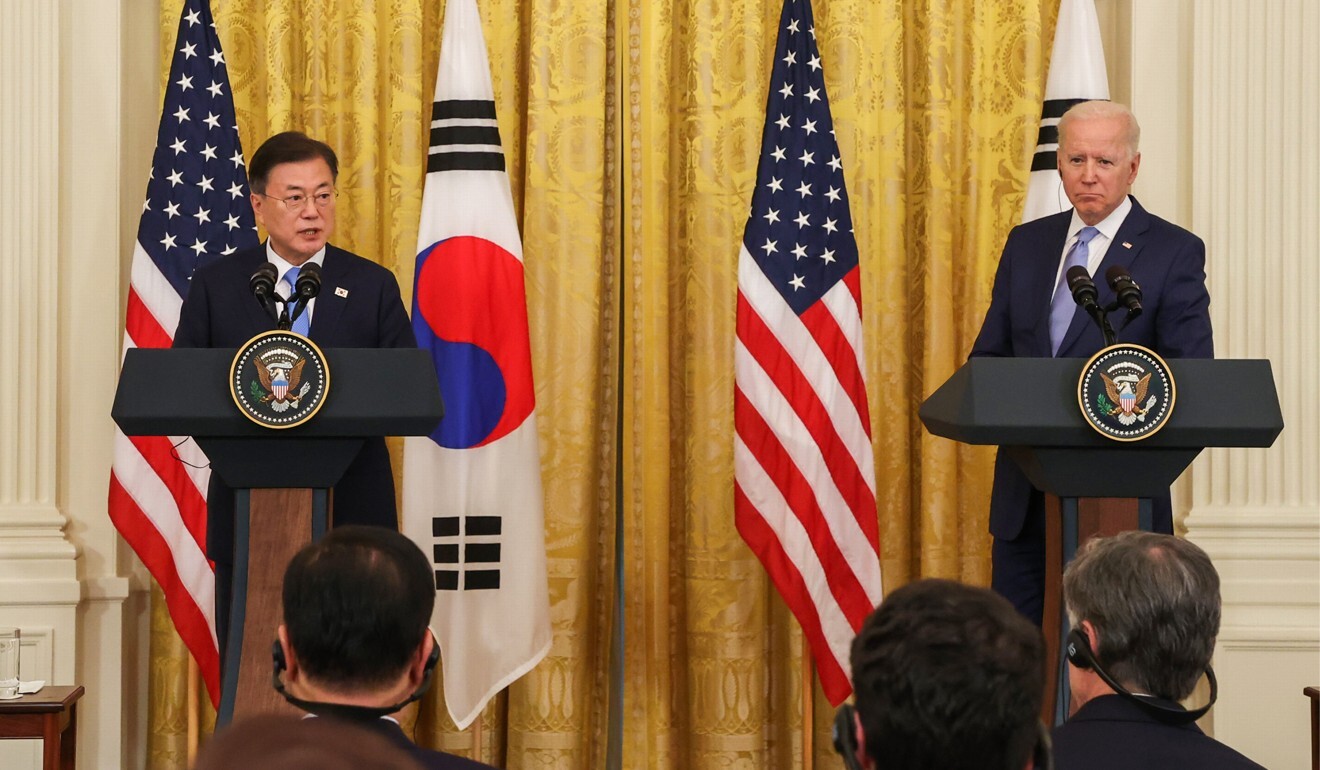 Yoon's comments come as conservatives grow more vocal against countries faulted for their rights records, such as China and North Korea, with political science professor Yoon Sung-suk of Chonnam National University also attributing this to "an aggressive China and continuing nuclear threats from the North".
Earlier this week, Lee Jun-seok, the new leader of the main conservative opposition People Power Party, vowed to confront Beijing's "cruelty", including its policies on Hong Kong, indicating a tougher line with China if his political allies regained power.
The 36-year-old Lee, who took part in Hong Kong's anti-government protests in 2019, compared the rallies to South Korea's pro-democracy uprisings in the 1980s.
"We're definitely going to have to fight against the enemies of democracy," Lee said in an interview with Bloomberg published on Monday.
"I can definitely say the Moon administration is leaning towards China," Lee said, adding the Korean public was "not happy about it".
Lee accused Moon of "hurting the country's pride as a model democracy in East Asia by taking a lukewarm attitude toward the Hong Kong issue".
Later that day, the Chinese embassy in Seoul released two statements on its website, one noting that its ambassador Xing Haiming had met Lee to congratulate him on his appointment as party chief with both sides agreeing that South Korea and China were good friends and trading partners.
The second focused on what Xing had told Lee about Beijing's position on Hong Kong.
Xing also wrote a rebuttal to Yoon's interview with the Joongang Ilbo, saying the South Korea-US alliance should not hurt Chinese interests and issued a thinly-veiled warning about any efforts to join Washington in "decoupling" from China.
"Sino-South Korea bilateral trade volume is already coming close to the total trade volume combining South Korea-US trade, South Korea-Japan and South Korea-EU trade," he said.
He noted China is importing some 80 per cent of semiconductors South Korea produces every year and China's economy expanded 12.7 per cent year-on-year in the first half of this year.
"China will provide South Korea and other countries with a giant market and better chances for development in the future," he concluded.
However, his remarks did not go down well with analysts who accused the ambassador of interfering in domestic affairs.
"What he wrote sounds like a diplomatic blackmailing aimed at the country's conservatives. He is saying 'If you fail to follow us, you will die'," said Choi Kang, vice president of the Asan Institute for Policy Studies.
"This amounts to an attempt to influence South Korea's election by indirectly telling voters that if you elect Yoon, China will not get along well with your country. He hurts Koreans' pride," he said.
Both Shin Beom-cheol, a senior researcher at the Research Institute for Economics and Society, and Lee Seong-hyon, a former Chinese study researcher at the Sejong Institute, also said it marked a breach of diplomatic protocol for an ambassador to directly attack a presidential candidate in the country where he resides.
"This gives an image of an increasingly aggressive and arrogant China. It will backfire by further fanning anti-Chinese sentiments in South Korea," Lee added.
Go Myong-hyun, an analyst at the Asan Institute for Policy Studies, said the comments by both Yoon Suk-yeol and Lee were mainly aimed at rallying their voter base ahead of the polls.
"They are making strongly-worded remarks to drum up support ahead of the election. The conservative opposition party thinks the Moon government has been gravitating towards Beijing too much, even in consideration of the country's close economic ties with China," Go said.
"Over the long term, South Korea's policy towards Beijing will somewhat change in step with the toughening of Washington's policy towards China, as the Biden administration is pushing democracies' alliance in the Indo-Pacific region," Go said.
Conservatives, who lost power in 2017 after former president Park Geun-hye was ousted amid a massive scandal, are believed to have a better chance of reclaiming office in next year's polls, as many young voters have withdrawn support from President Moon over rising property costs and high unemployment.
But Moon's party and its presidential hopefuls, including Lee Jae-myung, have recently been catching up with Yoon and the PPP in support ratings following a spate of gaffes by Yoon and Lee.
If the conservatives regain power, Go said Seoul's policy would considerably swing towards the US.
"However, it's out of the question for South Korea to turn its back on China completely because of the strong economic ties of the two countries," he said.
South Korea has been hit hard by China's economic retaliations after it allowed the deployment of Washington's Terminal High Altitude Area Defence (THAAD) anti-missile defence system in 2017.
"If China wants the withdrawal of the THAAD, it should withdraw its long-range missiles it has deployed near its borders first," Yoon Suk-yeol said.
Yoon resigned in March as the country's top prosecutor after he clashed with the Moon government over its attempt to cut the wings of prosecution authorities, which have come under scrutiny for abuse of power.
Yoon has hinted he would join the main opposition group, the PPP headed by Lee.
But his support ratings have been falling over the past few weeks amid a series of corruption allegations raised against his wife and mother-in-law.
His support rating stood at 27.8 per cent, down 4.5 percentage points from three weeks earlier, according to a Realmeter poll whose results were published on Thursday.
The fall diminished Yoon's opinion poll lead over runner-up, Gyeonggi Governor Lee Jae-myung of the ruling Democratic Party.