Pakistan
Get more with myNEWS
A personalised news feed of stories that matter to you
Learn more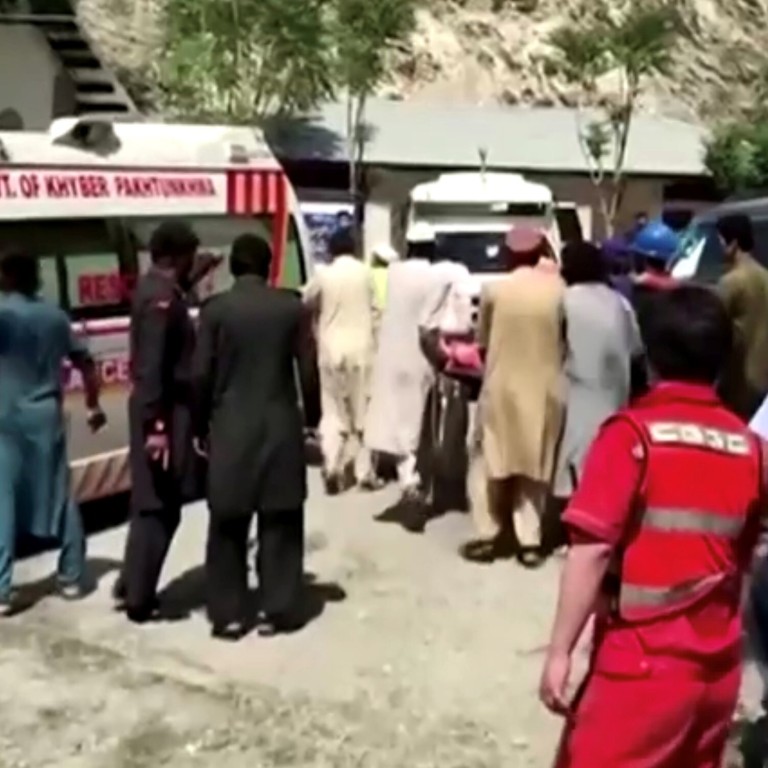 'Delicate moment' for China, Pakistan as suspicions rise that bus blast was terrorist attack
Bomb blast that killed nine Chinese workers on their way to Pakistan's Dasu dam probably work of militants, experts say, though official conclusion is pending
Blast unlikely to give China cold feet about belt and road investments in Pakistan, but diplomatic relations will suffer, analysts say
The deaths of nine Chinese workers in a
bus explosion in northern
Pakistan
on Wednesday morning represent a "delicate moment" in relations between the close allies, a diplomatic source in Islamabad said.
While no militant group has claimed responsibility yet for the blast on the bus carrying Chinese engineers, surveyors and technicians, there are strong suspicions among analysts that it was a terrorist attack, given simmering opposition towards China's investments and a rise in terrorist activities in
Pakistan
. On Thursday Pakistan's Information Minister Fawad Chaudhry said initial investigations had confirmed traces of explosives. "Terrorism cannot be ruled out," he said on Twitter.
The South Asian nation is expected to be heavily affected by the withdrawal of American troops in
Afghanistan
as Taliban insurgents continue to capture key areas.
Officially Beijing has not drawn any conclusions, with China's Foreign Minister Wang Yi urging Pakistani authorities to get to the bottom of the incident and China sending a special team to Pakistan to work with local authorities in the ongoing rescue operation and investigation.
The blast sparked an engine fire and plunged the bus into a ravine, according to a local official, and a further 28 Chinese nationals were among the 36 people injured. They were on their way to the site of the World Bank-funded Dasu hydropower project, located on a stretch of the Indus River running parallel to the Karakorum Highway – the sole overland link between two countries.
It was the worst accident so far to befall Chinese nationals working on various infrastructure projects that are part of the China-Pakistan Economic Corridor (CPEC) – a US$65 billion investment plan which aims to connect western
China
to the Arabian Sea port of Gwadar in southern Pakistan.
The Chinese embassy in Islamabad on Wednesday issued a security alert to Chinese citizens, enterprises, and projects in Pakistan, reminding them to "stay alert, pay close attention to the local security situation, strengthen security protection, take strict precautions, and stop going out unless necessary".
Despite this, analysts said the blast was not likely to deter Chinese investment or the progress of the Dasu power plant.
"China is willing to stomach a lot of risks when it comes to investing in volatile spaces – we see this not only in Pakistan, but also in parts of sub-Saharan Africa and Southeast Asia," said Michael Kugelman, senior South Asia associate at the Wilson Centre, a Washington-based think tank.
"The CPEC is much too important a project for Beijing to abandon simply because of the risk of terror attacks.
"I think the biggest takeaway here is not that China will get cold feet about investing in Pakistan – that's not the case at all. Rather, it is that China-Pakistan relations could suffer, because once again Beijing has seen its nationals targeted, despite making repeated pleas to Pakistan for more security previously."
The injured Chinese have been evacuated by Pakistani army helicopters to hospitals in Gilgit-Baltistan, the region bordering
Xinjiang
, and to the garrison town of Abbottabad, the nearest Pakistani city to the south of remote Kohistan. On Wednesday the Chinese Ambassador to Pakistan Nong Rong and Pakistani Foreign Secretary Sohail Mahmood visited the injured Chinese.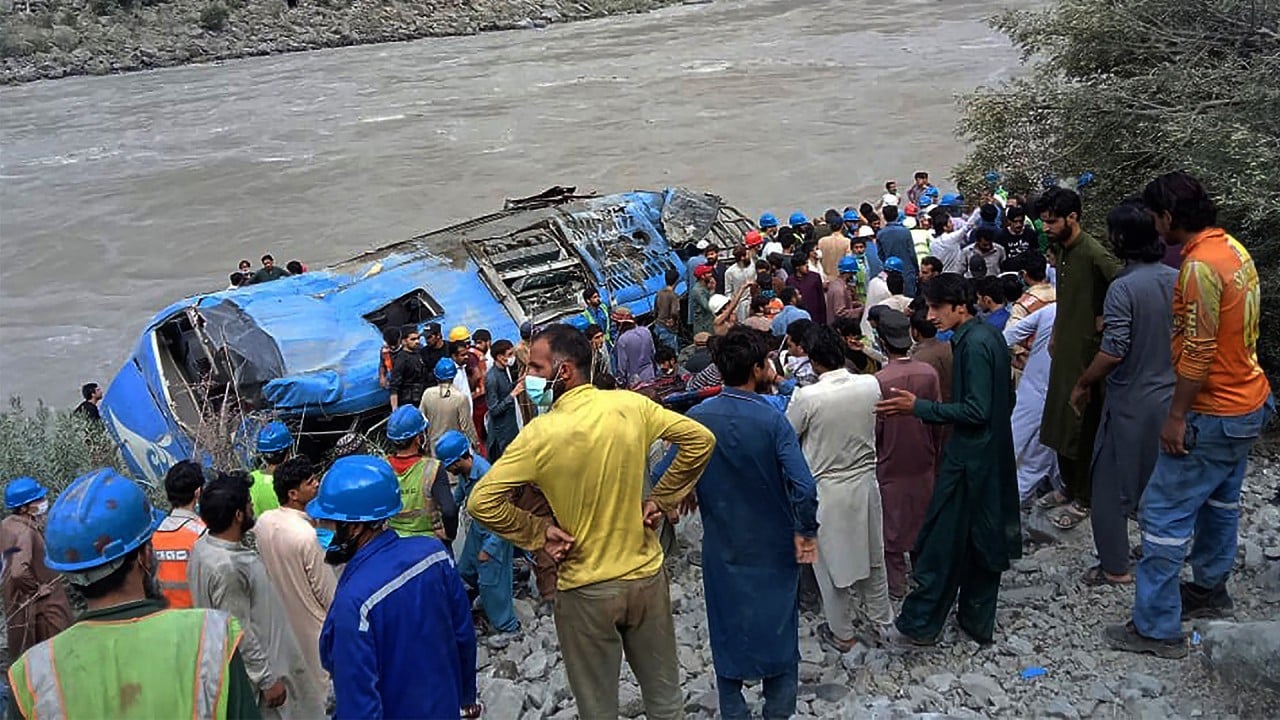 01:51
Nine Chinese nationals among 13 killed in Pakistan bus blast
Nine Chinese nationals among 13 killed in Pakistan bus blast
News of the deadly explosion broke during a meeting between Chinese Foreign Minister Wang Yi and his Pakistani counterpart Shah Mahmood Qureshi in Dushanbe, Tajikistan. The meeting was being held on the sidelines of a gathering of the Shanghai Cooperation Organisation held to discuss the Taliban's seizure of vast swathes of Afghanistan amid the withdrawal of US-led Nato forces.
Qureshi tweeted photos of the meeting and said he and Wang had discussed the CPEC, but he made no mention of the incident in Dasu.
Fears about the safety of Chinese nationals working in Pakistan have only increased since the 9/11 al-Qaeda attacks on the
United States
sparked its global war on terror, the invasion of Afghanistan and a deadly insurgency by Tehreek-e-Taliban Pakistan (TTP) militants that was not quelled until 2015.
That year, Chinese President
Xi Jinping
travelled to Islamabad to launch the estimated US$60 billion CPEC, a showcase programme of the
Belt and Road Initiative
which has since seen US$28 billion worth of power generation plants, motorways and urban mass transit projects swing into action.
To reassure Beijing, the Pakistani government raised a division of troops to provide security to the thousands of Chinese nationals working on CPEC projects.
Since then, there have been many attempted attacks on them, both by the TTP and separatists fighters in western Balochistan province, where China operates the Gwadar port – the maritime culmination of the road from
Xinjiang
.
Most attacks on Chinese workers, businessmen and diplomats have been foiled by Pakistani troops and policemen. Some Chinese nationals have been wounded in gun attacks, but casualties have been few and far between.
However, officials in both capitals always feared it was just a matter of time before terrorists found a weakness in the Pakistani armour protecting them – a worry that has grown as geopolitical competition between
China and the US
and India intensified in recent years.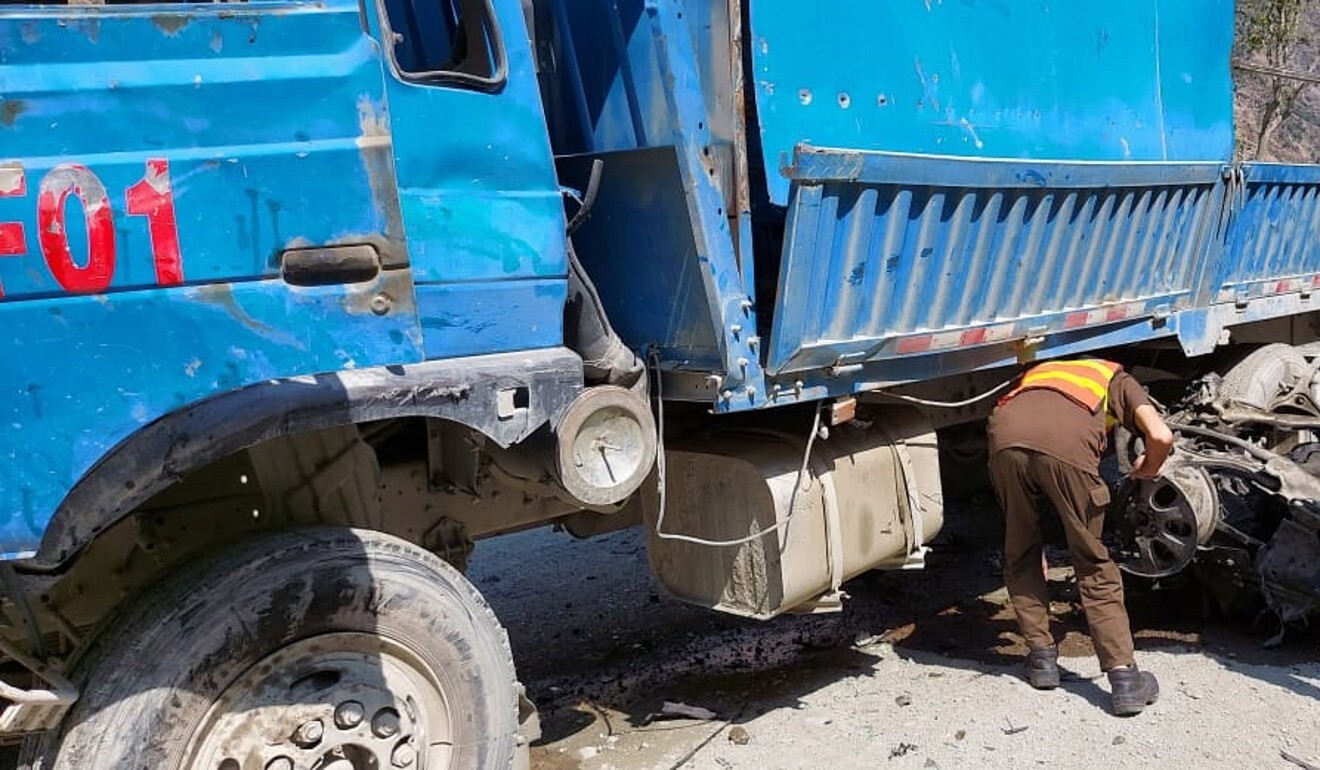 Pakistani officials and analysts have frequently claimed the CPEC is being covertly targeted by intelligence agencies hostile to China's growing footprint.
Officials often accuse India's Research and Analysis Wing of involvement in sponsoring attacks launched across the Afghan border into Pakistan. Analysts have also pointed accusatory fingers at America's Central Intelligence Agency, because of its massive presence in Afghanistan.
The explosion aboard the bus at Dasu caused the single largest loss of Chinese lives ever, suggesting that the militants may have found that weakness.
The prime suspects are TTP commanders based in the Kohistan district, where Dasu is located. They emerged from hiding last week to issue a video – filmed at an "open court" in the mountainous area – calling on the group's divided factions to join forces in Kohistan and the adjacent Gilgit-Baltistan, which borders China.
Abdul Basit, an associate research fellow at the S. Rajaratnam School of International Studies, Singapore, said Pakistan's counterterrorism framework would need to be revised and overhauled to take into account new developments in Afghanistan, Balochistan and erstwhile TTP strongholds in northwest tribal areas.
To once again defeat the insurgents, Pakistan's decision-makers needed to set aside their differences and develop a "whole-of-state-and-society approach to fight extremism and terrorism," Basit said.