Nepal
Get more with myNEWS
A personalised news feed of stories that matter to you
Learn more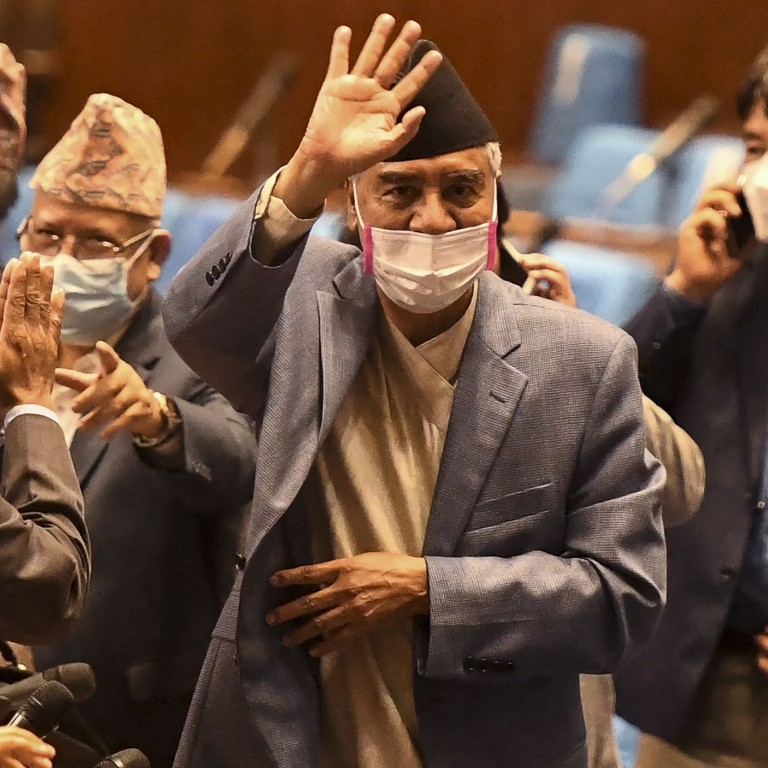 Will Nepal's new 'pro-India' prime minister hit reset on its China ties?
Sher Bahadur Deuba's appointment is widely expected to bring Kathmandu closer to New Delhi once more after his predecessor favoured ties with Beijing
Analysts say the 75-year-old four-time former leader will strive for diplomatic balance, while also strengthening ties with the US and its allies
After months of political uncertainty,
Nepal
had a change of leadership last week in a move that analysts say could hit the reset button on the Himalayan nation's ties with
India
and
China
.
Oli, in power since 2018, had twice tried to dissolve parliament in recent months amid battles with senior leaders of his own party. Both attempts were overturned by Nepal's Supreme Court, however, which on July 12 removed Oli from his post.
Deuba – who was previously appointed prime minister in 1995, 2001, 2004 and 2017, but has never served a full term – is widely expected to bring Nepal closer to India once again after Oli favoured ties with China, its other giant neighbour to the north.
His appointment was confirmed on Sunday, when he won a crucial vote of confidence in parliament allowing him to continue in power until general elections set to be held next year.
In the balance
Nepal had been moving closer to China under Oli, who welcomed Chinese President
Xi Jinping
to the country
on a state visit in 2019
. That trip ended with the two sides agreeing to "elevate" ties and saw the signing of 18 agreements, along with Xi's announcement of US$493 million in aid.
A planned US$5.5 billion China-backed railway connecting Kathmandu to Lhasa in
Tibet
had Oli's support, and he was repeatedly criticised by Indian media for his perceived closeness to Chinese ambassador Hou Yanqi – with several outlets carrying unsubstantiated stories last year
alleging their romantic involvement
.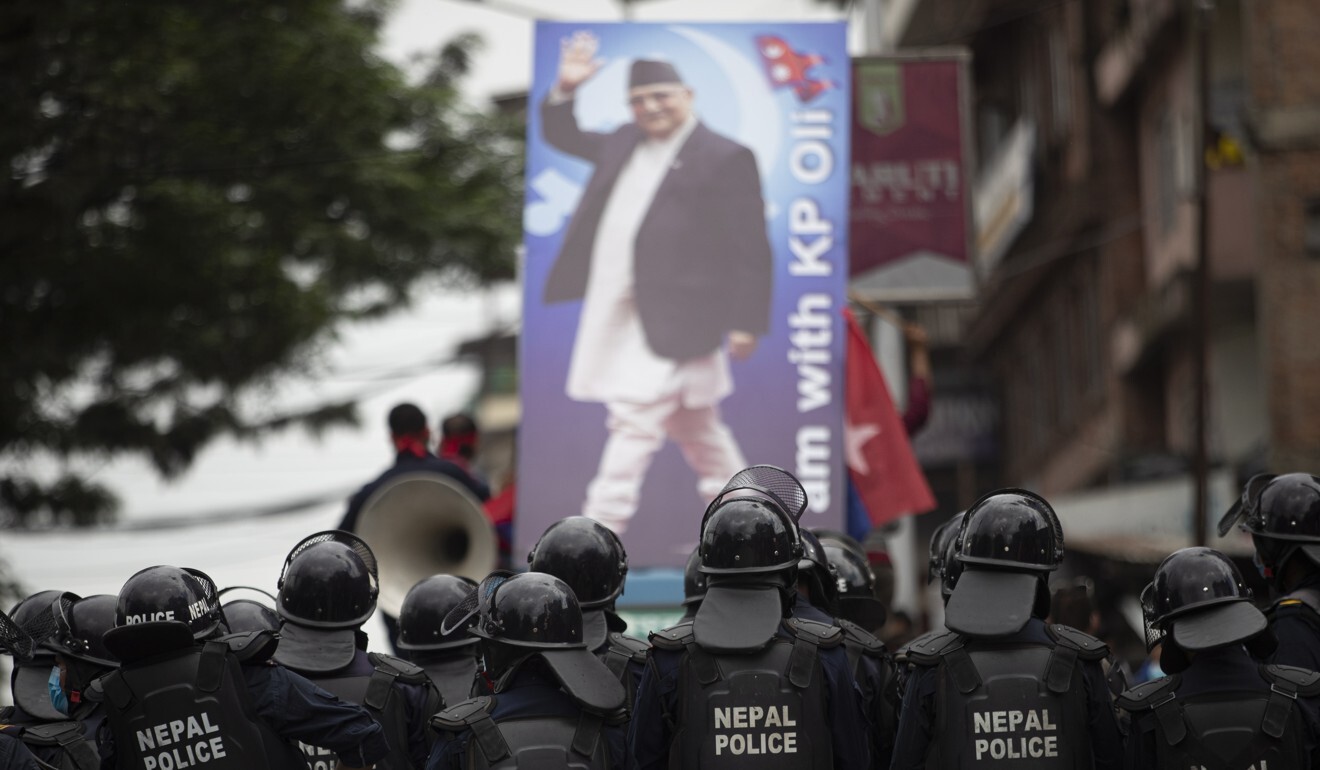 In his last term, in 2017, Deuba scrapped a deal with China to build a US$2.5 billion hydroelectric project in Nepal that had been signed under Beijing's
Belt and Road Initiative
. The project was revived by a subsequent administration after Deuba lost power.
Nepal is expected to strive for "diplomatic balance" in its dealings with India and China under Deuba, while strengthening its "traditionally strong ties with democratic countries" such as the
United States
,
European nations
,
Britain
and
Japan
, said Geja Sharma Wagle, a Kathmandu-based scholar of international relations and former adviser to the prime minister, pointing to Deuba's speech in the Nepalese parliament after winning the vote of confidence in which the leader spoke of "diversifying" relations with these countries.
"High priority" would be given to neighbourly relations, Wagle said, adding that the change of government offered a window of opportunity for New Delhi and Kathmandu to improve ties following Oli's exit.
The former prime minister had repeatedly targeted India – calling the coronavirus an "Indian virus" and mocking the Indian state emblem. After a fresh row erupted last summer over
a decades-old border dispute
, Oli's government republished the country's official map, incorporating the disputed areas within its own territory.
Ranjit Rae, a former Indian ambassador to Nepal, told This Week In Asia he anticipated ties to be "less rocky" under Deuba, whose party, the Nepali Congress, "has traditionally been a friend of India's".
Delhi was "generally more comfortable" seeing the 75-year-old back in power as it was thought he would not do anything against Indian interests, Rae said, adding that his term would be more sensitive to New Delhi's concerns, "provided he can manage his coalition partners".
Binoj Basnyat, a retired major general in the Nepalese Army, said shared "democratic credentials" would incline Deuba to seek closer ties with India. Even China's state-backed nationalist tabloid the Global Times has acknowledged that Deuba is a "pro-India leader".
It may not be so clear cut, however. A diplomatic source in Kathmandu who spoke on condition of anonymity said Delhi's diplomats would have to fight the perception that India had interfered in Nepal's political crisis, after Samant Goel, an Indian intelligence officer, held a series of hush-hush meetings in the country in October with Oli, Deuba and other opposition politicians.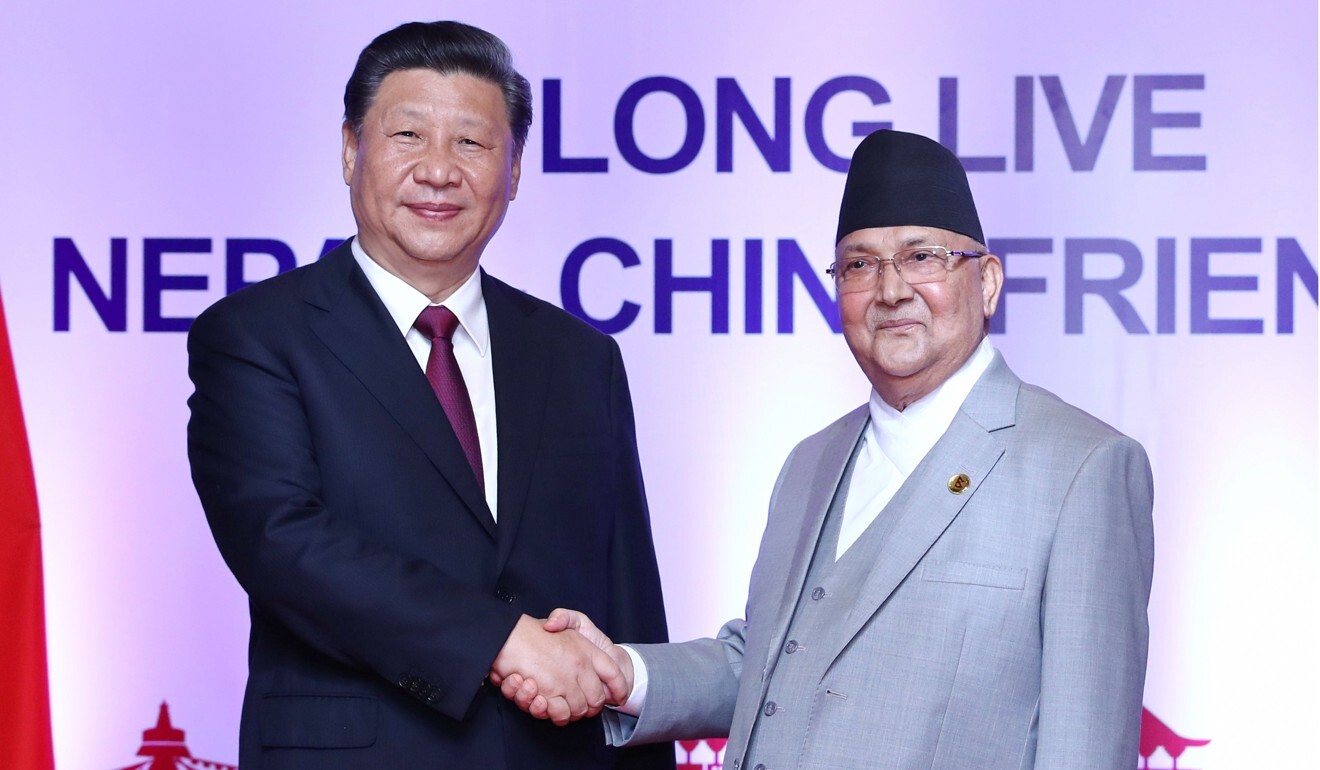 "From being at loggerheads with Oli, the Indian establishment, by the end, seemed to have been backing Oli," the source said. "This hasn't gone unnoticed in Kathmandu and Deuba will be sure to have taken note."
Hou, the Chinese ambassador to Nepal, also held a series of meetings with Nepalese politicians while Oli was prime minister, in a move widely seen as an effort to unite the pro-China former leader's faction-ridden ruling alliance.
Pandemic test
The first real foreign policy test for Deuba's new administration will come from its handling of the pandemic and sourcing of vaccines, said Basnyat, the retired army officer.
Nepal reported more than 2,200 new Covid-19 infections on Tuesday, taking its total cases to more than 672,000, including over 9,600 deaths, in a nation of 29 million.
"Vaccine diplomacy will be a priority," Basnyat said, adding that "as commitment to the people of Nepal … Deuba's expectation of India and other democracies will be [for Nepal to take] precedence" in the distribution of medical equipment and vaccines.
On Monday, Prime Minister
Narendra Modi
promised Deuba India's help in fighting the pandemic, with India's foreign ministry saying in a statement that the two leaders discussed ways to strengthen cooperation and coordination in their phone call – further noting "the unique and millenia-old people-to-people linkages that underpin the special friendship between India and Nepal".
As of last month, Nepal had received some 1.8 million doses of China's Sinopharm vaccine in the form of donations, and agreed to purchase 4 million additional shots.
Some 1.5 million doses of the Johnson & Johnson vaccine, donated by the US through the World Health Organization's Covax Facility, arrived in the country last week – on the same day that Nepal's Supreme Court order reinstated parliament. The following day, US ally Japan announced it would send 1.6 million AstraZeneca shots to Nepal as well.
While it is still too early to know for sure what Deuba's main foreign policy priorities will be, he has in the past indicated a willingness to prioritise Nepal's ties with the US.
In April, while still in opposition, he gave his backing to an agreement for a US$500 million infrastructure grant from US foreign aid agency the Millennium Challenge Corporation (MCC) – which has been viewed with suspicion by some in Kathmandu, who see it as a direct counter to China's Belt and Road Initiative, from which Nepal has also benefited.
Wagle, the Kathmandu-based scholar of international relations, said that he thought Deuba was likely to accord "high priority" to the MCC agreement's implementation now he was in power.
Additional reporting by Associated Press
This article appeared in the South China Morning Post print edition as: New leader 'likely to reset ties with India, China'