Japan
Get more with myNEWS
A personalised news feed of stories that matter to you
Learn more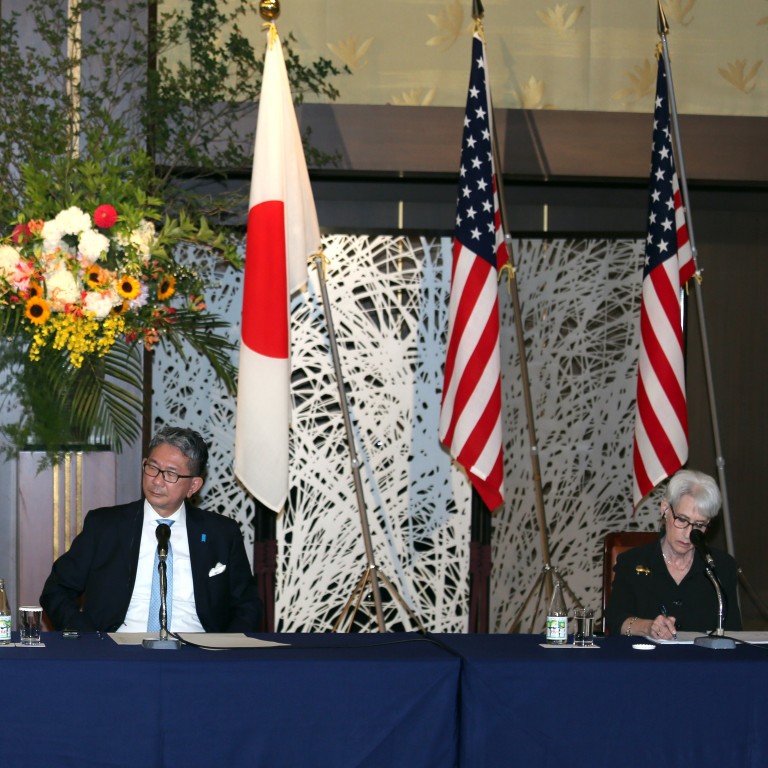 Will Japan and South Korea friction pose a problem for US peace push in Asia?
Analysts point out that it is unrealistic to expect Tokyo and Seoul to agree on their approach to China across all areas, despite US efforts to unite them
Seoul is hesitant to join any efforts that anger Beijing, such as the Quad, as it needs China's cooperation on challenges such as North Korea
When US Deputy Secretary of State Wendy Sherman met her Japanese and
South Korean
counterparts last week in Tokyo, the message they delivered was one of solidarity and agreement when it came to keeping the peace in the Indo-Pacific.
Sherman told reporters that the trio were "shoulder to shoulder" when it came to North Korea, with the meeting also discussing the importance of stability in the Taiwan Strait – a comment that prompted resistance from Beijing as an attempt to interfere in China's domestic affairs.
Her counterparts, Japanese Vice-Foreign Minister Takeo Mori and South Korean First Vice-Foreign Minister Choi Jong-kun, also agreed on the importance of trilateral cooperation, a stance that belied the friction between the two US allies.
Ties between Seoul and Tokyo have been at their lowest ebb in many years due to disagreements over wartime history such as compensating Koreans forced into labour during Japanese colonial rule, with fresh tensions sparked by Tokyo's planned discharge of treated water from its Fukushima nuclear power plant into the Pacific Ocean.
Contentious
comments
made by a Japanese diplomat about South Korean President
Moon Jae-in
were also revealed as negotiations for bilateral talks at the Tokyo Olympic Games between Moon and Japan's leader
Yoshihide Suga
collapsed.
While Sherman did not refer to these developments, she did urge both sides to work together on "common regional and international priorities", a reflection of US President
Joe Biden
's efforts to rally the support of allies in countering China's influence in the Indo-Pacific.
Jay Maniyar, a research associate who specialises in Japan, South Korea and Asean at the National Maritime Foundation in India, said if Tokyo and Seoul were truly aligned with Washington's Indo-Pacific strategy, they would have to realise the need to mend bilateral ties.
The sour state of relations has also seeped into the Olympic Games, with even athletes' meals becoming a source of friction.
Analysts agree that poor relations between Washington's two staunchest allies in Asia would pose a concern for the Biden administration, but they pointed out that it was unrealistic to expect Tokyo and Seoul to be united in their approach to China across all areas.
"There is no such consensus among the three," said Tomoo Kikuchi, an associate professor in Waseda University in Japan.
"In particular, nationalistic education in both countries is the main stumbling block to develop a better relationship," Kikuchi noted, referring to the territorial disputes between Japan and South Korea over the disputed Takeshima/Dokdo islands.
Kikuchi said the three countries could communicate better and share intelligence related to security, but pointed out that having a united front would also have other side effects as it "would escalate the current tensions in regional security and is not desirable".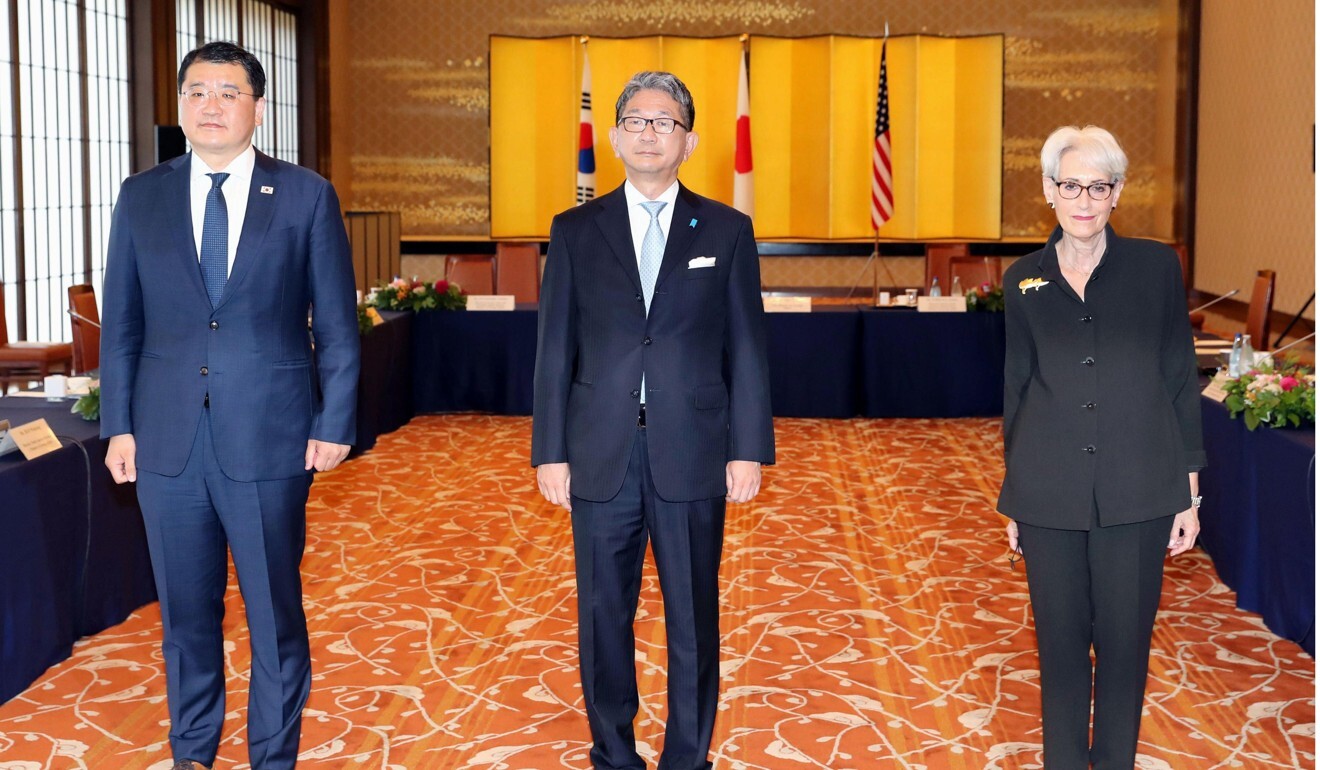 Speaking in his personal capacity, Paul J. Smith, a professor at the US Naval War College, said one way to improve relations would be to engage in more trilateral military exercises or exchanges.
"The two countries' military relationship with the US provides an avenue for exchange and understanding," he said.
Xiaoyu Pu, an associate political science professor at the University of Nevada in the US, said there was a limit to Washington's ability to influence its allies to repair their frayed ties.
"The issues that are being disputed are highly sensitive to domestic politics and nationalistic sentiments in South Korea and Japan," Pu said.
China
Perhaps a more pressing issue for Washington would be Seoul's position towards Beijing. Some analysts have described South Korea as the weakest link in the trilateral relationship the US has with its Asian allies. Seoul has been reluctant to join the Quad, the security alliance comprising the US, Japan, India and Australia.
And unlike Japan, which has expressed serious concerns over China's treatment of its ethnic Uygur population as well as the crackdown on political freedoms in Hong Kong, South Korea has refrained from doing likewise, citing its "special relations" with China.
Apart from uncertainties over the US-China competition, Seoul is said to be reluctant about joining the Quad due to concerns over potential Chinese economic coercion, as China is South Korea's largest trading partner.
Beijing has shown it is aware of these different positions. On Wednesday, China accused the US and Japan of deliberately engaging in group confrontation and trying to create an anti-China encirclement, but stopped short of naming South Korea.
"The US and Japan should immediately stop interfering in China's internal affairs and undermining regional peace and stability," Foreign Ministry spokesperson Zhao Lijian said at a daily briefing. "China will resolutely defend its sovereignty, security, and development interests."
Zheng Jiyong, director of the Center for Korean Studies at Fudan University in Shanghai, told China's nationalist tabloid Global Times in May that Washington's Asia strategy had failed to take into consideration South Korea's interests, such as Seoul's reliance on Beijing to help boost its sluggish economy.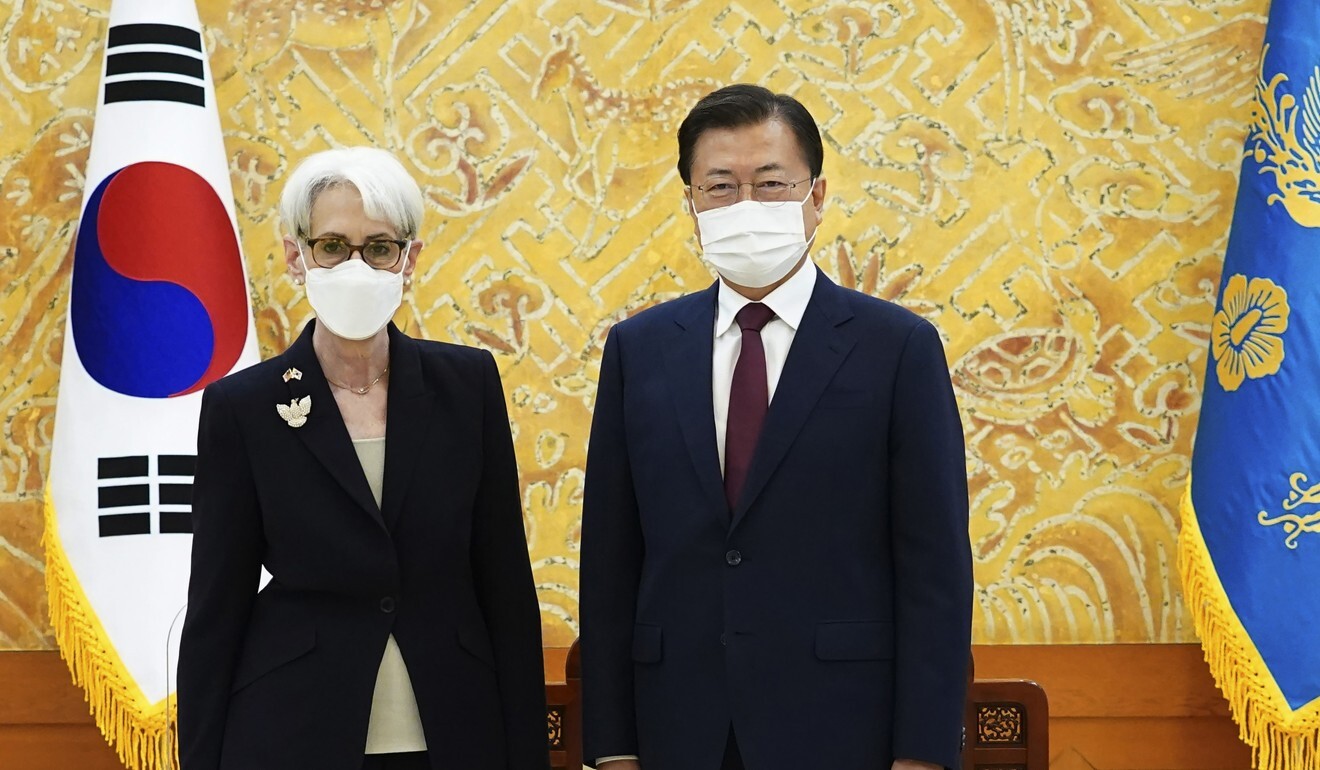 North Korea
Interests between Washington and Seoul on North Korea have diverged as well.
Maniyar from the National Maritime Foundation said Seoul's approach to Pyongyang had also been shaped by concerns over its long-term survival and security "with Korean unification by 2045 as its primary goal".
Unlike his predecessors, South Korean president Moon has, since taking office in 2017, championed greater inter-Korean engagement and has made repeated calls for sanctions on Pyongyang to be either partially lifted or exempted.
But when Moon met Sherman in Seoul on Thursday, he said he had asked the US to re-engage with North Korea after denuclearisation talks stalled. Sherman said she would also discuss the issue with China – Pyongyang's key ally – which she is visiting from Sunday.
Waseda University's Kikuchi said Seoul would not join any efforts that anger China while Pu from the University of Nevada said that the current Moon administration did not have "salient territorial and historical disputes with China", adding that South Korea must also seek China's cooperation in handling challenges from North Korea.
"Based on these calculations, it is inevitable that South Korea is more hesitant to take a more confrontational approach toward China," Pu said.
This article appeared in the South China Morning Post print edition as: u.s. faces hurdle in uniting tokyo, seoul on beijing