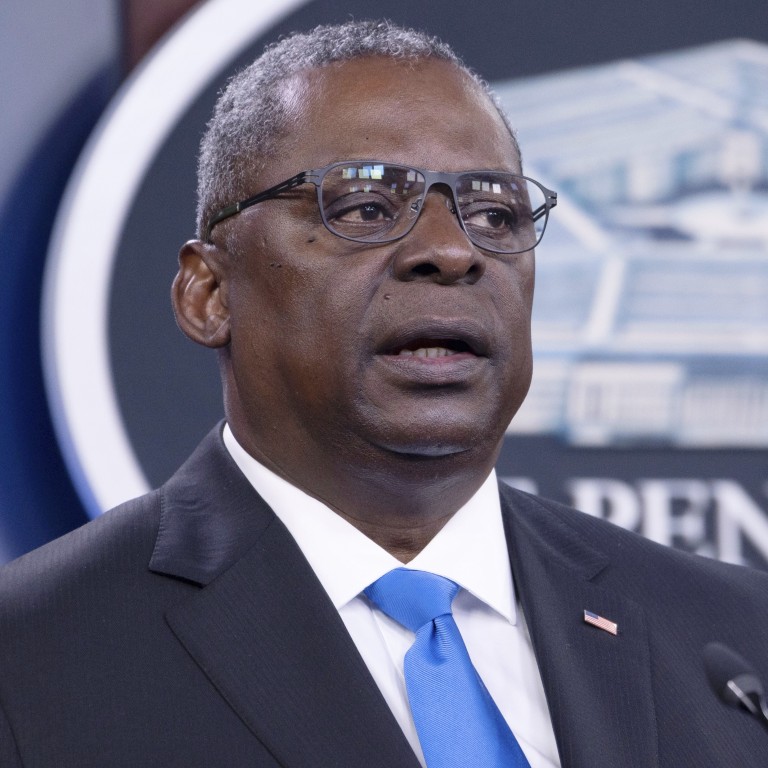 US committed to 'constructive, stable' ties with China despite Asia stability concerns, Pentagon chief says
Lloyd Austin says Washington 'will not seek confrontation' with Beijing, but 'will not flinch' to protect its interests
His comments in Singapore come ahead of trips to the Philippines and Vietnam, amid reports Vice-President Harris could visit the region next month
US Defence Secretary Lloyd Austin on Tuesday said he hoped to build a "constructive, stable"
relationship with China
and its military even amid continued and varied concerns about Beijing, including its assertions in regional waters, hardened
Taiwan
policy and treatment of Uygur Muslims.
The Pentagon chief's somewhat conciliatory comments dovetailed with the line on maintaining open channels of communication taken by a senior US state department official during talks with Chinese counterparts in Tianjin on Monday.
"I am committed to pursuing a constructive, stable relationship with China, including stronger crisis communications with the People's Liberation Army," Austin said during a lecture in
Singapore
organised by the International Institute for Strategic Studies think tank.
He prefaced this assurance, however, by noting Washington's disapproval of a range of issues concerning Beijing, which included its assertions in the
South China Sea
, its "aggression" against India, "destabilising military activity and other forms of coercion against the people of Taiwan" and "genocide and crimes against humanity against Uygur Muslims in
Xinjiang
".
Austin also reiterated Washington's long-standing position that China's claims in the resource-rich waters had no basis under international law, saying the assertions "tread on the sovereignty of the states in the region".
"Now these differences and disputes are real. But the way that you manage them counts," Austin said. "We will not flinch when our interests are threatened, yet we do not seek confrontation."
He referenced President
Joe Biden
's emphasis that the relationship Washington sought with Beijing was not one of contention.
"We compete necessarily because we are two great economic powers [and] we both have impressive military might, but we don't seek a conflict with China," he said. "We want to make sure that we deter conflict in every case and every opportunity."
He added that big powers needed to "model transparency and communication", adding that he hoped the two nations would cooperate on common challenges such as
climate change
.
Speaking in a lecture titled "The Imperative of Partnership", the defence secretary said he had come to Southeast Asia to deepen existing ties in the region, adding that the US network of alliances and partnerships was an "unparalleled strategic asset, and I never take an ally for granted".
Austin arrived in Singapore on Monday as part of a trip to
Southeast Asia
that will also include visits to the Philippines and Vietnam.
During a question-and-answer session, Austin parried a query on whether he foresaw a possible Chinese attack on Taiwan – viewed by the mainland as a renegade province – in the coming decade.
Admiral Phil Davidson, the recently retired commander of the US Indo-Pacific Command, in March suggested during a US Senate armed services committee hearing that Beijing could retake Taiwan by force within the next six years, as part of a strategy of supplanting America's "leadership role in the international rules-based order".
"No one wants to see a unilateral change to the status quo with respect to Taiwan, and again, we are committed to supporting Taiwan and its capability to defend itself," Austin said. "I don't want to hazard any type of predictions. I think that, again, we'll stay focused on helping Taiwan to defend itself or having the capabilities to defend itself going forward."
He offered a similarly measured response when asked if the Association of Southeast Asian Nations (
Asean
) was "not up to the task" of de-escalating the crisis in
Myanmar
following February's coup led by military chief Min Aung Hlaing.
The 10-nation regional bloc, of which Myanmar is a member, has so far been unable to persuade the ruling junta to comply with a so-called Five-Point Consensus plan forged in April to end violence against protesters and reopen dialogue with detained members of the ousted National League for Democracy.
"We will continue to work with allies and partners in the region to encourage the military in Myanmar to move in the right direction [and] to release the civilians that it is holding prisoner," Austin said. "We certainly will continue to encourage Asean to continue to work on this issue, but make no mistake that this is a very difficult issue, and if it were easy to resolve it would have already been done."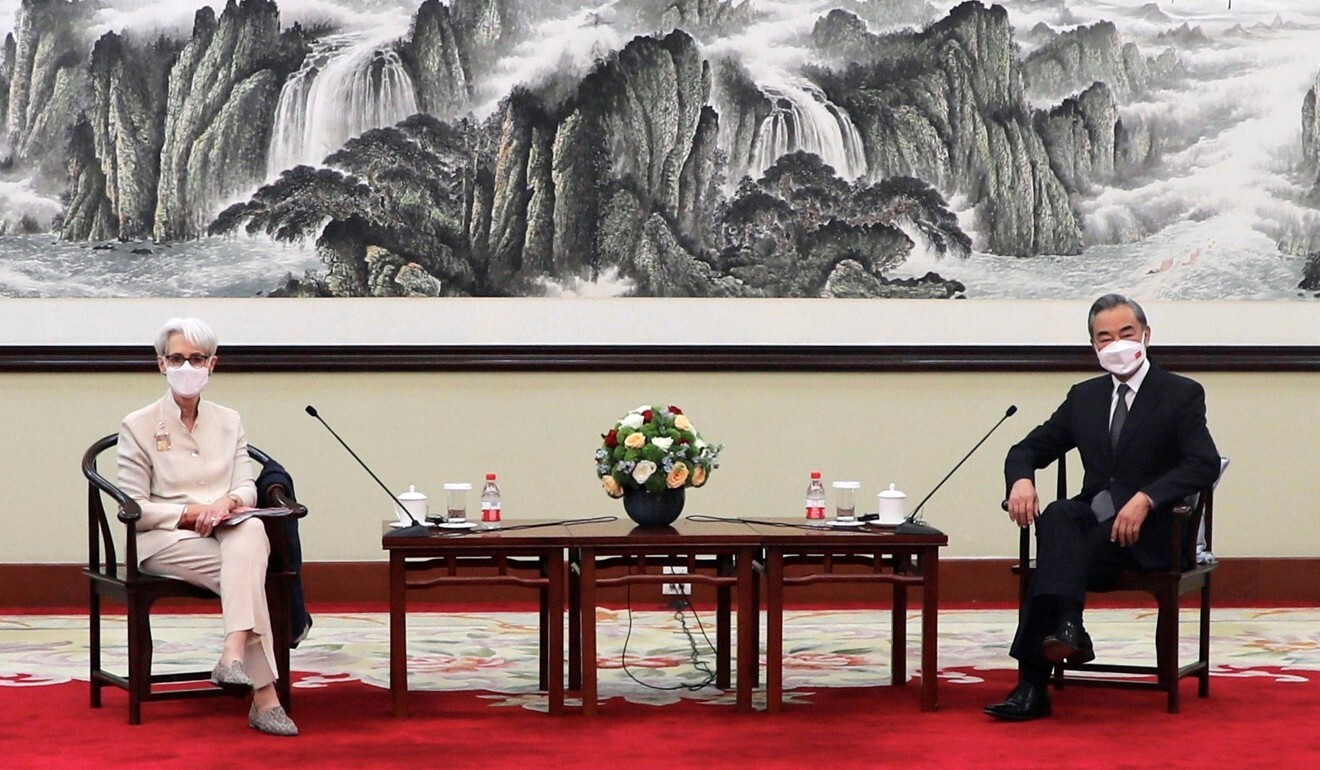 His visit to the region is the first by a cabinet-level official from the Biden administration, and is taking place amid reports that Vice-President
Kamala Harris
could visit Singapore and Vietnam next month.
Before his departure, Austin hinted that he would address the concerns of Washington and its allies about
China
's activities in the region, including in the contested South China Sea.
Brunei, Malaysia, the Philippines and Vietnam are among Southeast Asian nations that dispute Beijing's claim to much of the resource-rich waterway, saying it contravenes their sovereignty and maritime rights as enshrined in the United Nations Convention on the Law of the Sea (Unclos).
"We don't believe that any one country should be able to dictate the rules or worse yet, throw them over the transom, and in this regard I'll emphasise our commitment to freedom of the seas," Austin was quoted as telling reporters in a pre-departure briefing. He also called Beijing's claims "unhelpful and unfounded".
The Pentagon chief was initially slated to visit Singapore and the region in June, to coincide with the
Shangri-La Dialogue
security summit, but that event – a key annual platform for US defence chiefs to address an Asian audience – was cancelled following a sudden surge in Covid-19 cases in the city state.
Austin's lecture in Singapore took place a day after US Deputy Secretary of State Wendy Sherman held talks with China's Minister of Foreign Affairs Wang Yi and vice foreign minister Xie Feng in Tianjin.
Both sides stuck to their hardline positions on the divisive issues of
Xinjiang
, Hong Kong, and Taiwan as well as the South and East China Seas, but issued public statements indicating they would continue to keep talking.
US Secretary of State Antony Blinken is also due in Asia this week. The top American diplomat will travel to New Delhi to meet Prime Minister Narendra Modi on Wednesday before flying to Kuwait.
This article appeared in the South China Morning Post print edition as: US defence chief hopeful of 'stable' China relationship