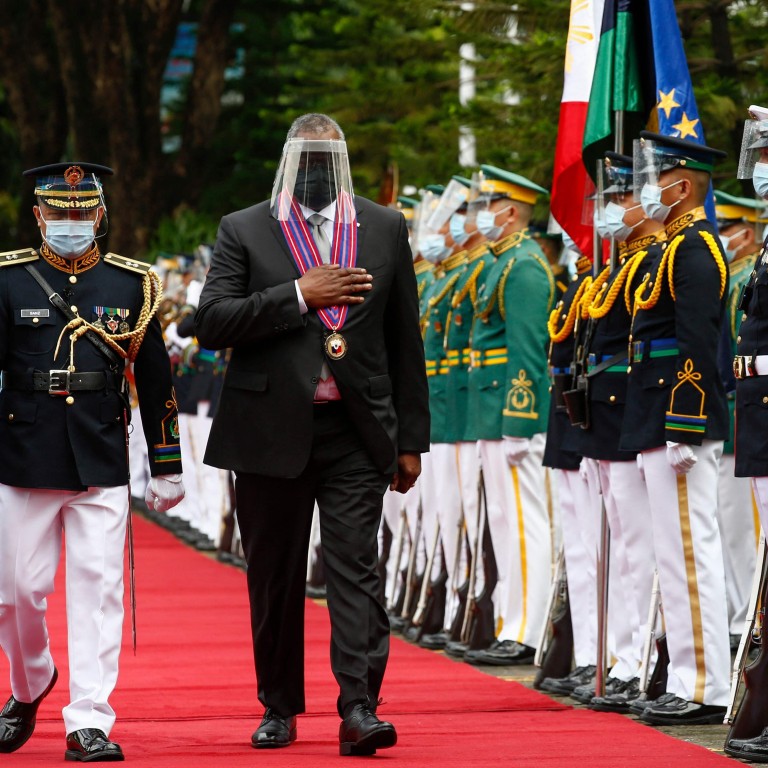 Philippines' Visiting Forces Agreement with US in full force after Duterte 'retracts' termination letter
Duterte had threatened to cancel the VFA that allows for the rotation of US troops in and out of the Philippines
After meeting with Pentagon chief Lloyd Austin, he decided against doing so, ensuring stability in Washington-Manila ties as the US tries to counter China's rising influence
The
Visiting Forces Agreement
(VFA) that allows American soldiers to conduct military exercises on Philippine soil is once again in full force after President Rodrigo Duterte "retracted" a previous letter notifying Washington he was terminating it.
Duterte
arrived at the decision after meeting with US Defence Secretary Lloyd Austin in Manila on Thursday.
Speaking to reporters at the Philippines armed forces headquarters on Friday, with Austin by his side, Philippines Defence Secretary Delfin Lorenzana said Manila had submitted a termination letter to Washington stating that the VFA would end in six months. However, this six-month period was extended several times.
"That letter has been retracted as if nothing happened," Lorenzana said.
"The VFA is in full force again. There is no termination letter pending and we are back on track," he added.
Duterte's decision to do away with terminating the VFA, which came into force in 1999, effectively does not change anything on the ground since the deal that provides rules for the rotation of thousands of US troops in and out of the
Philippines
for war drills and exercises, was never cancelled.
But it provides stability for both countries' ties, as the US tries to counter China's growing influence in Asia by stepping up its outreach to the region.
Austin visited Singapore
and Vietnam this week before arriving in the Philippines while Secretary of State
Antony Blinken went to India
. News reports suggest Vice-President Kamala Harris could travel to Vietnam and Singapore next month.
Duterte has championed closer ties with Beijing, with Manila seeking to benefit from more Chinese investments, though the country has also opposed China's expansive claims in the disputed South China Sea.
Duterte announced his decision to terminate the VFA after the US denied a visa to a Philippine senator that he regards as an ally. Subsequently, he demanded vaccines from the US in exchange for continuing with the VFA.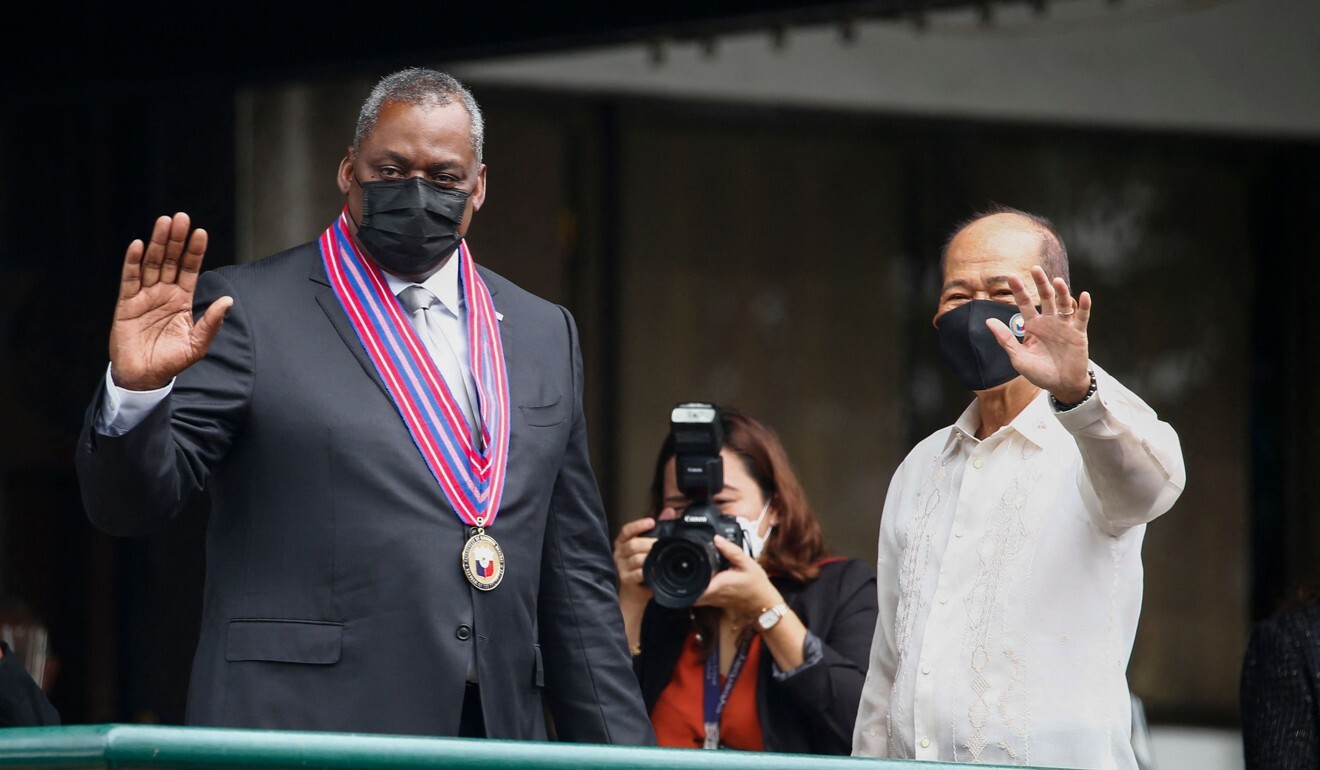 The US has shipped millions of vaccines to the Philippines, although China is currently the biggest supplier.
Lorenzana told reporters he did not know what made the president change his mind, but said Austin's courtesy call on Duterte – the first by a senior cabinet official under US President
Joe Biden
's administration – had yielded an "open and frank discussion on the status and future direction of Philippines-US engagement."
"They agreed that the alliance can be further strengthened through enhanced communication and greater cooperation, particularly in the areas of pandemic response, combating transnational crimes, including the war on illegal drugs, maritime domain awareness the rule of law, and trade and investments," said Lorenzana.
Asked about a section in the VFA that has proven controversial – where the US retains custody over soldiers who are undergoing trial for heinous crimes committed in the country – Lorenzana said this was being ironed out between both sides.
"It will not affect the original document, but it will just be an adjunct or an additional agreement between the two countries," he said.
Austin thanked Duterte for the decision that he described as "very welcome", disclosing that the US had named one of its operations in the Indo-Pacific "Operation Pacific Eagle Philippines" though he did not give further details.
"I also reaffirmed America's commitment to supporting a sovereign and secure Philippines and to building an even more capable alliance together," Austin said, adding that he and Lorenzana had discussed how to work together "toward a free and open Indo-Pacific rooted in a rules-based international order."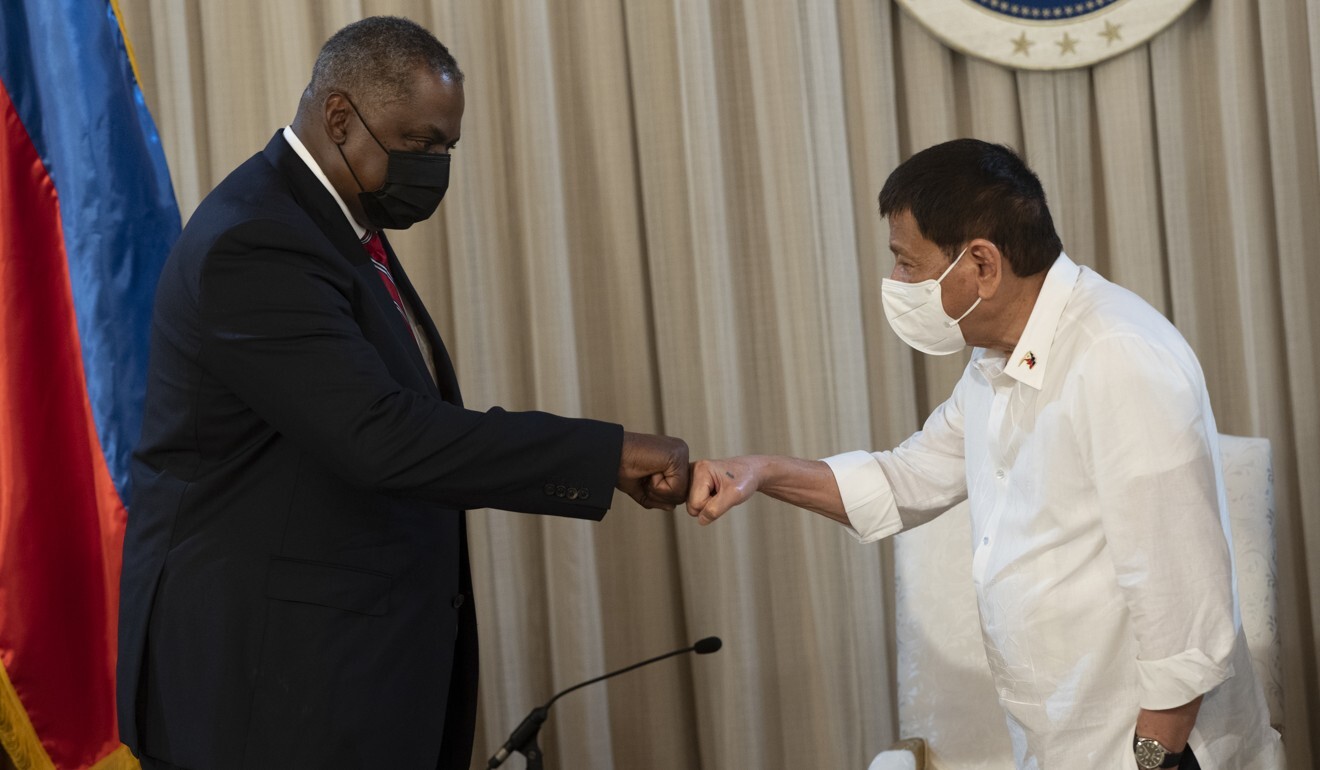 With the restoration of the VFA, Austin said the Department of Defence would be able to conduct more than 300 bilateral exchanges a year with the Philippines Armed Forces, including exercises where troops would be in combat training "shoulder-to-shoulder".
Austin disclosed that before meeting with Lorenzana, he had visited the American Memorial Cemetery in Metro Manila. "My father served probably in the Philippines during World War II as a corporal in the United States Army. He was one of the many American and Filipino service members who fought side by side to defeat aggression and secure freedom in the Pacific."
Presidential spokesman Harry Roque later said Duterte's decision was based "on upholding Philippines' strategic core interests, the clear definition of [the] alliance as one between sovereign equals, and clarity of the US position on its obligations and commitments under the [Mutual Defence Treaty]".
The United States this month repeated a warning to China that an attack on Philippine forces in the South China Sea would trigger the treaty, which came into force in 1951.
Roque added though that the Philippines would "continue to engage other countries for partnerships that work, based on our core national interests."
Security analyst Collin Koh, a research fellow at the S. Rajaratnam School of International Studies in Singapore, said he believed "the domestic dimension" had prompted Duterte to change his mind. The Philippines is set to vote in a new president next year and while Duterte is barred from seeking re-election, his PDP-Laban Party is keen for him to run as vice-president.
"The South China Sea looks set to be an important issue alongside the Covid-19 response and economic challenges that could feature in the polls," Koh said.
"Restoring the VFA could demonstrate Duterte's care for South China Sea issues, while at the same time, appealing also to the Philippine military, which remains a powerful national institution and which has longstanding, institutionalised relations with its US counterpart."
Additional reporting by Reuters
This article appeared in the South China Morning Post print edition as: Duterte withdraws letter ending U.S. forces agreement