Japan
Get more with myNEWS
A personalised news feed of stories that matter to you
Learn more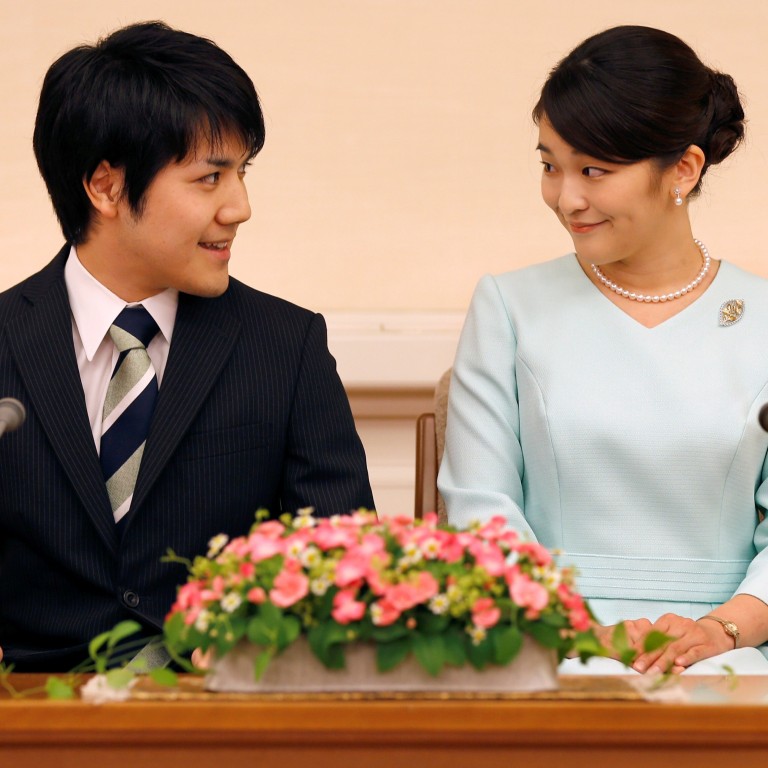 Is Japanese Princess Mako set for US move, as her fiancé-to-be mulls job at New York law firm?
Mako – the niece of Emperor Naruhito – and Kei Komuro were engaged in September 2017, but their wedding plans have been repeatedly postponed
This is due to reports over a financial dispute concerning his mother, with analysts saying the move may give the couple privacy from prying tabloids
The boyfriend of
Japan
's Princess Mako is reportedly planning to join a law firm in New York, raising the possibility of the princess relocating to the United States – a move that may help distance the couple from a financial dispute that has dogged their relationship for years.
NHK, Japan's national broadcaster, reported that 29-year-old Kei Komuro graduated from Fordham University School of Law in May and took the New York state bar examination last week, the results of which will be announced in December.
In April, he released a statement saying his hopes of marrying Mako, also 29, have not changed and that he wants to come to a solution over a financial "misunderstanding" concerning his mother and her former fiancé.
The former fiancé claims he loaned Komuro's mother 4 million yen (US$36,500) between 2010 and 2012, which included payment for Komuro's fees at Tokyo's International Christian University, where he first met the princess.
The couple announced their engagement in September 2017, and planned to get married the following November. However, a magazine reported on the dispute later that year, leading to follow-ups from other media, including Japan's tabloids. In February 2018, the wedding was delayed as a result of the negative publicity.
Komuro's mother reportedly claimed the money was a gift she was not obliged to repay. Komuro has said he wants to discuss the dispute with the former fiancé, although it is yet to be resolved.
The palace has not commented on Mako's plans, but Makoto Watanabe, a professor of communications at Hokkaido Bunkyo University, said Komuro's desire to pursue a career in the US provided a potential solution.
"If he finds a job with a New York law firm, that might offer a way to move closer to an end to the matter for the couple," he said.
"There is still the issue of the money to overcome and then the engagement and wedding, but the princess moving to the US after that may help as they are less well known in New York and the Japanese media may choose not to focus on them quite so much."
Watanabe said the move would be unconventional, as no member of the Imperial family has permanently moved away in the past, although Mako spent a year at a university in Britain.
"Being in the US may reduce the pressure on them and is likely to appeal as soon as the family and the Imperial Household Agency has granted its consent to the wedding," he said.
The princess will lose her imperial status if she marries a commoner, although she will receive a substantial one-time payment after her marriage.
Mako's father, Prince Akishino – the younger brother of Japan's Emperor Naruhito – and his wife, Princess Kiko, have met Komuro's mother several times. Though Akishino has given qualified consent for his eldest daughter's marriage, he has hinted that the financial issue needs to be resolved.
"I approve of them getting married," the prince told reporters in November last year. "If that is what they really want, then I think that is something I need to respect as a parent."
At the time, Akishino also said no new date had been set for the engagement ceremony or wedding.
"In order for many people to be convinced and celebrate the marriage, I have said that it is important for the issue to be dealt with," he said. "From my point of view, I do not think they are in a situation where many people are convinced and pleased about their marriage."
This article appeared in the South China Morning Post print edition as: Boyfriend's job may see princess move to US