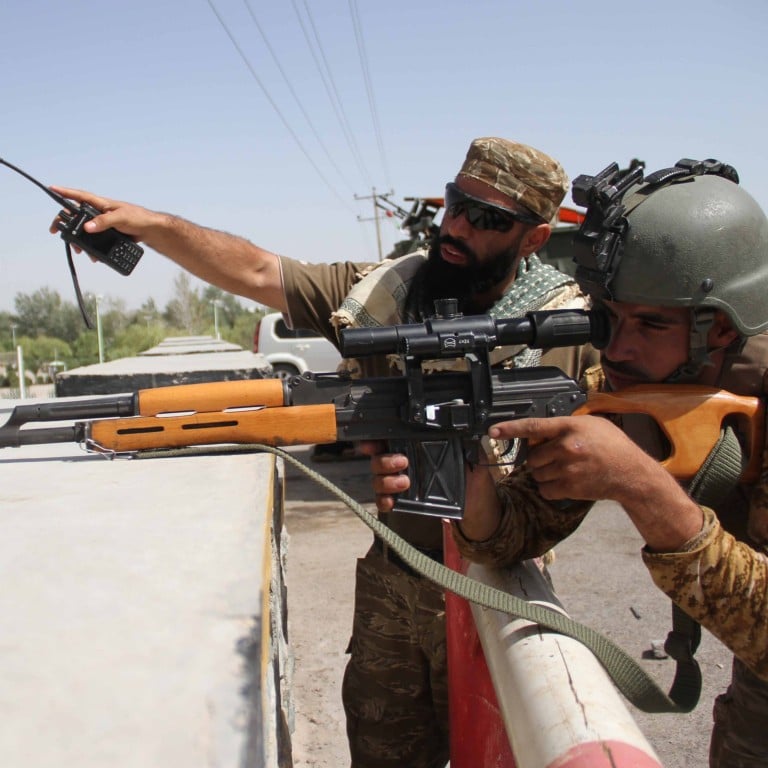 Does the new US-led 'Quad' with Pakistan, Uzbekistan and Afghanistan have China in its sights?
Analysts remain divided over whether the new grouping is aimed at countering China's growing influence in the region, especially its Belt and Road Initiative
Its stated aim is expanding trade, but some see a US attempt to keep military supply lines into Afghanistan open – the choice of name has also raised eyebrows
Little is known about the new quadrilateral framework announced last month between the
United States
,
Pakistan
, Uzbekistan and
Afghanistan
except that it is aimed at enhancing regional connectivity.
A July 16 statement from the US State Department said the four countries aimed to "expand trade, build transit links, and strengthen business-to-business ties" with an eye on "the historic opportunity to open flourishing interregional trade routes".
Few other details were provided in the one-paragraph statement, except that the four members of the "Quad Regional Support for Afghanistan-Peace Process and Post Settlement" all "consider long-term peace and stability in Afghanistan critical to regional connectivity and agree that peace and regional connectivity are mutually reinforcing", and would further discuss their cooperation in the coming months.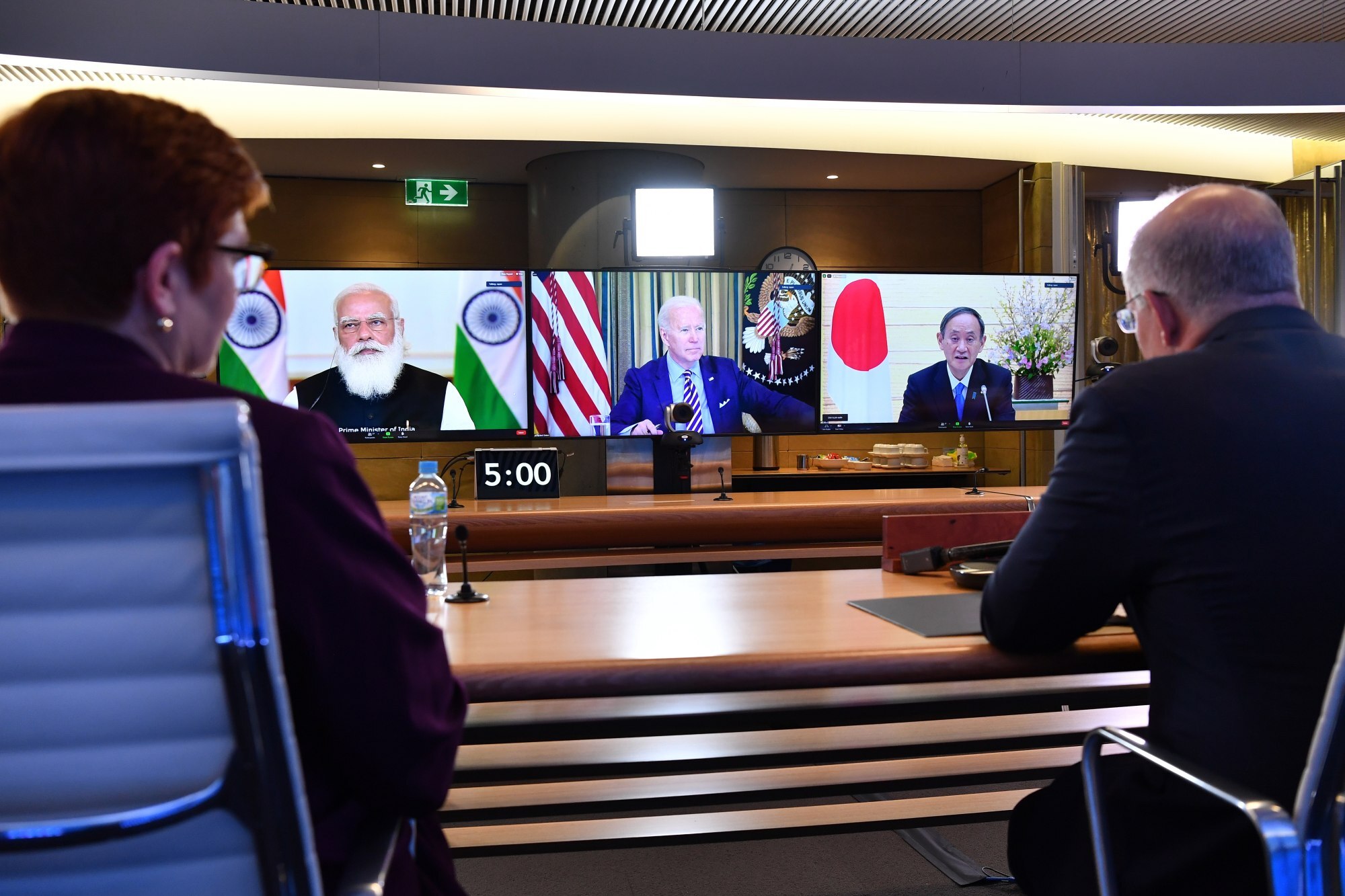 The use of the word "Quad" for the new partnership has invited comparisons to the US-
Australia
-
India
-
Japan
Quadrilateral Security Dialogue
, which Beijing has criticised as an anti-China alliance and is also known as the Quad. But with such scant information to go on, analysts remain divided over whether the new grouping is actually aimed at countering
China
's influence, and how effective it will be at achieving its stated aims.
Derek Grossman, a senior defence analyst at the Rand Corporation, a US think tank, said the new Quad was expected to have more of an economic focus. "That said, it is difficult to focus on forging economic connectivity without security, so we'll have to see how this plays out," he said.
Focus on Afghanistan
The new Quad could help by ensuring that landlocked Afghanistan remains engaged with its neighbours and the outside world by facilitating cross-border trade and access to the wider region, said Kashish Parpiani, a strategic studies fellow at the New Delhi-based Observer Research Foundation think tank.
He said the inclusion of Pakistan and Uzbekistan made sense as the two countries have stakes in ensuring stability in Afghanistan. The US has also been working with Islamabad on military and intelligence engagements, and Tashkent on relocating Afghan refugees and locals who worked with the US military, Parpiani said.
The grouping's second purpose, according to Mark N. Katz, a government and politics professor at George Mason University in the US, was to keep supply lines open so that Washington could continue to support government forces in Afghanistan.
"Afghan forces may not succeed in defending the Kabul government even if they receive US supplies. But they definitely will not succeed if they do not," Katz said.
He said Washington's decision to include both Pakistan and Uzbekistan in the new partnership was to ensure that neither country had a "monopoly" on supply lines, so the US could "at any time choose to route supplies bound for Afghanistan" through either of the neighbours.
She noted that Tashkent began funding discussions in November with the US state-run International Development Finance Corporation for the project, which aims to connect Peshawar in Pakistan to Mazar-i-Sharif in northern Afghanistan – and onwards to Uzbekistan via an existing rail link. Construction of the 573-km long railway's first section, between Kabul and Mazar-i-Sharif, is expected to begin next month.
Two Quad's a crowd?
As the scant US State Department statement on the new Quad did not mention China, some analysts have suggested the grouping is not intended as a counter to Beijing.
But Muhammad Ali Baig, a research associate at Pakistan's Institute of Strategic Studies Islamabad, said the grouping's name had raised eyebrows as "the very word 'Quad' is worrisome for some Chinese policymakers".
"From Beijing's perspective, it certainly looks like a strategy to form a 'bloc confrontation' and an anti-China encirclement," Liang said.
But Nishank Motwani, research and policy director at Kabul-based ATR Consulting, said China was unlikely to lose sleep over the new grouping as it had far more political and economic clout in the region than the US.
Rand Corporation's Grossman said he agreed that the use of the term "Quad" held negative connotations for Beijing, but said that it "it is hard to argue that all four of these countries are on the same page" as the US in regards to China.
"Pakistan, of course, is an 'ironclad' and decades-long partner of Beijing," he said, adding that Afghanistan's government had previously welcomed belt and road projects to help build infrastructure in the war-torn country.
Uzbekistan, meanwhile, is closer to the US but maintains a working relationship with China and did not necessarily wish to alienate Beijing, Grossman said, further noting that if the new Quad was to survive, it would have "to focus on building economic connectivity instead of building an anti-China bloc".
An ineffective partnership?
Analysts also cast doubt on how effective the new Quad would be at achieving its aims, given the troubled ties its other members have had with the US in the past.
Katz from George Mason University said Pakistan's reliability as a US partner was "clearly questionable" given its previous support for the Taliban.
Motwani from ATR Consulting said that with its military withdrawal – after two decades of war and some 47,600 civilian deaths – the US had "abandoned" Afghanistan, "the most pro-American government in the region to a terrorist organisation whose modus operandi is to bring about death, darkness, and destruction to civilians".
He said Washington's "desperation in salvaging its diminishing profile" was on show in its "stitching" together of a regional connectivity mechanism such as the new Quad.
Liang, the economics professor who sees the new Quad as an extension of the US-led Build Back Better World G7 initiative, said it was unclear where funding for new transit links and trade routes in Afghanistan would come from at a time when Washington was struggling to pass a domestic infrastructure bill whose had already been slashed in half, to US$1 trillion.
The G7's infrastructure plan was "unlikely to collaborate and cooperate" with the nearly 2,600 belt and road projects – worth some US$3.7 trillion – that China had launched in developing countries, Liang wrote in a commentary for the East Asia Forum last month, adding "this could lead to repetitive, window-dressing, uncoordinated and even disorderly efforts to build global infrastructure."