Thailand
Get more with myNEWS
A personalised news feed of stories that matter to you
Learn more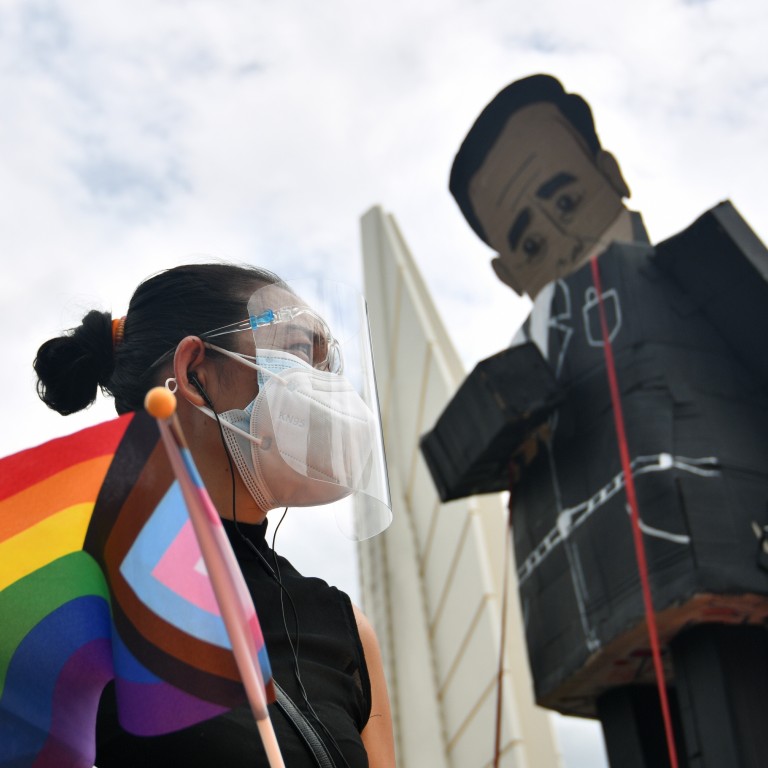 Thai PM Prayuth faces growing pressure as former supporters embrace 'change of heart'
Tanat Thanakitamnuay was one of the most vocal supporters of the 2014 coup that propelled Prayuth to power but now he wants the PM to quit
Thai politics has been reshaped by the coronavirus pandemic as well as the youth protest movement that has loosened the grip of old loyalties
Even by the standards of
Thailand
's unpredictable politics, it's been a topsy-turvy ride for Tanat Thanakitamnuay. In 2014, he was a firebrand leading massive royalist demonstrations that led to the downfall of Thailand's last genuinely civilian government.
Now, Tanat has re-emerged as a
pro-democracy activist
seeking to oust the general his movement helped install as prime minister.
As a result of his reversal, the 29-year-old has been cut off from his father's company – Noble Development, one of Bangkok's biggest builders of upmarket condos.
He has also been condemned as a hypocrite by some of his former political allies and written off by other critics as a self-promoter seeking redemption.
Tanat, however, claims his conversion is sincere and his only objective is to see Prime Minister Prayuth Chan-ocha resign.
"I'm grateful that I am now joining the people in
the fight for democracy
again," Tanat says, wearing a black T-shirt with three white marks that represent the three-fingered salute from
The Hunger Games
.
"I just wish that my mistakes hadn't cost millions and millions of people their chance of competent and righteous government and democracy."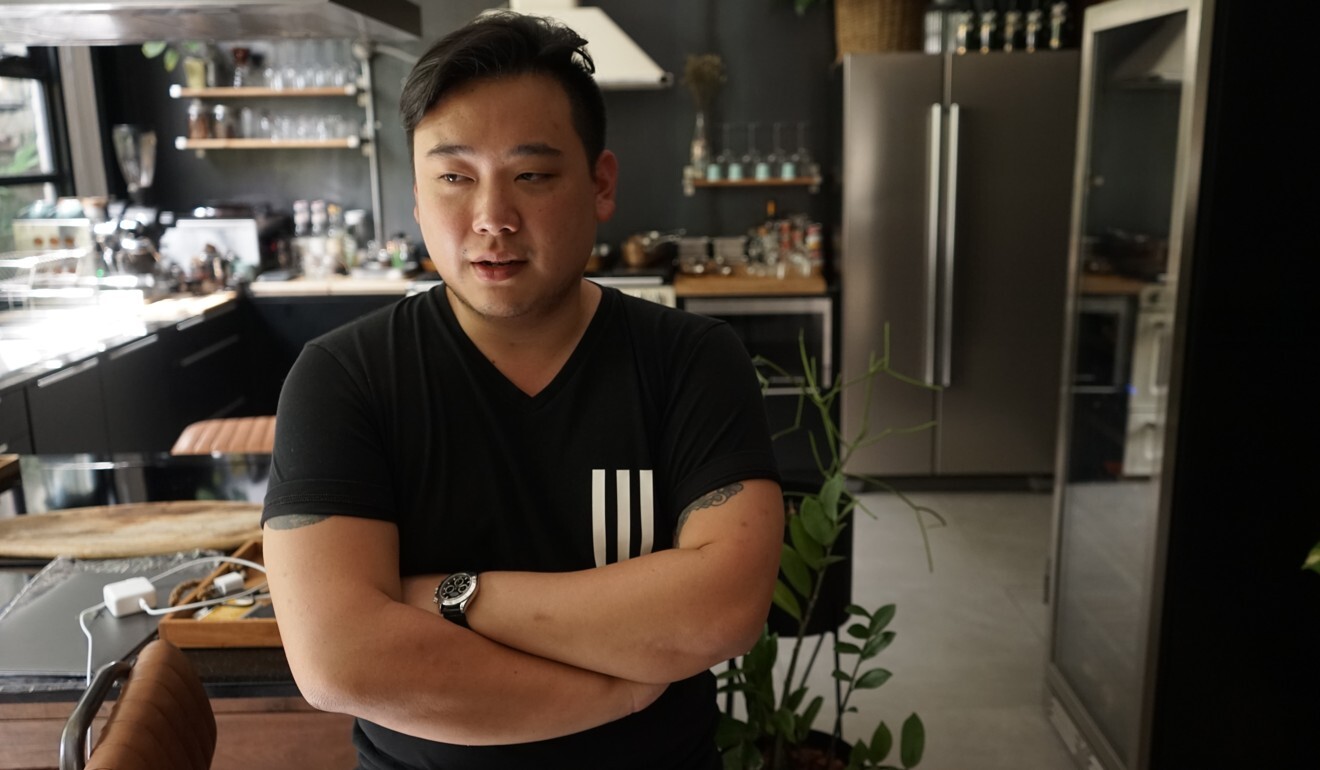 Dissatisfaction with Prayuth's government has surged during the
coronavirus pandemic
. Thailand has been ravaged by the Delta variant, and daily infections have now topped 21,000 while a record 212 casualties were reported on Saturday. Thailand has reported 736,522 total cases and 6,066 deaths.
The pandemic's effects on
tourism
and a virtual lockdown in Bangkok and surrounding provinces have brought the economy to its knees. Many Thais have also criticised Prayuth and his government for mishandling the vaccination roll-out.
Prayuth has defended his government by saying it has confronted an unprecedented health crisis and has pledged to vaccinate 50 million Thais by the end of the year.
His office has also
filed lawsuits against celebrities
who have attacked the government's reliance on Sinovac shots, and has threatened to punish media that publish "false news" about the country's pandemic response.
Several thousand anti-government protesters in Bangkok clashed with police on Saturday. The demonstrators marched towards Government House, Prayuth's office, demanding his resignation. Police sealed off a road near Victory Monument in the capital using containers and fired tear gas and rubber bullets to push the protesters back.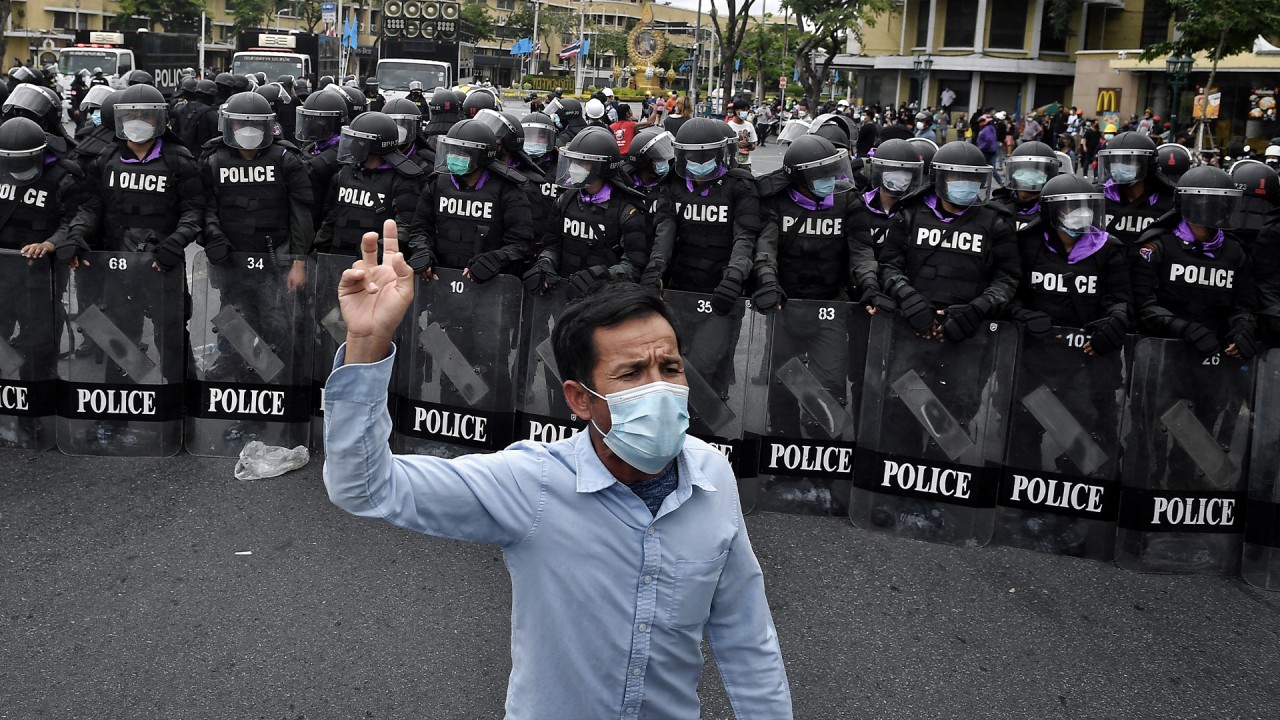 03:04
Thai anti-government protesters clash with riot police over handling of Covid-19 pandemic
Thai anti-government protesters clash with riot police over handling of Covid-19 pandemic
"We want Prayuth to resign because people aren't getting vaccines," said a 23-year-old male protester, who gave only his first name "Aom", for fear of repercussions. "We don't have jobs and income, so we have no choice but protest."
BMWs and Range Rovers with personalised number plates led a honking, slow convoy of wealth on Sunday morning driving through Thong Lor the most expensive real estate in Bangkok , a district home to many of the big Thai families linked to royalist establishment.
"Down with dictatorship. Long live the people" Tanat screamed from a sound truck while flashing the Hunger Games salute – a political action relayed live over a Clubhouse with over 1,000 listeners.
He hopes to appeal to other members of Bangkok's moneyed middle class who supported
the 2014 coup
but have now soured on Prayuth.
"I was young, dumb and didn't know what was going on," says Tanat. who was 21 when Prayuth led the coup. "I regret it, completely."
Tanat, who was educated in the UK, was one of the angriest speakers during the protests that preceded the coup, which pitted the "yellow-shirt" members of Bangkok's elite against Yingluck Shinawatra's government and its largely rural, "red-shirt" supporters.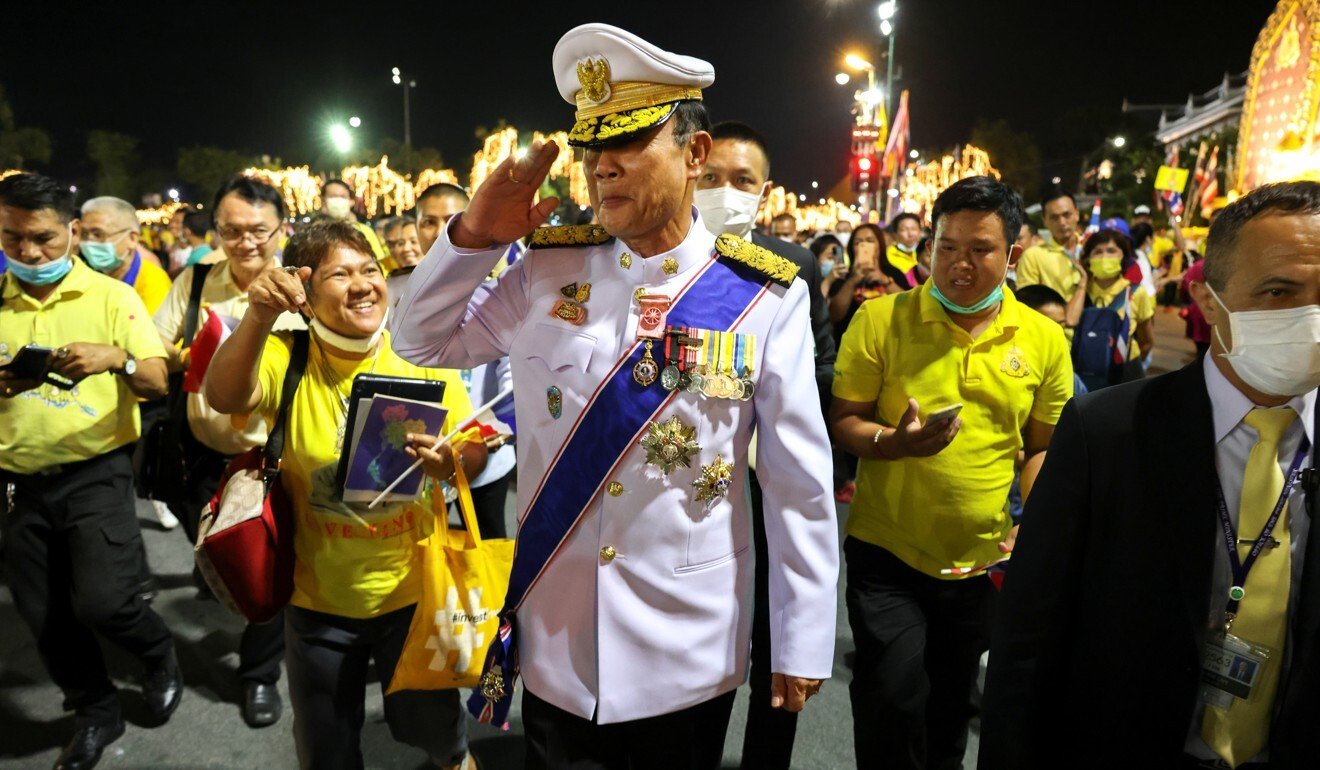 Those rallies sowed chaos in Bangkok – dozens were killed during the violence, which ultimately paved the way for the coup in May 2014, led by Prayuth in the name of re-establishing order and security.
Prayuth has remained in power since, thanks to a military-backed constitution that allowed him to appoint the senate and then
a widely criticised election in 2019
that provided a veneer of democratic legitimacy.
"Most nights since [the coup] have been sleepless … and still are," Tanat says. "Knowing that you're part of the cause of the conflict today, it has been heartbreaking for so long that I decided to come out and do something about it."
Sunday's rally has been called "Salim's Change of Heart" – a Salim is Thai slang for someone who tacitly supports the royalist establishment. Tanat hopes they may yet find common cause with the country's pro-democracy movement.
Among these influential business clans, support for Prayuth's government has been damaged by the economic turmoil caused by the pandemic and the chaotic vaccine roll-out. If there is a "change of heart", as Tanat hopes, it could pose a threat to Prayuth's power.
"On Sunday, it's all about the 'Gram [Instagram]," says Tanat of his celebrity connections and rich friends he hopes will join the rally. "This is an information war, and it plays out on social media."
Thai politics have been reshaped since June 2020, not only by the pandemic but just as significantly by a youth-led protest movement rallying against the Thai establishment – including the palace, the military and the business elite.
Their demands include constitutional amendments that would curtail the influence of the monarchy, representing an unprecedented challenge to its authority. In return, young activists have incurred royal defamation charges which can carry sentences of 15 years in prison.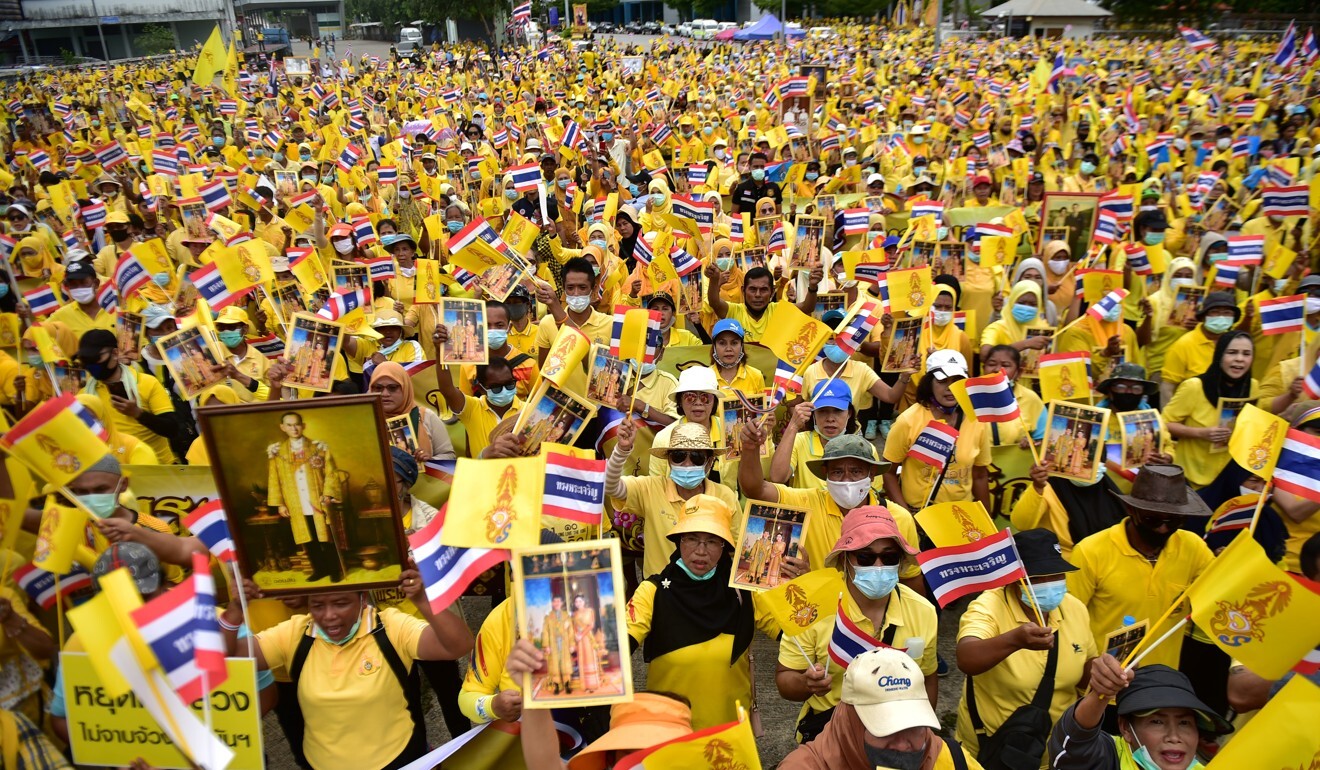 Tanat says the dividing lines of Thai politics are beginning to blur. Generation Z campaigners are not beholden to the old rivalries and loyalties – the red shirts supporting the Shinawatra clan versus the conservative, royalist and pro-military yellow shirts clustered in the capital. These are, Tanat says, being replaced by a younger generation "who are ready to listen to, support or criticise any political leader".
He hopes his public U-turn and apology can inspire a wider reconciliation among a deeply divided society.
"It's unfortunate that we Thai people pride ourselves in our politeness but we find it impossible to apologise to each other," he said. "People think if you apologise then you betray your ideology. Political rivalry is healthy but being enemies with each other, your fellow countrymen is definitely not the way to go."
Additional reporting by Reuters
This article appeared in the South China Morning Post print edition as: Pressure on PM as ex-allies embrace 'change of heart'