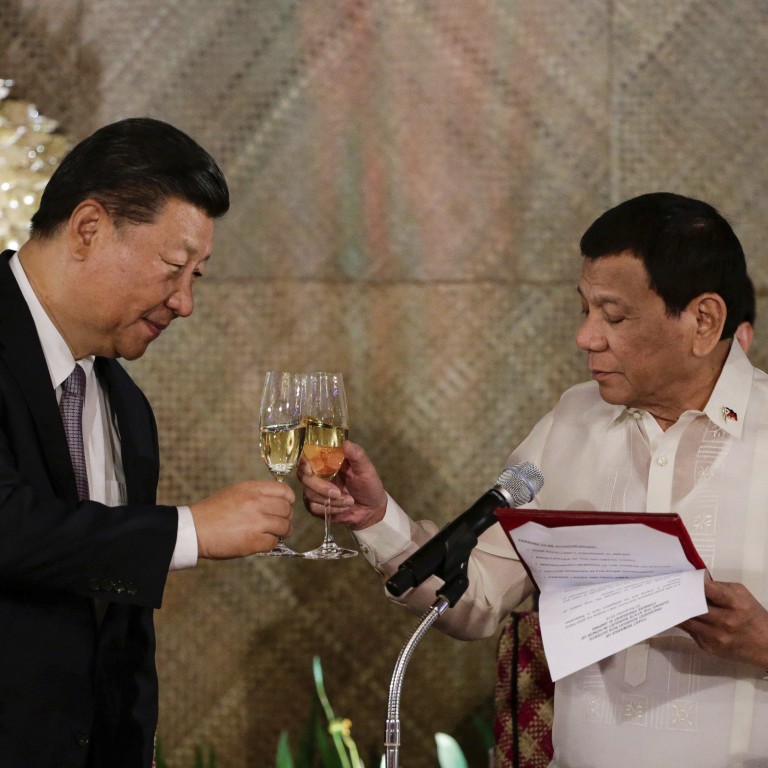 Duterte said China pledged billions of dollars to the Philippines. What happened to it?
Five years into his six-year term as president, Rodrigo Duterte is still to deliver many of the Build, Build, Build infrastructure projects he claimed had China's backing
Much of the Chinese funding appears not to have materialised; some critics suggest the Philippine leader exaggerated the support for his projects
As Philippine President
Rodrigo Duterte
rushes to fulfil his pre-election promise to build a railway for Mindanao island, reality is beginning to bite.
Duterte is five years into his six-year term, yet the 83 billion pesos (US$1.64 billion) he claimed China would lend him to build the first phase of the railway is yet to materialise.
Also yet to appear is most of the US$9 billion of official development assistance (ODA) and the US$15 billion in foreign direct investment (FDI) that – according to Duterte at least – Chinese companies had pledged towards his Build, Build, Build domestic infrastructure campaign.
Analysts have suggested various reasons why
Chinese promises
might have fizzled out, from the slow process of getting projects approved in the
Philippines
to increasing caution by Chinese investors.
Less charitable observers have suggested Duterte himself should shoulder some of the blame. Some see him as China's tuta ("lapdog"); others suggest he might simply have exaggerated the support for his projects.
"I think he's more like a highway bandit who knows what he wants and is willing to sell whatever it takes to get it," said Filipino political economist Alvin Camba.
"Many of Duterte's promises including the Mindanao railway are simply publicity stunts," he said, having come to the conclusion after talking to several of the players in some of the projects.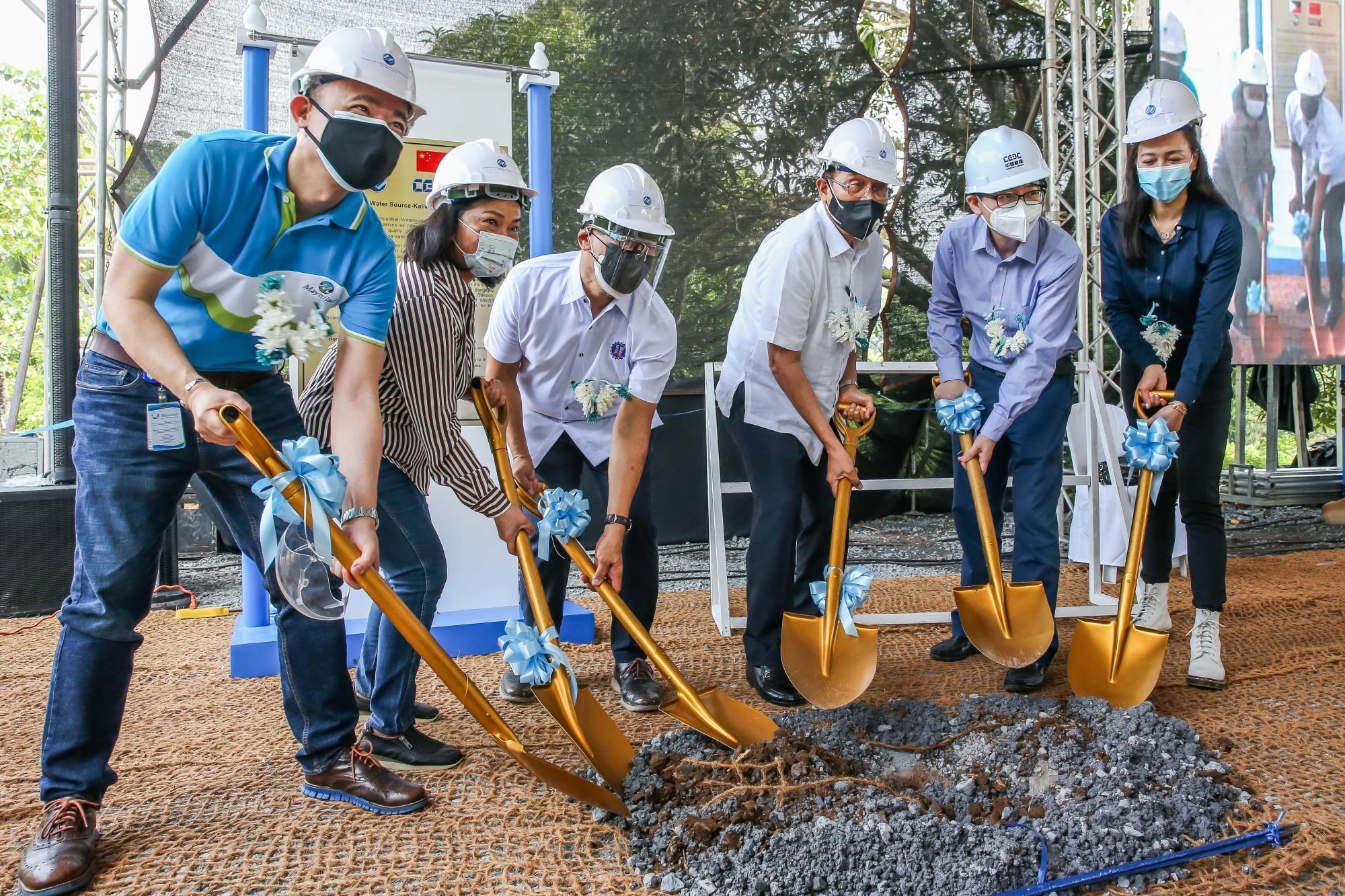 "The pledges [of US$9 billion in ODA and US$15 billion in FDI] did not come from the Chinese government. The pledges came from different sources in China, which were aggregated by the Duterte government to make it appear like one big deal," said Camba, who teaches at the University of Denver's Josef Korbel School of International Studies.
It used to be relatively easy for the public to check on the status of Duterte's Build, Build, Build flagship projects as they could be tracked on the dedicated website, build.gov.ph. But the site has been abandoned, even as the number of projects continues to grow.
There were originally 55 projects, but this rose to 75 in 2017, then to 100 in 2019 and even in 2020 amid the
coronavirus pandemic
the government added four more, taking the total to 104.
Boosting the number of projects was "a way to help stimulate the economy, keep construction jobs, and catch up on delayed targets," said Lucio Blanco Pitlo III, a research fellow at the Asia-Pacific Pathways to Progress Foundation.
But it was also a way for the government to showcase its "accomplishments", he said.
Camba agreed. "Yes, it is to simply show that they are doing more," he said.
Camba said many of the Build, Build, Build projects that had already been built "were either started by the previous administration, doable due to the nature of the project, or politically meaningful to the administration".
Critics say Duterte took a grab-bag of miscellaneous projects and marketed them under the umbrella of the Build, Build, Build project to make him appear more successful than he really was. They say this became apparent during a July 28 presentation by Transport Secretary Arthur Tugade at the presidential palace, when he rattled off a list of infrastructure accomplishments.
Among these he included two railway stops for the Mindanao railway that he said would be partially operational by March next year (coinciding with the 2022 election campaign period) and the Philippine coastguard's acquisition of a 94-metre Multi-Role Response Vessel. While the coastguard falls under Tugade's department, the vessel had never been listed as a Build, Build, Build project.
Another way of gauging the success of the Build, Build, Build programme would be to consider the amount of funds actually covered by signed loan contracts.
The Department of Finance said on August 10 that the government had already "contracted" US$7.95 billion in bilateral ODA, mostly for the Build, Build, Build project. Japan accounted for US$6.12 billion – nearly 80 per cent – of this. The department did not say how much China accounted for.
The department has, however, uploaded on its website five contracts signed by the government with Chinese banks totalling US$1.58 billion – still more than US$7 billion short of the promised US$9 billion.
The Export-Import Bank of China has extended US$830 million worth of loans to four projects: US$62.09 million for the Chico River Pump Irrigation project; US$211.21 million for the New Centennial Water Source or Kaliwa Dam project; US$219.78 million for a project management consultancy on the Philippine National Railways South Long Haul project; and US$337 million for the Safe Philippines Project signed last June 17, to install high-definition, advanced closed-circuit television cameras on public roads.
The biggest loan amount, of US$750 million for the coronavirus pandemic response, came from the Asian Infrastructure Investment Bank last June.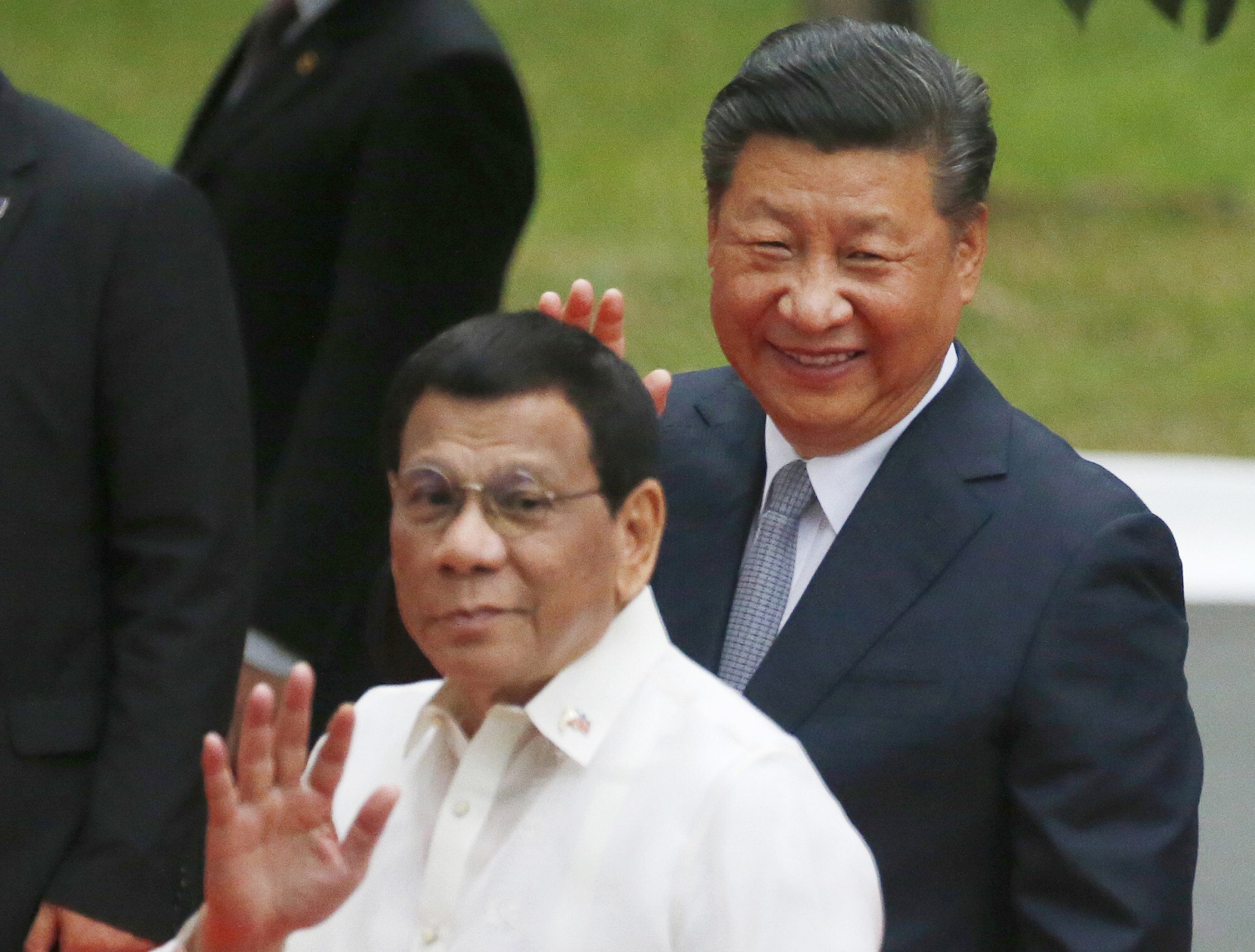 Why the shortfall?
Analysts say there are various reasons for the lending shortfall, which comes despite Duterte's best efforts to court China – such as his giddy profession in 2016 that he "loves" Chinese President
Xi Jinping
.
Pitlo said project approvals had slowed and been delayed because China reorganised many of the agencies under its top organ of state power, the State Council, as it set up its own aid agency in 2018. Reforms were introduced particularly to "the powerful National Development and Reform Commission which has a big impact on
Belt and Road
infrastructure projects abroad."
Pitlo said the reforms included "more stringent due diligence to ensure Chinese capital goes to viable projects and only capable contractors get to take part in China-backed projects abroad, especially under its flagship Belt and Road connectivity initiative".
The reorganisation affected Duterte's showcase Mindanao railway project, with Chinese officials asking for feasibility, market studies and the project design before approving any loan contracts.
Assistant Secretary for Transport Eymard Eje acknowledged as much last February when he told reporters it was "painful" to admit the project had been delayed "due to documents being required from us by our counterparts".
Camba said only two projects – the Kaliwa Dam and Chico River Pump Irrigation – were likely to be completed during Duterte's presidency.
As for the rest of the unfinished China-backed projects, Pitlo said he worried "about the continuity of projects given the coming elections next year".
Unfinished business
Pitlo said China might feel burnt from past projects that were abandoned when new governments came into power.
"Chinese projects, notably the National Broadband project, during the time of former president Gloria Macapagal Arroyo, for instance, were discontinued when her successor, the late president Benigno Aquino III took over."
Camba said it was "hard to say" what would happen to the current crop of unfinished projects.
"I think the projects that are about to be finished will not be discontinued unless there are major issues that emerge. But the newly signed Chinese deals are vulnerable if the [next] government is anti-China."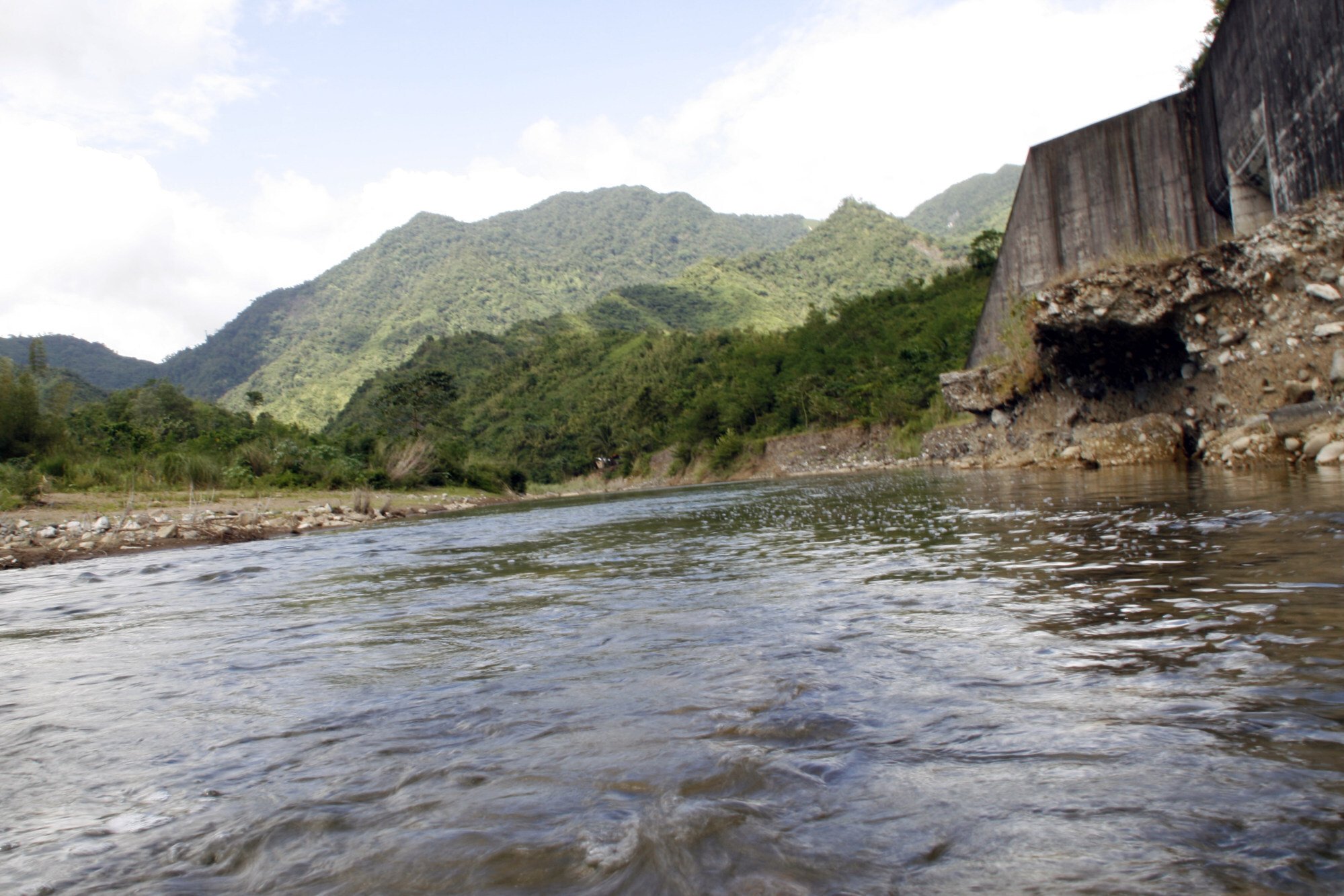 He warned that even finished projects had the potential to cause a headache for China if they came to be seen in a negative light.
He gave the example of the irrigation and dam projects, which had displaced local communities. He blamed the "disregard for social and environmental standards" on the Duterte administration, saying it had deliberately chosen Chinese partners "to expedite" proceedings because Japanese partners "would have demanded more stringent social and environmental standards, [which] would have delayed both projects".
However, the result threatened to fuel anti-Chinese sentiments that would "have adverse long-term consequences". He suggested that China and Chinese firms "should insist on thorough environmental, social, and other impact assessments" in future projects.
In a paper published by the Global Development Policy Center of Boston University, Camba wrote that Duterte had given up "the South China Sea in exchange for better relations with the Chinese state and increased access to its capital".
Camba now suggests whether China can rely on that deal is an open question. Camba pointed out that Duterte had resisted pressure from the Chinese government to crack down on online gambling "until the last minute".
Said Camba: "Duterte will 'turn' against China when it's convenient."