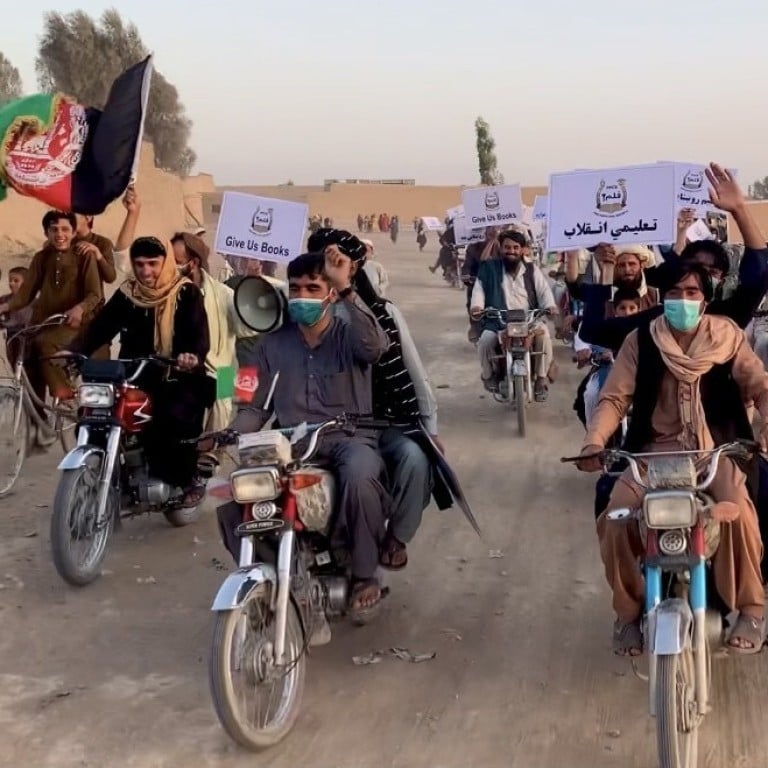 As Taliban violence forces schools in Afghanistan to close, mobile libraries give hope to girls
Motorcycle-riding volunteers from the Pen Path Civil Society travel across areas ravaged by fighting to distribute books and stationery
Co-founder Matiullah Wesa says parents are reluctant to send their kids to school, as 468 children had already been killed by June
For 11-year-old Husna, books are her only source of happiness. Her school in Wat village, 3km from the Spin Boldak district in
Afghanistan
that is now under Taliban control, is closed for summer holidays until September. But no one knows for sure when it will reopen, due to the clashes between Afghan nationalist forces and the Islamist group that have ensued since troops from the United States began withdrawing in May.
Now, Husna's only ray of hope is the mobile library run by the Pen Path Civil Society, a non-governmental organisation whose motorcycle-riding volunteers travel across areas ravaged by fighting to distribute books and stationery to children.
"I am very happy that I can at least continue to study," she said, adding that she wants to grow up to be a doctor.
In Afghanistan, where more than 60 per cent of the 3.7 million
out-of-school children
are girls, Pen Path's mobile libraries – which include books on history, geography, and children's fiction in Pashto and Dari, the country's official languages – continue to educate girls such as Husna.
The Taliban is notorious for its violence and discrimination towards women. Besides harsh restrictions on their appearance and behaviour, the group also banned most women from receiving more than a primary school education while it ruled the country.
Education has suffered several major setbacks in Afghanistan. Besides attacks on schools and teachers by Taliban forces, several schools that on paper are said to be running on government money or international aid have not been functioning in reality.
Brothers Matiullah and Attaullah Wesa, the founders of Pen Path, have over the past 11 years reopened 100 such schools in provinces including Kandahar, Zabul, Khost, Helmand, and Herat, where some areas remained under Taliban control. They have also pushed the government to set up 46 schools, including Husna's school in Kandahar, over that time frame.
As 468 children had been killed in the country between January and June alone, Matiullah said many parents were reluctant to send their children to school for fear of their lives as the fighting spreads across the country – which is where Pen Path's 2,300 volunteers running mobile libraries on motorcycles come in.
"Our mobile libraries at least help children to have access to books," he told This Week In Asia.
Matiullah said many villages of up to 1,200 families in certain provinces never had any schools, and Pen Path's task was to initiate campaigns to start them by getting locals on board and navigating the bureaucratic red tape. It took between six months and a year for the government to approve the establishment of a school, he added.
Izat Ullah Zia is a 27-year-old Pen Path volunteer who last week carried books and blackboards for children to Sher Mohammed village in Kandahar's Takhta Pul district.
"The locals complained that a local school building exists, but there are no teachers employed in the school or books given by the government," he said. "There are 400-odd children in the village waiting to go to school."
Fellow volunteer Lima, who asked for only her first name to be used, said there were some schools in the districts of Shakardara and Khaki Jabbar, barely 40 minutes' drive from Kabul city, that did not have female teachers or clean toilets exclusively for girls.
The 29-year-old, one of the 400 women who take part in Pen Path's programmes, said the saddest part was that even schools in "safer" areas under the control of the government had been subjected to neglect and apathy.
According to Human Rights Watch, 41 per cent of schools in Afghanistan have dedicated buildings, and many are without boundary walls, water and toilets – disproportionately affecting girls.
"Locals are willing to teach if the government constructs buildings," Lima said.
Afghanistan's education ministry spokesperson Najiba Aryan said educational services should be provided to "all Afghans", and that the government built more than 700 schools last year and plans to build 1,500 more this year. However, Aryan added: "In areas where there is war, schools are closed because the basic desire of every person is security of life."
The school where Matiullah and Attaullah studied, started in Kandahar's Maruf district in 2002 by their father for 900 boys and girls, was attacked by Taliban militants that year.
Over the past 11 years, Matiullah has collected more than 340,000 books under a drive called #1book4peace and distributed them to children in Afghanistan.
The brothers in 2017 kicked off a motorcycle campaign that saw them travel across the country's 34 districts over a period of eight months, approaching people from all ethnic groups with an appeal to send their children to school.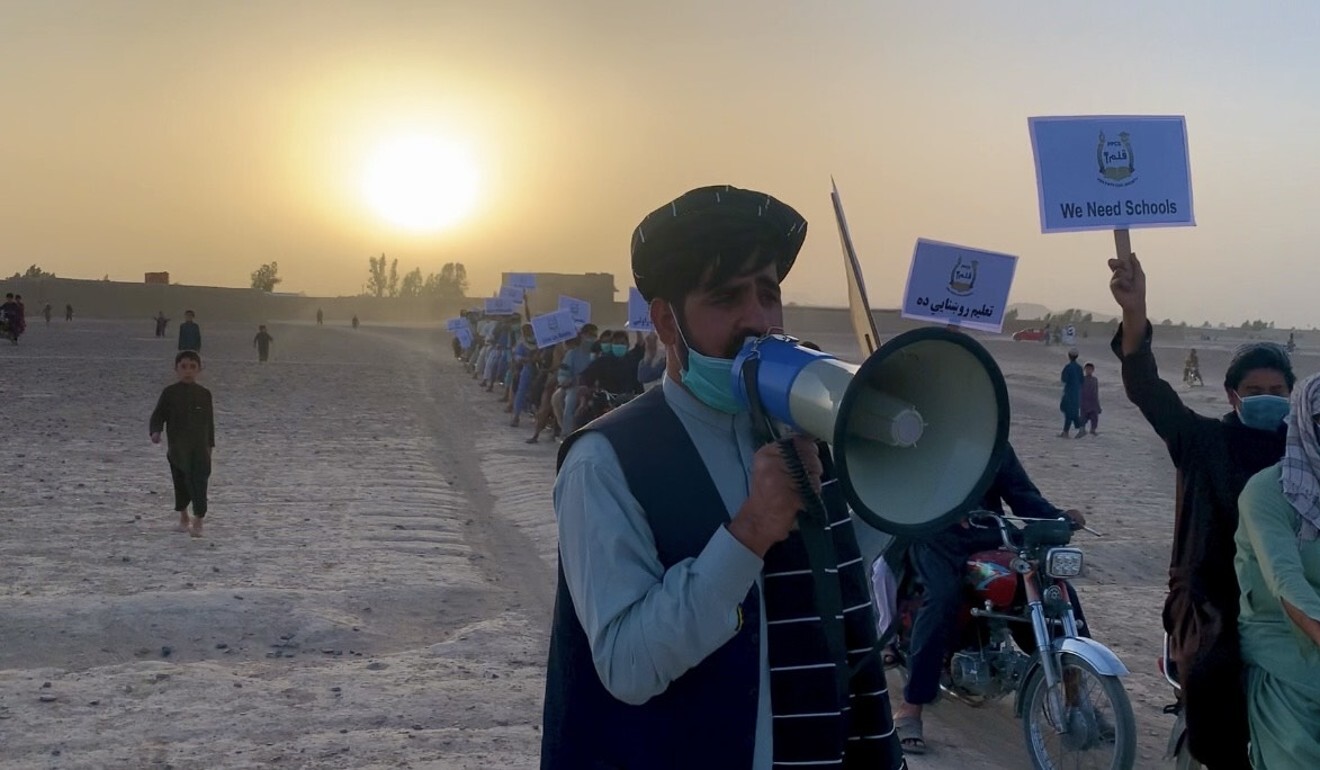 "Despite the differences between communities, our campaign doesn't discriminate against any community," Matiullah said, adding that the campaign had enabled 5,700 students to go back to school.
Although the Taliban last month allegedly killed one of the Pen Path volunteers, a former police official in Kandahar, Matiullah said the group had not otherwise been a major hindrance to the educational campaign. Whenever they object, he has sought support from tribal and religious leaders.
"When these leaders make them understand that my work will benefit the local children, they allow us to continue," he said.
But Matiullah said he was worried the Afghan nationalist forces might mistake him as belonging to the Taliban, because they too were often seen on motorcycles.
"I use the national flag on my motorcycle to protect myself from any attack," he said, adding that the campaign also spreads awareness on human rights and peace.
Matiullah asserts that he is not a representative of Kabul or the Taliban – instead, he is a "representative of the people".
"Education is our right, it belongs to the people, not to the government or the Taliban," he said. "We will live here and bring in change because we campaign for books, not guns."