Japan
Get more with myNEWS
A personalised news feed of stories that matter to you
Learn more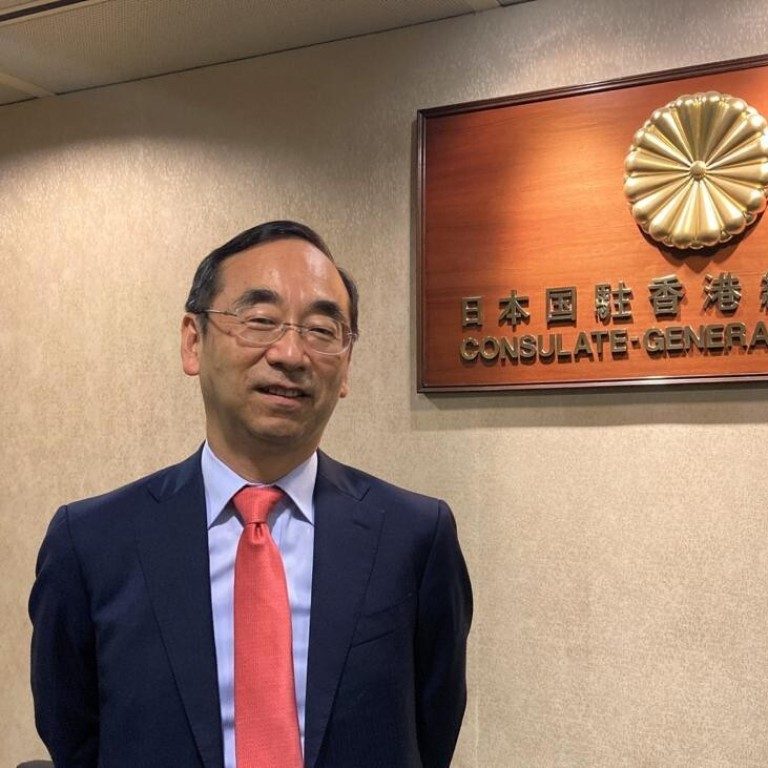 Outgoing Japan envoy to Hong Kong calls for easing of Greater Bay Area Covid-19 travel restrictions to boost business
Mitsuhiro Wada, who vacates his post on Sunday, said no Japanese firms had withdrawn from Hong Kong solely because of the controversial National Security Law
Japan seeks more cooperation with Hong Kong, but a continuation of its 'free and open system' is what Tokyo and the Japanese business sector expect
Hong Kong's
National Security Law (NSL)
has not resulted in Japanese companies reducing their presence in the Asian financial hub, even though restrictions on information, rule of law and judicial independence remain concerns for these businesses, according to Japan's outgoing consul general to Hong Kong.
However, Mitsuhiro Wada noted that
Covid-19 border restrictions
with mainland China and other countries had forced some Japanese firms based in Hong Kong to downsize. Others had moved their operations to Guangdong province to circumvent border restrictions and continue accessing factories in mainland China.
Wada called for a relaxation of border restrictions in the
Greater Bay Area
(GBA), which Beijing hopes to develop into an integrated economic zone encompassing Hong Kong, Macau and the cities of Guangdong province.
"If this situation continues, it will be more and more damaging to Japanese companies based in Hong Kong and may become a risk to the Hong Kong economy in the future," Wada said in an e-mail interview before his three-year stint ends on Sunday.
Pointing to a July survey which showed more than 70 per cent of 270 Japanese companies in the city said border restrictions were the most serious issue for businesses, Wada said many Japanese companies have management facilities in Hong Kong and factories on the mainland.
"The border restrictions have greatly affected their businesses," he said. "Some companies have already moved their offices and employees from Hong Kong to Guangdong."
The quarterly survey was conducted by the Consulate General of Japan, the Japan External Trade Organization and the Hong Kong Japanese Chamber of Commerce and Industry.
"Moreover, there are approximately 24,000 Japanese nationals in Hong Kong," Wada said. "The burden to prepare documents required for entry and departure, such as negative test results of Covid-19, are onerous – especially so when epidemic prevention measures and border restrictions are frequently changed."
Before the pandemic, about 1,400 Japanese companies operated in Hong Kong, and 47 per cent of them had regional headquarters or regional offices in the city, according to Hong Kong government figures.
Other concerns cited by Japanese companies in the July survey included restricted or reduced sales and the postponement or cancellation of events such as exhibitions and seminars.
In another survey conducted late last year, among the 34 per cent of companies who said they would consider overhauling business operations, 13 per cent said they would downsize their operations, while 1.7 per cent said they planned to leave Hong Kong. Regarding the NSL, 52 per cent said they were concerned while 15 per cent said they were very concerned.
Wada said that although no companies had withdrawn or reduced their presence solely due to the NSL, businesses believed excessive interference and restrictions on the rule of law and press freedoms would undermine Hong Kong's appeal and negatively affect business.
"It is a consistent stance of Japan that Hong Kong maintains a free and open system and develops in a democratic and stable manner under 'One Country, Two Systems'," Wada said. "I think this is significantly important and exactly what the Japanese business sector anticipates."
Since the introduction of the NSL, foreign businesses have expressed concerns that dismantling the territory's rule of law would make the city less attractive for arbitration and contracts, and lead companies to relocate global and regional headquarters. Some fear companies and individuals could be targeted under the new laws, which many have described as vague and arbitrary.
Although the United States and several Western countries have criticised the NSL, the American Chamber of Commerce in Hong Kong has bought an office in the heart of the city, a purchase widely interpreted as an indication of long-term US commitment to Hong Kong.
Despite Japanese companies' concerns during the pandemic, Wada said businesses remained bullish about the territory's future.
Japanese firms also consider the territory a springboard for access to the GBA, which has a population of more than 70 million, Wada said.
"Hong Kong, with its links to Shenzhen and the GBA, has the right elements to become a world centre of innovation in human resources, finance and technology," Wada said, adding that Japanese businesses hoped for free exchange of people, goods and services in the GBA. "Our expectations are high for Hong Kong and the GBA."
Wada said both Japan and Hong Kong face common challenges, such as dealing with an ageing society, a decline in working-age population,
global warming
and environmental issues such as excessive plastic waste.
"We would certainly like to cooperate with Hong Kong and contribute to resolving those problems," Wada said, adding that both sides are currently working together in the field of elderly care, with some Japanese companies launching products and offering technical support for renting elderly care equipment.
"Every time I meet a Hongkonger, I am usually asked: 'When can I go to Japan?' We would like to make an effort to restore travel between Japan and Hong Kong to its pre-pandemic level as soon as the Covid-19 infection rate settles down," Wada said.
Before the pandemic, about 2.2 million Hongkongers visited Japan every year from 2017-19. Among them, one-third have visited the country more than 10 times.
However, travel restrictions have also propelled demand for Japanese products with exports of sake, wine and eggs to Hong Kong rising sharply in the past year, the envoy said. The city has been the top importer of Japanese agricultural, fisheries and food produce for 16 years and accounts for 22.3 per cent of Japanese exports.
The Hong Kong government has eased import restrictions for products from four prefectures around Fukushima after the 2011 nuclear disaster, but import suspensions remain for some products from Fukushima itself.
"As always, the Japanese government will continue to provide detailed explanations to Hong Kong people on this matter and to work hard on gaining people's trust in relation to the removal of the remaining import restrictions," Wada said.
Wada, who first came to Hong Kong in 1984 to study Mandarin at the Chinese University of Hong Kong, said his first overseas visit left an indelible impression. He vividly recalls landing at Kai Tak Airport, before being greeted by Hong Kong's humid, subtropical air and its "unique smell" when the plane doors opened.
"At that time, everything I saw, heard and touched was new to me," Wada said. "Life in Hong Kong was a great learning experience, as I had no knowledge about overseas places at all. It is no exaggeration to say that it was in Hong Kong that I developed the foundations of my career as a diplomat."
In his final weeks as Japan's consul general in Hong Kong, Wada noted the gratitude extended to him by the people of Hong Kong.
"I take it as a sign that my efforts as consul general of Japan have been appreciated by the people of Hong Kong and I could not be happier," he said. "I would be grateful if you could continue to extend the same kindness to my successor as you have extended to me."