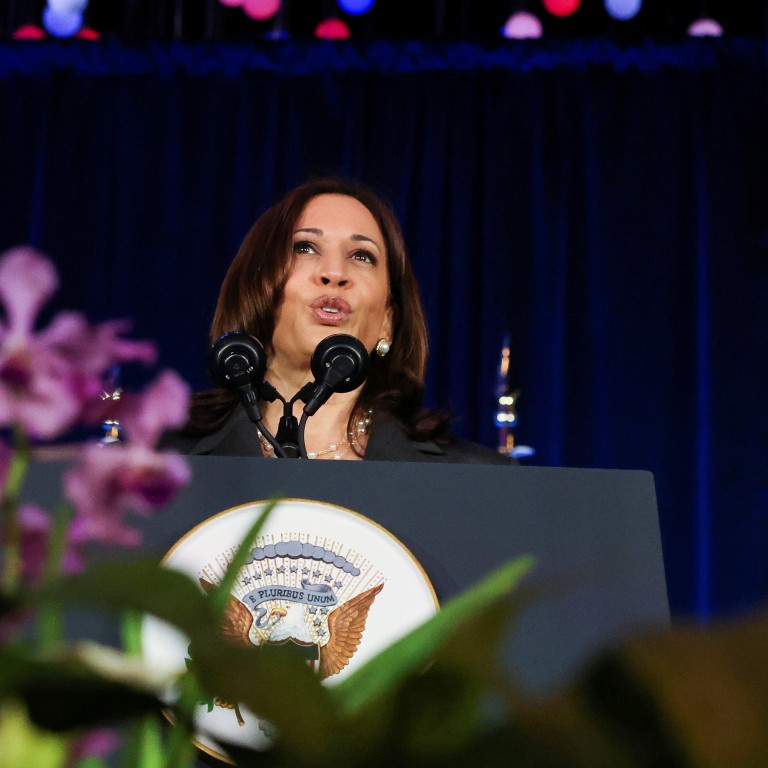 US not seeking 'zero sum' engagement with Asia but will stand up against coercive China, Kamala Harris says
Harris said the Biden administration's vision for Indo-Pacific engagement takes into account regional countries' disinterest in a 'zero sum' mentality
US vice-president's visit to Singapore and Vietnam was touted as a diplomatic charm offensive but has been overshadowed by chaos in Afghanistan
The United States is well aware that Asian nations are disinterested in engagement based on a "zero sum" mentality even as it seeks to deepen regional ties to challenge China's threat to the global rules-based order,
Vice-President Kamala Harris
said on Tuesday.
In a speech in Singapore outlining the
Joe Biden
administration's plan for Indo-Pacific engagement, Harris said Washington's vision was one of "peace and stability, freedom on the seas, unimpeded commerce, advancing human rights, a commitment to the international rules-based order and the recognition that our common interests are not zero sum".
"Our engagement in Southeast Asia and the Indo-Pacific is not against any one country, nor is it designed to make anyone choose between countries," she said.
The vice-president said her tour of Singapore and Vietnam was part of an effort to highlight this vision.
"We will invest our time and our energy to fortify our key partnerships including with Singapore and Vietnam," Harris said in the speech at Singapore's Gardens by the Bay.
Harris arrived in Singapore on Sunday and departed for Vietnam late on Tuesday.
"The United States will pursue a free and open Indo-Pacific that promotes our interests and those of our partners and allies," she said.
Like other Biden administration principals who visited Asia recently, Harris identified China's territorial claims in the disputed
South China Sea
as a key regional threat.
"We know that Beijing continues to coerce, to intimidate and to make claims to the vast majority of the South China Sea," Harris said.
"These unlawful claims have been rejected by the 2016 arbitral tribunal decision and Beijing's actions continue to undermine the rules-based order and threaten the sovereignty of nations," she added, referring to the ruling by the Permanent Court of Arbitration (PCA) in The Hague after
the Philippines brought a case against China
.
Malaysia, Vietnam, the Philippines and Brunei dispute Beijing's claim to much of the South China Sea, saying it contravenes their sovereignty and maritime rights as enshrined in the United Nations Convention on the Law of the Sea.
Indonesia says it is not a party to the dispute – although the northern reaches of its Natuna islands' exclusive economic zone overlap with Beijing's nine-dash line, which demarcates its vast claim to about 90 per cent of the South China Sea.
Beijing does not recognise the PCA ruling, and insists it has historical rights to the resource-rich waters, which are a thoroughfare for international trade worth about US$4 trillion annually.
Harris in her speech said the US would seek to expand engagement in trade and public health.
"Looking forward, our vision is a world where global health security is strengthened and where we can detect and attack new viruses early on and we are taking steps to make that future a reality," Harris said.
She added that the US has offered to host the 21-economy Asia-Pacific Economic Cooperation (Apec) meetings in 2023 as part of its effort to deepen economic cooperation with the region. The trade group includes seven of the 10 Association of Southeast Asian Nations (Asean) member states as well as China and Hong Kong.
Nydia Ngiow, a Singapore-based senior director with the BowerGroupAsia consultancy, said the emphasis on the US "returning to multilateralism" was the most striking takeaway from Harris' speech.
"Given that one of the primary purposes of Harris' trip is to assure the region that the US prioritises the region and is once again a key player in the international stage, having her talk about working multilaterally with Asean is promising," Ngiow said.
The vice-president's two-nation tour, her first to
Southeast Asia
as Biden's deputy, follows several visits to the region by US officials.
Deputy Secretary of State Wendy Sherman
visited
Indonesia, Thailand and Cambodia in May. Defence Secretary Lloyd Austin was in Singapore, Vietnam and the Philippines
last month
.
Most recently, Washington's UN envoy Linda Thomas-Greenfield visited Thailand after attending the closing ceremony of the
Tokyo Olympics
.
Before her departure, US officials said Harris would use the trip to emphasise Washington's commitment to sustaining its economic and security presence in Asia.
Chinese state media outlets however suggested the visit had a more insidious,
China
-focused motive. A commentary in the state-run
Global Times
tabloid argued Harris was seeking to "further strengthen the US' regional presence … [to turn] Southeast Asia into a frontier against China".
Alfred Wu, an associate professor at the Lee Kuan Yew School of Public Policy at the National University of Singapore, said Harris' comments would likely go down well in the region as it addressed some of the "misunderstandings" about America's approach towards China.
"Her argument was that the US was not trying to attack China or any country but that it wanted to maintain the rules-based system," Wu said, noting however that Beijing was sure to rebut the vice-president's comments about its actions in the South China Sea.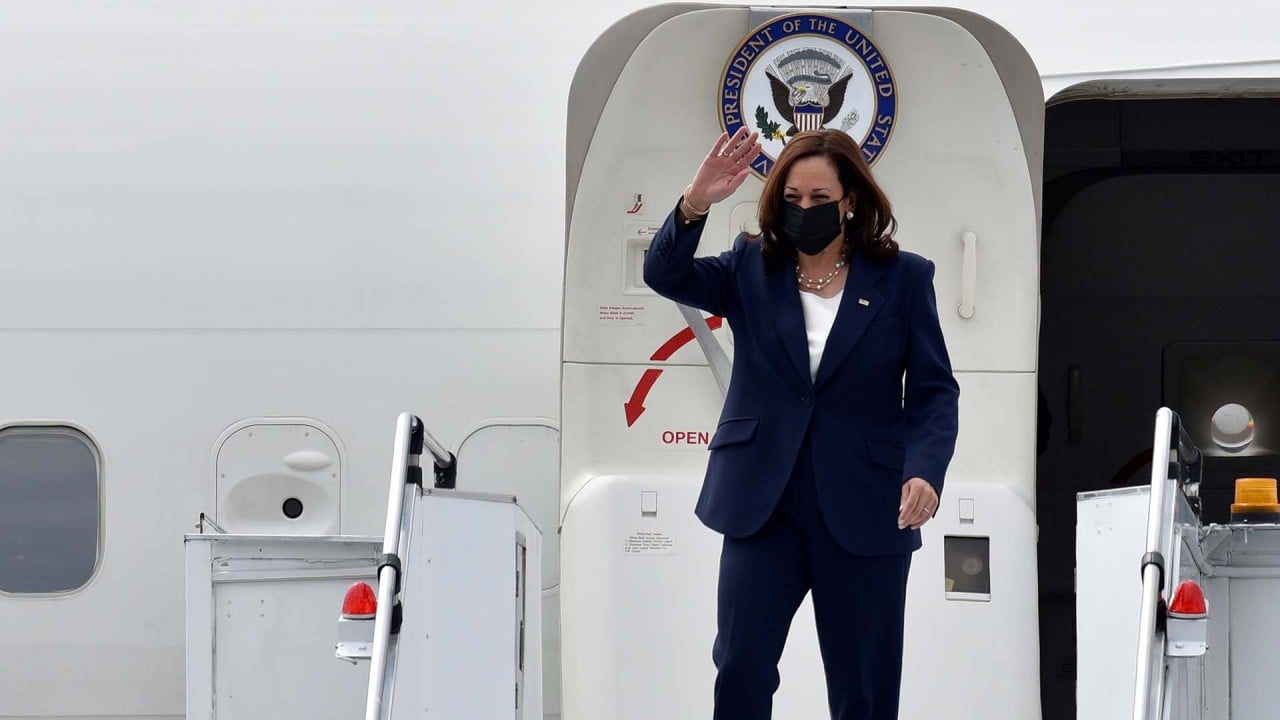 03:28
In Singapore, US VP Harris talks about South China Sea, US exit from Afghanistan and Covid-19
In Singapore, US VP Harris talks about South China Sea, US exit from Afghanistan and Covid-19
Ngiow said that although the trip had been overshadowed by the crisis in Afghanistan, where the Taliban has seized control of the country, Harris' speech "made some headway in redeeming herself from the first official trip she took".
The vice-president's first foreign trip in June to Guatemala and Mexico was marred by her telling economic migrants "do not come" and a flippant response to a question about why she did not visit the US-Mexico border.
After Tuesday's speech, Harris joined a round table discussion with Singapore government officials and business leaders to discuss supply chain resilience.
Members of her delegation, including Kin Moy from the Bureau of East Asian and Pacific Affairs in the State Department, Phil Gordon, the vice-presidential deputy national security adviser, and Edgard Kagan, the senior director for East Asia and Oceania in the National Security Council, joined a panel discussion after the speech.
Moy said Harris' remarks about China aligned with the administration's view that the relationship between the two superpowers would involve competition as well as cooperation.
"Sometimes, there will be an adversarial relationship and we will defend our interests when we must," Moy said, adding that US-China ties have matured to a point where there seems to be more areas of competition.
"I realise what our friends tell us about not wanting to choose one over the other and that's not what we are asking countries to do."
Gordon rejected the notion that the US and China were destined to clash. He said that although Washington and Beijing had differences in principles and interests, the US does not want a new cold war.
"We have to do everything we can to pursue [our] interests while avoiding the sort of conflict that I know people in the region are worried about," he said.
Harris on Tuesday evening travelled to
Vietnam
, where she is expected to hold talks with the country's top leaders and lead the delegation launching the Southeast Asia regional office for the US Centres for Disease Control and Prevention.
Her departure from Singapore was delayed for three hours, and Bloomberg later reported that this was due to "an anomalous health incident" in Hanoi.
The State Department has frequently used the phrase "anomalous health incidents" to describe the so-called Havana Syndrome, which has afflicted dozens of US diplomats and intelligence officials who describe feeling ill and other unusual physical sensations after hearing strange sounds.
Additional reporting by Bloomberg
This article appeared in the South China Morning Post print edition as: US not seeking 'zero sum' engagement with Asian nations, Harris says