Vietnam
Get more with myNEWS
A personalised news feed of stories that matter to you
Learn more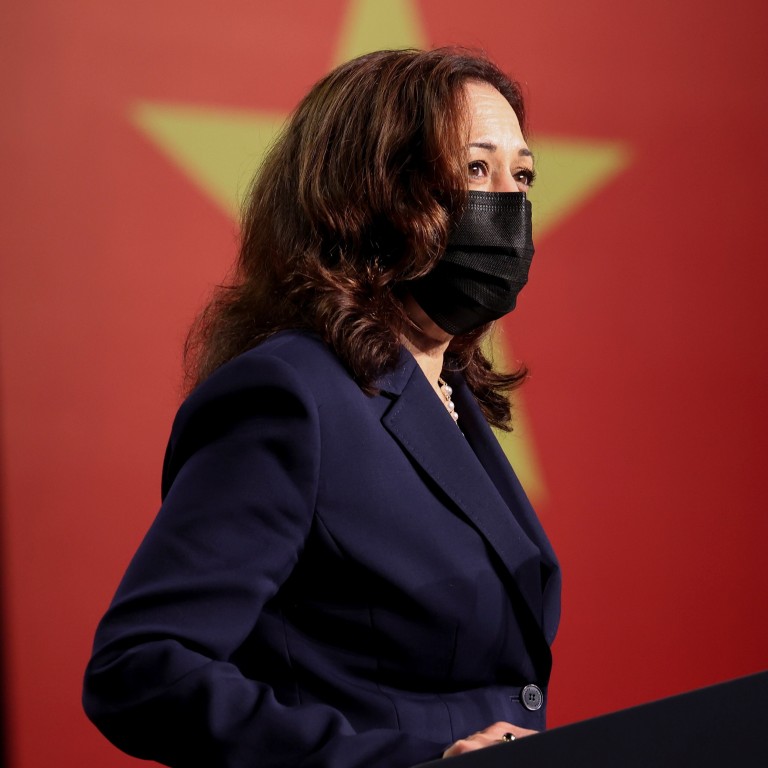 US VP Harris seeks strategic upgrade to Vietnam ties, calls for pressure against Beijing in South China Sea
US VP Kamala Harris offered Hanoi maritime security support in the South China Sea during her Southeast Asia tour to woo allies
But while Vietnam has been an outspoken critic of Beijing's sweeping claims, experts say it is still mindful of balancing ties with its neighbour
US Vice-President
Kamala Harris
has told
Vietnam
's leaders that Washington wants to upgrade their bilateral relationship to a strategic partnership, as she urged Hanoi to challenge what she dubbed Beijing's bullying in the
South China Sea
.
Harris also pledged Washington's help in boosting the Southeast Asian nation's maritime security, offering more visits by US warships as well as the donation of a third US Coast Guard cutter – subject to congressional approval.
"We will work closely with Vietnam to uphold rule-based international freedom of navigation, an issue that we take seriously, [including how] it relates to the South China Sea," she said on Wednesday, during a bilateral meeting with Vietnam's President Nguyen Xuan Phuc.
"We need to find ways to pressure and raise the pressure, frankly, on Beijing to abide by the United Nations Convention on the Law of the Sea, and to challenge its bullying and excessive maritime claims."
Harris also said the
United States
would donate an additional 1 million doses of the Pfizer-BioNTech
vaccine
to Vietnam, taking the total number of doses it has sent to 6 million, which Phuc described as "truly valuable and meaningful" to the country.
Journalists were escorted out of the meeting before Vietnamese officials commented on Harris' suggested diplomatic upgrade. But Vietnamese experts said they were doubtful Hanoi would want to align its own geopolitical goals so closely with Washington's, as a strategic partnership would signal a strong emphasis on bilateral military cooperation.
US officials have persistently sought such an upgrade following the signing of a comprehensive partnership pact in 2013, during the tenure of President
Barack Obama
. That agreement was signed nearly two decades after another Democratic president, Bill Clinton, re-established formal diplomatic ties between the one-time enemies in 1995.
Le Dang Doanh, a former economic adviser to five Vietnamese prime ministers, said the mood in the Communist Party of Vietnam's leadership currently leaned away from provoking China.
"As far as I know, it will not be possible for the two countries to upgrade their relationship from a comprehensive partnership to a strategic partnership because it is understandable that Vietnam lives next to China, so any action of Vietnam must also take into account the reaction of China," he said.
Nguyen Manh Hung, a professor emeritus at George Mason University in Virginia, agreed.
"In the current situation, it is difficult to expect a strategic breakthrough in the Vietnam-US defence relationship," he said, though he added Vietnam would try to ensure Harris did not leave the country "empty-handed" given it was her first visit, and the first by a sitting US vice-president.
Zachary Abuza, a Southeast Asian security expert at the National War College in Washington, said Harris' visit sought to build on defence secretary Lloyd Austin's successful visit last month, during which the US and Vietnam signed a memorandum of understanding on the legacy of the Vietnam war.
The MOU will see the US help Vietnam locate, identify and recover the remains of hundreds of thousands of Vietnamese soldiers who died during the war and are still listed as missing in action, a matter of great emotional significance to their families.
"The administration is clearly looking to quash concerns that the US doesn't take the region seriously enough, or sufficiently engage," Abuza said, though he added Washington would be a "bit naive" to place too much hope on strengthened security ties with Vietnam, given the country's avowed policy of non-alignment.
"They remain bound by their Three Noes policies," said Abuza, referring to Vietnam's prohibition against hosting foreign troops, permanent alliances, and plotting with one country against another.
"And the current government seems much more ideologically in tune with Beijing than Washington [compared with] Nguyen Xuan Phuc's government," he added, referring to the former prime minister who was relegated at this year's Party Congress to the largely ceremonial presidential role.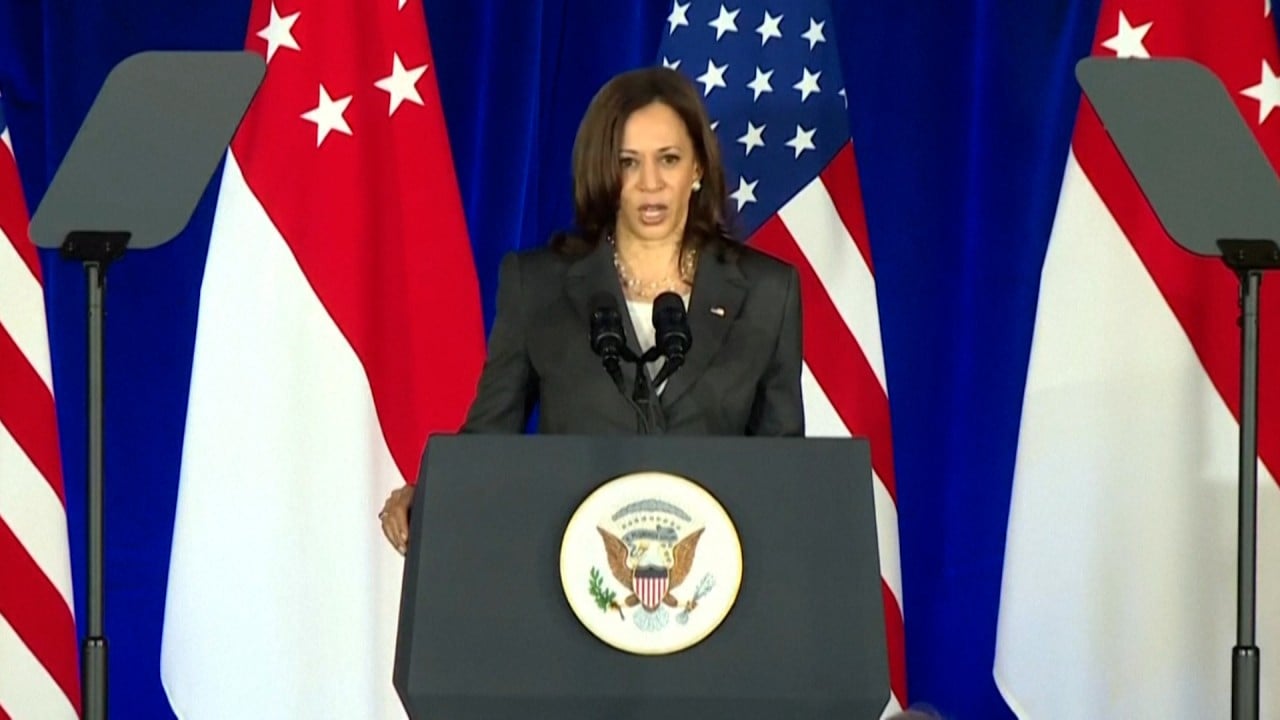 01:19
US Vice-President Kamala Harris: China continues to 'coerce' and 'intimidate' in South China Sea
US Vice-President Kamala Harris: China continues to 'coerce' and 'intimidate' in South China Sea
Broad agenda
Harris' two-day trip to Vietnam is part of a Southeast Asian diplomatic charm offensive that first took her to Singapore, where she said America's intention was not to seek "zero-sum" engagement with Asia but to support peace and stability, and added that China's territorial claims in the disputed South China Sea were a threat to regional countries.
Malaysia, Vietnam, the Philippines and Brunei dispute Beijing's expansive claim to much of the resource-rich waters, through which about US$4 trillion of trade passes annually.
China has hit out at US credibility following its withdrawal from
Afghanistan
, saying the situation has exposed the truth about "American-led rules and order" to its allies and partners, as Chinese Foreign Ministry spokesman Wang Wenbin described it on Tuesday.
Beijing also sought to assert itself ahead of Harris' arrival in Hanoi, with China's envoy to Vietnam Xiong Bo meeting Vietnamese Prime Minister Pham Minh Chinh on Tuesday after Beijing donated an additional 2 million doses of the Sinopharm vaccine to Vietnam.
During the meeting, Chinh told Xiong Vietnam would not join an alliance to confront Beijing, according to the state-run Vietnam News Agency.
Pham Quang Minh, a foreign-policy expert and former dean of the University for Social Sciences and the Humanities in Hanoi, said China's vaccine donation was part of its strategy to expand its influence in the region, but the Vietnamese people believed it came with strings attached – unlike the American donation.
For instance, after an earlier donation of vaccines, Chinese authorities requested that those jabs be prioritised for Chinese citizens, international students planning to study in China, and people living in the border area.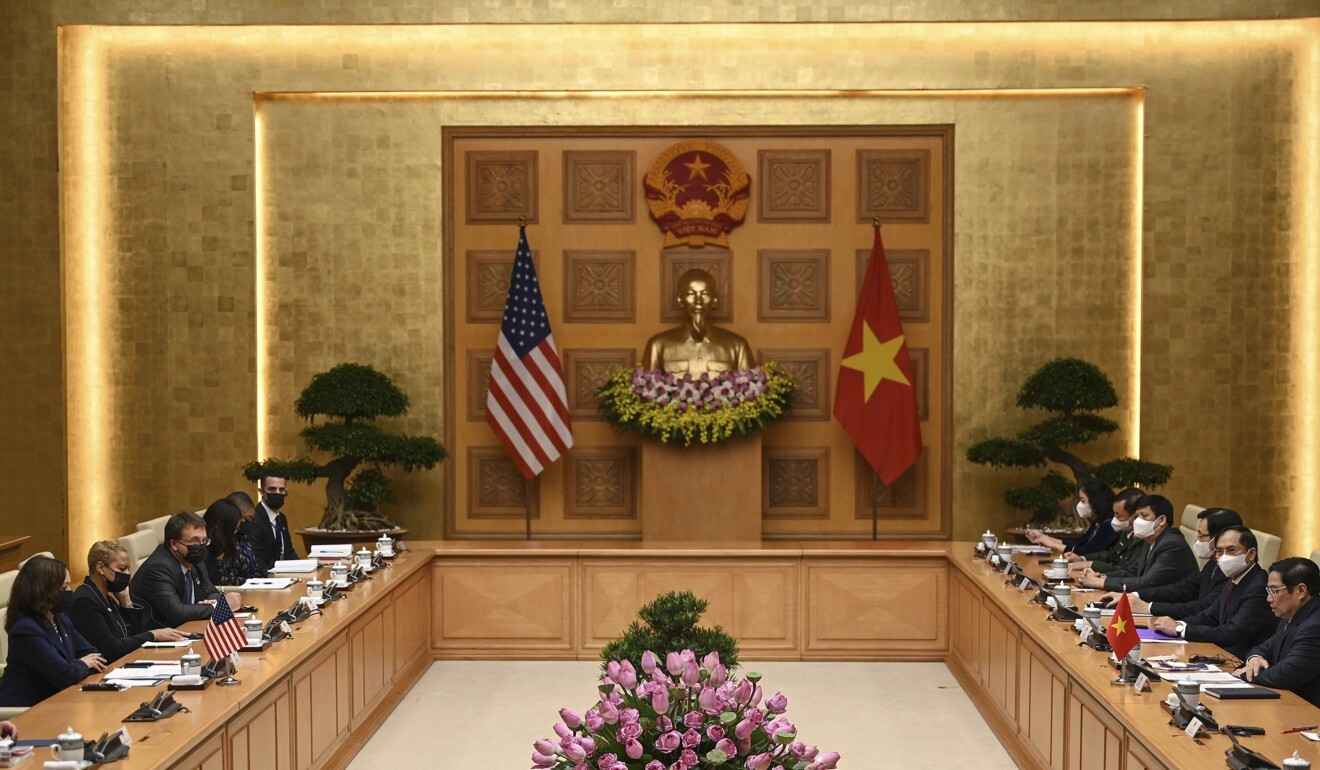 Minh pointed to the anti-Chinese sentiment that has long dogged Vietnam and China's people-to-people ties, and said US-made vaccines were more popular.
"Traditionally and historically there is no trust between the countries. Moreover, Vietnam does not trust the quality of China's vaccine when they compare it with other vaccines such as Pfizer, Moderna or AstraZeneca," he said.
Harris also met with Vietnamese business leaders on Wednesday before launching the Southeast Asia regional office for the Centers of Disease Control and Prevention.
The US also launched a five-year, US$36 million USAID project aiming to accelerate Vietnam's transition to clean energy, as well as announcing lower tariffs on American exports of corn, wheat, and pork products to Vietnam to reduce the trade deficit with the country. Harris is also expected to sign a lease for a new US embassy compound in Hanoi.
Minh, the foreign-policy expert, said Hanoi's agenda for the visit covered both "traditional and non-traditional" security and Vietnam's leaders would see the American vaccine donation as helping them with pandemic management and to maintain public trust.
"The US vice-president's visit at this time is seen by Vietnam as demonstrating the saying 'a friend in need is a friend indeed, a friend in times of trouble is a true friend'," he said.
Carl Thayer, an emeritus professor at the University of New South Wales and specialist on Vietnamese defence issues, speculated that there was also an economic component to the US vaccine deliveries. Economic activity in the export-dependent economy has been upended by military-enforced lockdowns.
"Harris' meeting with private-sector representatives will likely focus on ramping up the delivery of
Covid-19 vaccines
to ensure that Vietnam's textile, apparel, footwear and travel goods industry is able to maintain production during the current pandemic," he said.
Vietnam is America's eighth-largest trading partner, accounting for US$47.8 billion in imports in the 12 months to June.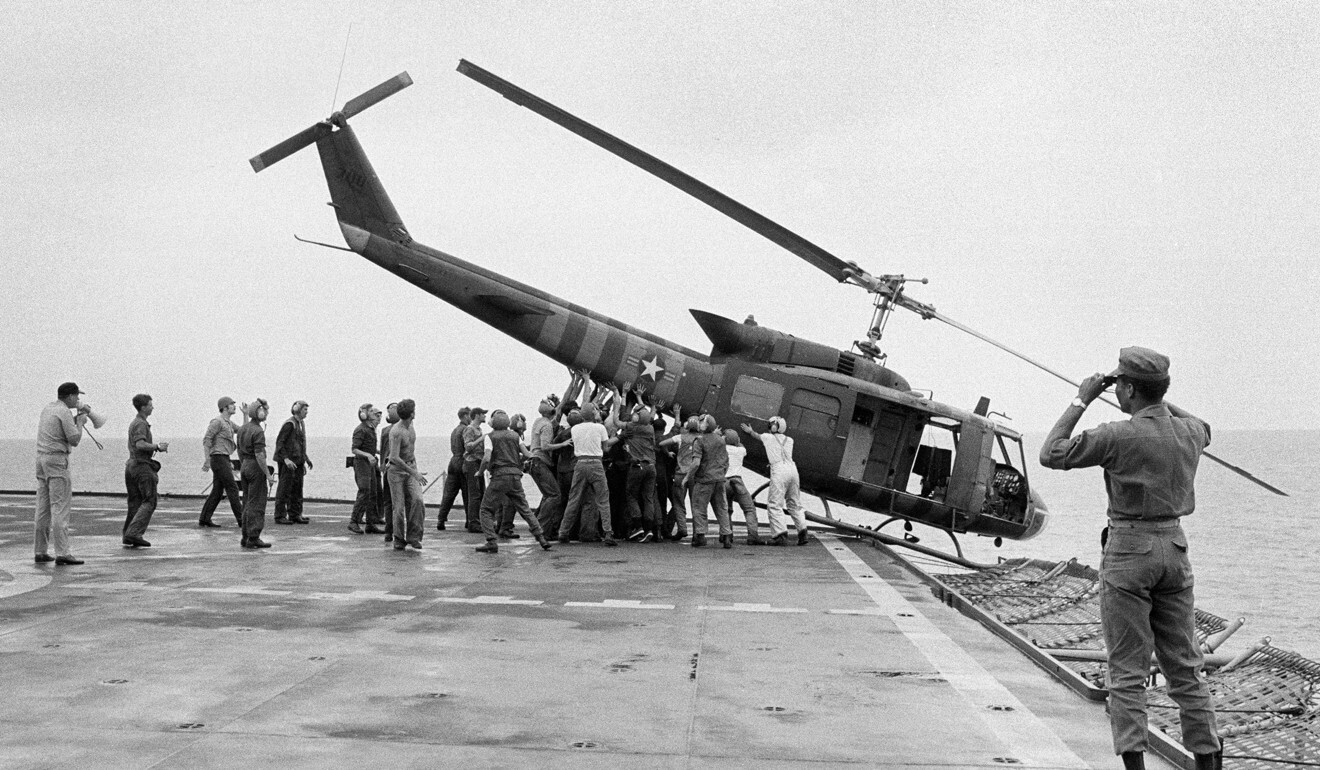 'Lame comparison'
Vice-President Harris' trip to Southeast Asia has been largely overshadowed by the withdrawal of US troops from Afghanistan, with commentators invoking similarities to the
fall of Saigon in 1975
.
But such comparisons have not featured as much in Vietnam, which is in the throes of a Covid-19 surge. Its vaccination campaign has been sluggish, with only about 2 per cent of the country's 97 million people fully inoculated so far. Vietnam currently has about 23 million vaccine doses in stock.
Foreign-policy expert Minh was 13 when the war ended, and remembers its final moments as his family and neighbours in the north celebrated their victory against the US-backed South Vietnamese government.
"The atmosphere was very joyful, listening to the radio every day to see where the liberation army was going," recalled Minh, who had spent his childhood bracing for bombing raids over North Vietnam.
However, he added that overseas commentators highlighting similarities between the wars in Vietnam and Afghanistan were making a "lame comparison".
"The US went to Vietnam during the Cold War to prevent communism, and the US went to Afghanistan after the Cold War to fight terrorism," Minh said, adding that it was wrong to compare the old anti-US resistance in Vietnam with Afghan militants.
"Politically, the North Vietnamese army received great support from the people of the world, even the American people, but the Taliban does not. The whole world is against the Taliban," he said.
Vietnamese leaders did not see any similarities, he added, nor were events in Afghanistan having an adverse impact on their view of Washington's security commitment to the Asia-Pacific.
"They follow their independent foreign policy, and history has taught them such lessons already," Minh said.
But US-based academic Hung, who once served as a deputy minister for the South Vietnamese government, said the "chaotic withdrawal" in Afghanistan provided Hanoi with reason to doubt US pledges to Southeast Asia.
"Personal and partisan interests over national interests inevitably undermine the US' prestige and ability to project power and fulfil commitments abroad," said Hung, who moved to the US before the fall of Saigon.
Additional reporting by Reuters and Bloomberg
This article appeared in the South China Morning Post print edition as: U.S. seeks strategic upgrade to ties