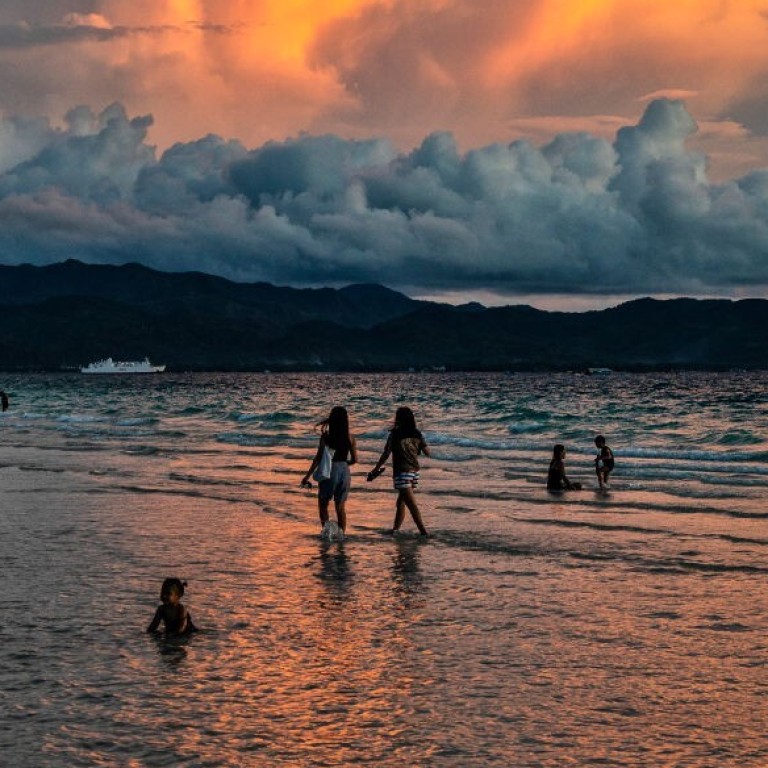 Philippines: Duterte's U-turn on Boracay casino ban slammed by environmental activists
The president has given the go-ahead for a casino on the country's top resort island to generate tax revenue for pandemic-drained government coffers
But critics of the decision say the fragile ecosystem of Boracay – which was closed for six months in 2018 for a clean-up – cannot cope with more visitors
Philippine
President
Rodrigo Duterte
's U-turn on his decision to ban casinos on the resort island of Boracay, made in a bid to generate tax revenue for the country's Covid-19 response, has been criticised by
environmental
activists and a local politician.
Nenette Aguirre Graf – a councillor in the Malay municipality of Aklan province, where Boracay is located – said residents and business owners on the island were adamantly against turning it from a "wholesome family destination" into a
casino
island, which she said would bring negative and criminal aspects.
"Is this it, after sacrificing so much?" said Graf, referring to the Duterte administration's six-month closure of the island in 2018 for environmental rehabilitation.
While the clean-up saw the loss of billions of pesos in tourism revenue, it was made on the back of reports that the sea around the island had become dangerously polluted due to the discharge of human waste directly into the water.
Graf, a former president and current board trustee of the Boracay Foundation Inc business group, pointed out that even without casinos, Boracay grossed up to 60 billion pesos (US$1.2 billion) in tourism receipts in 2019.
"Boracay is making that much money without the casino," she said. "I don't know why we have to be a casino destination."
Leon Dulce, national coordinator of the Kalikasan People's Network for the Environment, said the casino would harm the island's fragile ecosystem as it would result in a deluge of visitors to the island.
He said this was why the Department of Environment and Natural Resources (DENR) as early as 10 years ago called for a limit on the number of tourists on the island.
Dulce estimated that each large casino would attract several thousand additional daily visitors.
Graf noted that in 2018, the Boracay Inter-Agency Task Force (BIATF) headed by DENR secretary Roy Cimatu had issued guidelines on the "carrying capacity" of Boracay, based on a study undertaken by the department and the University of the Philippines.
According to the study, the island's daily carrying capacity is 54,945 people – broken down into 19,215 tourists and 35,730 non-tourists, which refer to residents, migrants and stay-in workers.
"However, the same study showed that the island's existing population of more than 70,700 had already exceeded the carrying capacity by almost 30 per cent," the task force said at the time.
The body also declared a ban on casinos and online gambling on Boracay, which Cimatu said could increase the number of visitors.
When the island was closed for six months in 2018 for rehabilitation, Graf said its resident population dropped to around 40,000 people.
Duterte has a long-standing opposition to gambling, and had halted the construction of new casinos in the Philippines, one of Asia's fastest-growing gambling markets before the pandemic. On Saturday, however, presidential spokesperson Harry Roque said the president had given the go-ahead for a casino on Boracay, without naming it or giving details as to the timing.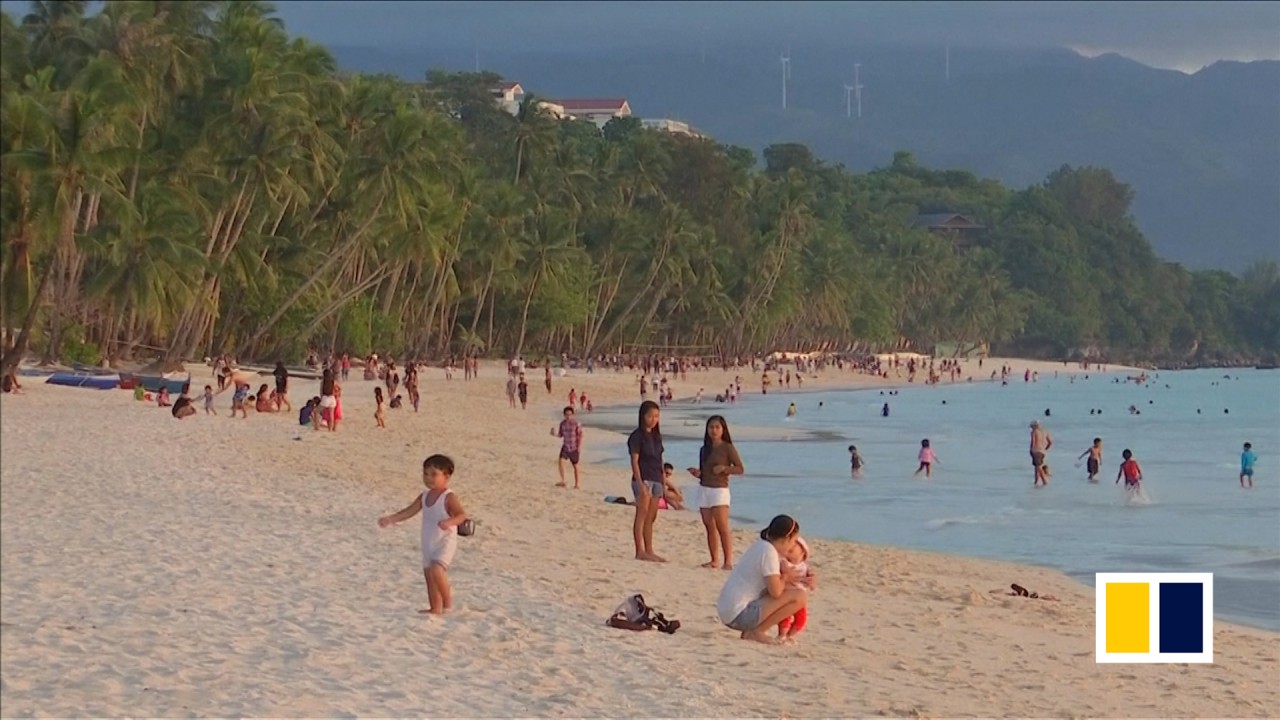 02:15
Philippines reopens holiday island Boracay after six-month clean up
Philippines reopens holiday island Boracay after six-month clean up
Strict and lengthy coronavirus lockdowns last year battered the Philippine economy and hit tax revenues. "We have no money. Wherever we can find the money, I will do it. If it's in gambling, so be it," Duterte said last week.
Andrea Domingo, chairman and CEO of the Philippine Amusement and Gaming Corporation (Pagcor), the country's gambling regulator, last Friday said Philippine offshore gaming operators (Pogos) would only contribute 4 billion pesos (US$80 million) to state coffers this year, as "more than half" had relocated to the likes of Cambodia, Laos and Vietnam since the pandemic began.
Pogos are locally based but mainly cater to gamblers in China, where the activity is illegal.
"Our income from Pogos used to reach 8 billion pesos to as much as 9 billion pesos per year, but now, in the last six months for example, we only reached 1.6 billion pesos from them," Domingo told a congressional hearing on Friday.
The Duterte government has heavily depended on gaming revenues to fund its pandemic response. Domingo said lockdowns to curb the spread of Covid-19 had reduced Pagcor's gross income for last year to 26 billion pesos, down from 82 billion pesos in 2019.
Former senator Antonio Trillanes, a vocal critic of Duterte, said this was just an excuse to open casinos in Boracay, which he had previously claimed was the reason for the 2018 clean-up.
Human rights lawyer and environmental advocate Antonio La Viña said if casinos were built there, "Boracay will die, all the sacrifices from and gains achieved in the closure [will be] gone".
No casinos currently operate on the 10 sq km island, famed for its powdery white sands, turquoise waters and lively nightlife.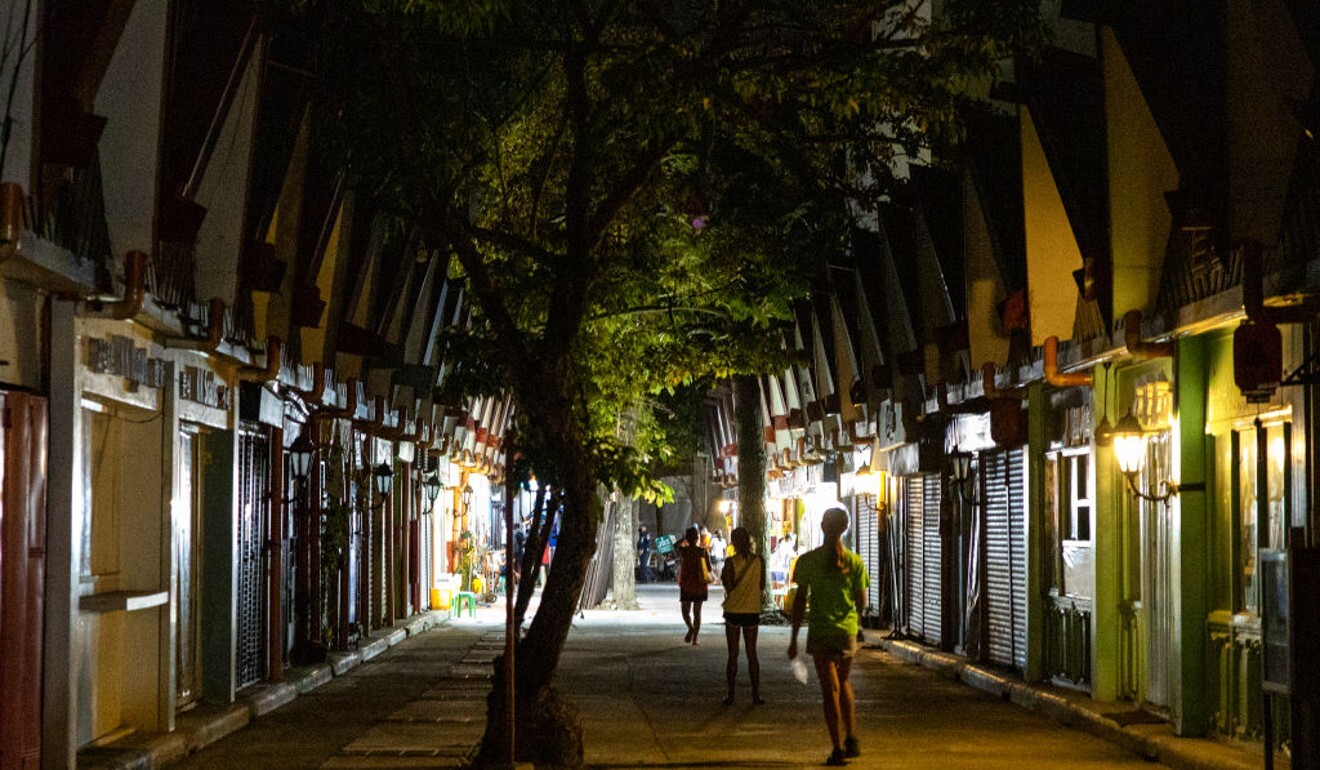 But Duterte's decision augurs well for provisional casino licence holders such as the Philippines' Alliance Global Group, and the partnership of Leisure & Resorts World Corporation and Macau's Galaxy Entertainment Group.
Alliance Global will proceed with its casino project in Boracay, where it has several hotels and a golf course, company chairman Andrew Tan said in a statement on Saturday.
Galaxy – which had a plan to build a US$500 million integrated casino resort in Boracay rejected by Duterte in 2018 – would start its operations by focusing on foreign gamblers, Pagcor president Alfredo Lim said on Saturday.
Roy Cimatu of DENR in 2018 said while the two operators had provisional licences, they still needed separate environmental impact assessments from the department. Cimatu could not be reached for comment on whether the gaming firms had been granted the required paperwork.
Ron Acoba, chief investment strategist and co-founder of Trading Edge Consultancy, which provides research to banks and brokerage firms, said even if construction of a casino took four to five years, "the government may enter into an agreement with the developer and gaming operator for an advance collection in return for a percentage of the fees in the future".
However, he said there were other factors to consider, including a casino's impact on the environment. "The downside of opening a casino that will attract 4,000 more clients of course is the fact that this will exceed the island's daily capacity for environmental sustainability."
Additional reporting by Reuters
This article appeared in the South China Morning Post print edition as: activists blast Duterte over Boracay Casinos