India
Get more with myNEWS
A personalised news feed of stories that matter to you
Learn more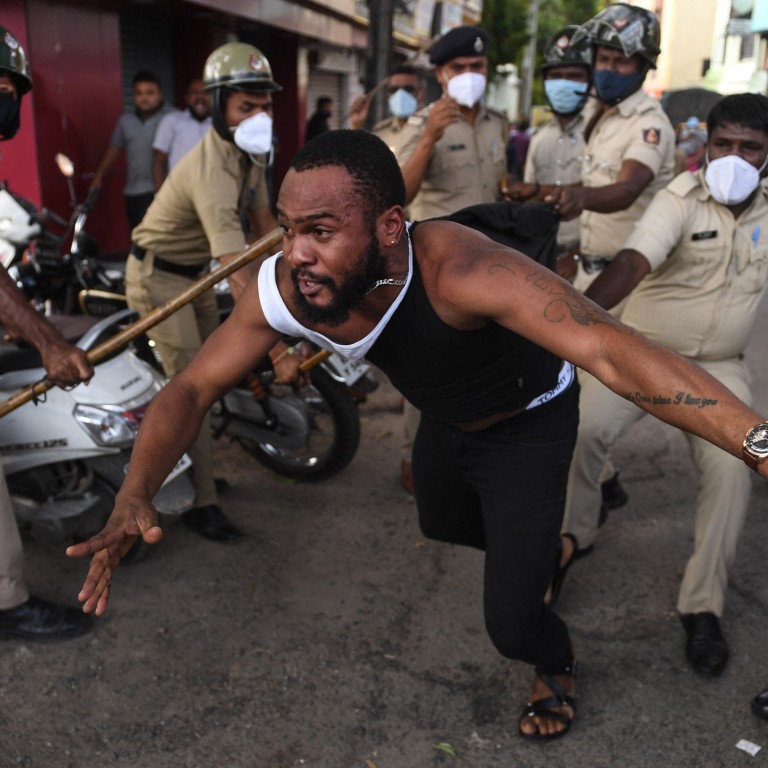 India wants African students – but they are learning that rampant prejudice awaits
A clash between students and authorities in Bengaluru last month is just the latest in a series of attacks on and alleged police brutality towards African nationals
African students in India say they face regular discrimination and harassment, and take-ups of government scholarships are declining
A Congolese man had died in police custody in the southern Indian city of Bengaluru, and his fellow students could not rest until they found out what had happened. So they gathered, two dozen of them, on August 2 at a police station in the JC Nagar neighbourhood, for a peaceful protest that saw them block traffic and chant Black Lives Matter slogans.
And that's when the scuffle broke out. Police officers clashed with the students, five of whom were arrested while at least six others were injured.
Alikali Simwange was there that day, and narrowly escaped a beating. The 24-year-old from Lubumbashi in the Democratic Republic of the Congo, who is studying for an MBA, told This Week in Asia the police response was unnecessary and created fear among the protesters.
"We wanted to see the body to check if there were any marks of physical abuse, but the police instead told us to disperse in five minutes," he said. "I tried to persuade my fellow students to leave but since everyone was very emotional they refused. Then all of a sudden the policemen started to beat up everyone."
According to the Bengaluru police, computer science student Joel Shindani Malu, 27, was arrested on suspicion of possession of banned Ecstasy pills and kept in detention because his student visa had expired, only to die of cardiac arrest. The protesters refute that claim, and have also accused the authorities of falsely detaining Malu. Police officials refused to respond to requests for comment.
The incident is just the latest in a series of alleged attacks on and police brutality towards African nationals in
India
. Some of the more recent include clashes in March with police in New Delhi after 43-year-old Nigerian Leohand Lyeanyi died after being allegedly hit by officers, while last year six college staff were arrested after beating two African students for flouting Covid-19 movement restrictions.
Like China, India's growing economy has been looking towards Africa for new markets in sectors such as oil and textiles. The South Asian nation is Africa's third-largest trade partner, behind the United States and China, and in 2017 it announced with Japan an ambitious plan to partner with African countries under the Asia Africa Growth Corridor.
However, the similarities with China also extend to the mistreatment African nationals often face.
"Africans are often typecast by Indians as drug peddlers and criminals. And this attitude isn't just limited to the general public – even the local police are
prejudiced
. If I get in a misunderstanding with a local, even if I'm not at fault, I will be blamed," said Simwange, who moved to India from the Congo six years ago.
Coming from a French-speaking country, he said he wanted to move to France or Belgium to study, but was taken by the attractive marketing campaigns run by private Indian universities.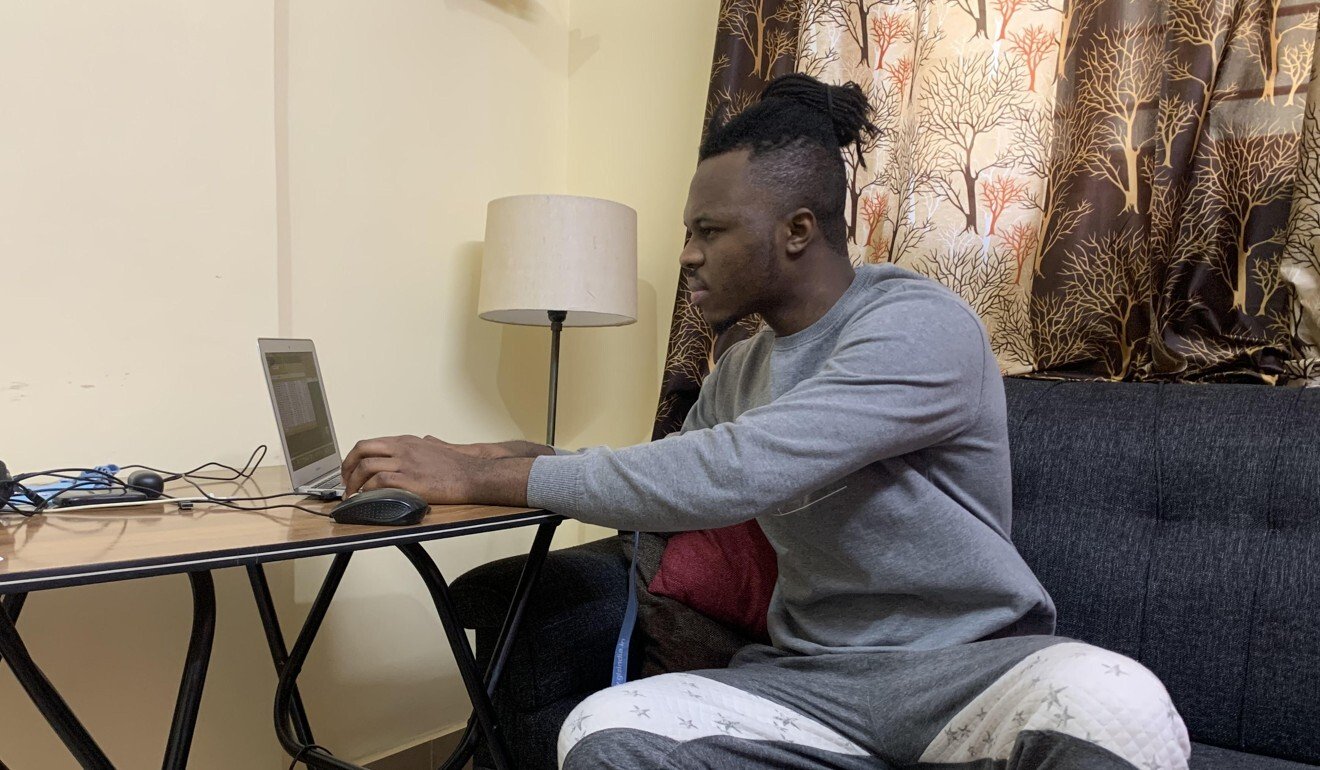 When he first arrived, Simwange said, the subtle discrimination he faced in everyday life would make him very angry. "If I would go to a restaurant and order food, I'll be the last to be served. If we are looking to rent a flat, the flat owners would just turn us away without even letting us in."
He said his professors at the private university where he studied and his Indian friends had helped him deal with such situations – but he was not sure whether he would recommend India to a fellow African student looking to pursue their education.
Abhishek Mishra, an associate fellow at the New Delhi-based Observer Research Foundation (ORF) think tank who focuses on India's and China's relationship with African countries, said racial bias was the single most important challenge faced by Africans living in India.
"With all our democratic values and internationalist outlook, the core Indian society is still overwhelmingly traditional, and stereotyping of African nationals creates difficulties. Indians are not educated about the tremendous diversity in Africa," he said.
Mishra also warned that if nothing was done beyond condemning the attacks on African nationals, the issue could turn into a political crisis for New Delhi.
"Sadly, India's engagement with Africa has been mostly government to government or business to business, there has been very little people-to-people interaction between African nationals and Indians," he said. "This needs to be addressed before we can think of partnering with African countries or overtaking China in Africa."
India has a robust higher-education infrastructure, with more than 800 universities, and is trying to position itself as a preferred destination for international students. To this end, the government has actively targeted African students with affordable education as well as scholarship packages.
From 2015 onwards, the government of India has provided around 50,000 scholarships for African students, but in recent years there has been a steady decline in take-ups due to these concerns.
Bosco Kaweesi, president of the Pan-African Federation and Student Union, said the cases of mistreatment and discrimination faced by Africans in India had created a negative perception among students, prospective and otherwise.
"Many African students who come to India want to leave immediately after being disillusioned with the college atmosphere and discrimination they face on a daily basis," he said.
Tryphine, who requested to be referred to by her first name, is from the Zimbabwean capital of Harare and has been in India for almost six years. After completing her bachelor's degree in economics, the 27-year-old is now pursuing an MBA in marketing in Bengaluru. She says she loves the city, but as an African, discrimination in one form or the other is almost unavoidable.
"When, as an African woman, I'm walking down the streets alone, people will assume I'm a prostitute. They would come up to me and ask how much I would charge. If there is an African boy, he'll just as quickly be labelled a drug dealer," Tryphine said.
She said the Indian government needed to create laws against discrimination and educate its people about different cultures if it wanted to attract African nationals for business and educational opportunities, adding that she believed it was a systemic problem.
Tryphine's exchanges with local authorities have also been disappointing. "It was in 2017. I was going to meet a friend and I got lost. The driver started to ask for more money. There was a police vehicle nearby so I approached them for help. But they refused to even talk to me. It was late and I was alone. I think they assumed I was a sex worker."
Even though her time in India has been full of ups and downs, Tryphine's younger sister is coming to India to pursue her education. "As African she will face racism everywhere. If I tell her to go to the UK, she will have to face it in some way depending on what kind of crowd she hangs around with. Here, at least, I will be there to help her in tough situations," she said.
This article appeared in the South China Morning Post print edition as: African students learn about police brutality and prejudice