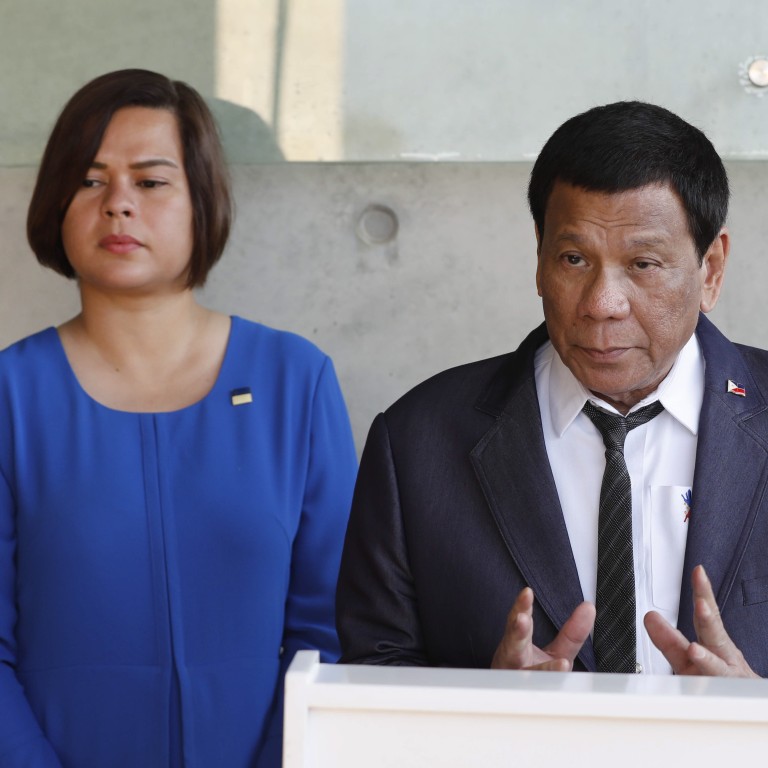 Philippine presidential race: Sara Duterte's momentum builds as Bong Go declines nomination
Panfilo Lacson has confirmed he's running, but Leni Robredo, Manny Pacquiao, Richard Gordon, Cynthia Villar, and Ramon Ang could too
President Rodrigo Duterte is seen to be positioning his daughter for the top job – but Manny Pacquiao is not done with fighting him
Barely a month before
Philippine
politicians must serve notice if they are to stand in next year's presidential election, only one candidate has officially thrown his hat into the ring – and even he is a rank outsider.
Senator Panfilo Lacson announced this week that he would run as an independent candidate, with Senate President Vicente Sotto III as his running mate, but without the backing of a party it is seen as highly unlikely they will be voted into power.
And that, according to pundits, plays into the hands of Sara Duterte, the daughter of the sitting president
Rodrigo Duterte
, who is her father's only hope of extending the family's presidential dynasty as the rules limit Philippine presidents to one term of six years. Duterte senior will instead stand as vice-president.
Sara is one of just four to have even coyly said they might run for president: the others are Vice-President Leni Robredo, and Senators Manny Pacquiao and Richard Gordon.
Another politician, Senator Cynthia Villar, who topped the 2019 senatorial race, is also widely perceived to be interested; while billionaire businessman Ramon Ang, president of San Miguel Corporation, is being pressured by fellow businessmen to also run, political analyst Ramon Casiple confirmed on Friday.
Ang is also the head of the Nationalist People's Coalition Party once chaired by the late business tycoon Eduardo Cojuangco.
But Sara Duterte's bid for the presidency is where all the intrigue is, particularly as it has become unclear whether the man long assumed to be her father's running mate, Senator "Bong" Go, has really dropped out.
Political watchers are also waiting to see whether the Marcos family will be represented, with speculation that Senator Ferdinand "Bongbong" Marcos Jnr could run as Sara's deputy or for president, too.
The lack of official entrants so far is a far cry from previous races. Because of the country's multiparty system, there was a five-way race in 2016 and a nine-way race in 2010.
Casiple calls this new phenomenon of feigned reluctance "the Binay effect", named after former vice-president Jejomar Binay. who had publicly declared his intention to run for the highest post early on, thinking it would defuse corruption allegations against him long before the 2016 elections.
Instead, the strategy backfired and he faced "a typhoon of criticisms" and accusations that caused his campaign to sink.
"That's why the tendency now by most candidates for the presidency is to wait until the last minute to declare they are running and meanwhile prepare their machinery and money," said Casiple, executive director of the Institute for Political and Electoral Reform and co-founder of the sociopolitical risk consultancy group Novo Trends.
"What is actually happening now is that the process of choosing candidates is still ongoing among political parties and families. They are still negotiating," he said, referring to both the opposition and administration political parties talking to each other about forming coalitions and deciding who would run for president and vice-president.
Both Sara Duterte and Vice-President Robredo have confirmed to reporters they have been talking to potential running mates.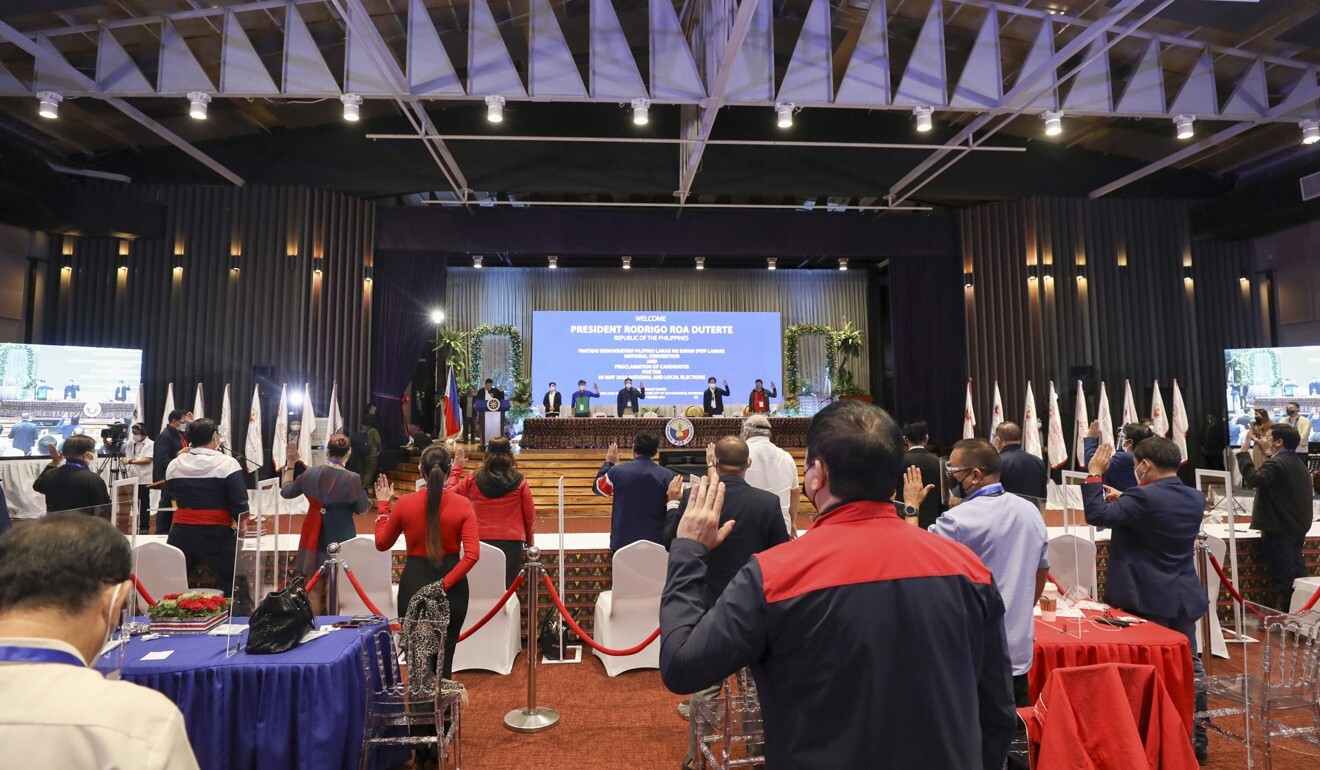 'Is it ambition? Maybe'
As for President Duterte, he is widely perceived to be positioning his daughter to run for president.
On Wednesday, Duterte accepted the nomination to run as vice-president for a faction of the PDP-Laban Party, while his assumed running mate Go declined the nomination to run for president.
In his acceptance speech, Duterte said: "You know why I'm running for the vice-presidency? Is it ambition? Maybe. But is it really a sense of love of country? Yes … Yes, because I want to see the continuity of my efforts even though I may not be the one giving the direction."
Under the Philippine constitution, a vice-president's only official role is to be a spare tyre for the presidency.
Duterte also earlier told partymates that he was running for the position to evade any attempt by the International Criminal Court to have him arrested should it find enough evidence to prosecute him for extrajudicial killings. But under the 1987 Constitution, immunity from criminal prosecution is not guaranteed for the vice-president, unlike the president.
The day after Duterte's acceptance, Sara sent a text message to reporters saying: "I am not running for a national position as we both agreed only one of us would run for a national position in 2022."
The opposition Akbayan Party made fun of both father and daughter, saying: "Enough of the drama already! This is a badly written telenovela which has already run its course." It also urged voters to ensure that 2022 would be their "last and final season".
Ron Munsayac, spokesman for the PDP-Laban faction backing Pacquiao to run for president, called Duterte's moves "scripted" and intended "in support of another candidate whom we will not name".
Duterte's play
Perceptions that Sara is Duterte's real presidential candidate are growing. Two weeks ago, presidential spokesman Harry Roque quoted Duterte as saying: "Should Sara decide to run, Bong Go is out [of running for the presidency]. For my part, out of delicadeza, the two of us can't run, [so] if she runs, I'm also out."
Casiple noted this was the same play that Duterte used in 2016 when he initially filed his candidacy for Davao City mayor that October, while someone named Martin Diño filed his candidacy to run for president under PDP-Laban.
On November 27, however, Diño backed out of the presidential race and Duterte replaced him on the ballot.
"He [Duterte] enjoys such plays where he sets up both foes and friends alike because he wants something to happen," said Casiple, who revealed he had been consulted by Duterte over his daughter's possible presidential run.
Casiple added that Duterte wanted Sara to run, but she did not want to join PDP-Laban as she preferred to run in a coalition of parties.
"That's why now she has been saying there are five political parties that might join together and physically provide her with a base, not only PDP-Laban," Casiple said.
Given what Duterte did in 2016, the Philippine electorate is likely to wait until late November before knowing who the actual presidential candidates are.
However, there is still a hurdle to Duterte's play. Senator Pacquiao is not done with fighting him. Next week, Pacquiao's PDP-Laban faction will officially nominate him for president.
Since only one PDP-Laban Party can be recognised, the Commission on Elections will have to resolve which faction would have that distinction.