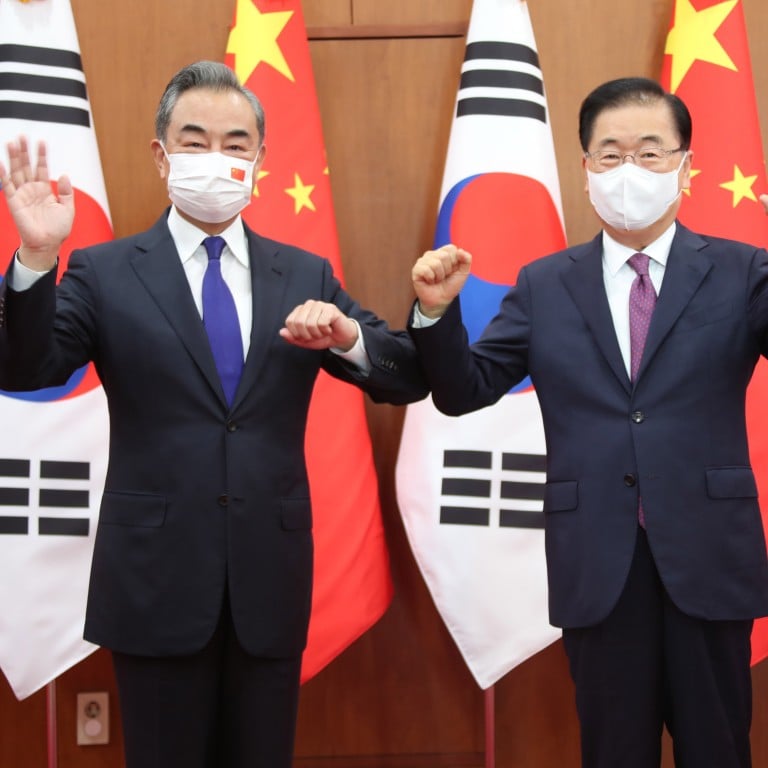 China's Wang Yi slams US move for South Korea to join 'outdated' Five Eyes alliance
Wang told his South Korean counterpart Chung Eui-yong that Seoul and Beijing are 'partners that can't part ways', on his last stop of a four-nation Asian tour
South Korea has become increasingly important in the US-China competition for influence and Seoul sees Beijing as essential in the bid to denuclearise North Korea
Chinese
Foreign Minister Wang Yi on Wednesday lashed out at the idea of expanding the US-led Five Eyes intelligence alliance to include
South Korea
, berating it as an "outdated" by-product of the Cold War era.
Wang made the remarks after his talks with South Korean Foreign Minister Chung Eui-yong in Seoul, and as a draft US House bill calls on President
Joe Biden
's administration to consider expanding the alliance that comprises the
United States
, Australia, Britain, Canada and New Zealand.
Wang called for strengthened ties between China and South Korea, saying they are "close neighbours that cannot relocate themselves and partners that can't part ways with each other", especially as the world undergoes major changes exacerbated by the Covid-19 pandemic.
"We, together, have played active roles as guardians of peace, stability and facilitators for development and prosperity," said Wang, who is on the fourth leg of his Asian tour that also took him to Vietnam, Cambodia and Singapore.
The visit comes amid mounting rivalry between
China and the US
, with Beijing seen as trying to assert its influence following high-profile trips to the region by US Vice-President Kamala Harris and Deputy State Secretary Wendy Sherman in recent months. Fresh from its recent exit from Afghanistan that freed up resources including military assets, Washington is also rallying allies as it seeks to counter a rising China.
Kim Heung-kyu, a professor of political science at Aju University in Suwon City near Seoul, said Wang's visit to Seoul highlights South Korea's growing importance as a "lynch pin" in the US-led defence networks in the Asia Pacific region, backed by its growing military power and technical prowess, especially in semiconductor manufacturing.
"South Korea has never been so important for both China and the United States. If China succeeds in persuading Seoul to keep a discreet distance from the expanding anti-China defence alliance in the region, it would be a significant achievement for Beijing," he said.
"We're witnessing a great political chess game by the two superpowers being unfurled on the Korean peninsula and in the Asia-Pacific region and it is quite important for South Korea how to position itself."
For South Korea, the best scenario would be to make progress in defusing tensions over the North's nuclear development and improve relations with it by taking advantage of the 2022 Beijing Winter Olympics where President Moon Jae-in could meet the North Korean leader, he said.
"Kim Jong-un, however, would demand handsome gifts from both China and South Korea" such as massive aid, the professor said.
Lee Seong-hyon, a former senior researcher at the Sejong Institute, said Biden had made it clear that he would focus on countering China and strengthening the alliance with Japan and South Korea in Northeast Asia following the US withdrawal from Afghanistan.
"The US government is also reportedly seeking to include South Korea and Japan in the intelligence-sharing alliance known as Five Eyes. Wang's visit comes against these backgrounds," he said.
"Broadly speaking, Wang Yi's visit to Seoul is aimed at breaking through the US-led encirclement by working on what is presumed to be a weak link in the US alliance in the region – South Korea," he said.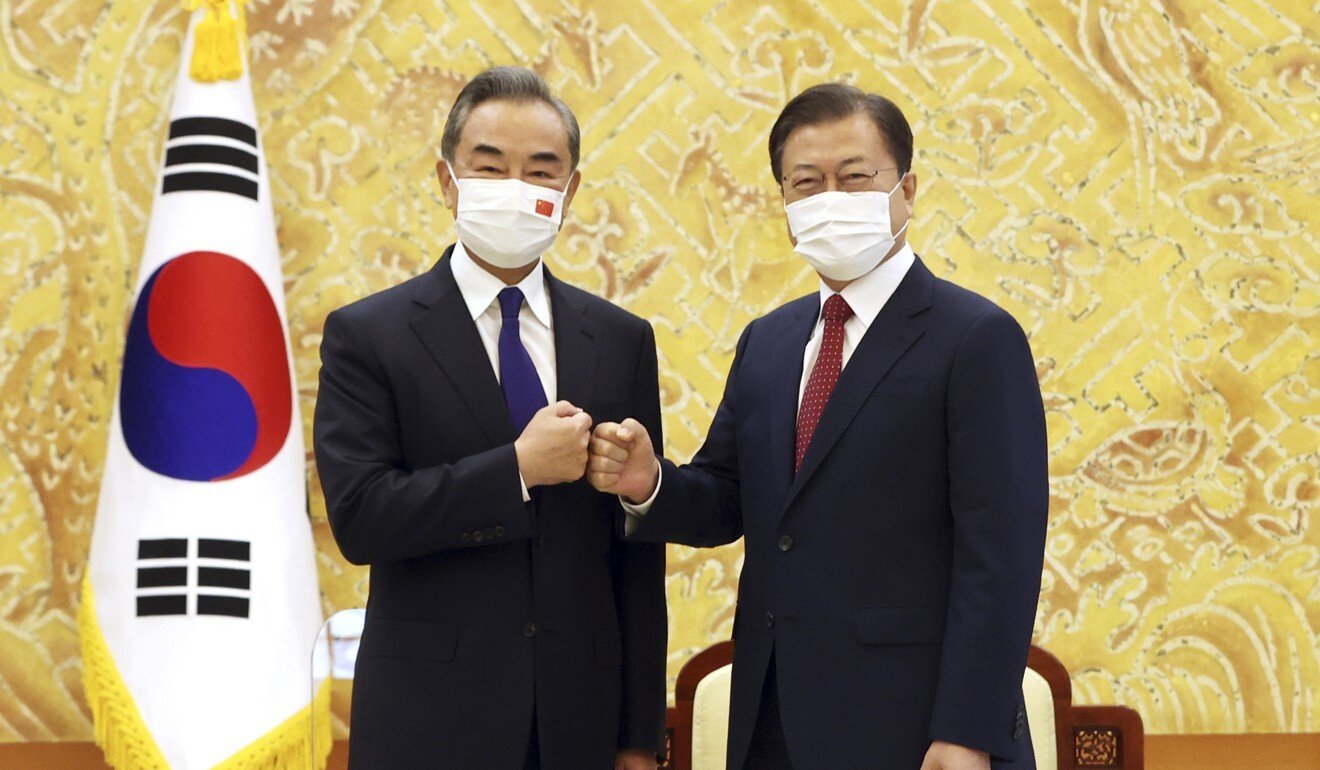 North Korea
Asked to comment on
North Korea
's recent cruise missile launches, Wang voiced hope for "peace and stability" on the Korean peninsula.
"For example, not only the North, but also other countries are engaging in military activities. Having said this, we all have to work together toward the resumption of dialogue," he said.
As the talks took place, the North fired another projectile into the sea, according to South Korea's military.
Chung said China is a core partner for the shared goal of the denuclearisation of the Korean peninsula and the establishment of lasting peace, and called on Beijing to continue supporting Seoul's peace initiative.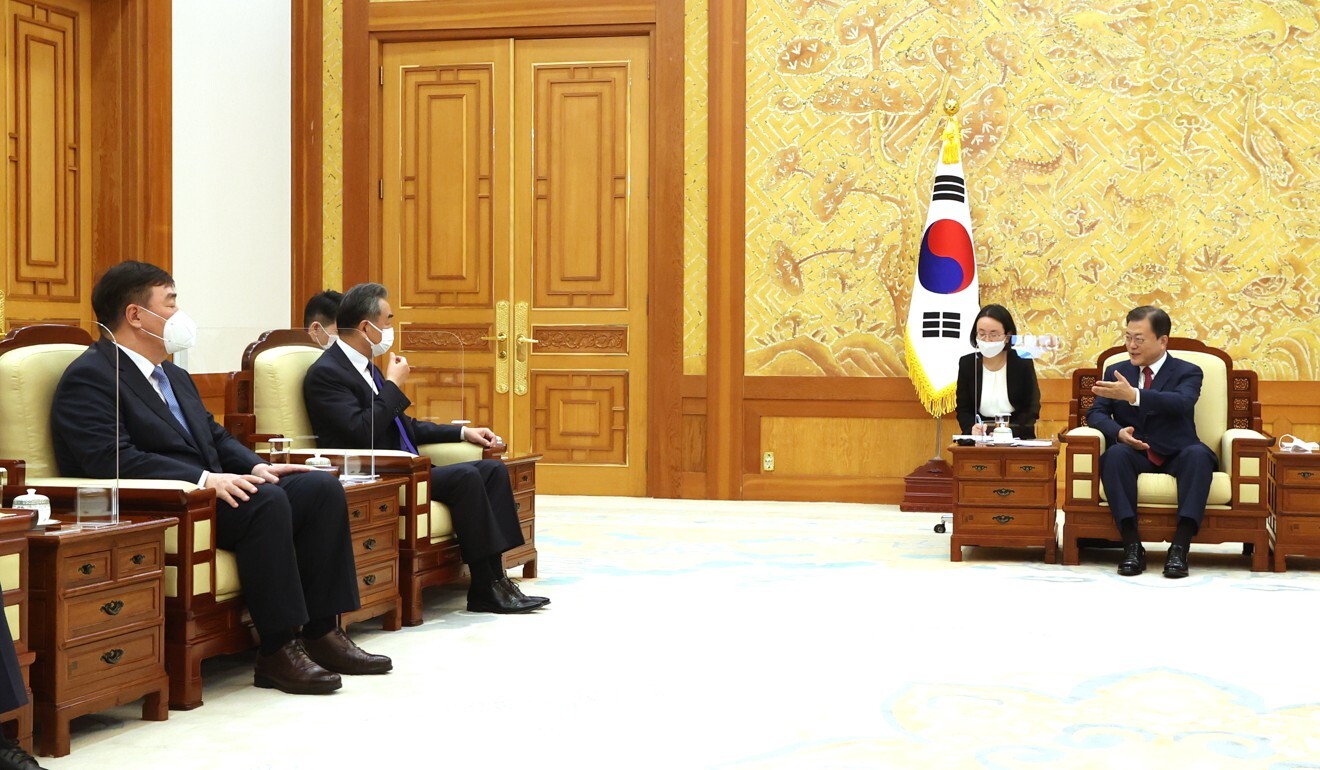 Wang later met President Moon, who expressed hope that the two countries further develop their relationship as they celebrate the 30th anniversary of diplomatic ties next year. Moon said South Korea supports China's hosting of the Beijing Winter Olympics in February.
Wang said Beijing and Seoul had respected each other's choice for development, matters of key interest, culture and national sentiments, a tradition which he said should continue. He pledged China's support for more peaceful and stable relations on the Korean peninsula.
Meeting in Tokyo on Tuesday, senior diplomats from Japan, the United States and South Korea urged North Korea to return to talks over its missile and nuclear development.
US envoy Sung Kim said the three countries were open to diplomacy with North Korea "to make tangible progress that increases the security of the United States and our allies". He urged North Korea to "respond positively to our multiple offers to meet without preconditions".
Washington and its allies will continue to work to fully implement all UN Security Council resolutions in addressing North Korea's missile development, he added.
Former US president Donald Trump held three meetings with North Korean leader Kim Jong-un but without progress on the US demand that North Korea gives up its nuclear and missile programmes in exchange for sanctions relief.
The Biden administration has said it would explore diplomacy to achieve the goal of the complete denuclearisation of North Korea but would not seek a grand bargain with Kim.
North Korea has said it sees no sign of policy changes from the United States, citing issues such as sanctions as well as joint US-South Korean military exercises, which it says are preparations for war against it.
Additional reporting by Associated Press and Reuters
This article appeared in the South China Morning Post print edition as: Wang slams US proposal for South Korea to join Five Eyes