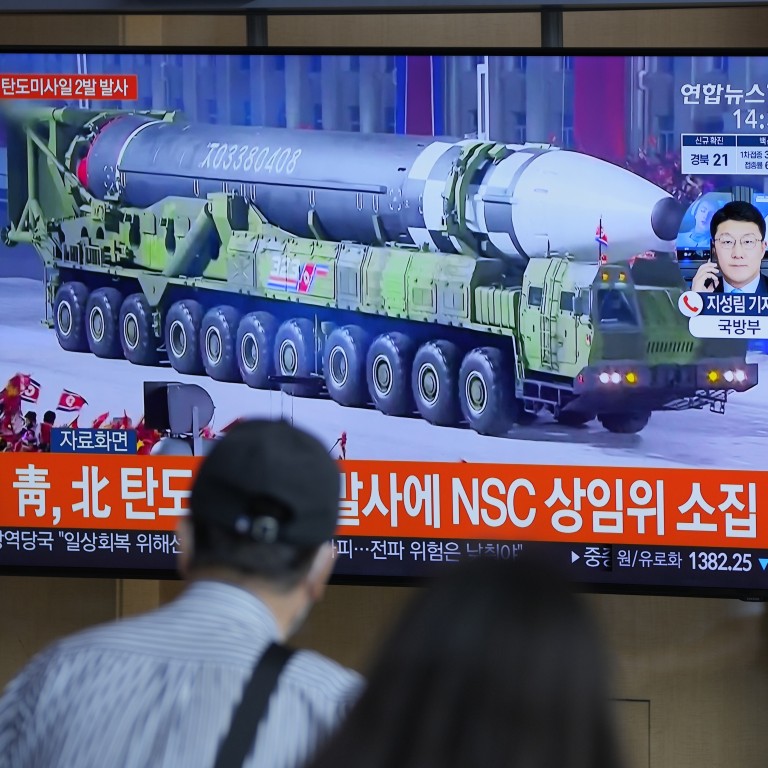 With few options to rein in North Korea, missile launches won't stop: analysts
The missile launches this week highlight that beyond sanctions and censure, there are limited options to break up its nuclear arms programme
With China and Russia on the UN Security Council unlikely to pass new punitive measures against North Korea, the US and its allies need a set of coordinated plans to deter the Kim regime, experts say
North Korea's second round of missile launches in several days has brought into sharp relief the limited policy options for reining in weapons programmes that are considered among the region's most pressing security concerns.
Pyongyang on Wednesday fired two short-range ballistic missiles into the Sea of Japan, or East Sea, in a potent reminder of the regime's determination to advance its nuclear and missile capabilities amid stalled denuclearisation talks.
Kim Jong-ha, dean of the Graduate School of National Defence and Strategy at Hannam University in Daejeon, South Korea, said regional partners had few options available to respond to the North apart from sanctions and censure.
"I think
North Korea
will continue to launch missiles in the future to attract the US, Korea and Japan's attention," he said.
Pyongyang would be unlikely to change its stance without major pressure from Beijing, its main trading partner and ally, Kim added.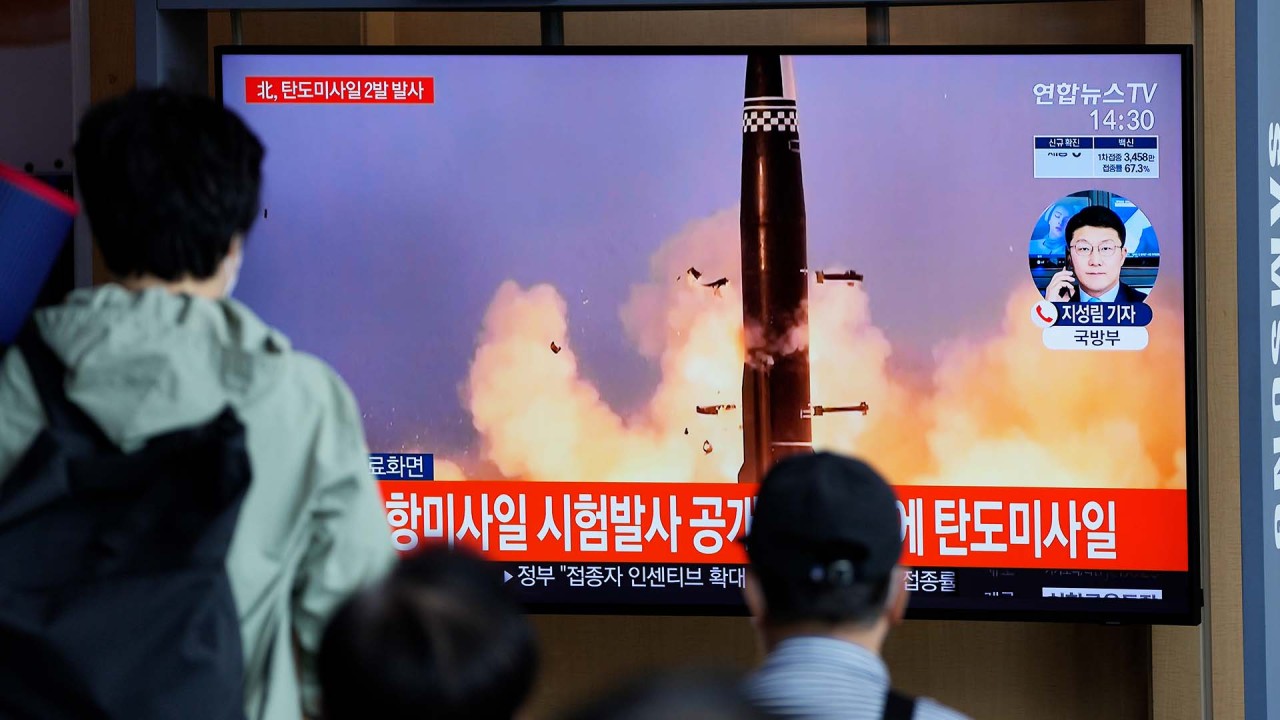 01:25
North and South Korea test fire ballistic missiles hours apart
North and South Korea test fire ballistic missiles hours apart
Uk Yang, an adviser to South Korea's Ministry of National Defence, said sanctions were the "only leverage" available to bring the North back to negotiations, but admitted Pyongyang had "no intention" of disarming.
"I have to admit I cannot see any real strategy or even effort on the Americans' part to deal with the North Korean nuke situation," Yang said. "And the US has reached this point by doing practically nothing."
Despite banning ballistic missile launches by the North, the UN Security Council is unlikely to pass additional punitive measures against Pyongyang. China and Russia, both veto-wielding members, enjoy relatively warm relations with North Korea and have lobbied to ease existing sanctions against the Kim Jong-un regime.
Washington, Tokyo and Seoul have, however, at various times imposed or strengthened their own sanctions against Pyongyang independent of the UN. The three governments have yet to signal whether they could take further measures in response to the North's latest launches, the first involving ballistic missiles since March.
During a visit to Seoul on Wednesday, Chinese Foreign Minister Wang Yi voiced hope that all countries would work towards "peace and stability" on the Korean peninsula and the resumption of dialogue but refrained from directly criticising Pyongyang.
"For example, not only the North, but also other countries are engaging in military activities," Wang said.
Despite numerous rounds of international sanctions, Pyongyang has made rapid progress in developing its weapons programmes, carrying out six nuclear tests and several intercontinental ballistic missile launches since 2006.
Although the full extent of the North's weapons capabilities are unclear, a UN Security Council report published last year found that numerous countries believed Pyongyang had "probably developed nuclear devices to fit into the warheads of its ballistic missiles".
Denuclearisation talks have been on ice since the collapse of the Hanoi summit between former US President Donald Trump and Kim Jong-un in 2019. Repeated offers of dialogue without preconditions by the Biden administration, which has called for a "calibrated" approach to denuclearisation, have gone unanswered by Pyongyang.
Soo Kim, a policy analyst at the Santa Monica-based RAND Corporation, said the Biden administration had limited bandwidth to deal with Pyongyang given numerous other domestic and foreign policy challenges.
"In some ways, I think we have already accepted the 'status quo' on North Korea," Soo Kim said. "Much of our handling of North Korea seems to be dictated by the Kim regime. In short, the ball generally remains in Kim's court, and the US and South Korea appear to be darting back and forth on the court to avoid getting hit by the ball."
Seoul's outreach efforts to the North have also made little headway since South Korean President Moon Jae-in's pro-rapprochement agenda culminated in three face-to-face summits with Kim in 2018.
Ryo Hinata-Yamaguchi, a University of Tokyo academic and the author of the book, Defence Planning and Readiness of North Korea, said it would be difficult to coax Pyongyang back to talks after the collapse of previous outreach efforts.
"It has been clear from the beginning that North Korea is not going to slow its weapons programme let alone disarm," Hinata-Yamaguchi said.
"The problem is that North Korea has set the dialogue and promises made with the US and South Korea in 2018 as the new baseline, meaning that anything below it is unacceptable. Thus it's hard to find any possible avenues for sustainable dialogue, let alone North Korea's disarmament."
The latest missile launches came as China's Wang was visiting Seoul for talks with Moon and South Korean Foreign Minister Chung Eui-yong, and coincided with the South Korean military's test of a new indigenous submarine-launched ballistic missile.
The missiles travelled about 800km before landing in the sea, according to South Korea's Joint Chiefs of Staff.
The launches also came a day after nuclear envoys from the US, South Korea and Japan called on Pyongyang to return to dialogue after meeting in Tokyo to discuss the fallout of separate missile launches over the weekend.
On Monday, North Korean state media reported authorities had successfully tested a new kind of long-range cruise missile that analysts believe could potentially be capable of carrying a nuclear warhead.
Leif-Eric Easley, a professor at Ewha Womans University in Seoul who specialises in security and international relations, said that in spite of the limited room for international cooperation, the US and its allies South Korea and Japan could still work together to exert greater pressure on Pyongyang.
"South Korea can bury the hatchet with Japan and increase intelligence-sharing and missile defence cooperation," Easley said.
"The Biden administration can restore military exercises with allies in Asia that had been scaled back during the pandemic. Even if China and Russia block action at the UN Security Council, the US and like-minded countries can improve sanctions enforcement and designate new violators, including Chinese firms," he said.
Hinata-Yamaguchi, the University of Tokyo academic, said Pyongyang's behaviour called for greater cooperation between regional partners.
"The prescriptions are clear – the US, Japan, South Korea and other like-minded states need to formulate and execute a coordinated set of strong strategies and sharper readiness to deter and defend against the North Korean threat," he said.
"The problem is that the momentum for trilateral coordination has been slow, particularly as South Korea is reluctant to go too hardline against the North, and the bilateral relations between Seoul and Tokyo are at a low point."
This article appeared in the South China Morning Post print edition as: endingdisarming missile testBeijing pressure key to stopping missile launches