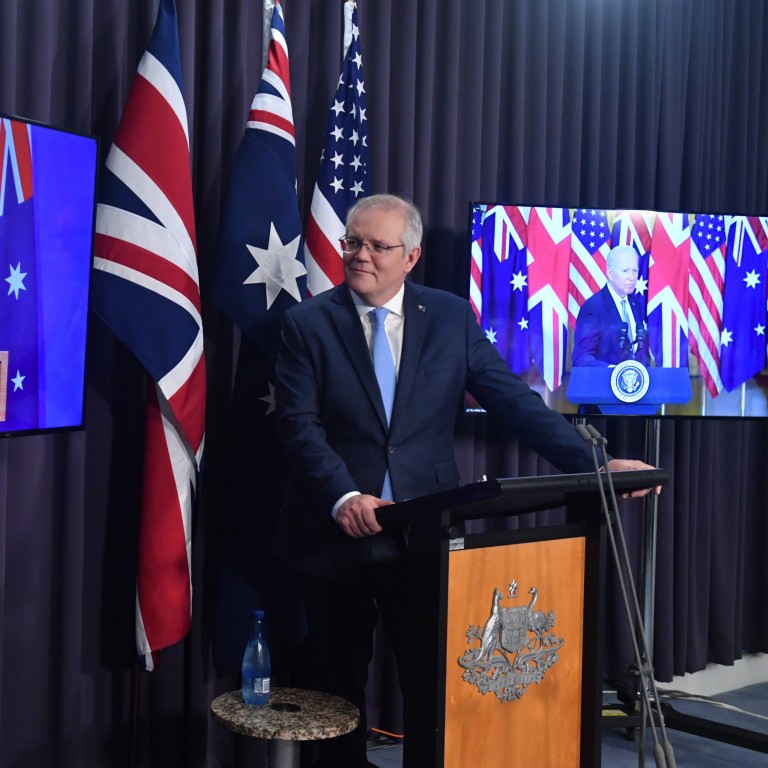 US allies' move on nuclear submarines for Australia a boost to region's hard power, analysts say
Australia is set to build eight submarines using sensitive nuclear technology from the US and Britain, in an agreement largely welcomed within the region
The AUKUS pact is seen as giving teeth to existing accords that critics previously said did not reflect the changing balance of power in the Indo-Pacific
Australia's plan to build eight nuclear-powered submarines under
an Indo-Pacific security pact
with the United States and Britain has delivered a jolt to the regional security status quo, analysts said, reinforcing hard power capabilities missing from existing agreements.
It is also likely to prompt calls to give greater force to existing defence alliances and security groupings that critics have described as having ambiguous functions and aims that do not reflect the changing balance of power in the region.
These could include groupings such as the Quad, the Five Eyes intelligence-sharing alliance and the long-standing Five Power Defence Arrangements (FPDA), a Southeast Asian-Anglosphere grouping nicknamed the "durian pact" for its geographical focus and unusual character.
"This is a surprising and extremely welcome sign of the Biden administration's willingness to empower close allies like Australia through the provision of highly advanced defence technology assistance – something that Washington has rarely been willing to do," said Ashley Townshend, director of Foreign Policy and Defence at the United States Studies Centre at the University of Sydney. "It suggests a new and more strategic approach to working collectively with allies on Indo-Pacific defence priorities."
Wu Shang-Su, a research fellow at S. Rajaratnam School of International Studies in Singapore, described the development as "remarkable" politically and militarily.
"Militarily, the large territory and location create the demand for Canberra's underwater fleet to travel fast without the limitation of fuel and battery," Wu said. "Nuclear power is the most available technology to enhance the Australian submarine fleet. The submarines will endow Canberra longer military presences overseas and faster response capacity and capability."
"We have entered, no doubt a new era, with new challenges for Australia and for our partners and friends and countries right across our region," Morrison said, describing the end of a "relatively benign environment" for his country's security.
John Blaxland, a former intelligence officer and professor at the Strategic and Defence Studies Centre at the Australian National University, said Australia had been shaken out of complacency about its security due to China's expanding military capabilities and "unsettling" declarations of intent.
"The scale of the challenges has kind of hit the government between the eyes," Blaxland said. "They realise that the kind of relaxed 'Sunday in the afternoon, picnic in the park' approach to defence procurement of old isn't going to cut it in the face of fairly acerbic Chinese sanctions and Wolf Warrior diplomacy that speaks of much more aggressive posturing by China."
Australia's new subs
Under the first AUKUS initiative, the US and Britain will transfer sensitive nuclear technology to Australia, which does not possess nuclear weapons or a domestic nuclear power industry. The plan, which will supply Australia with nuclear-propulsion technology but not weapons, marks a major shift from US reluctance to share nuclear know-how out of non-proliferation concerns.
The deal means Canberra will scrap a long-delayed US$90 billion project to build 12 French-designed diesel-powered submarines in Adelaide, a decision that has angered France as Australian leaders reconfirmed the deal two weeks ago.
Beijing has embarked on a major military build-up in the strategic waterway, where its expansive claims have caused friction with Southeast Asian nations and Taiwan.
In 2019, a report by the United States Studies Centre at the University of Sydney warned China would be able to cripple the US military bases and naval fleet in the Pacific with hi-tech ballistic missiles within the first hours of a conflict.
As of 2019, the US operated 69 nuclear-powered submarines, while the Pentagon last year estimated China had six nuclear-powered subs and 46 diesel craft, with that number projected to increase significantly in the next decade.
Apart from the US and China, India, Britain and Russia and France also operate nuclear-powered submarines.
Australia will also increase its long-range strike capabilities under the partnership, acquiring US-made Tomahawk and other missiles, and enhance cooperation in areas such as cyber capabilities and artificial intelligence.
Matt Pottinger, who served as deputy national security adviser to former US president Donald Trump administration, said underwater warfare capabilities had been Beijing's "Achilles' heel". Pottinger said a nuclear-powered submarine fleet would allow Australia to conduct longer patrols, giving the new alliance a stronger presence in the region.
The region reacts
The trilateral AUKUS pact has largely been welcomed within the region. Arun Prakash, a former chief of naval staff in the Indian Navy, said the development could add "substance" to the Quad, the loosely defined security dialogue involving the US, India, Japan and Australia.
"Everywhere China is getting its way," Prakash said. "They don't seem to listen to reason. There are talks going on, negotiations going on but they are all fruitless. So I think it was about time that there was a show of spine and a show of resolve by all the other countries, which are suffering from China's aggressive posture. Of all the countries India is actually the worst sufferer."
Prakash said New Delhi would welcome Australia's increased capabilities, but would also question why Washington had not shared similar technical know-how with India, a traditionally non-aligned power.
India, which is embroiled in an ongoing border dispute with China that has at times turned violent, operates two nuclear-powered submarines based on Russian technology, as well as 14 diesel-powered craft.
"On their own, other than the US, none of the Quad members can stand up against China," Prakash said. "But if they get together, possibly they can bolster their own position, whether it's in negotiations or geopolitical signalling, power balancing."
Blaxland said Japan, which has a well-established nuclear power industry, could be next to seek nuclear-powered vessels, while Southeast Asian countries that have maritime disputes with Beijing would be quietly pleased to see Australia expand its capabilities.
"They might be a little bit miffed if they weren't advised in advance, that's where points of irritation may arise," he said. "But in principle, in terms of bolstering Australia's capability, that they might be able to draw on for their own protection, they will welcome it."
Japan's chief cabinet secretary Katsunobu Kato said Tokyo would cooperate with the Quad grouping of the United States, Australia and India, as well as Asean nations and Europe, to achieve a free and open Indo-Pacific.
"The strengthening of security and defence cooperation among the United States, Britain and Australia is important for the peace and security of the Indo-Pacific region," he said during a regular news conference.
Singapore said Prime Minister Lee Hsien Loong told Morrison during a phone call that Singapore had long-standing relations with Australia, Britain and the United States, and hoped the new grouping "would contribute constructively to the peace and stability of the region and complement the regional architecture".
Under the FDPA signed in 1971, Australia, New Zealand, Britain, Singapore and Malaysia are committed to consult each other in the event of an armed attack on either of the two Southeast Asian members.
Morrison's office said he would also contact Indian Prime Minister Narendra Modi, Japanese Prime Minister Yoshihide Suga and Indonesian President Joko Widodo to discuss the deal.
New Zealand, a fellow member of the Five Eyes intelligence alliance along with the US, Britain and Canada, on Thursday said it would not allow nuclear-powered Australian subs in its waters as part of a long-standing nuclear-free policy.
The deal has also generated opposition in Australia. Adam Bandt, the leader of the Australian Greens, the third-largest party in parliament, described the submarines as "floating Chernobyls" and said the pact "increases the risk of conflict in our region and puts us in the firing line".
"The decision will concern countries in the region and upset the military balance," Haigh said. "Why does Australia need nuclear submarines when Indonesia, Malaysia, Thailand and Vietnam do not? What does Australia get out of it? Nothing except a worse relationship with its largest trading partner."
Additional reporting by Reuters and Associated Press