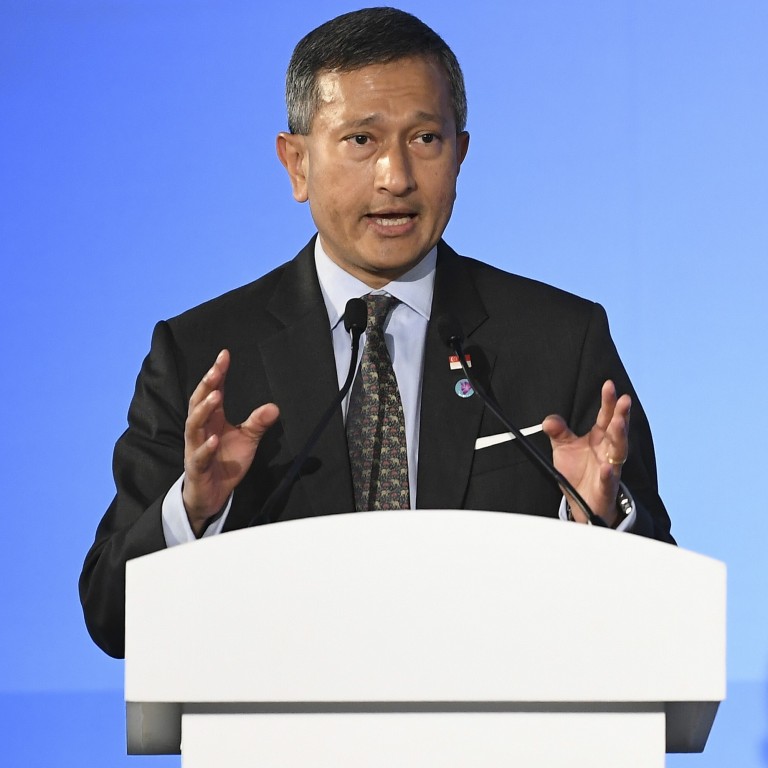 Singapore foreign minister's apology lays bare angst over elite school obsession and class divide
Vivian Balakrishnan has apologised to opposition politician Leong Mun Wai for questioning his educational background while in parliament
The incident has fuelled discussion on how capabilities are measured by the schools a person attended, and raised questions about leaders' private views
When
Singapore
's foreign minister Vivian Balakrishnan remarked on an opposition politician's
educational
background to a party colleague in parliament on Tuesday, he did not expect what he said to go viral.
But his asides were caught on microphone – and with the session being live-streamed, an audio clip with the comments "He's illiterate", "Seriously, how did he get into RI?" and "Must be a lousy school" quickly made the rounds.
Online, public attention focused more on the exchange than the serious debate taking place in parliament, on the need for Singapore to remain open to foreigners.
RI, for Raffles Institution, is a household acronym in the country of 5.7 million – 20 per cent of the current cabinet attended the school, as did the country's late independence leader Lee Kuan Yew.
Balakrishnan on Wednesday said he had called the politician – Leong Mun Wai, one of the Progress Singapore Party's two parliamentary representatives – to apologise for "my private comments to a colleague".
"I disagree with him on the [debated] issue, but I should not have said what I said. Mr Leong has accepted my apology," Balakrishnan wrote in a Facebook post.
For some Singaporeans, the episode reflects a stark reality in an academically driven society – that one's worth and capability are measured by the schools they went to. This belief has fuelled an ongoing obsession with brand-name schools that offer educational advantages and social connections that can propel success even in a meritocratic system.
Some social media users shared examples of how, in social gatherings or during job interviews, they were asked about which school they attended, with the answer being seen as a mark of their intellect and leadership ability.
For others, the minister's remarks are at odds with the ruling People's Action Party's assertion that there are multiple pathways to success and one's schooling does not define their life outcomes.
To former government strategy officer turned consulting firm owner Devadas Krishnadas, the comments were revealing of the leadership's "belief in a 'natural aristocracy', destined to rule Singapore on the sheer basis of their academic achievements".
In a post on LinkedIn, Krishnadas said he felt a "visceral disquiet" from the questions the episode had raised. "How are we viewed by certain PAP leaders? How are we valued by them?" he wrote.
Top schools
RI was founded by the British colonialist Stamford Raffles in 1823. The school's modern-day iteration comprises a boys-only high school and a co-educational junior college section.
RI's sister school, the girls-only Raffles Girls' School (RGS), is equally well known. RI and RGS have for decades been viewed as among the top Asian feeder schools for leading global universities, with many attending these institutions on government scholarships.
Leong, the opposition politician, graduated from RI in 1977 and won a government scholarship to study in Japan. The 62-year-old worked in the finance sector there and in Hong Kong, and now runs a venture capital firm in Singapore.
Leong has been active in calling for a "rebalancing" of the foreign-local workforce ratio, including imposing levies on expatriates to ensure locals get a better shot at jobs. In particular, he has criticised the Comprehensive Economic Cooperation Agreement (CECA), a free-trade pact with India, pointing to how it allows for intra-corporate transfers among multinational firms that are heavily slanted in India's favour and alleging that it fuels unfettered immigration.
The PAP government has pushed back against such claims, saying they are baseless and fomenting anti-Indian sentiment in the multiracial nation.
Tuesday's debate arose following a motion filed by Leong, and saw several ministers rise to challenge the opposition politician's sharp criticism of CECA. At times, he appeared unprepared for the grilling, stating repeatedly that he required additional data from officials before he could take a decisive stance on the pact's merits.
In a statement to the media on Thursday, Leong said he had accepted Balakrishnan's apology but was "also curious to know who are the other persons who were involved in the conversation and the reason why they held the institution that I attended in contempt".
Leong was referring to how the comments were made as manpower minister Tan See Leng, who had just finished his response to a question from Leong, returned to his seat with Balakrishnan on his left and finance minister Lawrence Wong one seat down.
Tan was captured on microphone saying "I am from Monk's Hill", referring to the now-defunct government high school he attended.
A government source told This Week in Asia that the three remarks made before Tan's comment were all from Balakrishnan.
'Closed social circles'
To tame competition for elite school places, Singapore's authorities have stressed that "every school is a good school", and have promoted social mixing across schools while ordering top institutions to take in more students from different backgrounds.
But sociologist Tan Ern Ser said no matter the mantra, society would have its own markers of what constituted "good".
"I reckon whether or not every school is officially a good school, people, together with like-minded others, may still subscribe to their own ranking metrics, which may differ from the official version," said Tan from the National University of Singapore (NUS).
A 2017 study on social capital by the Institute of Policy Studies think tank found that someone who went to an elite school might have ties to those from elite and non-elite schools, but a person who attended a non-elite school had hardly any ties to people from elite schools.
Officials, including Prime Minister Lee, have in the past expressed concern about this trend. In 2018, he said the government was aware of anxieties surrounding class divisions that arose from educational backgrounds and other social cues.
If social mobility was frustrated, "soon the elite group would start to only look after their own interests, and fail in their duty to lead and care for the rest of society", said Lee, who attended Catholic High School, one of the country's elite institutions.
The situation is not unique to Singapore. "Old boys or gendered networks that foster in-group elitism are a common feature of many societies. We see this also with political elites in the UK, for example," said Nanyang Technological University sociologist Laavanya Kathiravelu.
Twenty of Britain's 55 prime ministers were educated at Eton College, an elite all-boys boarding school, while in China, The Experimental High School Attached to Beijing Normal University is a top institution attended by children of politicians and elite businesspeople.
Tan, the sociologist, said school pride and strong alumni networks among elite school graduates could mean a tendency to form "closed social circles that do not overlap with others".
This may have been why some users on the Reddit forum quipped that Balakrishnan's comments were motivated by competitive spirit.
Foreign minister Balakrishnan attended RI's fierce rival, the Anglo-Chinese School, before studying medicine at the National University of Singapore on a President's scholarship.
A commenter on the Reddit forum asked why schooling would be an issue for someone of the 60-year-old minister's age. "I don't understand why many older people still discuss what secondary school/[junior college] they went to," it read. "It happened 40 years ago, big deal."
This article has been amended to reflect that the three remarks were made by the foreign minister.
This article appeared in the South China Morning Post print edition as: Jibes reveal angst over schools and status