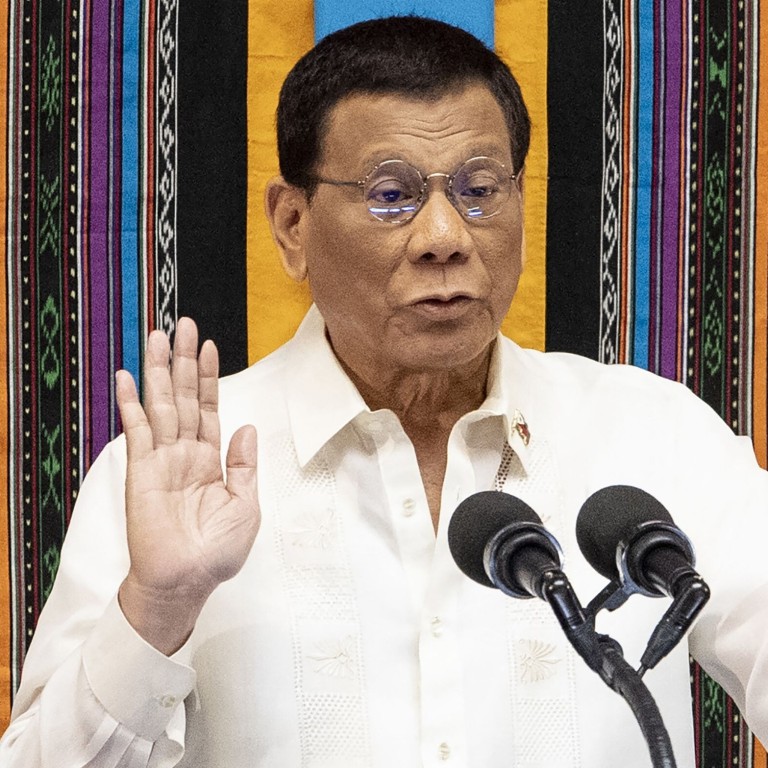 As Duterte exits Philippine election, will daughter Sara run for president?
The leader's 'retirement from politics' comes at a time his daughter, Davao City Mayor Sara Duterte-Carpio, is topping opinion polls
The last time Duterte said he was retiring, he ran for president shortly after, prompting some critics to suggest his latest announcement is an election ploy
Philippine President
Rodrigo Duterte
yesterday said he was retiring from politics, a surprise move that fuelled speculation he was clearing the way for his daughter to run to ­succeed him, despite her filing for re-election as mayor.
He made the announcement after accompanying former long-time aide, Christopher "Bong" Go, to register his own vice-presidential candidacy at a Commission on Elections centre.
Duterte, whose term ends in June next year, said many ­Filipinos had expressed their opposition to his vice-presidential bid in surveys and forums.
"The overwhelming sentiment of the Filipino is I'm not qualified, and it would be a violation of the constitution," Duterte said. "In obedience to the will of the people … I will follow what you wish and today I announce my retirement from politics."
Go, 47, promised to continue Duterte's campaign against illegal drugs, corruption and criminality if he won as vice-president. He also vowed to fight hunger and ensure efficient and affordable public health services.
"I will be a working vice-president who will do everything I can to serve you all. I will not be a spare tire or just a reserve," he said.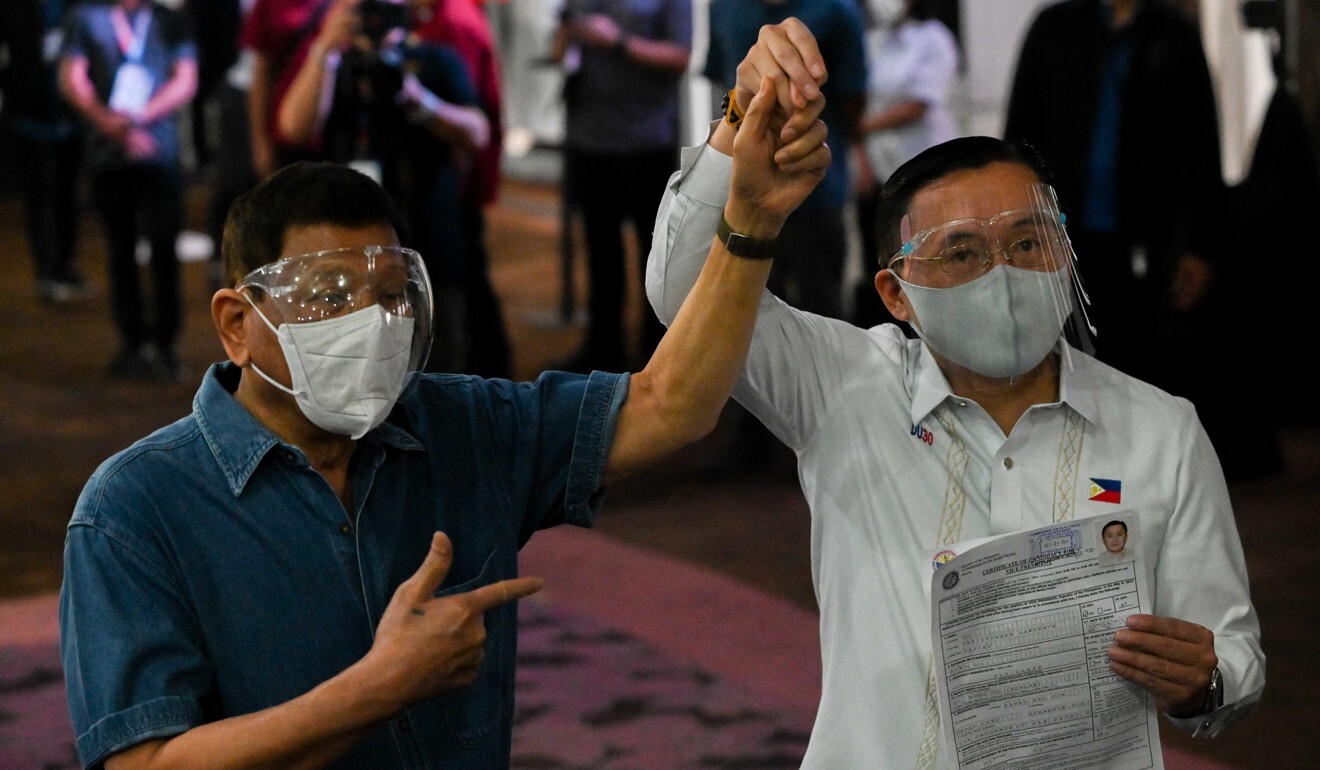 Presidents are limited by the constitution to a single six-year term. Duterte's opponents had said they would question the legality of his announced vice-presidential run before the Supreme Court if he pursued his bid.
A survey by private pollster Social Weather Stations last week of 1,200 Filipinos of voting age, showed six out of 10 thought ­Duterte's bid for the vice-presidency was unconstitutional. About one-third of respondents said they would back him if he ran, while three-quarters said they favoured a president serving only for six years as provided by the constitution.
A separate survey by Pulse Asia showed Duterte at No 2 in a list of potential vice-presidential candidates likely to be voted if elections were held today.
Duterte's announcement was received sceptically by some ­internet users, who noted he had also announced his retirement from politics in 2015, shortly ­before changing his mind to run for the presidency, which he won.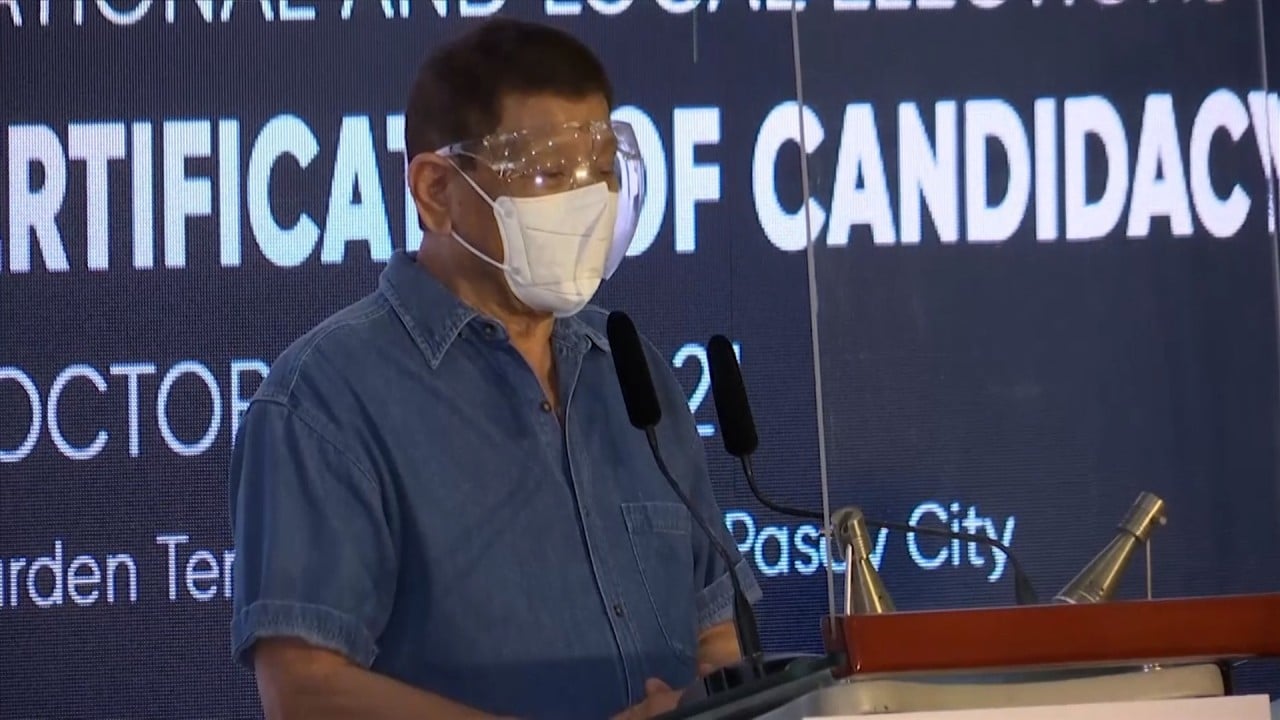 03:10
Philippine president Rodrigo Duterte pulls out of 2020 election and plans to retire from politics
Philippine president Rodrigo Duterte pulls out of 2020 election and plans to retire from politics
His withdrawal now paves the way for his daughter, Davao City Mayor Sara Duterte-Carpio to gun for the top post, even as she filed a certificate of candidacy to run for a third mayoral term on the same day.
Duterte-Carpio has topped opinion surveys on prospective candidates, but said last month she would not contest the top post because she and her father had agreed only one Duterte would run for higher office.
While candidates have until Friday to register, the Commission on Elections allows withdrawals and substitutions until mid-November, leaving room for last-minute changes of heart.
There was no immediate ­reaction from the president's daughter, who had gone on a week-long medical leave.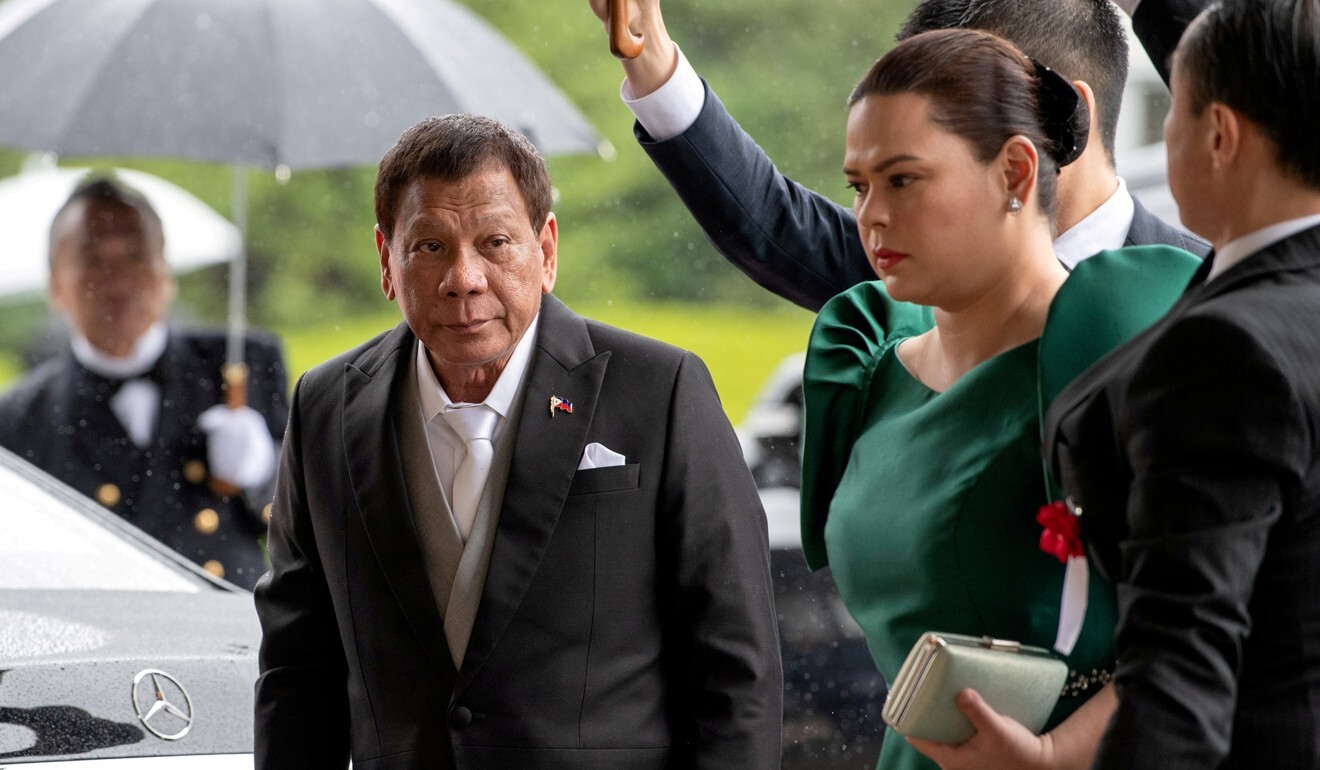 The election season, which ­began last Friday, will see more than 60 million Filipinos voting in May for a new president, vice-president and more than 18,000 lawmakers and local government officials.
Among other front runners for the top job are Duterte's ally ­Ferdinand "Bongbong" Marcos, son and namesake of the country's former dictator, and ex-actor and city mayor Francisco Domagoso – known by his screen name Isko Moreno.
Newly retired boxing superstar Manny Pacquiao registered on Friday to run for president.
Despite ruling himself out of the vice presidential race and ­announcing his retirement, Duterte's political future was still not clear, analysts said, noting he did not specify when he would leave politics.
University of the Philippines political science professor Dr Jean Franco said she would "not be surprised" if Duterte's latest move was just a ploy.
"The fact that people seem to think there is a drama behind this, says a lot about the public's sense this might not yet be the final move," she said.
"It is tiring and heightens the uncertainties in the run-up to the elections. What is sacrificed is the scrutiny of the candidates' ­platforms instead of the guessing game we are in right now."
Duterte himself has acknowledged some of his statements lack credibility. In a 2017 speech, he said that "three of every five statements of mine are pure nonsense. I'm just fond of doing it. I just want to make people laugh, at my expense sometimes".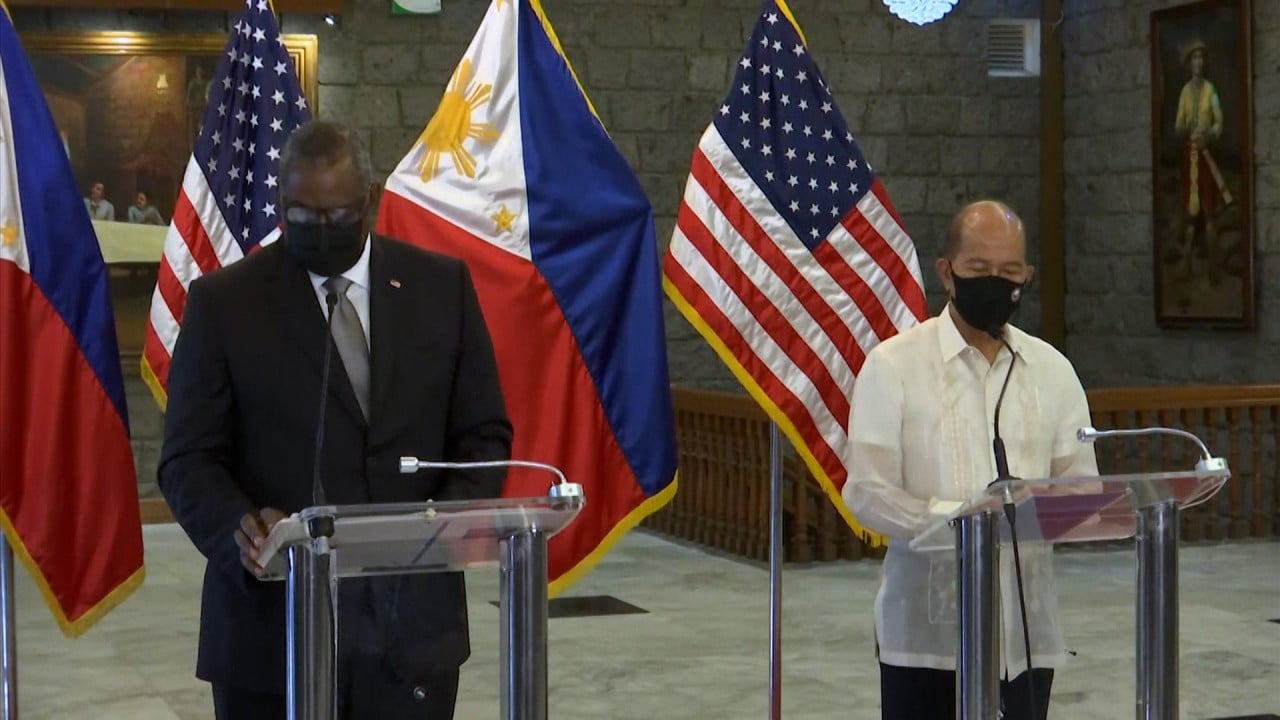 00:55
Philippines reverses decision to end military troop pact with US
Philippines reverses decision to end military troop pact with US
Duterte took office in 2016 and launched a crackdown on illegal drugs that has killed thousands and alarmed Western governments and human rights groups.
The International Criminal Court has launched an investigation, but Duterte has vowed never to cooperate with the inquiry.
Analysts said Duterte-Carpio, if voted president, would likely protect her father from criminal charges over the war on drugs.
Duterte's rule has also seen the country swing away from the US, in favour of China. "I simply love (President) Xi Jinping … he understands my problem and is willing to help," he said in 2018.
As part of that rapprochement he set aside the rivalry with Beijing over the resource-rich
South China Sea
, opting to court Chinese business instead.
He claimed this friendship helped secure millions of doses of a Chinese-made
Covid-19 vaccines
, but the supply has fallen far short of the volume needed to protect the population of 110 million from the disease.
Billions of dollars of promised trade and investment from its superpower neighbour also have been slow to materialise.
In July, he walked back on a decision to end a key military deal with the US.
Additional reporting by AP, Reuters, dpa
This article appeared in the South China Morning Post print edition as: Duterte 'OBEYS WILL OF THE PEOPLE' AND RETIRES