Japan
Get more with myNEWS
A personalised news feed of stories that matter to you
Learn more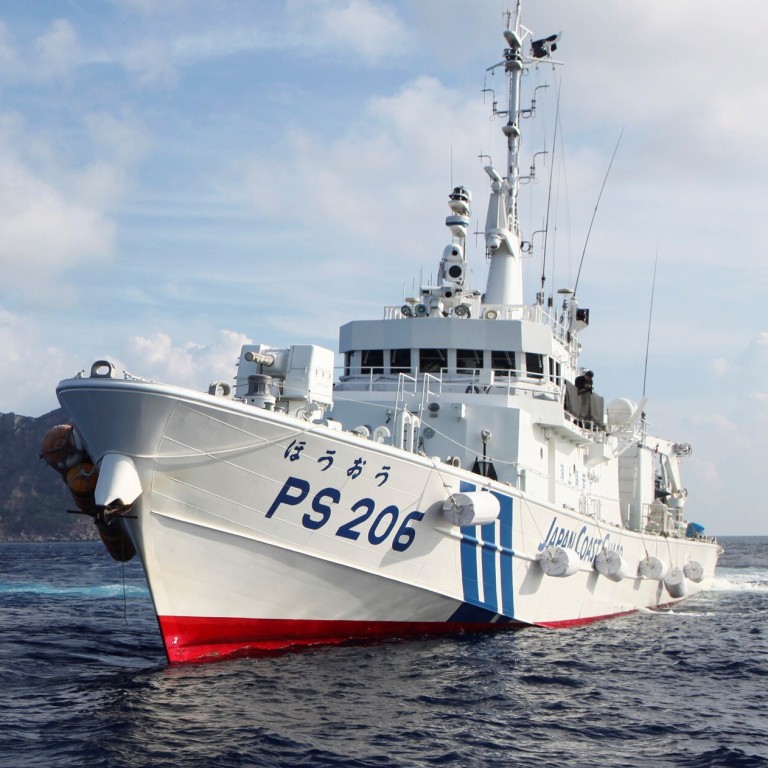 Japan reports sighting of missile aboard North Korean ship in its waters
The coastguard says the weapon identified was either a Russian-made SA-16 surface-to-air missile or a North Korean copy of the weapon
Japan is sensitive to North Korean ships approaching its shores, a legacy of the abduction of its nationals by commando units from vessels disguised as fishing boats
Japan's coastguard has reported sighting a man-portable surface-to-air missile aboard a North Korean vessel operating within Japanese fishing grounds off Ishikawa prefecture, on its northern coast.
The vessel is believed to have been a North Korean government ship, belonging to either the navy or coastguard, and was spotted in late June in the Yamatotai fishing grounds off the Noto Peninsula, the agency confirmed.
While North Korean fishing boats have been reported in the area on numerous occasions, it was the first time the crew of a vessel had been observed to be armed with an anti-aircraft weapon.
The ship was reported to be within
Japan
's exclusive economic zone, according to national broadcaster NHK, in an area popular with Japanese crews for its catches of "surumeika" flying squid and crabs in the autumn months.
Good hauls have also caught the attention of foreign fishermen, however, and there have been an increasing number of incursions into Japanese waters in recent years, particularly by Chinese and North Korean fishing boats.
The problem is exacerbated as the precise location of borders in the Sea of Japan, or East Sea, are disputed, an official of the Japan Coast Guard said, with both North and South Korea, Russia, and Japan all having overlapping claims.
"We carry out constant patrols with patrol vessels and aircraft in the area in order to protect Japanese fishing crews," said the official, who declined to be named, adding that Japanese boats had been cautioned to be vigilant while operating in the area.
The coastguard is refusing to provide a full account of the incident on the grounds that it would compromise information-gathering capabilities, but it has confirmed the weapon identified aboard the North Korean ship was either a Russian-made SA-16 surface-to-air missile or a North Korean copy of the weapon.
Initially issued to the Russian military in 1981 and designed to destroy low-flying aircraft and helicopters, the weapon uses an infrared guidance system and has a maximum range of more than 5 kilometres.
The coastguard would not confirm if the weapon was sighted from a ship, a helicopter or a fixed-wing reconnaissance aircraft, although given that it was an anti-aircraft weapon, the latter would appear more likely.
James Brown, an associate professor of international relations at the Tokyo campus of Temple University, said
North Korea
could claim the ship was exercising the right of passage through Japanese waters, which is not forbidden, but the open display of an anti-aircraft weapon and the more general raising of tensions was "worrying".
"It is difficult to be sure what the vessel might have been doing in that area, but it is possible they were carrying out reconnaissance or naval drills, which would fit the pattern of behaviour that we have seen recently of North Korea ratcheting up tensions in the region," he said.
Japan is sensitive to North Korean ships approaching its shores, a legacy of the abduction of its nationals in the 1970s and 1980s by commando units that were landed on the coasts of northern Japan from vessels disguised as fishing boats.
There have also been reports of Japanese fishermen disappearing from their vessels in the Sea of Japan and being taken to North Korea.
In December 2001, four Japan coastguard ships gave chase to an unidentified vessel sighted within Japan's EEZ off Kyushu, in southwest Japan.
The ship ignored orders to stop and a series of warning shots. A six-hour firefight ensued, during which the crew of the foreign vessel were seen to be holding shoulder-held rocket launchers.
It was eventually sunk by gunfire and the crew of 15 were all killed or lost at sea.
The Japanese government subsequently raised the ship and confirmed it had been disguised as a Chinese or Japanese fishing boat, but had been fitted with a powerful engine capable of 33 knots.
A twin-barrelled 14.5mm anti-aircraft gun was fitted beneath a retracting cover directly behind the wheelhouse and the stern had been modified to install doors to allow a speedboat to be launched.
The ship was also found to be carrying machine guns and other small arms, maps of Kyushu, diving equipment, clothing made in North Korea and a lapel badge bearing an image of Kim Il-sung, the founder of the North Korean state. Pyongyang has denied any involvement in the incident.
The Japan Coast Guard has not commented on its response to the latest North Korean ship found operating within Japan's EEZ, although Brown suggested there was little the Japanese side could do other than to monitor its movements.
"Unless a Japanese aircraft or surface vessel comes under direct attack, they will simply observe and keep their distance," he said. "Japan will not want to initiate a confrontation and its forces will only respond if they are directly attacked."
This article appeared in the South China Morning Post print edition as: N. korean vessel 'with missile in fishing area'