India
Get more with myNEWS
A personalised news feed of stories that matter to you
Learn more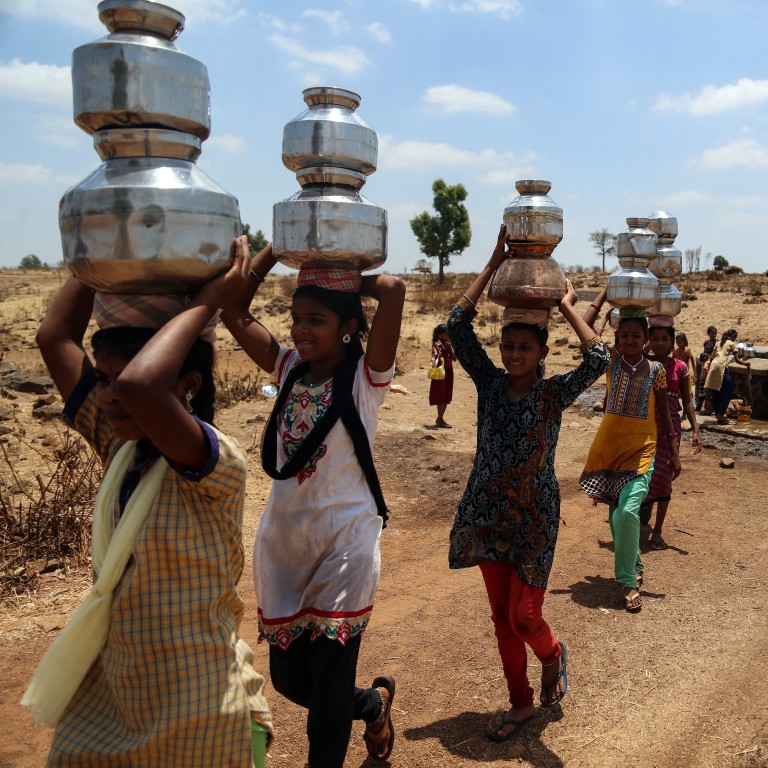 For Narendra Modi's re-election prospects, clean water in India is liquid gold
Although the next polls are three years away, the prime minister's plan to supply water to every home is seen as his pitch for another term
While the logistics of this may prove tricky, analysts say the perception he has solved the problem may be enough to carry him to victory
Although the general election is three years away, some observers argue that Prime Minister
Narendra Modi
has already made his pitch for another term: clean water in every
Indian
home.
Even 75 years after independence, millions of women have to spend hours walking great distances in the heat to the nearest well, pond, or river to fetch water for cooking, cleaning, and bathing.
Not only is this physically exhausting, when they return home with a precious pot of water, then begins the stress of worrying about conserving every drop so it is enough for the family's needs. Moreover, the water often is not fit for drinking and carries microorganisms that cause disease.
Modi on Saturday talked of his government's achievement in having increased the number of water connections to 43 per cent of rural households, up from 17 per cent when he first launched his "water mission" in 2019. In two years, he said, his administration had accomplished more in this regard than had been done in more than half a century.
"The day is not far when no woman in the country will have to walk long distances every day. They will be able to utilise their time for their betterment, education, or employment," said Modi, while launching an app allowing consumers to monitor and rate the cleanliness of their water.
By 2024, the prime minister intends to supply clean tapped water to every household in the country.
Political analyst Shekhar Gupta said when Modi stormed back to power in the 2019 election, it was not so much due to his Hindu nationalism but because of the toilets and cooking-gas cylinders he had provided in his first term.
As part of several welfare schemes that focused on women, the cooking-gas cylinders – which were initially provided at no cost – freed village women from inhaling fumes while they cooked meals on sooty wood fires, and from walking long distances to collect firewood. The toilets inside their homes spared them the indignity of relieving themselves in the fields.
Likewise, with water, Modi's eye for potential voters is on women – for it is they who make the long trips to fetch it, not men. "Water and cleanliness are going to be his vehicles for 2024," said Gupta, writing in The Business Standard.
Political scientist Sanjay Kumar of the Centre for the Study of Developing Societies agrees that Modi's pitch provides him with a pathway to electoral success.
"The acute shortage of clean drinking water is a massive issue all over the country. If Modi can communicate to voters – and the [ruling Bharatiya Janata Party] is very good at getting its messages across powerfully – that he has fixed, or is fixing this problem, it won't just be women who will be grateful, it will be men too," he said.
However, Kumar added a proviso: given the sheer scale of having to lay water pipelines across vast distances, through forests, deserts, and across mountains, can the government do it in time – and apart from the pipes, are there enough water sources in the first place?
"To get the water to homes, you need canals and dams and massive infrastructure. You need water treatment plants. All in two and a half years," said Dr Ranjana Kumari, director of the Centre for Social Research.
Arati Jerath, another analyst, pointed out that no single issue was likely to swing things Modi's way. "Unless he is able to revive the economy, create jobs, and reduce prices, tap water alone won't be enough to attract voters," she said.
A lack of income for families has meant that cooking-gas cylinders in some homes have not been refilled once the first, free, one ran out. Those who do not have the 900 rupees (US$12) it takes to get the cylinder refilled are forced to revert to cooking on wood fires.
In some homes, people are so certain they will not be able to refill the cylinder that they dare not use the gas, turning it into a kind of heirloom that takes pride of place in the living room and is trundled into the kitchen to be used for cooking only on special occasions to impress visitors.
It's a similar situation with some of the toilets the government has built – they have been finished, but some homes have no water, so they are of no use.
But as Kumari points out, perception is everything. Those toilets may only belatedly have water in them, but Modi has created the impression that he has solved the issue of open defecation in India once and for all, whatever the reality might be.
"If he manages to create a similar perception with clean tap water, then he is likely to benefit enormously as women will be so grateful for what is a huge and daily difficulty for them," she said. "And who is going to go and check, anyway, that there is water in those taps?'
This article appeared in the South China Morning Post print edition as: Modi sure votes will flow his way with pledge of clean water for every home