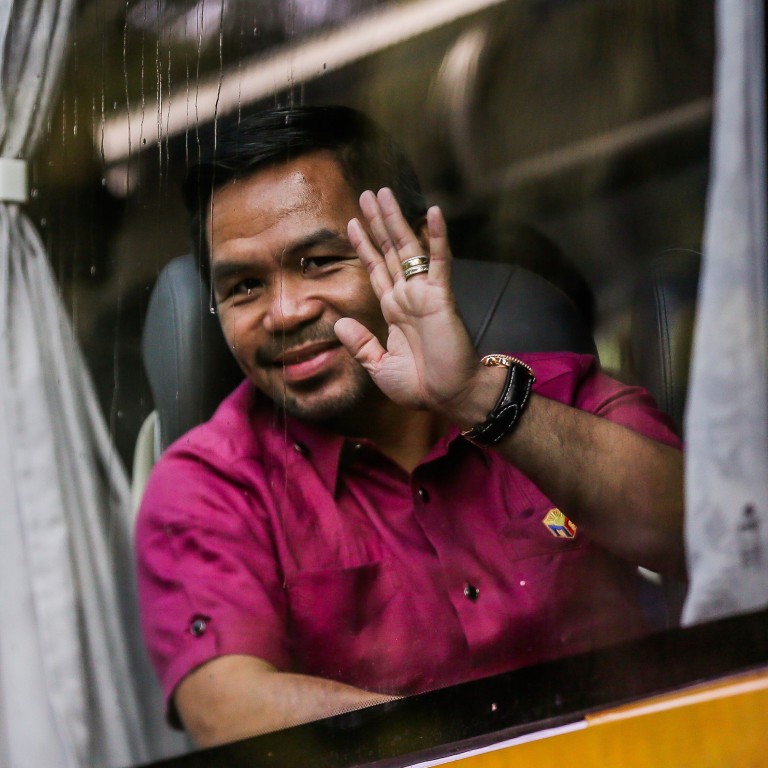 Explainer
Philippine presidential election: who's running, who's favourite and what's their China policy?
The deadline to enter has passed, and contenders include Panfilo Lacson, Ferdinand Marcos Jnr, Isko Moreno, Manny Pacquiao, Ronald dela Rosa, and Leni Robredo
Public favourite Sara Duterte-Carpio hasn't officially entered, but may use the same loophole her father Rodrigo did last time round
The race to the Malacañang Palace is on. Friday, October 8, was officially the last day for candidates to enter the
Philippine
presidential election and, while there may be some surprises yet, the public now has a fairly good idea of who will battle it out on election day in May next year.
The race will decide who replaces the incumbent President
Rodrigo Duterte
, who is barred from running by the constitution, which limits presidents to single terms of six years.
Duterte's human rights record could be one reason why Filipinos have shown such a keen interest in choosing who succeeds him. They've been turning out in record numbers to register as voters – so much so that the election commission has had to extend the deadline for voter registration from September 30 to October 30.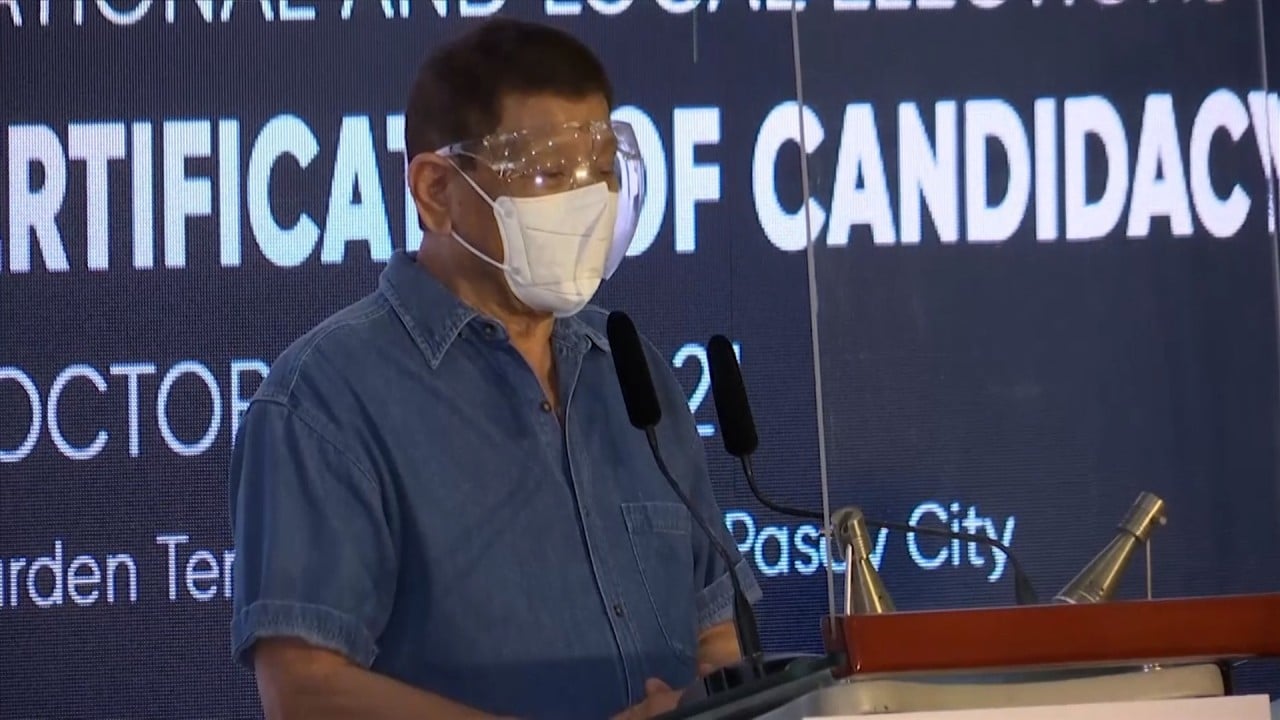 03:10
Philippine president Rodrigo Duterte pulls out of 2020 election and plans to retire from politics
Philippine president Rodrigo Duterte pulls out of 2020 election and plans to retire from politics
Who is running?
At least 50 candidates have already filed their papers, but some are likely to be eliminated as nuisance candidates by the election commission, which has until November 15 to finalise the list. Once this is done, the main contenders are likely to be, in alphabetical order:
Panfilo Lacson: the senator and former police chief, 73, also ran for president in 2004. He says this time around he is running to fight corruption. Lacson is running under Partido Reporma, headed by a congressman formerly allied with Duterte. Lacson told Rappler he was running on a platform of fighting drugs, crime and corruption, similar to Duterte's campaign in 2016, but Lacson has vowed to do things "differently".
Ferdinand Marcos Jnr: the former senator known as "Bongbong" is the son and namesake of the murderous dictator who led the country from 1965 to 1986, including a long spell under martial law. Marcos Snr's regime tortured and killed thousands of Filipinos and plundered billions of dollars, but Marcos Jnr, 64, says he is running to "unify" the country.
Observers say the Marcos clan sees winning the presidency as a way of vindicating the family and clearing its name. Marcos Jnr's party is the Partido Federal Ng Pilipinas, a new party formed in 2018 to support Duterte.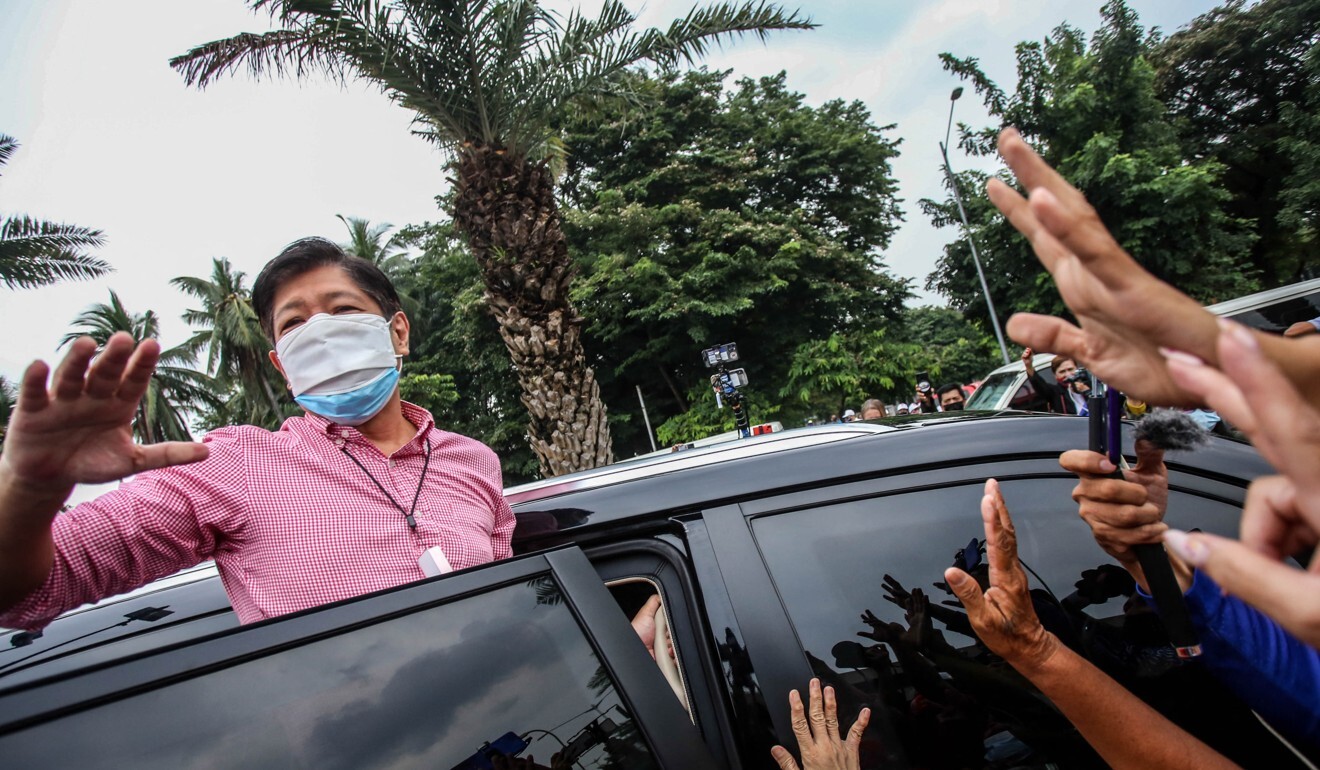 Francisco "Isko Moreno" Domagaso: the Manila Mayor, 46, has said he wants to be a "healing president". Moreno is running under Aksyon Demokratiko, founded in 1998. He has said he will form "the broadest form of government with the best and brightest" and will continue Duterte's infrastructure programme and war on drugs without the killings.
Manny Pacquiao: the boxer-turned-senator, 42, gave up his storied fighting career this year to focus on politics. He promises to root out corruption and address poverty and is hoping to win over voters by harnessing his enormous popularity as a boxing champion. The tactic has worked before: first when he ran for congress and then for his seat in the upper house senate.
Critics say he has been largely absent in both houses and short of ideas when he does attend. Pacquiao filed his papers under the Cebu-based party PROMDI. While he is technically the president of the ruling party PDP-Lakban, an internal struggle with Duterte over control of that party has cast his status in doubt. The election commission will start hearings on the issue next week.
Leni Robredo: currently the vice-president, Robredo, 56, has positioned herself as the opposition candidate who will clean up Duterte's mess and restore the good governance her supporters claim Duterte destroyed. All the other candidates listed here either directly supported or enabled Duterte's acts during his presidency.
She is also seen by many as the anti-Marcos candidate. Leni Robredo filed her papers as an independent candidate despite being the leader of the Liberal Party.
Ronald dela Rosa: a senator and retired police chief, 59, Dela Rosa was the enforcer in Duterte's bloody war on drugs. "Bato", as he is sometimes known, was something of a surprise candidate, filing his papers at the last minute.
On filing day he told the press, in an unusually short statement, that he had been fielded by his party, the PDP Laban, because "they haven't found anyone else who would continue the legacy of President Duterte in the fight against drugs, criminality, corruption and terrorism".
Sara Duterte-Carpio: technically not a candidate, as she has not filed, the Davao mayor, 43, is still expected to run, possibly through a loophole such as being substituted in for another candidate before November 15, a ploy that her father used in 2015.
If Duterte-Carpio runs, analysts say her main aim will be to keep power within the family and protect her father. With the ICC probe looming, he may need political protection in future. Sara Duterte-Carpio has not said which party she'll run under, if indeed she does.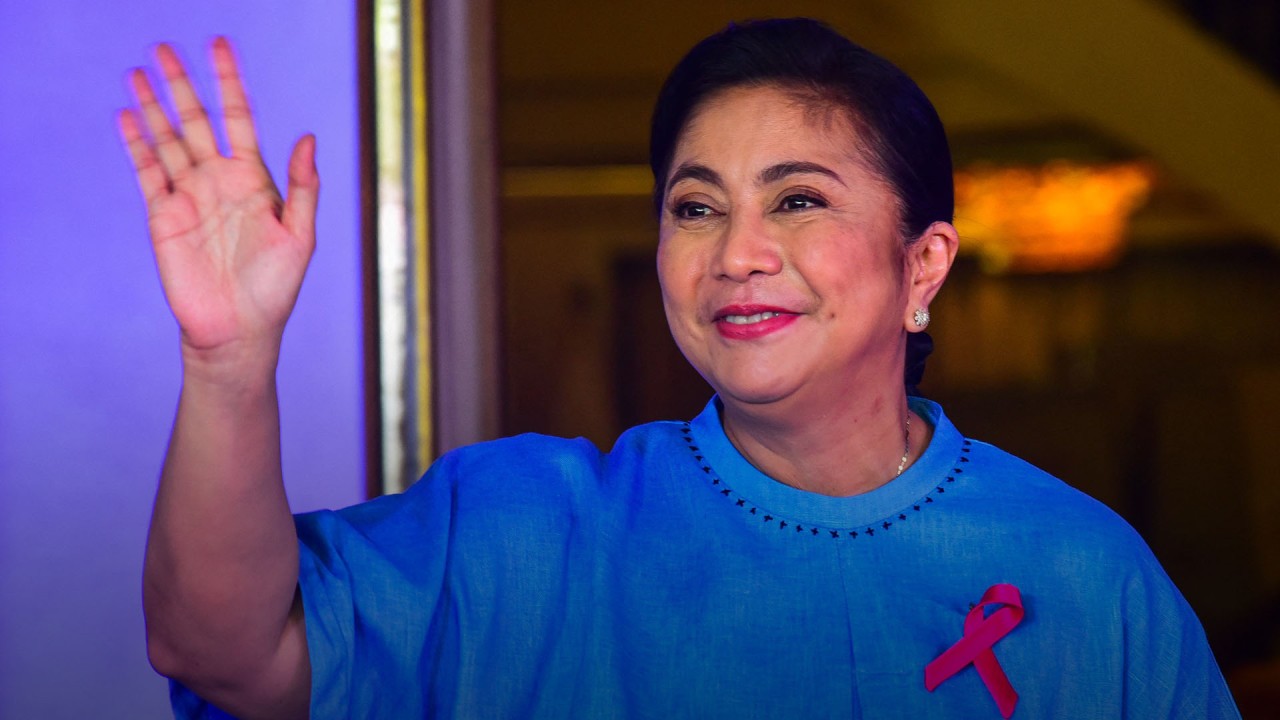 01:26
'We will fight': Leni Robredo announces bid for Philippine presidency against arch-rival Marcos
'We will fight': Leni Robredo announces bid for Philippine presidency against arch-rival Marcos
What are their chances?
A poll by Pulse Asia in September found the order of popularity to be: Duterte-Carpio; Marcos; Moreno; Pacquiao.
But winning a Philippine election usually requires massive funding and a national organisation that can reach the grassroots, give the candidate visibility and deliver the votes.
Lacson, Moreno and Robredo don't have any of those. Pacquiao has funds and tremendous popularity but no organisation behind him. Marcos, whose family remains spectacularly wealthy from his father's spell in power, also has no national organisation behind him.
Dela Rosa will have the backing of the ruling party PDP-Laban, and has a reasonable chance considering he was the fourth most popular senator in the 2019 elections. His disadvantage is that he is a candidate who came from nowhere, at the last minute.
Duterte-Carpio has resources and could be banking on the political alliances her father has made with mayors and governors. Critics claim both the Dutertes and the Marcoses could deploy huge internet troll armies to circulate disinformation and attack their opponents, as was alleged to have happened in the 2016 election won by Duterte.
Additionally, a Duterte campaign might benefit from government resources, with the government TV station already broadcasting support for Duterte.
Robredo spent the past five years as vice-president working in the provinces to bring relief to disaster areas despite being starved of support from Duterte. Her own initiatives in dealing with the pandemic have earned her a reputation for efficiency and competence, even while under constant attack from Duterte. Backers say she has inspired the public, which could help draw the necessary financial and organisational support.
02:05
Philippine boxing star and senator Manny Pacquiao to join country's 2022 presidential race
Philippine boxing star and senator Manny Pacquiao to join country's 2022 presidential race
What are their positions on China?
Lacson's approach to China is similar to that of Duterte, who has shied away from confrontation with China and even said he would pivot towards Beijing and away from the United States, the Philippines' traditional ally.
In 2012, after China took control of Scarborough Shoal, he urged the government in Manila to avoid confrontation, resolve the conflict bilaterally and not involve other countries because "bringing in a third country or even 10 countries will not do us any good".
However, in May this year, as over 200 Chinese vessels swarmed Whitsun Reef, Lacson prodded Duterte to be more aggressive in asserting territorial rights and in exploring how the US could assist the Philippine cause through the Mutual Defence Treaty.
This July, he dropped the bilateral approach and urged the government to go multilateral in pressing the landmark 2016 ruling by an international tribunal that dismissed Beijing's claim to much of the
South China Sea
. However, he urges joint exploration of oil and marine resources because "we cannot eat sovereignty".
Marcos said last month that he supported Duterte's "policy of engagement" with China which he described as "the right way to go".
He is possibly the most China-connected candidate as the Marcos family continues to maintain personal relations with some senior Chinese officials. In March this year, Chinese envoy to Manila Huang Xilian personally gave Marcos Jnr and his family a tour of the embassy's library, showing them a framed photo of Marcos Snr and the late Chinese premier Zhou Enlai signing the 1975 declaration opening diplomatic relations between the two countries.
China maintains a consulate in Laoag City, the capital of Ilocos Norte, the seat of the Marcos political dynasty. The province is one of the few places where China has directly donated pandemic supplies, aside from Davao City – Duterte's hometown – and Cebu.
Francisco "Isko Moreno" Domagaso said last month he would welcome joint exploration of oil resources with China in Philippine-claimed waters. The first-term Manila mayor had asked for a briefing on the sea dispute last year from former Justice Antonio Carpio, who has called for asserting the country's arbitral win.
Moreno said if he became president, "The Hague ruling will be our bargaining [chip with China]" in asserting Filipino fishermen's right to fish in Philippine-claimed waters "because [the sea] is ours".
He also said he "cannot blame" China's President
Xi Jinping
for China's territorial claims and said he hoped China would pay the Philippines the "same respect". In December 2019, Moreno received an in-person courtesy call by the newly designated envoy Huang Xilian.
Sources said US embassy officials had also been in touch with Moreno to find out his views on US-Philippine relations.
Robredo stands alone in actively asserting the arbitral ruling. Last May, she publicly accused Duterte of "favouring China", throwing sovereignty "out the window" and belittling the arbitral victory.
Robredo is the only official on this list who has not been paid a courtesy call by the Chinese envoy.
Pacquiao has been trying to please both his Filipino constituents and China. In April this year, he refused to sign Senate Resolution No. 708 "condemning" Chinese ship incursions in the Philippine exclusive economic zone.
But he also wrote to Chinese envoy Huang to ask his government "to promptly withdraw these vessels from our territory. We demand nothing less than for your country to respect our sovereignty."
In 2016, Pacquiao signed a deal to be the brand ambassador of Chinese apparel firm ANTA and in 2017, he personally met President Xi and Prime Minister Li Keqiang – during which he praised Beijing's
Belt and Road
infrastructure initiative – after signing an agreement with China's Dancing Sports to nurture professional boxers in China.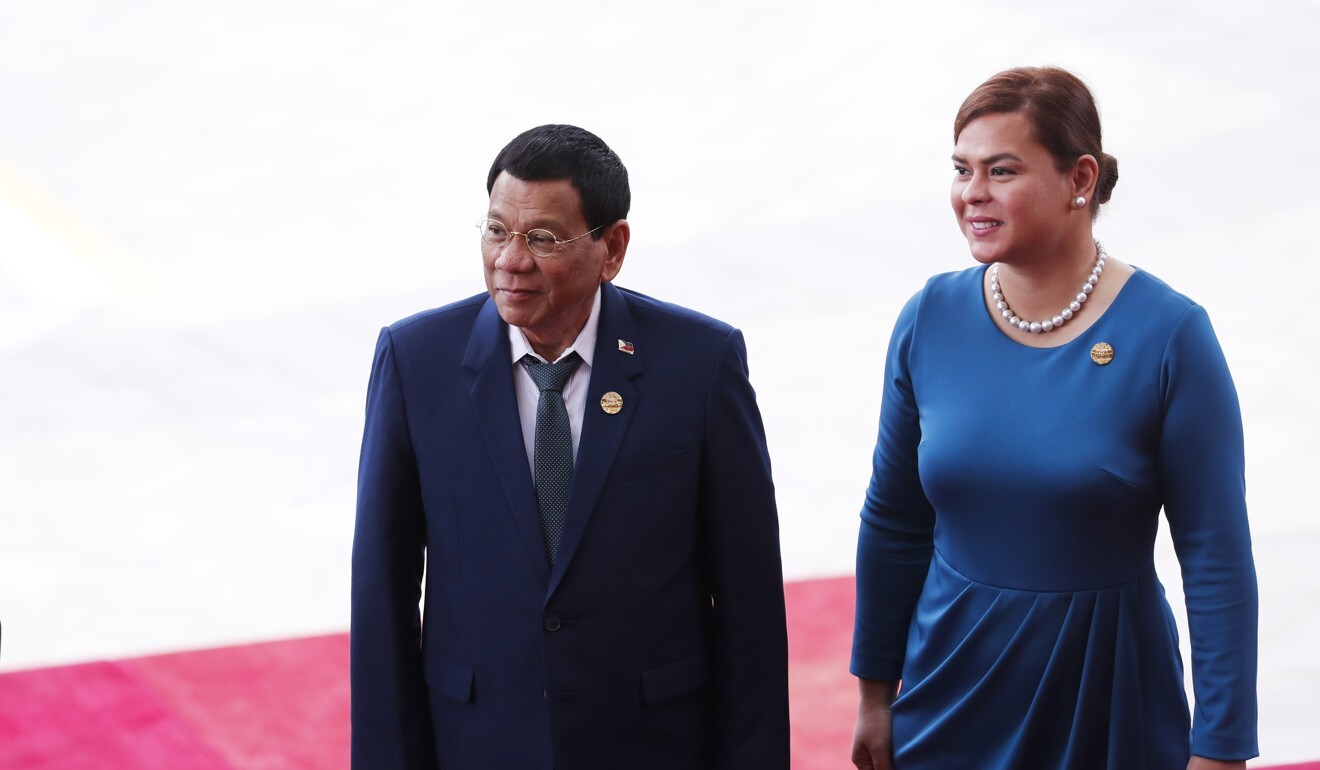 Possible surprises?
Analysts are anticipating that Duterte-Carpio, who did not file her papers within the October 8 deadline, will later be substituted for one of the candidates who has done so. Her father did the same thing in 2015. Duterte Snr took the place of Martin Diño, a lowly village official who was later rewarded with a position in Duterte's administration.
A possible place holder for her is Dela Rosa. When the senator was asked if this might happen, he replied, "then all the better", although he admitted "I don't know how we will do it if that's how things turn out."
Another possible curveball is that the International Criminal Court, which is probing the war on drugs for evidence of possible crimes against humanity, could conceivably issue a warrant for the arrest of Duterte Snr, which would likely throw his daughter's campaign into disarray.
Some observers have also suggested Duterte Snr might try to suspend the elections, perhaps by declaring a state of emergency.
What happens next?
Officials will post a tentative list of candidates on October 29, with a final list released on November 30.
The campaign period will start on February 8 and finish on May 7. But experience suggests candidates will begin campaigning long before then with election officials largely helpless to do anything about the violations.
The "election period" will start on January 9 and end on June 8. During this time there will be bans on: the carrying of firearms and deadly weapons; the alteration or establishment of new precincts; the use of security personnel by candidates; and the suspension of elected local officials.
Election day is scheduled for May 9.