Japan
Get more with myNEWS
A personalised news feed of stories that matter to you
Learn more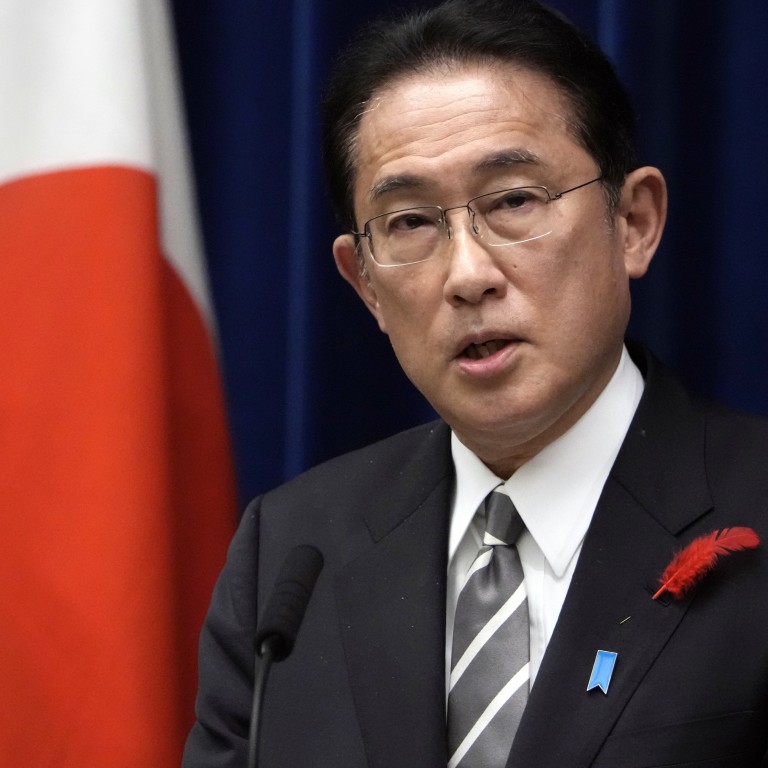 PM Kishida tells voters only LDP can keep Japan safe from security threats, ahead of October 31 poll
China's military assertiveness and nuclear-armed North Korea are Japan's main causes of concern
He also plans to double defence spending to some US$100 billion to appeal to conservatives, even though most voters are worried about Covid-19 and the economy
Japanese
Prime Minister
Fumio Kishida
has wasted no time in using the threats posed by regional rivals to boost his campaign ahead of the October 31 general election, declaring that only the ruling Liberal Democratic Party (LDP) is capable of keeping the nation's adversaries at bay.
"The opposition parties cannot even reach a consensus on the Japan-US security alliance or the Self-Defence Forces, and we cannot let them run this country," he told reporters on Thursday after announcing the dissolution of the lower house of the Diet. "The upcoming election is about choosing the future of Japan."
Kishida, who only took over as premier earlier this month, did not identify the nations that he sees as a threat to Japan's security, but
China
and
North Korea
are widely seen as the primary causes of concern.
The LDP this week announced that it would double defence spending if it won the election, with 2 per cent of GDP going to the military – a figure that translates to around US$100 billion.
Japanese governments had previously committed to maintaining defence spending below the 1 per cent threshold, in large part due to concerns that larger outlays would provoke criticism in neighbouring nations that were embroiled in various conflicts with Imperial Japan in the early decades of the last century.
Tokyo is already purchasing significant amounts of new equipment, including F-35 stealth fighters, warships, surveillance drones, landing craft, submarines, and satellite technology – and it appears that Kishida intends to ramp up spending, even though the nation's security is not the top issue for most voters.
"Right now, ordinary people are most concerned about the coronavirus, getting an economic recovery in motion, and the day-to-day problems of earning enough to get through the month," said Hiromi Murakami, a professor of political science at the Tokyo campus of Temple University.
Kishida's motivation for highlighting security was to tell voters that opposition parties did not have knowledge or experience in foreign affairs and security matters, he said.
Toshimitsu Shigemura, a professor of international relations at Tokyo's Waseda University, agreed that voters "feel no immediate threat to their well-being from China or North Korea, even though Beijing is being aggressive in the East China Sea and Pyongyang continues to develop and test new missiles".
He said Kishida was likely highlighting security challenges to win over conservatives who feared that he was too centrist in many of his policies, and too much of a dove on defence.
Analysts have pointed out that Kishida seems to have embraced several causes that were important to Abe, whose most ambitious plan was to reform a national constitution that many conservatives believe was imposed on a defeated nation by the Allies in the aftermath of World War II.
The LDP's manifesto for the election states it will "realise constitutional revision as soon as possible", including setting the legal grounds for the existence of the Self-Defence Forces.
"I do not recall Kishida mentioning revising the constitution before. Now that he has suddenly mentioned it, I think a lot of people are asking themselves, 'Are you really Abe?'" said Murakami of Temple University.
If elected, Kishida has promised to implement policies of "trust and empathy," with stepping up Japan's medical and economic responses to the pandemic high on the agenda alongside national security.
He has also outlined plans for "new capitalism", which will emphasise economic growth and the redistribution of wealth, but he was quick to drop plans to raise taxes on the country's wealthiest individuals that he had championed before being elected party leader last month. Well-off, conservative members of Japanese society make up the LDP's traditional support base.
Candidates will compete for 465 seats in the lower house of the Diet in this month's election. The LDP presently has 276 seats and its junior partner, the Buddhist party Komeito, has a further 29.
The two main opposition parties are the Constitutional Democratic Party (CDP), which has 112 seats going into the vote, and the Japanese Communist Party, with 12 seats. These parties have reached an agreement to cooperate and not field rival candidates to give themselves a better chance of defeating the LDP.
This article appeared in the South China Morning Post print edition as: kishida stresses foreign threats in polls run-up