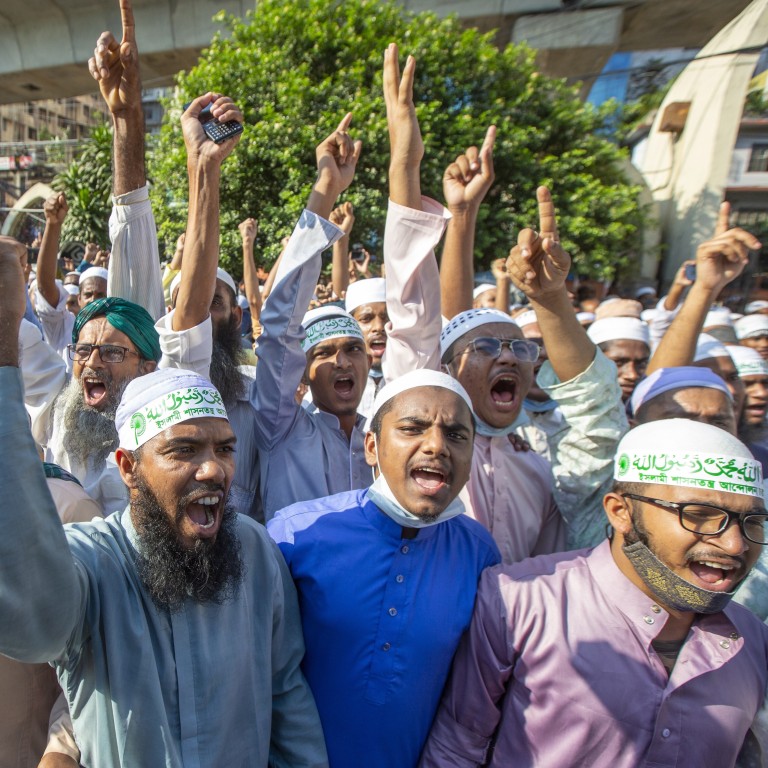 Explainer

|
Why did Muslim hardliners attack Hindus in Bangladesh's worst bout of communal violence in two decades?
A social media post showing the Koran at the feet of a Hindu god inflamed tensions in the Muslim-majority nation, with elite officers called in to restore order
PM Sheikh Hasina has vowed to revert to a 1972 secular constitution, but hasn't been able to amid party differences and fears that a backlash against Hindus could hurt ties with India
Muslim-majority
Bangladesh
in October witnessed one of the worst bouts of communal violence in the last two decades, leaving six people – both Muslims and Hindus – dead and hundreds of homes and temples belonging to the minority Hindus destroyed.
Prime Minister Sheikh Hasina's Awami League government had to deploy border guards and units of the elite Rapid Action Battalion in 22 of the country's 40 districts to bring the situation under control. Here's a look at what happened.
What caused the violence?
On October 12, the first day of Durga Puja, the biggest festival of Bengali Hindus, a strange picture began circulating on social media.
It showed the Koran, Islam's holy book, at the feet of a Hindu god in the eastern town of Comilla. Scores of Muslims, some said to be close to Islamist groups, started protesting against the "insult to Islam" on Facebook.
Police claim to have arrested two Muslims for mischief with the avowed intention of starting communal disturbances.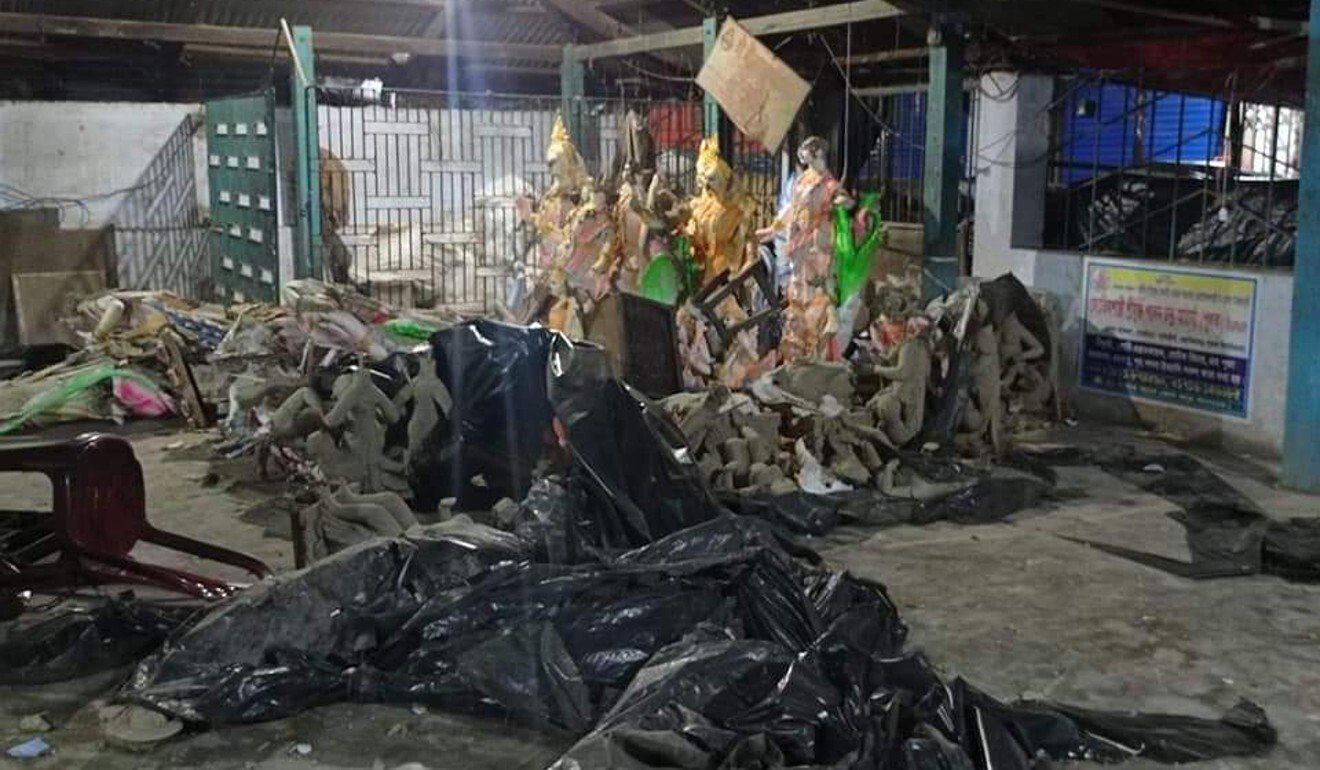 Comilla Awami League leader Aysha Zaman blames the police for their slow response, saying Hindu religious sites were immediately attacked the next morning.
"No Hindu in my country is stupid enough to do something like this," she said. "The picture and its circulation in Facebook was part of a plan to foment trouble, terrorise Hindus and discredit the government."
Hasina's party is seen as the more secular one of the two political groups that have alternated between leading Bangladesh since it gained independence five decades ago.
It's not the first time that social media has been used to provoke communal violence in the country of 164 million, where nine in 10 people are Muslim.
Five years ago in Nasirnagar near Comilla, a fake Facebook account showing a Hindu man insulting Prophet Muhammad provoked rioting in neighbouring districts and attacks on Hindu temples.
What has the government done to support minority Hindus?
The Awami League government, in its third term in power since 2009, has pledged to severely punish troublemakers. Prime Minister Hasina has assured Hindu community leaders that lives and property will be protected.
But efforts to maintain communal harmony are also causing controversy.
Junior Information Minister Murad Hassan earlier this week shared a YouTube video promising an "early return" to the 1972 secular Constitution, in which Islam would no longer be the state religion.
While this clause was promulgated by the Founding Father Sheikh Mujibur Rahman – Hasina's father – after the 1971 liberation war that led to Bangladesh's independence from Pakistan, it was overturned in an amendment promulgated by late military ruler General H.M Ershad in 1988.
While Hasina did promise to revert to the 1972 Constitution when she returned to power in 2009, she has not done this because the party was divided and her party did not have the clear majority it now enjoys.
There is still opposition from within the Awami League. Former Dhaka city Mayor Sayeed Khokon said extensive discussion was necessary. Others said it could "pour oil on a raging fire" and give the Islamist opposition parties a potent issue to agitate and corner the party in the run-up to the next parliament polls due in two years from now.
But secularist groups and many Awami League leaders say it is impossible to stave off the radical Islamist challenge by pandering to them at a time when their morale is boosted by the Taliban takeover in Afghanistan.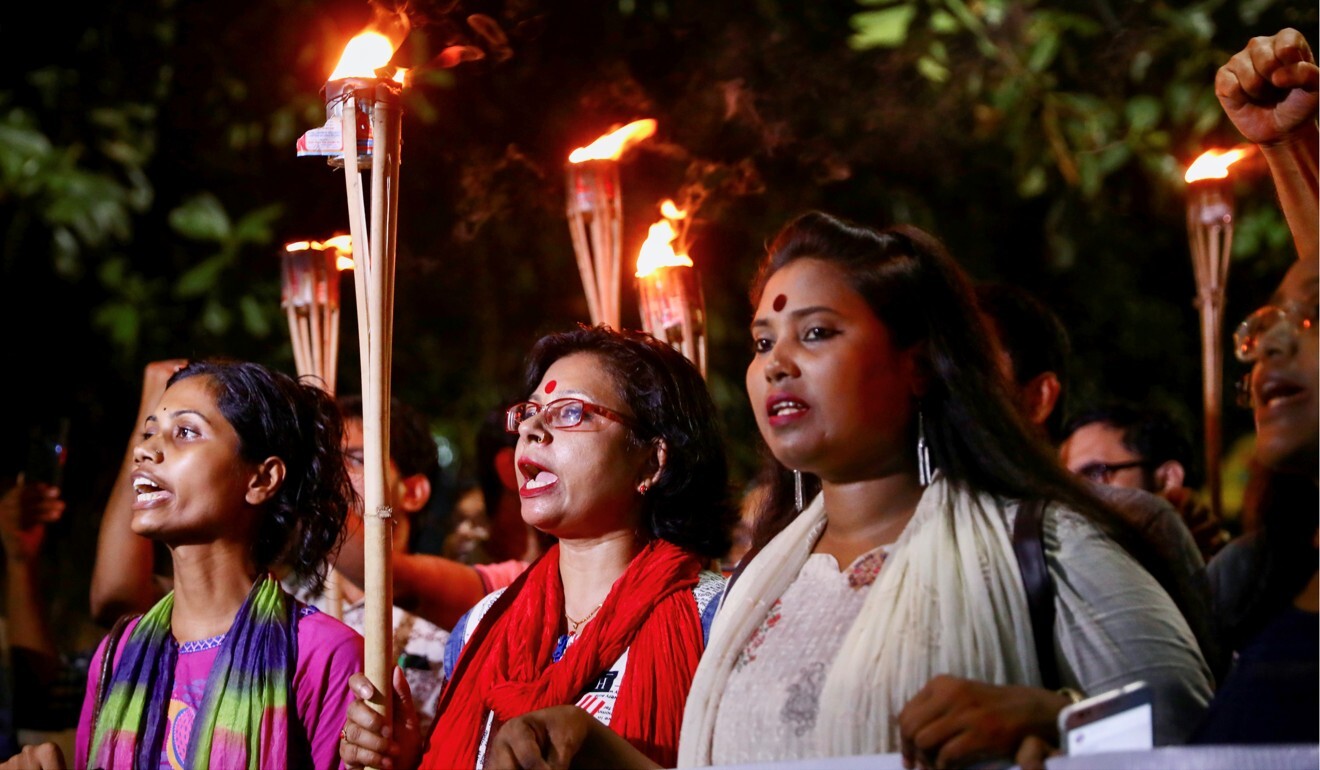 What are the consequences of a return to the 1972 secular Constitution?
Such a move would surely be a red flag to the Islamist opposition, which could cause street agitations, forcing the Awami League to mobilise its own cadres against the Islamists. Others fear more vicious attacks on the Hindus and other religious minorities who are soft targets.
Attacks on Hindus will have repercussions on neighbouring India, which is ruled by a Hindu nationalist government led by Prime Minister Narendra Modi.
Bilateral ties between the two countries, now at their very best, may suffer, especially if there is an exodus of Hindus. The Modi government is committed to defend Hindus but cannot afford to lose Bangladesh, a strategic partner and a trusted friend.
Hasina has asked India to cooperate in fighting communalism, suggesting not just timely intelligence against Islamist terror groups operating in her country, but also control over possible outburst of Hindu retaliatory attacks on Muslims, which, if it happens, can make things difficult for her.
India has lauded Hasina's government for "effectively controlling the situation", and the state government in the border state of West Bengal have already cracked down on elements trying to use visuals of Hindu temple attacks in Bangladesh to whip up religious passions in India.
Additional reporting by Reuters