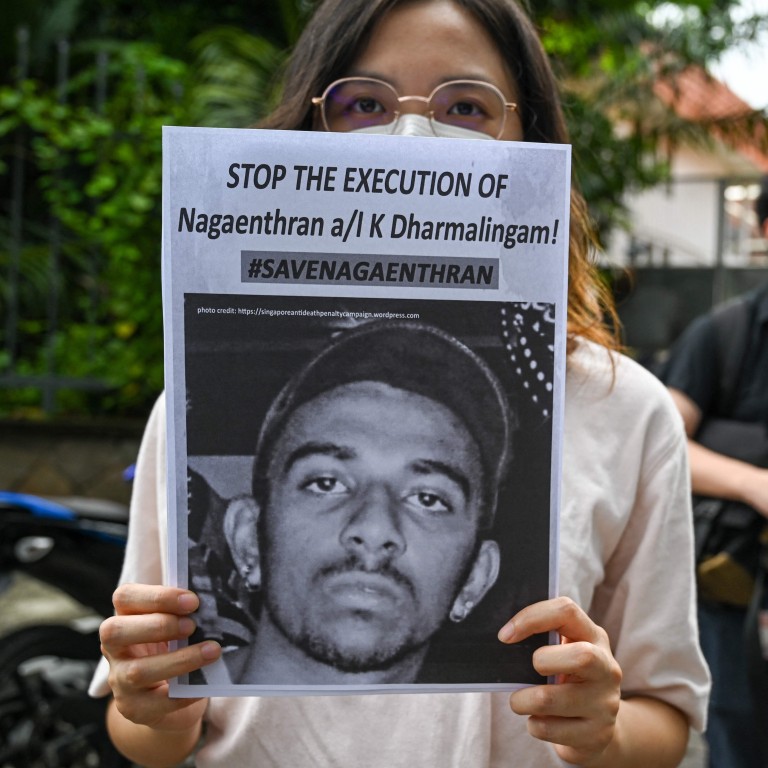 Singapore's highest court to rule Tuesday on reprieve for Malaysian drug trafficker facing execution
The case of Nagaenthran K. Dharmalingam, who has an IQ of 69, this week garnered global attention after protests by anti-death penalty activists
He was originally slated to hang on November 10. The Court of Appeal will now decide whether the latest bid to commute his sentence is merited
Singapore's highest court will on Tuesday make an 11th-hour ruling on whether to grant a stay of execution for a convicted Malaysian drug trafficker who is facing imminent execution, following a constitutional challenge that claimed the death sentence violated the 33-year-old man's fundamental rights.
The Court of Appeal will convene on Tuesday to hear the case of Nagaenthran K. Dharmalingam, said anti-death penalty activist and journalist Kirsten Han on Twitter.
The urgent convening of the country's highest judicial body follows a High Court judge's dismissal on Monday of an originating summons that sought to stay the Malaysian national's scheduled execution on Wednesday.
"The appeal for the application dismissed today has been set for 2.30pm tomorrow, alongside the hearing for a second motion asking for Nagen to be assessed by psychiatrists. If both are dismissed ... the execution will proceed as scheduled," Han wrote.
The case of Nagaenthran, who has an IQ of 69, has in recent days garnered international attention after anti-death penalty activists charged that Singapore authorities were callously proceeding with the execution.
Activists also condemned the Singapore government for proceeding with the execution of Nagaenthran, who is of Tamil descent, just days after the Hindu festival of Deepavali.
Travel restrictions caused by the Covid-19 pandemic had also made travel prohibitively expensive and onerous for his family members in Malaysia, the activists say.
Singapore, which imposes the
death penalty
for serious offences including drug trafficking, has not executed anyone since 2019.
Ahead of Monday's closed-door hearing, the Ministry of Home Affairs defended its use of capital punishment, saying it was required to keep the city state "one of the safest places in the world".
Justice See Kee Oon, who presided over the hearing on Monday, dismissed the various arguments under the appeal – including the assertion that executing a "mentally disabled" person would breach the Singapore Prisons Service's internal policy.
Nagaenthran's lawyer M. Ravi had submitted that Nagaenthran had the mental age of a person below 18 and should not be executed.
See said however that Nagaenthran's IQ was never disputed and that the trial judge had found he did not have intellectual disability but borderline intellectual functioning.
See said Nagaenthran was also already accorded due process in accordance with the law. "It is not open to him to challenge the court's findings pertaining to his mental responsibility, whether directly or indirectly, in yet another attempt to revisit and unravel the finality of those findings," he said.
Earlier expectations were that Nagaenthran's execution would be stayed until the Court of Appeal hearing date was set. It was not expected that the court would convene on Tuesday.
"Seriously, what is #Singapore's rush? Telling a lawyer to submit a notice of appeal by 6.30pm today, then scheduling the appeal hearing for 2.30pm tomorrow? Why so committed to executing a vulnerable man on the 10th?" Han, who is part of the Transformative Justice Collective group, wrote on Twitter.
The Court of Appeal in 2019 dismissed an earlier judicial review involving Nagaenthran's death sentence.
Nagaenthran, was detained in April 2009 – when he was 21 – for carrying 42.72g of heroin into Singapore. Following his 2010 conviction, his case has been adjudicated several times. In the 2019 proceedings, a five-person Court of Appeal ruled that Nagaenthran's case was "the working of a criminal mind, weighing the risks and countervailing benefits associated with the criminal conduct in question".
The court said Nagaenthran had taken a calculated risk and "fully knew and intended to act as he did".
"His alleged deficiency in assessing risks might have made him more prone to engage in risky behaviour; that, however, does not in any way diminish his culpability," the judges said.
The judges' pronunciations on Nagaenthran's mental state however has been the key issue of consternation among local activists and major rights groups.
An online petition signed by more than 63,000 people said Nagaenthran's IQ was at a "level internationally recognised as an intellectual disability".
There have been diplomatic overtures for Singapore to cancel the execution order as well. On Sunday, the Malaysian state media agency Bernama said Prime Minister Ismail Sabri Yaakob wrote to his Singaporean counterpart Lee Hsien Loong calling for the island republic to grant Nagaenthran clemency on compassionate grounds.
The delegation of the European Union, along with the local missions of EU member states as well as Norway and Switzerland, meanwhile issued a joint statement on Sunday calling on the Singapore government to commute Nagaenthran's sentence to a non-capital sentence.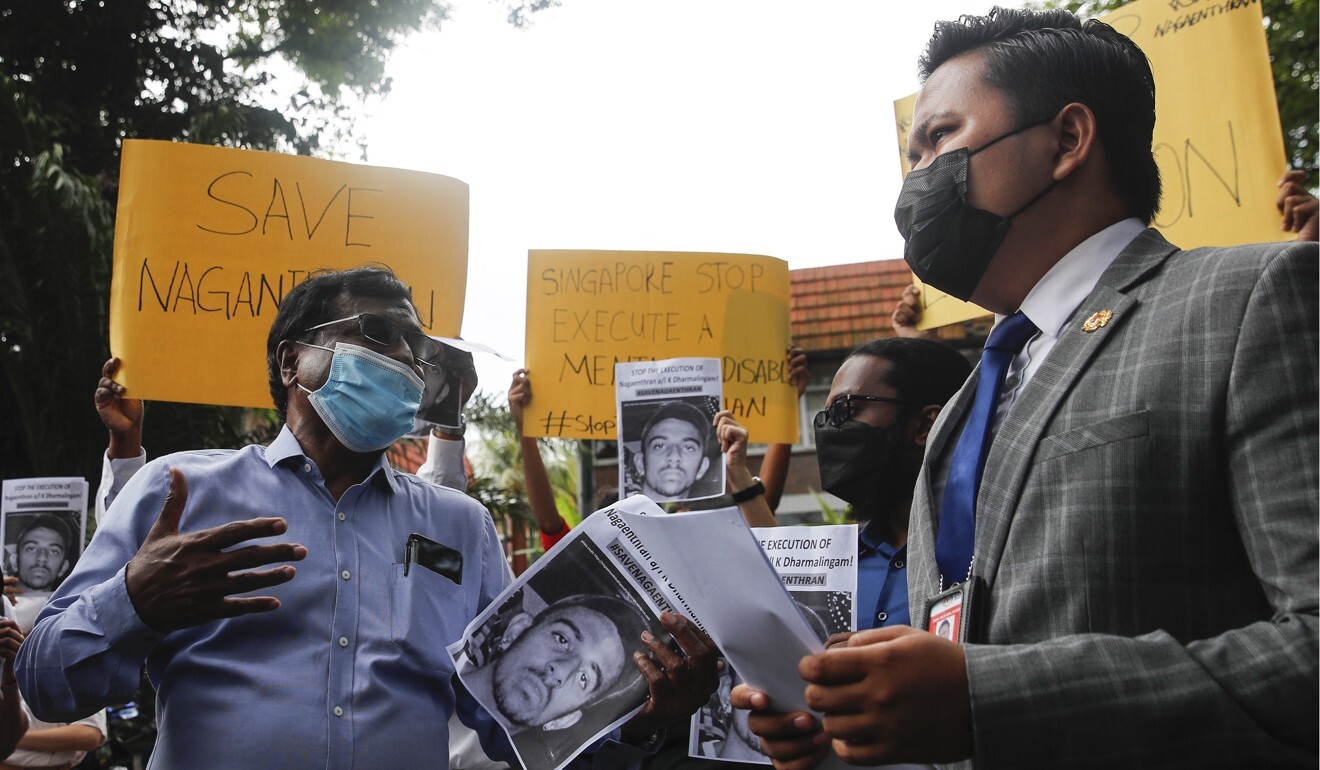 Singapore has in the past bristled at statements from foreign governments over its use of capital punishment.
Following the November 2019 execution of Malaysian national
Abd Helmi Ab Halim
, Singapore responded to a public statement of "grave concern" by Malaysia by stating that its larger neighbour could "help in the common fight against drugs by aggressively rooting out the drug kingpins in Malaysia who send drug traffickers from Malaysia to Singapore".
"Singapore respects the sovereign right of other countries to determine their own legal systems, and expects the same in return," the Singapore government said at the time.
The city state is among a handful of advanced economies, including Japan and the US, that continues to retain capital punishment.
K. Shanmugam, Singapore's Minister for Home Affairs and Law, said last year that a survey of 2,000 respondents commissioned in 2019 showed that a majority of residents "agreed or strongly agreed" that the death penalty was a more effective deterrent than life imprisonment against serious offences such as using firearms, murder, and drug trafficking.
This article appeared in the South China Morning Post print edition as: Appeal court to make 11th-hour decision on heroin-trafficker who faces execution