Thailand
Get more with myNEWS
A personalised news feed of stories that matter to you
Learn more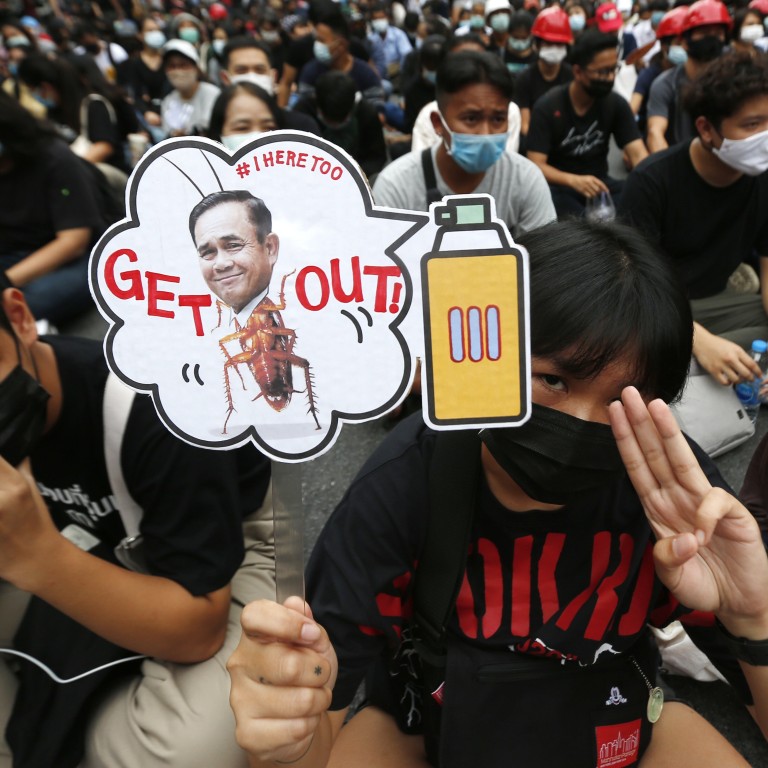 Thai PM Prayuth's growing unpopularity fuels talk of early election as opposition eyes face-off with royalists
Amid talk of polls due 2023 will be called early, Thailand's reformist parties are gearing up to challenge the military-royalist establishment
But regime change will be an uphill battle and as long as Thailand sees democracy as a threat, its ties with the US will lag those with China, an analyst says
When
Thailand
's leader Prayuth Chan-ocha visited the southern province of Nakhon Si Thammarat last month, police were quick to warn locals: "Do not throw eggs or stale eggs at the prime minister and do not curse at him."
Prayuth, who first took power after a 2014 coup and retained it after an election in 2019, is deeply unpopular and dislike for the former general has only grown on the back of the kingdom's struggle with the
pandemic
.
Strict Covid-19 lockdowns and the massive hit to Thailand's tourism-reliant economy have sparked street protests, worsening public discontent with the military-backed royalist establishment.
The government has cracked down on opposition parties and pushed back against calls for Prayuth's resignation, and reforms to the monarchy and the constitution to allow for more democracy.
Now, Prayuth's political future is being called into question amid speculation that an election – which only needs to be held by 2023 – is imminent.
This talk has been fuelled by rifts within the military-backed ruling party, Palang Pracharath, after Prayuth tried to oust cabinet member Thammanat Prompao from his position as the party's secretary general. Prayuth barely survived a no-confidence vote in September reportedly due to his growing unpopularity and Thammanat's back-door dealings.
Zachary Abuza, a Southeast Asian politics and security expert at the National War College in Washington, said the only scenario he could see that had Prayuth staying on as leader was "if the military-royalist elites are divided on who to replace him".
"Other than a compromise figure, it's hard to see Prayuth keeping his job," Abuza said. "He's alienated enough people in different quarters, and his economic stewardship has been very weak."
Paul Chambers, a special adviser on international affairs at Naresuan University's Centre of Asean Community Studies, said if Thailand's economy recovered from its tourism reopening, then Prayuth "can claim to have saved Thailand and likely win re-election".
"But if police-demonstrator violence grows while the economy and Covid-19 cases worsen, then Prayuth could be forced out of office by early 2022," he said.
03:16
Monks use golf cart to deliver food to Thailand's vulnerable Covid-hit communities
Monks use golf cart to deliver food to Thailand's vulnerable Covid-hit communities
Still, an end to Prayuth's tenure won't make it easier for pro-democracy parties to break the hold of the military-royalist elites.
Already, Palang Pracharath has asked the Election Commission to open an investigation into its main rival – Pheu Thai – alleging that it broke the law governing political parties. This was after Thaksin Shinawatra, the popular former leader linked to the party, appeared on a video call with Pheu Thai members.
Furthermore, even if an opposition party won the popular vote, the military-appointed 250 seat senate would need to vote for the prime minister. This would make it hard for a pro-democracy party or coalition to form the government, with an ex-general more likely to become leader.
In 2019, Prayuth won the election, not by standing for election but through a nomination process by the Palang Pracharath party and the senate vote.
Game-changing rules?
Yet Pheu Thai is banking on new electoral rules that favour larger parties and the changing political dynamics in Thailand.
Earlier this month, it said it supported repealing the lese majesty law – once a no-go area – in response to growing calls for a new political paradigm by younger Thais disillusioned with the monarchy and the royalist government.
The party also appointed Thaksin's youngest child
Paetongtarn Shinawatra
– who in 2019 had a lavish wedding at Hong Kong's Rosewood Hotel – to a party leadership role. Paetongtarn, 35, was appointed to oversee the party's policies on education, technology and soft power, a role aimed at securing votes from younger people.
Meanwhile, Pita Limjaroenrat, the leader of the opposition Move Forward Party, a franchise of the hugely-popular erstwhile Future Forward party, last month announced he would run as Thailand's next prime minister.
An online poll by Suan Dusit University with 1,186 people recently found that about three in 10 respondents voted Pita as their top choice for premier, followed by about two in 10 choosing Prayuth. The remaining respondents chose other potential candidates.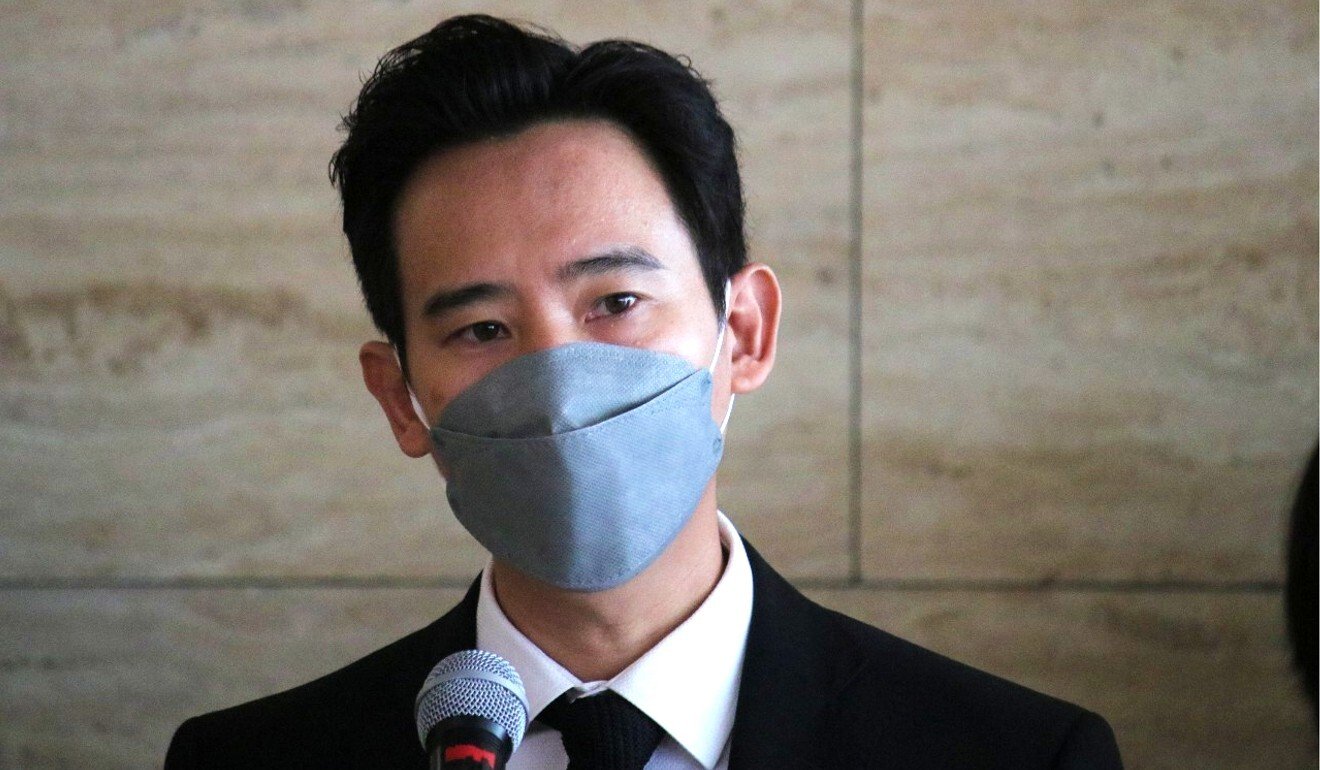 'Thailand will be closer to China'
Sitthiphon Kruarattikan, a China studies scholar and an associate professor at Thammasat University's College of Interdisciplinary Studies, said a continuation of the regime would do nothing to improve Thailand's influence in global diplomacy.
Analysts have said that Thailand's reputation had taken a hit after the coup, along with the ongoing domestic political turmoil and economic woes due to Covid-19.
Thailand's strategic value to the
United States
has been diminished by the military-backed government's ties with
China
, he said.
"If Thailand had a normal civilian government, the country could have more value in the eyes of the US or the Western world," he said. "It could lead
Asean
in solving the problem in Myanmar, for example."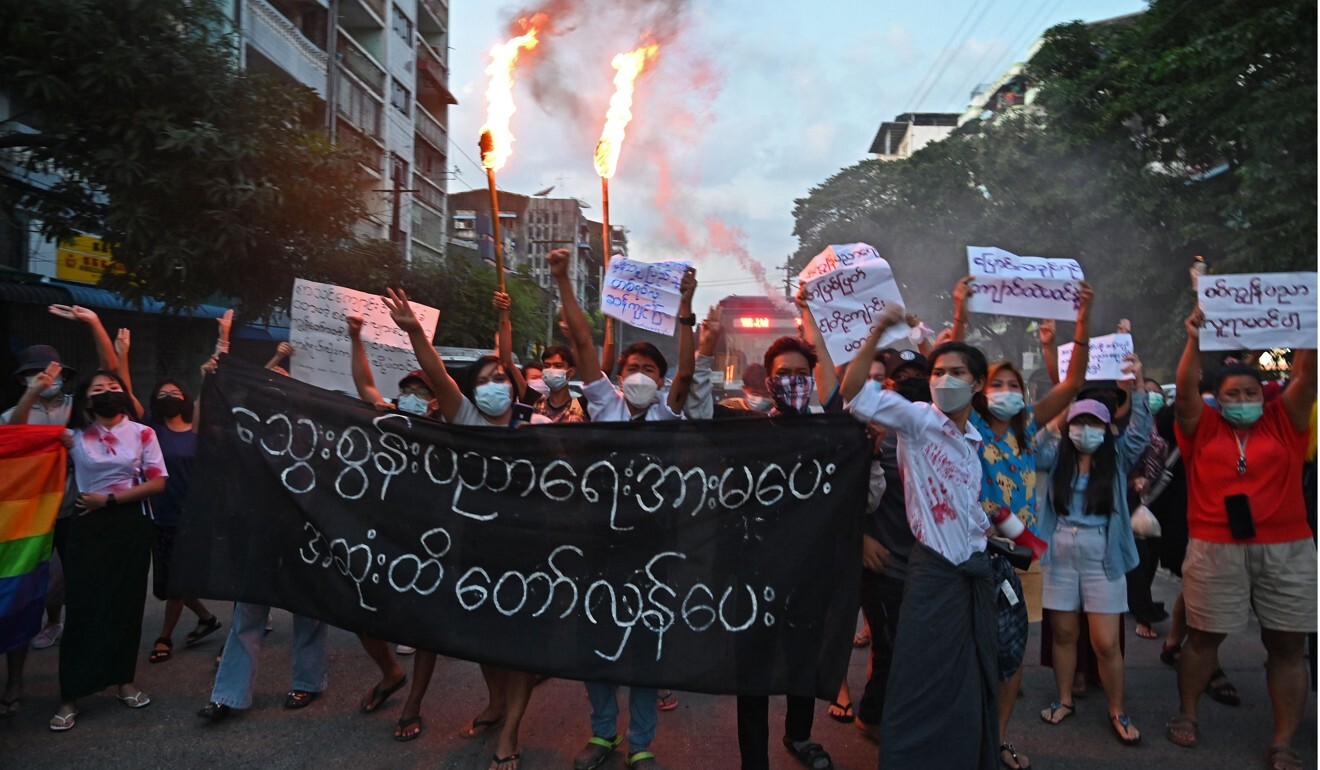 Pita from the Move Forward Party pointed to how Thailand, unlike key Asean countries, had not taken a firm stance against
Myanmar
's junta, which seized power in a coup in February.
"Thailand's political elites think we can secure our position in the world through compromise, but when our country lacks principles, our words and our actions have no worth or weight," Pita wrote on his Facebook page.
Sitthiphon brushed off talk that the year-long absence of the Chinese ambassador to Thailand meant that Sino-Thai ties were rocky. Han Zhiqiang, the current ambassador, began his term in August.
"The former ambassador Lyu Jian travelled to China in early 2020. I heard that due to health reasons he has not made it back to Thailand since," Sitthiphon said.
"China had taken some time to appoint a new ambassador because Lyu Jian's term ended abruptly. Yang Xin, the chargé d'affaires, speaks Thai well and has seniority so he was suitable to be placed in charge over a long period of time," he added.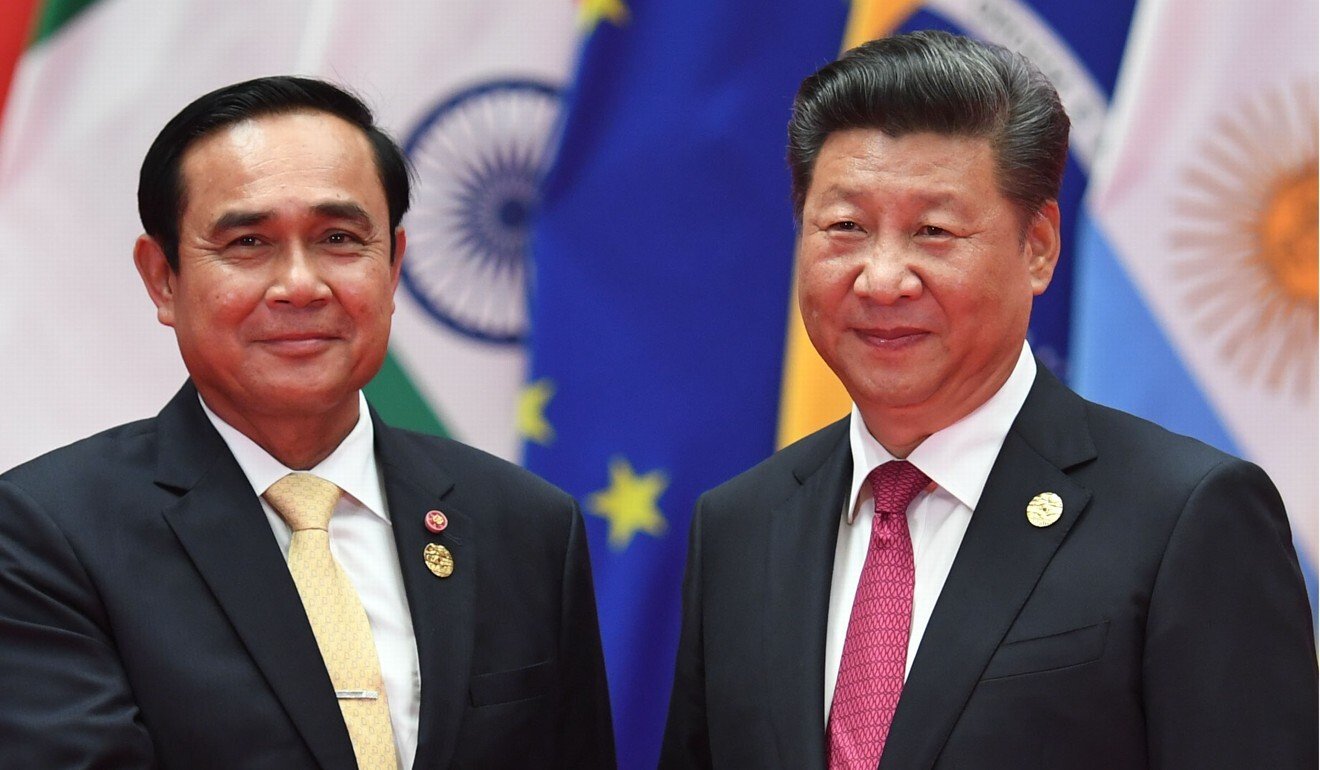 Abuza of the National War College said while leadership change would provide an opportunity to renew diplomatic engagements, there were "few advocates for Thailand within [Washington] DC right now".
Recent high-level visits to the region by US Vice-President Kamala Harris and Secretary of Defence Lloyd Austin had bypassed Thailand.
"Prayuth, in my opinion, was way too close to China and I can't say he got much from that relationship," Abuza said.
"Prayuth seriously thought he could play the China card against the US to get out from coup-related sanctions and diplomatic opprobrium. Those efforts, which included large scale arms purchases and more bilateral military exercises with the PLA [People's Liberation Army] than any other Southeast Asian state, failed spectacularly."
One of the most controversial arms deals during Prayuth's term is a submarine deal with China, which has since stalled due to public opposition and the cabinet's disagreement over its cost.
Chambers said the Prayuth government would likely play down any new weapons appropriations and defence budgeting before a new election. "But afterwards, if Prayuth wins, the defence budget is likely to grow and military appropriations is likely to soar, including buying the two remaining submarines," he said.
Said Abuza: "As long as Prayuth or a military-backed successor views democracy as the main security threat, Thailand will be closer to China."
Additional reporting by Bloomberg