Japan
Get more with myNEWS
A personalised news feed of stories that matter to you
Learn more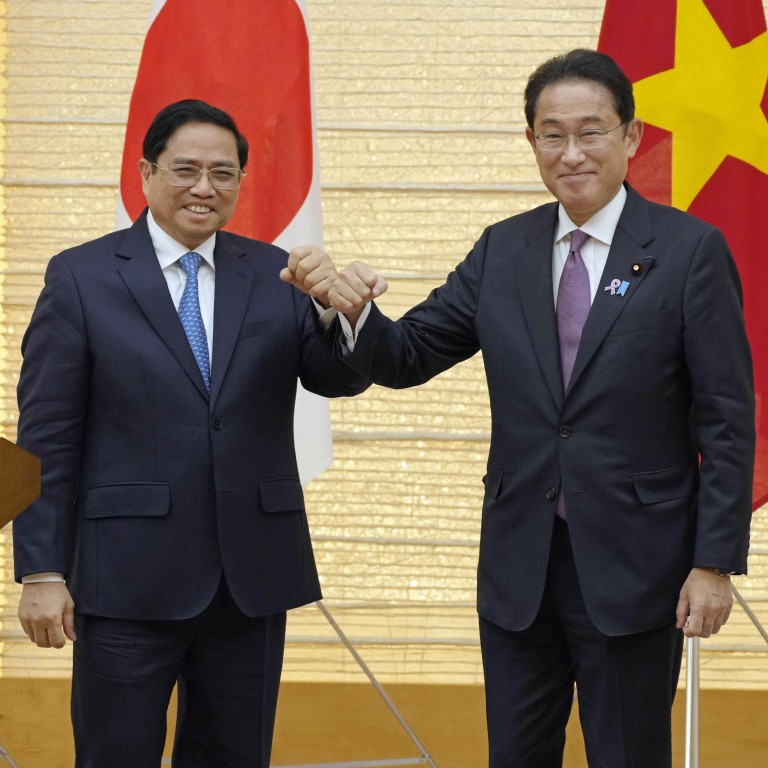 Japan, Vietnam to boost security cooperation amid 'serious concerns' over South China Sea
The countries' leaders agreed to step up their strategic alliance and strengthen supply chains, while Tokyo will also send Hanoi 1.54 million more Covid-19 vaccine doses
Successive Japanese governments have made strategically located Vietnam a key component of Tokyo's foreign policy in the Indo-Pacific
Japanese Prime Minister
Fumio Kishida
and his Vietnamese counterpart Pham Minh Chinh on Wednesday agreed to step up security cooperation between their countries while sharing "serious concerns" over aggressive moves in regional waters in a veiled reference to China's growing assertiveness.
A joint statement following their meeting in Tokyo said the two agreed on the importance of upholding an international order that is based on law, while affirming they will work together towards economic recovery from the coronavirus pandemic.
"Vietnam is an important partner for Japan which will serve as the linchpin in our efforts to realise a free and open Indo-Pacific," Kishida said as he met the press with Chinh after their talks.
The leaders "expressed serious concerns about the situation in the South China Sea and any unilateral attempts to change the status quo and increase tensions", the statement said, while calling for any disputes to be resolved in line with international law.
Chinh is the first leader Kishida has hosted since taking office last month, and his four-day official visit to
Japan
ends on Thursday.
The talks between Kishida and Chinh follow the signing of a
bilateral agreement in September
enabling exports of Japanese-made defence equipment and technology to Vietnam.
Successive Japanese governments have made strategically located
Vietnam
a key component of Tokyo's foreign policy in the
Indo-Pacific
, signing the Japan-Vietnam Economic Partnership in 2006 that was later upgraded to a broader strategic alliance.
"Our countries consider each other the most important and long-term partners, and I hope we can continue to elevate bilateral relations to new horizons," Chinh said.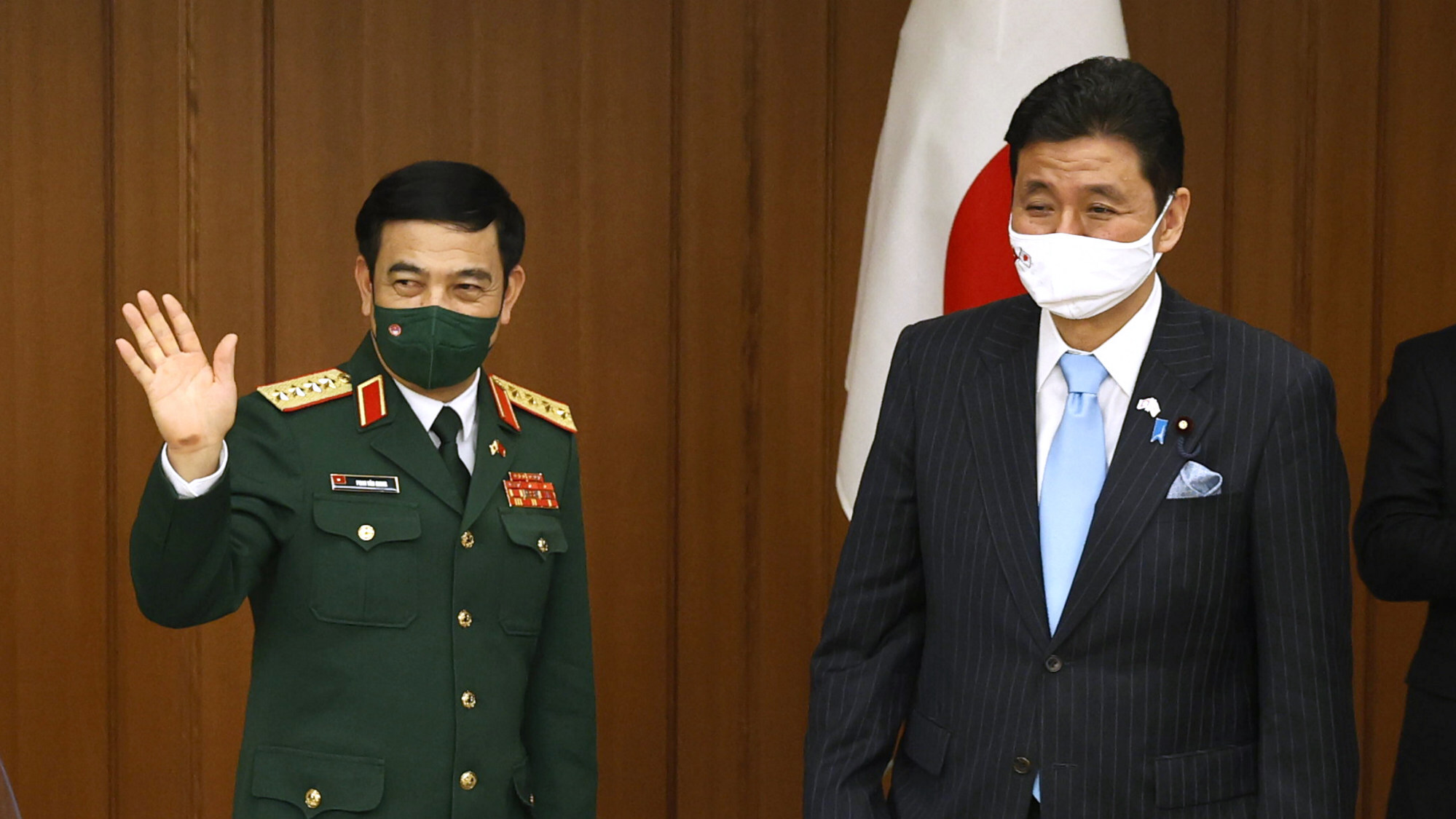 On Tuesday, Japanese Defence Minister Nobuo Kishi and his Vietnamese counterpart General Phan Van Giang agreed to "strongly oppose" unilateral attempts to change the status quo in regional waters, without explicitly naming
China
.
Yakov Zinberg, a professor of international relations specialising in East Asian affairs at Tokyo's Kokushikan University, said the pledge of closer cooperation by Kishida and Chinh would be a "gift" to US President
Joe Biden
before he hosts the Japanese leader in the coming weeks in Washington.
"I see virtually everything that is being discussed between the Japanese and Vietnamese leaders as related to China and building on the relationship in order to surround China," he said.
Zinberg emphasised Tokyo's deepening concern over Beijing's increasingly assertive stance in the disputed
South China Sea
, through which most of Japan's imports and exports must pass. Japan has raised its profile in the waters, recently conducting
naval exercises with US units
off the west coast of the
Philippines
, close to areas that Beijing now claims as its sovereign territory.
Two Japanese warships, the Kaga and Murasame, called at the Vietnamese naval base of Cam Ranh in early November and carried out a "goodwill exercise" with a Vietnamese frigate. Japan has also provided patrol ships to
Indonesia
and training aircraft to both the Philippines and Indonesia.
Vietnam was one of former Japanese Prime Minister
Yoshihide Suga
's first overseas visits, in October last year. It came several months after Tokyo announced a US$348 million deal to construct six new coastal patrol vessels for Vietnam's coastguard.
The move was seen as indicating tacit support for Vietnam's position in its territorial disputes with Beijing over the South China Sea. Beijing and Tokyo have also experienced a rise in tensions over the disputed
Diaoyu Islands
in the East China Sea that Japan administers and refers to as the Senkakus.
Japan is Vietnam's third-largest foreign investor behind
Singapore
and
South Korea
, according to government statistics, with large corporations like retail group Aeon and fashion brand Uniqlo's owner Fast Retailing seeking to expand further in the Southeast Asian country.
Vietnam has in recent years been a top global supplier of manufactured goods, although lockdowns earlier this year to contain
Covid-19
hobbled production and upended the labour market, with thousands of factory workers heading back to their home provinces rather than remaining at factories.
Between 2014 and 2018, Japan provided around US$280 million in development assistance for infrastructure development, human resource management and environmental and governance practices in Vietnam, making Tokyo the nation's largest aid donor.
Many Japanese firms have factories in Vietnam or use Vietnamese components in their products, and Kishida and Chinh agreed to strengthen supply chains across their countries, including through the use of digital technologies and diversifying manufacturing facilities.
The two also affirmed cooperation in improving conditions for Vietnamese technical interns and students in Japan, according to the joint statement.
Kishida, meanwhile, pledged Japan will provide an additional 1.54 million doses of
coronavirus vaccine
to Vietnam, bringing its total contribution to roughly 5.6 million doses.
Hiromi Murakami, a political-science professor at Temple University's Tokyo campus, said Vietnam had become more important for Japanese companies that pulled out of
Myanmar
following the military coup there earlier this year. International economic monitors suggest high inflation, cash shortages and rising food prices have left Myanmar's economy in tatters.
"Japanese firms see big opportunities for expansion in Vietnam and that is being encouraged by the government here because economic development will enable the government there to stand up more firmly to China," Murakami said, adding that Tokyo is deploying a similar tactic in several other countries across Southeast Asia.
Said Zinberg: "Security is being used as an extension of trade and aid and that also fits in with the US strategy on China. I expect Japan's links with Vietnam to grow, particularly in the military sphere, and this will become an important and lasting relationship."