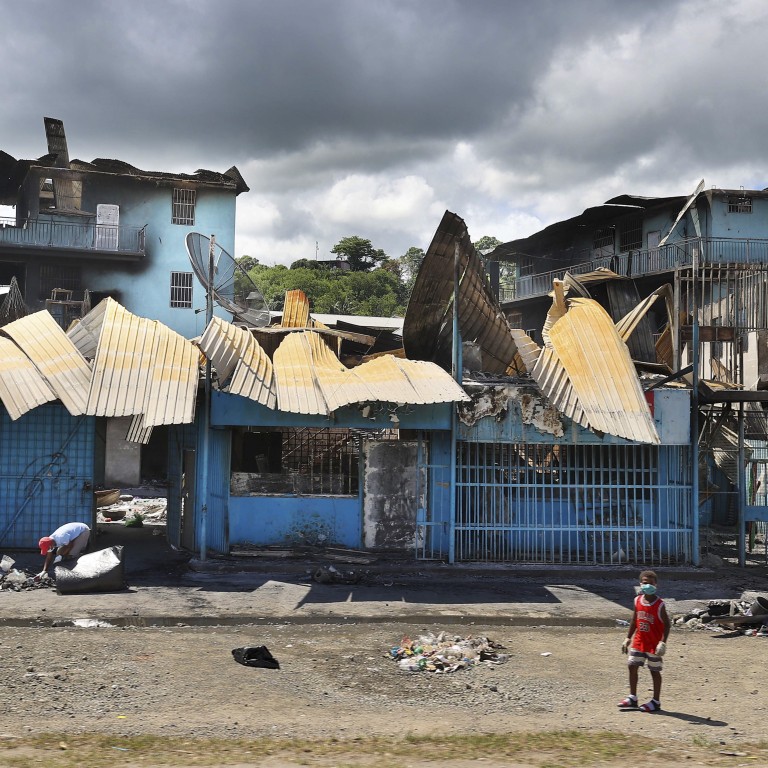 Is US-China struggle behind Solomon Islands riots – or 'just icing on the cake'?
Some say switching diplomatic recognition from Taipei to Beijing has fuelled resentment of Chinese influence. Others say the US is fomenting a colour revolution
But violence has long dogged the islands. Grievances over corruption, exploitation of natural resources by other countries and Covid-19 have all played a part too
George Seda, a 31-year-old musician living in Honiara, the capital of the Solomon Islands, described the last few days on the Pacific island nation as like "walking through hell".
"There was nothing but fear, hunger, and terror," Seda said, referring to the riots which broke out last Wednesday after protesters stormed the parliament and set fire to buildings and shops, leading to the deaths of three and the arrests of dozens, according to local media.
Prime Minister Manasseh Sogavare declared a 36 hour curfew in Honiara and asked for help from his country's neighbours.
Australia
and Papua New Guinea sent 150 peacekeepers on Thursday and Friday, helping to quell the unrest in the nation of 800,000 people.
Some of the worst violence took place in Chinatown, said the owner of a Chinese liquor and grocery store who asked to be referred to only as "Zhang" as the situation was "still highly unpredictable".
Zhang, who came to the Solomon Islands in 2008 from Fuzhou in
China's
southern Fujian province, said the Chinese embassy had offered temporary accommodation for those made homeless or whose businesses had been targeted.
"I am lucky to have been spared, but many of the Chinese businesses have their goods looted and their shops burnt down, we are still scared and worried," said Zhang, adding that the situation had quietened over the weekend and authorities had started clearing up the mess.
The cause of the violence has been widely attributed to lingering resentment, particularly in Malaita province, at growing Chinese influence following Honiara's decision to switch diplomatic recognition from Taiwan to mainland China in 2019. Some have also suggested Taipei and
Washington
, which have long supported Malaita, have been encouraging the unrest to disrupt Beijing's relationship with the country.
However, analysts said that local anger towards corruption, excessive resource extraction by foreign countries and the impact of the pandemic were equally important factors.
Alan Tidwell, director of the Centre for Australian, New Zealand and Pacific Studies at Georgetown University, described claims by Sogavare that "foreign forces" opposed to the switch in diplomatic allegiance were behind the recent uptick in violence as a "convenient claim".
"This strikes me as being … designed to dismiss the very real complaints over lack of political voice, poor governance, mistreatment by foreign businesses, and tensions over the role of the central government," Tidwell said.
However, China's efforts to influence the country especially through its economy and politicians could not be dismissed as a source of the anger, analysts said – and neither could Washington and Taipei's support and funding for Malaita province.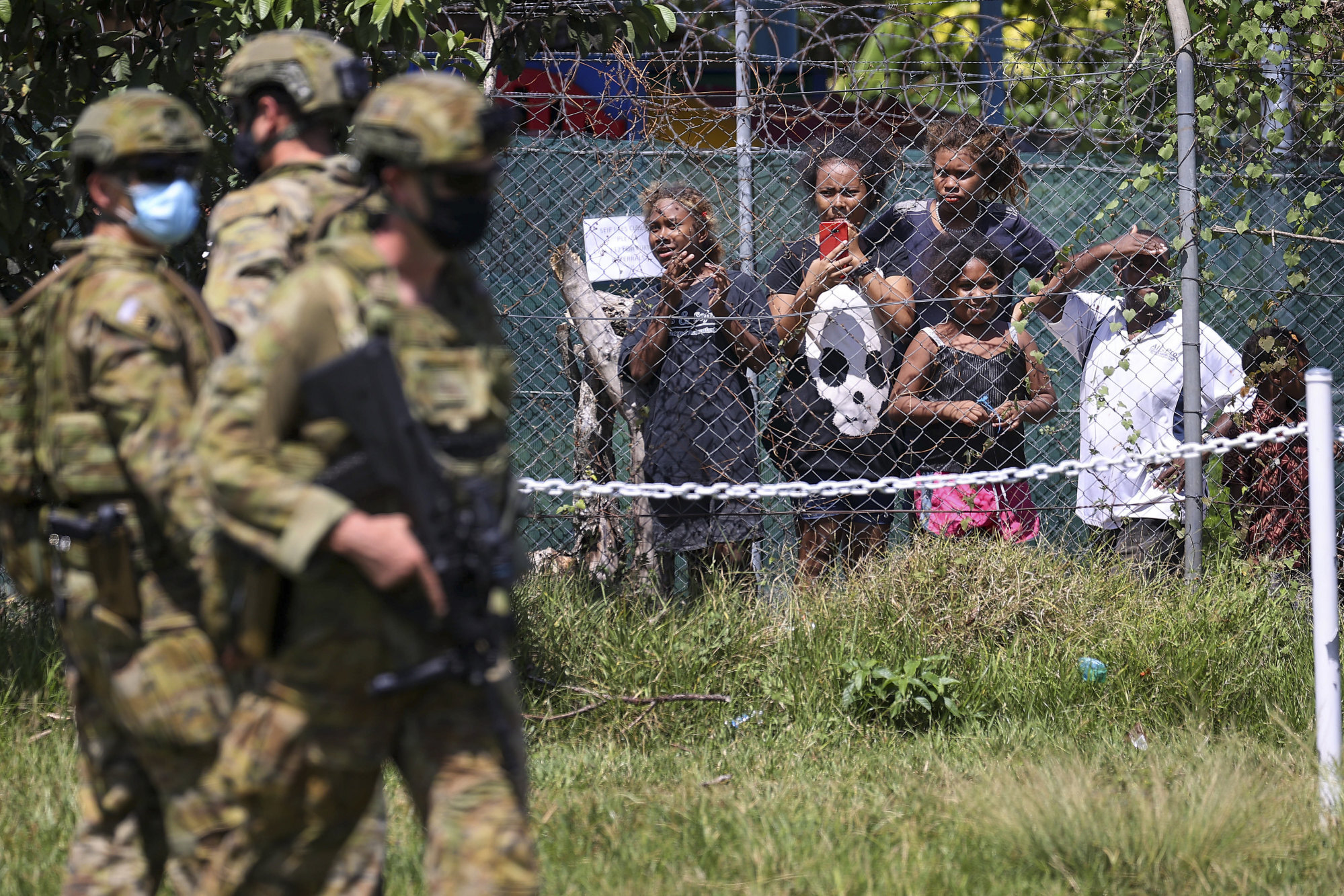 Hideyuki Shiozawa, a senior programme officer at the Sasakawa Peace Foundation's Pacific island nations programme, said he had heard accounts of how mainland China, and even Taiwan in the past, had a "flexible funding scheme" in which small amounts of money – for example, a few thousand dollars – were provided to parliamentarians or people with "strong influence".
"During the period when the Solomon Islands diplomatically recognised Taiwan, Taipei also had a small grant scheme for each parliamentarian, and some senior officials of other Pacific island countries described this as a form of chequebook diplomacy," Shiozawa said, referring to the competition between mainland China and Taiwan in providing economic incentives to win diplomatic allies from around the world.
The damage and aftermath
Seda, whose house is right next to a police station that was burned, said he was frightened and now worried about how Honiara would survive the aftermath.
Sogavare, who has resisted pressure to resign, said the violence caused US$25 million in damages and destroyed 1,000 jobs in an economy already squeezed by the impact of the Covid-19 pandemic.
The country's central bank estimates the loss to the domestic economy to be about US$227 million and recovery from the destruction to take 10 years.
Three members of the Sogavare government have resigned, while opposition leader Matthew Wale is filing a notice of a vote of no confidence in the prime minister.
Condemning the looting and burning of businesses, the Solomon Islands Chinese Association said the senseless violence had endangered the lives of many innocent individuals and families.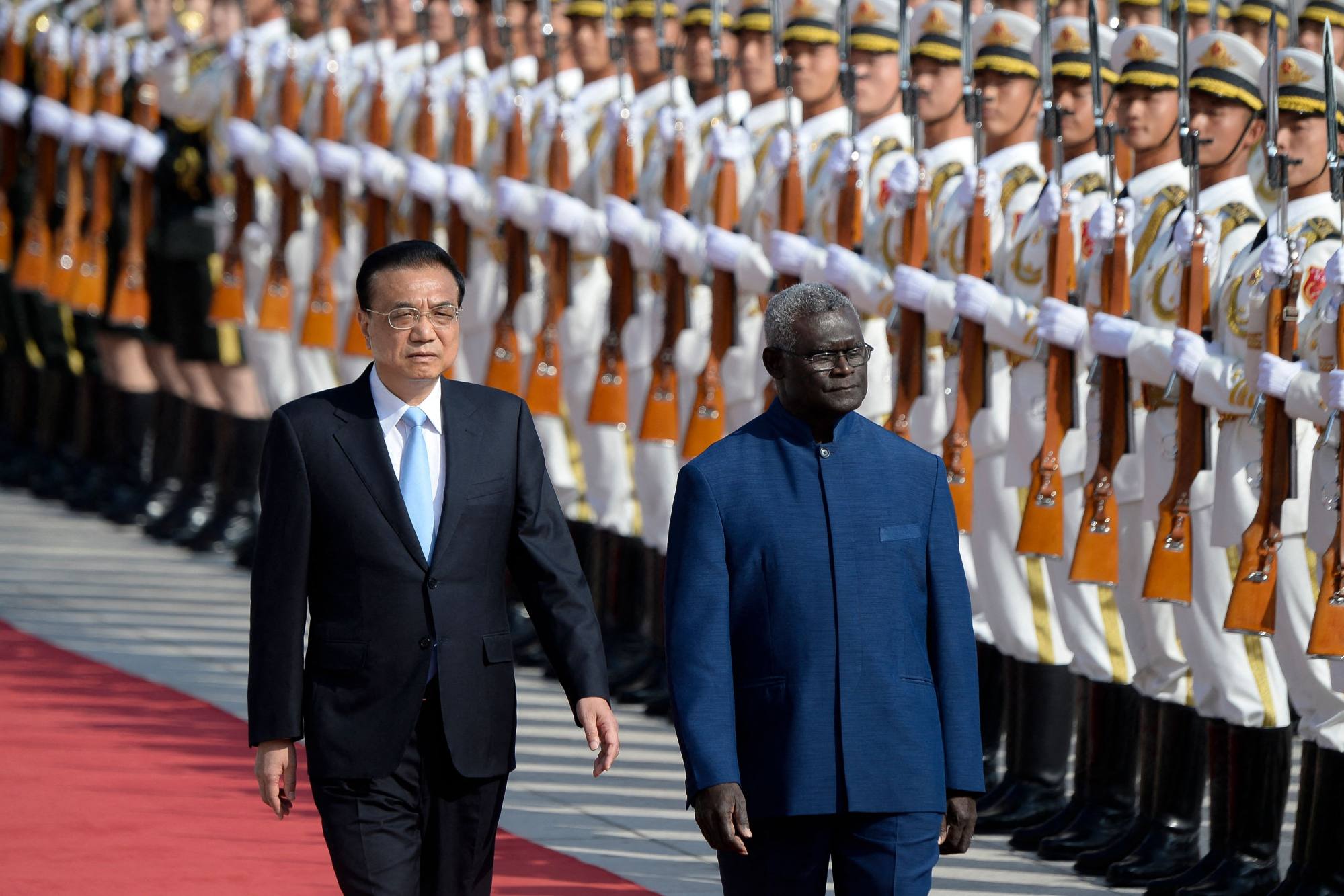 Diplomatic shift, Chinese influence
Seda said people were angry as many "hated" the decision to switch diplomatic recognition from Taiwan to mainland China, resulting in "China slowly dominating the country economically and politically".
"We were OK with Taiwan, it should not have changed," Seda added.
A public servant in Honiara, speaking on condition of anonymity, from Malaita – the most populous island on Solomon Islands – said "the writing was on the wall for quite some time, people didn't just react overnight."
Shiozawa said the diplomatic switch was chiefly an attempt by Sogavare to catch up economically with neighbouring Fiji and Papua New Guinea.
"[He needed] hundreds of millions dollars of investment from overseas, Taiwan could not afford it, [only mainland] China could," Shiozawa said, adding that the attitude of the Chinese who had visited the country to provide assistance were "rough and disrespectful" compared to their Taiwanese counterparts.
Tough Covid-19 measures taken by Sogavare, including his willingness to accept Chinese-made vaccines, also added to local frustrations with the government, Shiozawa said.
Bill Laurance from James Cook University in north Queensland said Beijing had put enormous pressure on the Solomon Islands to drop its diplomatic recognition of Taiwan.
"China is using loans and massive investments, often under the aegis of its globe-spanning
Belt and Road Initiative
, to help it achieve its ambitious geopolitical aims," Laurance said, referring to Beijing's global infrastructure and connectivity project.
Fabrizio Bozzato, a senior research fellow at the Sasakawa Peace Foundation's Ocean Policy Research Institute, said that resentment against ethnic Chinese businesses in the country was a long standing issue as the Chinese, including those from Hong Kong, Taiwan and Southeast Asia, were often seen as economic competitors of the locals who took away jobs and fuelled corruption.
"In a nation where land is often customarily-owned and land disputes are flammable, appropriation or long-term leasing of land to Chinese interests often prompt outrage," Bozzato said, adding that Chinese communities in the Solomons were easy targets as they were culturally isolated and did not enjoy the protection of traditional societal formations such as clans and tribes.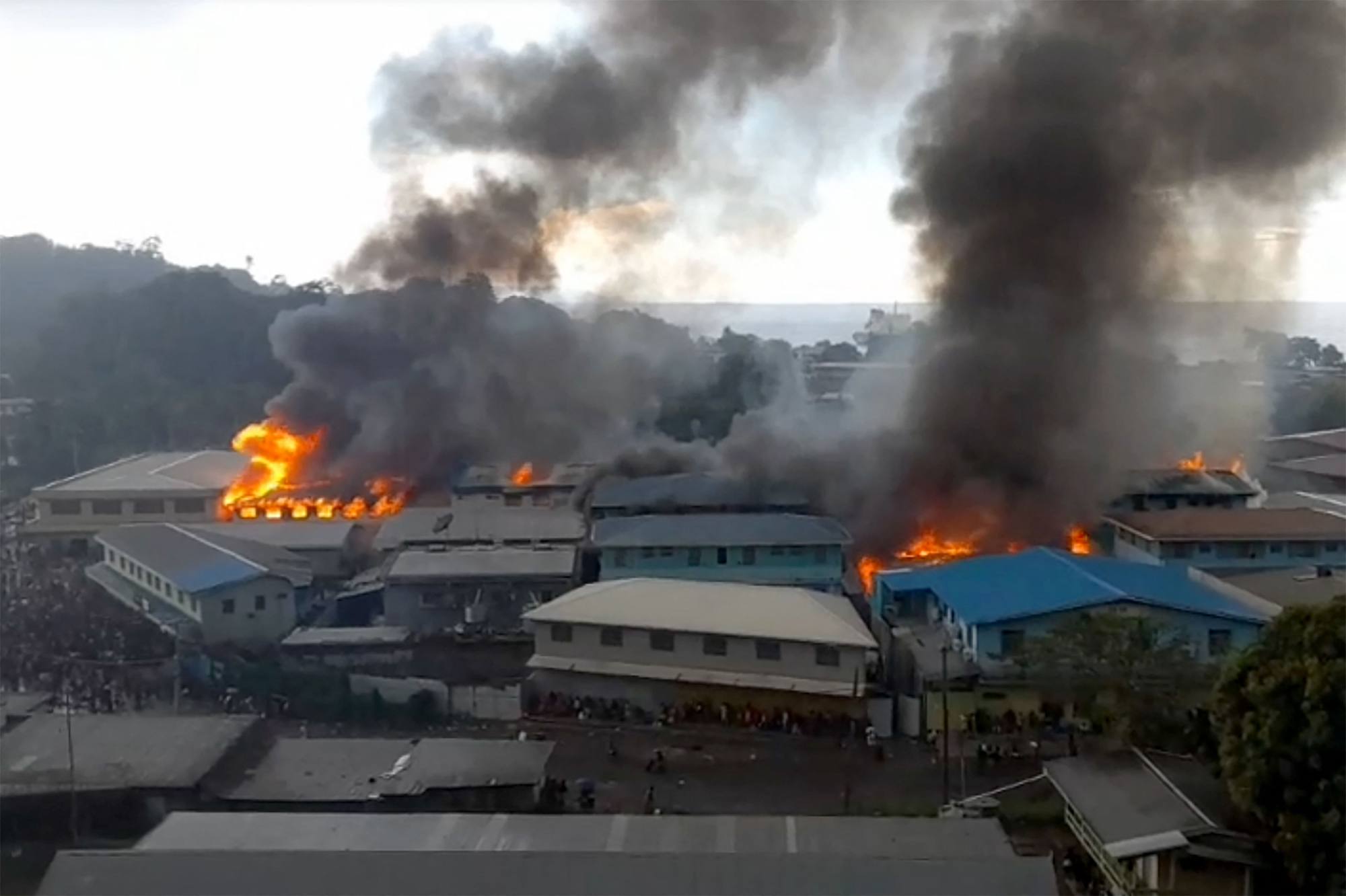 Foreign powers supporting Malaita, exploiting differences
Soon after Honiara made the diplomatic switch, Malaita's Premier Daniel Suidani outlawed Chinese businesses in the province, called for an independence referendum and continued relations with Taiwan, in defiance of Honiara.
In 2020, in contravention of national law, a large shipment of aid arrived in Malaita from Taiwan. Home to 200,000 people, Malaita is one of the least developed islands in the South Pacific, where just three per cent of people have electricity in their homes.
Agreeing with Sogavare's claims that the riots were influenced and encouraged by foreign powers, Chinese businessman Zhang said it was widely known in the country that the US had played a role, especially in "providing funds" to Malaita.
In 2020, the US government pumped US$25 million into Malaita – 50 times what it usually receives in foreign aid annually, raising anxieties that the US was exploiting the rift between Malaita and Honiara to disrupt China's relationship with the Solomon Islands.
Mihai Sora, a research fellow in the Pacific Islands programme at Australia's Lowy Institute, wrote in the institute's publication The Interpreter that, "the actions of large nations as they curry sympathy with local actors – without pause to consider deeper social and political undercurrents – have a destabilising effect on social cohesion in vulnerable countries such as the Solomon Islands, which seeks desperately to maintain its hard-won fragile peace after years of civil unrest."
However, Shiozawa said that the US funding was intended for agriculture and environmental projects for five years, "not for direct funding against China".
Shiozawa said that due to the tensions between Honiara and Malaita, the latter had refused any support from China, resulting in lost development assistance opportunities, a hole which had in turn been filled by the US and Australia.
Liu Zhiqin, a senior fellow at the Renmin University of China's Chongyang Institute for Financial Studies, said the riots were aimed at forcing Sogavare to switch recognition from Beijing back to Taipei.
"Organised by a group of pro-Taiwan elements, they are aimed at undermining the one-China policy; here, we can see the shadows of a colour revolution," Liu said, referring to the protest movements and accompanying attempted changes of governments that took place in several former Soviet republics in the early 2000s.
Liu added that visits by US lawmakers to Taiwan this month and other recent measures taken by Washington had sent the wrong signals to Taipei, adding that "the US has unshirkable responsibility in this regard."
However, Georgetown University's Tidwell said the idea that a power play between the
US and China
was having real consequences in the Solomon Islands was largely unfounded.
"Protests and riots have been a fact of Solomon Island life for some years," Tidwell said, adding these were mainly caused by divisions between central and regional governments and the inability of people to air and have their grievances acted upon.
Protests broke out as recently as in 2019 after Sogavare won power for the fourth time, and also in 2006 when Honiara's Chinatown witnessed rioting, looting and demands for then prime minister Snyder Rini to step down, Tidwell noted.
Eric Katovai, a senior lecturer at the University of the South Pacific in Fiji who lives in the Solomon Islands, said the unrest was a result of multiple governance and developmental issues that had not been resolved over successive governments.
"The geopolitical issue is just an icing on the cake," Kavotai added.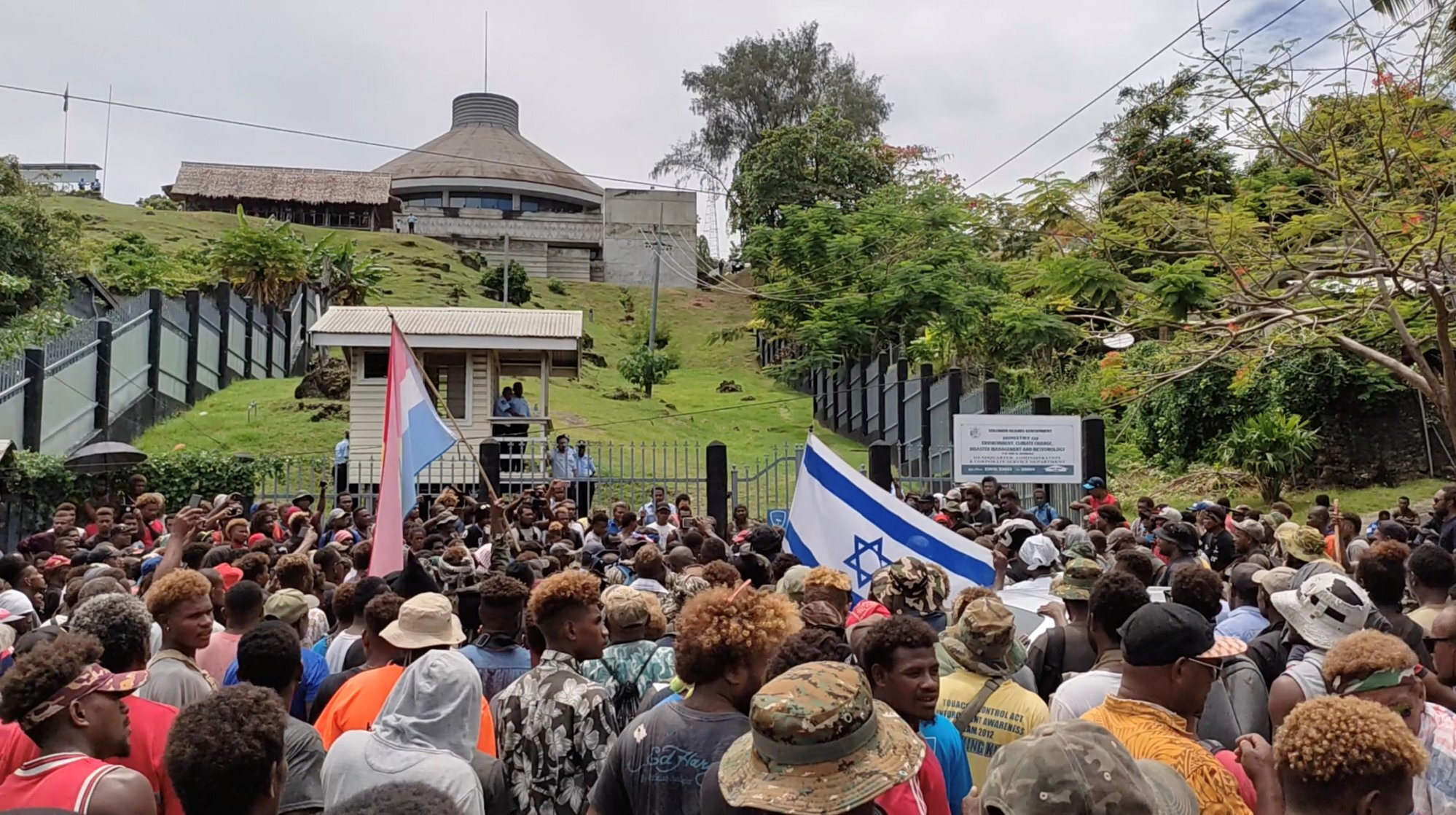 Grievances over natural resources
Two years of pandemic-induced closed borders have left the islands' already ravaged economy in tatters, deepening widespread joblessness and poverty.
Local anger and distrust of large foreign companies, mostly in the resource extraction industry, have also been cited by analysts as a major source of local resentment.
"It's not just from China, there are logging companies from
Malaysia
and
India
, and they continue to do illegal and destructive harvesting of our natural resources," said the public servant from Honiara who wished to remain anonymous, adding that a lack of transparency and cases of officials receiving bribes had angered islanders.
A recent Transparency International report found 97 per cent of islanders saw corruption in the government as a big problem, with many convinced that businesses relied on connections or the offering of money to obtain contracts.
Laurance said that Honiara had allowed massive over-logging of its forests which had severely depleted its timber supply, the country's largest export.
Georgetown University's Tidwell said Solomon politicians had also "played to foreign business interests at the expense of domestic politics".

What lies ahead?
Alfred Sasako, vice-president of the Solomon Islands-China Friendship Association, said funds given by donors were siphoned off by parliamentarians who used the money to buy real estate.
"Sogavare now boasts of owning several houses in town, thanks to unexplained wealth. As long as the present MPs continue milking the system, this country will land nowhere," Sasako said.
Seda blamed the government and felt sorry for the small Chinese businesses that had been attacked as "they are struggling too, just like the rest of us".
"The attacks should not have been against Chinatown. It's the big boys, like logging companies and politicians, that should be paying. They are the ones we should be angry at," Seda added.
About 2,000 ethnic Chinese live and work in the Solomon Islands.
"The government has done nothing to make this better. They've just sat back while it all burns. People are so angry and that's still there, so I think it's just the beginning," Seda said.
Added Chinese businessman Zhang: "The Chinese community does not wish to see the situation deteriorate, but for now it is hard to predict if the situation will return to normal. We worry that we will continue to be targets in the future."